This is it. We're at the last weekend of summer, and you should celebrate with the most summery of activities: camping.
It can be difficult to have excellent food while camping, so we're here to help. Check out these easy and inventive recipes and pro-tips from Dirty Gourmet camping blogger Emily Trudeau.
Tip 1: Get the right accessories.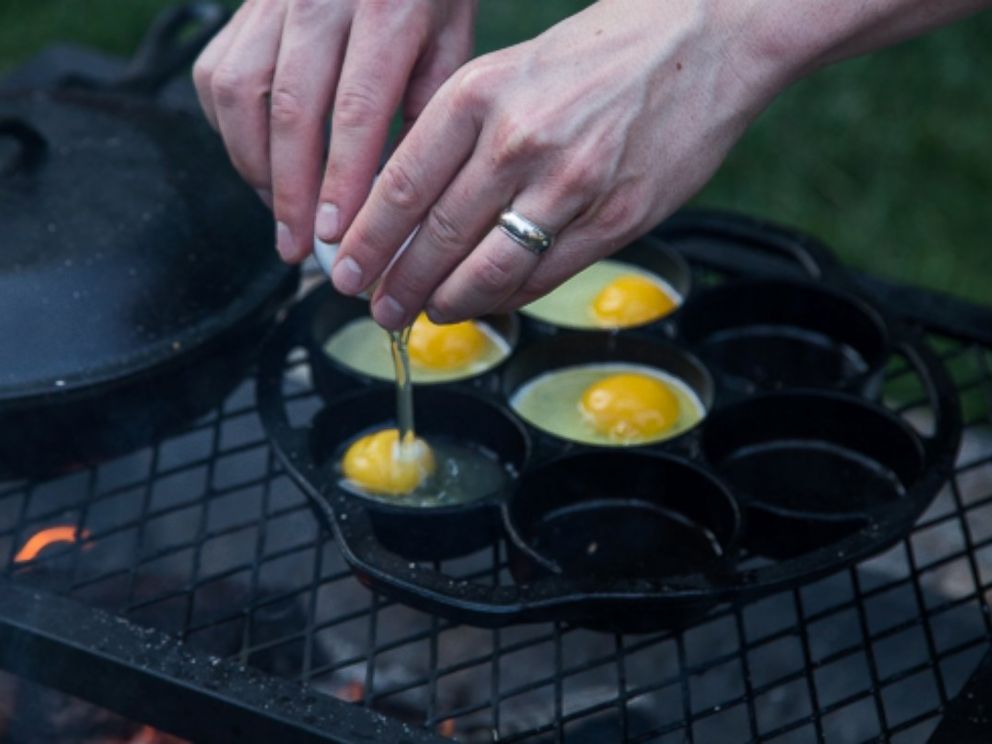 Biscuit pans and pie irons are the tools you never knew you needed or your next camping trip. A biscuit pan can be sued for so much more than just its namesake, such as eggs, pancakes, quick breads, pineapple upside-down cakes, corn breads, quiches, cupcakes, brownies, muffins, mini meat loafs and more.
Pie irons are equally customizable, Trudeau said. "It's really fun because it allows for a lot of customization and trial and error, and it's really easy to deal with," she told ABC News. "I think of it as a Panini press. It presses the edges of your sandwich to make pockets, so anything you can eat in a pocket you can have. You can be really creative."
Trudeau recommends any kind of sandwich to become a melted pocket, strawberry shortcakes, biscuits stuffed with breakfast sausage, hash browns and eggs, and parmesan garlic bread stuffed with spaghetti and cheese as just a few of her favorite possibilities.
"Everybody can eat their own thing that way. You can even have a pie iron-off and make all the people you're with come up with the best recipes to compete," she suggested.
Try these biscuit pan and pie-iron recipes:
Jelly Toast's Campfire Breakfast Burgers: Get the recipe here.
Guy Fieri's Camping Sandwiches: Get the recipe here.
Tip 2: Bring foil and cooking spray.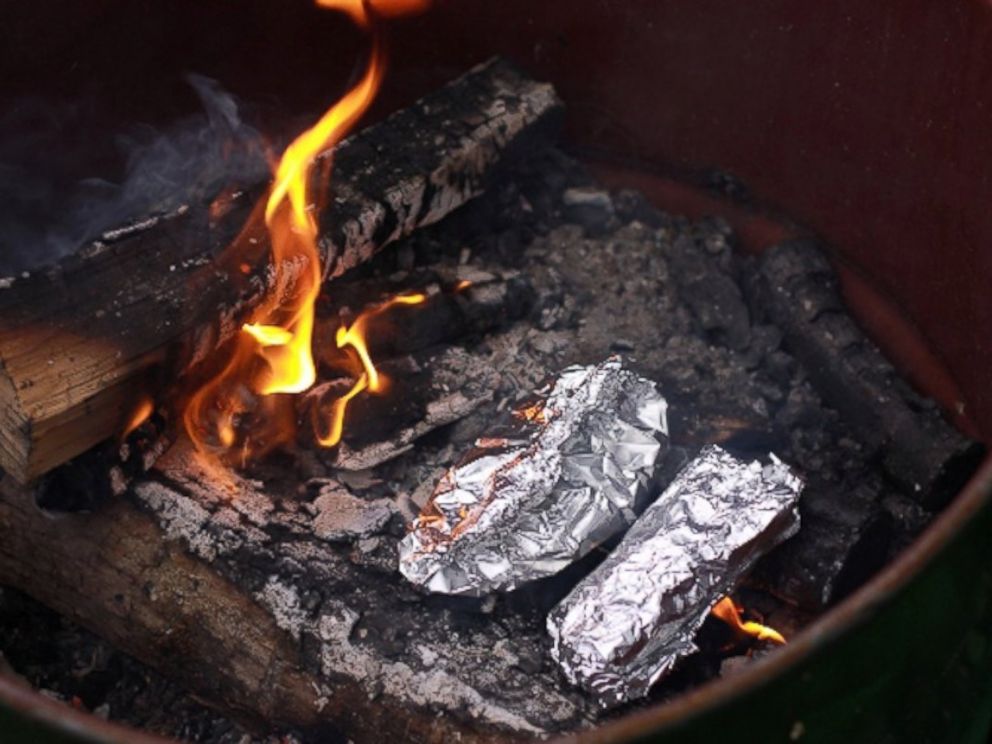 One of the most important (but least fun) things to remember is that clean-up is essential to camping to avoid bears and other unwanted visitors. Keep it as easy as possible for yourself with aluminum foil and cooking spray.
"Clean-up is not difficult because if you spray tools with some cooking spray or line them with foil, they'll clean up pretty much perfectly most of the time," Trudeau recommended. "And everybody tries to figure out how to transport oil or butter, but there's no need with cooking spray -- it's not perishable."
Foil can also be used to make packets that you fill with food and can throw directly on the campfire to cook.
Try these foil recipes:
Guy Fieri's Roasted Vegetable Pouches: Get the recipe here.
Shelbi Nation's Foil-Wrapped Salmon with Herbs and Lemon: Get the recipe here.
Cupcake Diaries' Camping Quesadillas: Get the recipe here.
Tip 3: Prepare, prepare, prepare.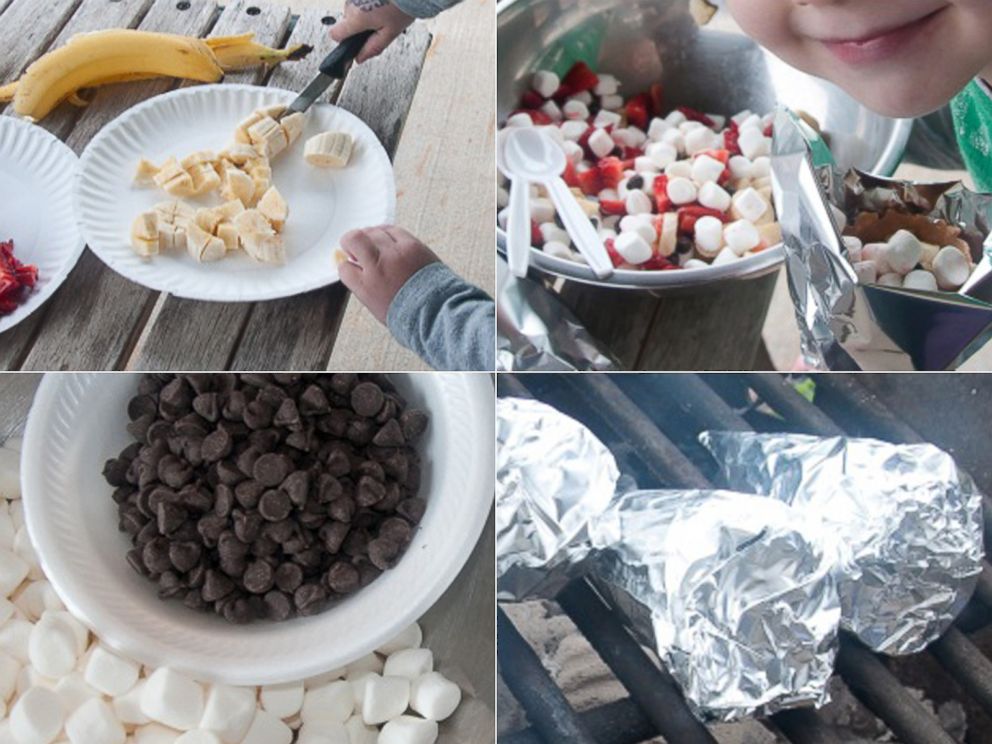 "The biggest thing we always tell people first is do as much preparation at home as possible," Trudeau advised. "You can be as gourmet as you want outside, but once you leave your kitchen, you have what you have, and that's all."
She recommends pre-cutting vegetables, pre-baking desserts, and perhaps most importantly, pre-prepping appetizers and drinks.
"It will keep people from getting whiny and needing dinner right away, and you can relax through the whole process," she said.
Tip 4: Get creative!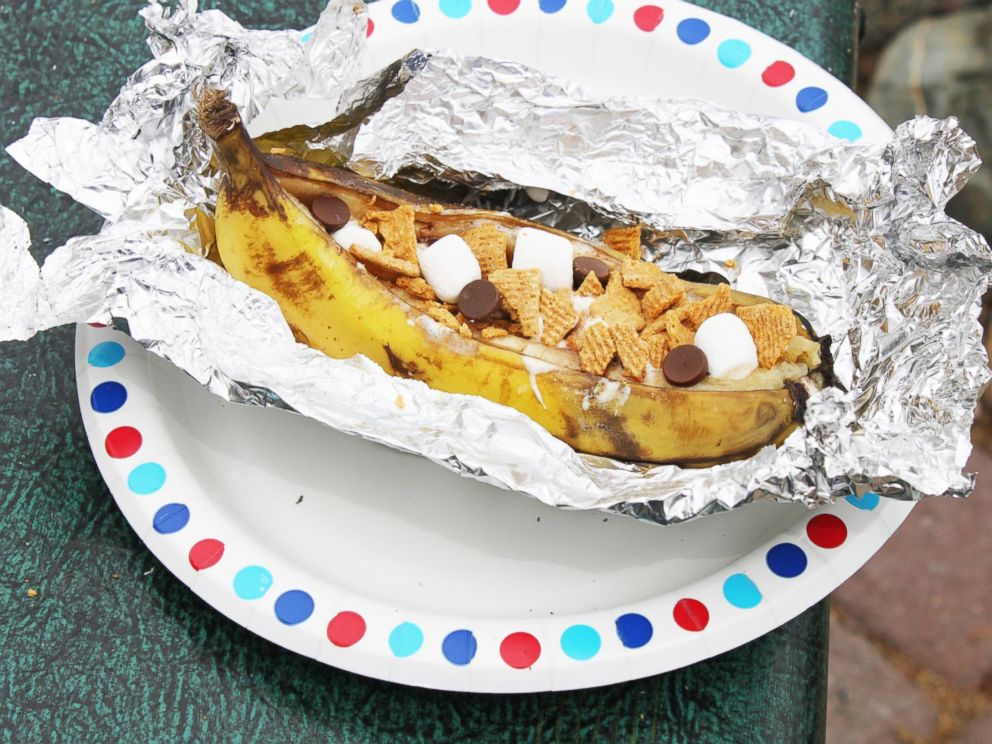 Sure, you can just open a can of beans and grill some hot dogs, but why not make the most of the outdoor cooking possibilities?
For some inspiration, try these creative twists on s'mores that will get everyone excited:
Dude Food's Rice Krispies Treats S'mores: Get the recipe here.
Dude Food's S'moreos: Get the recipe here.
Betty Crocker's Campfire S'mores Banana Boats: Get the recipe here.
Kids Activities' Campfire Cones: Get the recipe here.