World-famous chef Jean-Georges Vongerichten built his cooking empire on the foundation of his rural French childhood kitchen that was steeped in the aromas of cabbage, potatoes and sausage.
Vongerichten is responsible for the operation of three- and four-star restaurants in the United States, United Kingdom and Shanghai. He owns 18 restaurants worldwide that employ about 2,200 people and handle more than 20,000 covers a week.
His palate for good food, he said, was borne out of the cooking of his mother and grandmother.
CLICK HERE for more chef profiles from the "Nightline" Platelist.
Vongerichten and Phil Suarez, his business partner of 16 years, recently opened his restaurant Matsugen, a New York City-based Japanese restaurant where he stepped out of the kitchen and handed the chef duties to the Japanese Matsushita brothers and their team of chefs.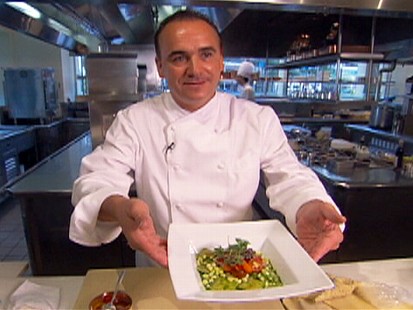 Vongerichten and Suarez have also collaborated on Culinary Concepts by Jean-Georges, a venture that creates international and multiconcept restaurants and businesses for the Starwood hotels and resorts including Lagoon at the Bora Bora St. Regis Resort and the Spice Market in New York City.
He's also published several books, including last year's "Asian Flavors of Jean-Georges" as well as being the chef-in-residence for CITY magazine.
From School to the Kitchen
Born in a small French town in Alsace on the border of Germany, the home-cooking that Vongerichten was used to consisted mostly of cabbage, potatoes and sausage.
His family settled in the area in the 1870s after a canal that used to haul coal to the area froze over one winter and stranded his ancestors. He likened his family's kitchen growing up to a "minirestaurant" where his mother and grandmother fed two to three dozen area workers and residents.
"My grandmother and my mother were cooking there every day -- 35 people for lunch, 20 for dinner. ... It was big ordeal every day. My room was right above the kitchen. So I would wake up in the morning and ... it was mostly potato, cabbage, sausages, things like that. I grew up with all these smells and really developed a nose for all these foods," Vongerichten recalled fondly.
In his teens Vongerichten bucked the family's central heating businesses by getting himself booted from engineer school. Instead, much to the surprise and chagrin of his father, he proclaimed his desire to spend his career in the kitchen.
"He said, 'You are crazy or what?'" Vongerichten remembered.
Father and son had chosen to dine at Auberge de l'Ill in Alsace for his 17th birthday and that's where he broke the news.
"And at the meal, the chef passed by all the tables and to see how everything was and then he arrived at my table and my father said, 'Listen my son is good for nothing, you know, do you have any room for him to peel potatoes? He said 'Yeah, give us a call next week,'" Vongerichten said. "A month later I started there. So it was very lucky."
Figuring he'd have to work his way up the ranks by doing the restaurant's dirty work, Vongerichten was pleased to instead learn the basics of food preparation. He skinned deer, stuffed salmon, prepared salads, learned about seasoning food.
"When you are passionate about something you're good at it from the get-go. I was passionate about learning how to do all the things and it was so new for me and so different from home," he said. "It took a long time, it took about seven years of cooking before I really said, 'Wow!'"
Packing His Suitcase
After three years at Auberge de l'Ill, Vongerichten left for the south of France to study for two years under culinary giant Paul Bocuse and master chef Louis Outhier. He found himself in awe of the tomatoes, olive oil and rosemary.
" I learned a whole new palette of ingredients and food and things," he said.
After the two-year stint with Bocuse, Vongerichten ventured to Lyon and then to Munich. He was clearly making a name for himself. He was 23 years old.
Soon a phone call came that "changed my life forever." A chef called asking him to be the sous chef at a Bangkok hotel.
"And I said, 'I've never been a sous chef. I can't do that job. I'm 23 years old and I can't do this.' 'Sorry,' he said. "I was a chef de partie and I was thinking of the fish station and of the restaurant in Munich and I was like, 'I can't do this. I've never managed people.'"
"He call me for two weeks. Two weeks in a row and I said, 'I can't.'"
But the second week he finally relented, figuring that if it didn't work out he could always come back.
The trip, he said, "changed my life. Forever."
"When the plane open up the smell of the air was like 'Whoa!'" he said. "It was like for me, it was like a culture shock."
So much so that he made the car waiting to take him to the hotel stop five times to check out life on the street from begging monks to vendors sauteing on the street.
Learning of his move, his parents had no idea what their son had gotten into.
"They said to me, 'We're never going to see you again,'" he said. " I had to show them in a globe where it was. They had no idea, you know, where I was going to."
'It's All About Finesse'
"You have to be on top every day especially in a city like New York. You have to raise your bar every day, you know?" he said. "There's always a new restaurant opening up. You have to be on top of your game."
And clearly he is. After having worked in the business for 35 years, he has a feel for what people want.
"I think it is all about finesse and adding things that nobody else has or new blend of things," he said.
"I think to keep it fresh is really to come back with some new ideas always," he said. "I mean this is not easy because it is the same organic chicken, you know? So finding the best ingredients is the most important, but there's no new fish coming out of the ocean every morning."
"For me, my role, my role as a chef is to really come up with new flavors, new combination of things, you know?" he continued. "I mean ? come up with a different technique how to cook it to make it moister, or crispier or whatever you want to achieve, but for me it's about flavor. You know, when you put something on the plate ? I want the first bit to be as exciting as the last."
And all of his world traveling has had another side effect -- his accent, he's been told, sounds like a mix of European and Asian thanks to his English lessons in Thailand.
Working as a Team
Critiques of his work are never ending, especially in New York City. Vongerichten said he values his team members and considers them extensions of himself. It's up to those team members, he said, to keep up the consistency of the restaurants, to make sure the customers are satisfied.
And when the customers do have complaints?
"Most of the time they are right. It only happens because in the end we are only human and we have a chef coming in he just pours a little extra, you know, he has a heavy hand today or he was in love yesterday or whatever it is," Vongerichten said. "It's a very precise science to be good, but mistakes happen so we have to be on top of it all the time."
On weekends, Vongerichten said, he likes to get back to his culinary roots -? throwing everything in a pot and eating family style, something he can't really do in a restaurant where customers have such varying tastes and preferences.
"The thing for young chefs should be focused on -- try to get the best ingredients and then try to use your own background," he said. "I think food needs to come from inside, you know?"
Yearning to Please
While many cooks try to imitate someone else's style, cooking should come from the soul, he said.
"I think food is very personal," he said. "Cook with your soul, you know, and I think for the young guys they should really don't try to search for somebody else's cuisine. Do your own, you know? Try to see what pleases you and then please the customer with it. "
Personalize the food, Vongerichten advised, and cook what you would want to eat.
"Everybody wants to be the next cooking star or whatever it is and sometimes they lose their soul," he said.
Vongerichten said that as a child, he wanted to please people and even organized birthday parties for friends And for him, the restaurant business is an extension of his want to please those around him.
"If you don't have that in you I think you should do something else because it's about others," he said.
While some celebrity chefs stay out of the kitchen once they make it big, Vongerichten likes to keep visiting, which surprises some of his patrons.
"I have so much energy," he said. "I'm not done, yet. I just turned 51, that's half my life so I have more things to offer and more things to do."
So is there one ingredient this famous chef just can't live without?
"I need to have chocolates, a piece of chocolate before I go to bed every night. Since I'm a kid, I still doing that ? otherwise I don't sleep. I won't dream about food [without chocolate]. I want to dream about food every night, so I need that chocolate."