Elvis Presley is the King of Rock 'n Roll and Las Vegas is the city where Elvis still rules.
Sin City is home to more Elvis impersonators than anywhere else in the world -- even Graceland. Vegas has an Elvis for every taste -- from a Black Elvis to a Female Elvis to a Little Elvis.
"I mean Chinese, Japanese, French...Russian Elvis. Why not a Little Elvis?" said Brian Thomas, 43, who at 4 foot 1 inch has been impersonating the King as Little Elvis for 12 years. "And here I am!"
In Vegas, Elvis is more than a performer. You can get married by Elvis. At the Imperial Palace, you can play blackjack with Elvis. You can even watch the Flying ELVI -- a group of skydiving Elvis impersonators -- jump out of an airplane.
"It's a really weird phenomenon," said Robert Browning, one of the original Flying ELVI. "I don't know what the draw is but everybody knows his name."
The Elvis favorite "Viva Las Vegas" is the closest thing to an explanation as to why the city has so many "Elvi"-- of course, the plural for Elvis. The new Aria Resort & Casino at CityCenter, Cirque Du Soleil is about to launch an Elvis-themed show.
"Elvis is the King! What else would you want here in Las Vegas?" Thomas said.
Fans can't get enough Elvis. Impersonators said they are constantly stopped on the street by fans young and old.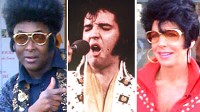 "There are people 5 years old to 105 that just love Elvis," said Peter Vallee, who has been Big Elvis for over a decade.
Vallee now weighs in at around 420 pounds. He jokes that he's only half the man he used to be. "I was over 900 pounds," he said. "I lost over 500 pounds and I'm still working on it. I have a ways to go."
It's no surprise that he prefers the older, heavier and let's face it -- somewhat sloppier version of Elvis -- to the young svelte one.
"I personally believe that Elvis got better with time," Vallee said. "People always say [in] his last shows he wasn't himself...but his vocals were much better at the end of his life. Much."
Stay Up to Date on the Latest Travel Trends from ABC News on Twitter
Meet Black Elvis, Female Elvis
Larry Edwards is known as Black Elvis -- or "Belvis" for short. To embody the King, he said you just have to know his attitude.
"The collar up and the scarf and the glitz the glamour and the shakin' of the lips and all that good stuff," he said.
Then there's Kelly Clinton -- the Female Elvis -- who hardly needs the signature sideburns and shades. Her Elvis impersonation is a borderline out of body experience.
For Clinton, being Female Elvis is more than just a gig.
"With any character I do, you're picturing the person in your mind...and I just try to imagine what it would be like to be cool like the King," she said, imitating his iconic lip curl.
"I've been doing a tribute to him since I was probably 10 years old -- without all the garb," she said. "I had the whole album memorized and ...I'd put the record on and then I'd run out and do my show for the neighbors."
Ironically, the closest man in Vegas to the real Elvis doesn't look like Elvis at all. Jimmy Velvet, who was a friend of the King from 1955 to the day he died, said he thinks the King would find his impersonators amusing.
"There are some very good ones out there...and I think he's probably enjoying all if it where he is," Velvet, who displays his collection of Elvis nick-nacks at the Imperial Palace Hotel and Casino, said.