Haiti's heartache has yet to completely heal after the devastating earthquake that struck more than a month ago. As Haitians work to pick up the pieces, the coverage of these events has dwindled, and the big push for donations has quieted.
College students and faculty around the country have not forgotten to help in the relief efforts, and they continue their missions of hope and goodwill.
When Jessica Turner made the decision to help earthquake victims in Haiti, she began to keep boxes of pancake mix and jugs of water stacked in her hallway at home.
The 17-year-old Florida native, who is taking courses at Santa Fe College in Gainesville, Fla., while attending Gainesville High School, is collecting pancake mix and water to send to victims. She learned from a PBS documentary that some people eat mud cakes out of dirt and oil for nutrients in impoverished Haiti, and that's when she decided to collect pancake mix -- she says she has currently gathered enough mix to provide food to more than 20,000 people thanks to a large anonymous donation.
"It means that everyone can make a change, a positive change in the world, and I think I can encourage my group of peers to step up and do something extraordinary," Turner said.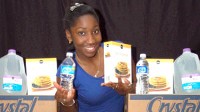 Her first shipment of pancake mix, water and other food items were sent to Haiti via two local churches at the beginning of February after the earthquake devastated the country Jan. 12. She said the success of the project makes her feel "wonderful," and she is applying to the VH1 Do Something Awards in hopes of winning the $100,000 prize to establish her own charity.
"I didn't even know that I was going to start the project for Haiti," she said. "It just kind of happened. As far as the Lord will take me, I will go."
Students Continue to Rally for Haiti Victims
Turner is only one example of the outpouring of support from students across the nation. Whether it takes the shape of medical help, clothing, supplies, money or food, students and faculty have rallied together to support the victims of the Haiti earthquake.
At Indiana University, students and faculty in Bloomington are working hard to fill a 1,280-cubic-foot cargo container with items ranging from tarps to hand saws. They are now using the monetary donations they received to buy items for the container, said Emily Miller, a graduate assistant with the Center for Latin American and Caribbean Studies.
The container will be taken on a flatbed to Miami, where it will be shipped off by boat to the Dominican Republic, she said.
Different groups on campus and from around the community have donated, including an agricultural group that donated a box of ropes, a woman who donated pots and pans, and a local community college that donated hundreds of T-shirts.
Miller said the Center for Latin American and Caribbean Studies, which is organizing the container program, has put "Cram the Container!" on the top of its priority list.
"That's what's also kind of neat, to see how committed the center is, that this has overcome some of the administrative things that we normally have to do," she said.
Championship T-Shirts Shipped to Haiti
Prominent college businesses are also placing Haiti donations on their to-do lists. The University Co-op independent bookstores have paired with the University of Texas to donate thousands of football BCS Bowl Championship shirts and hats to those in need.