Travel with ABC News to see how this election impacts all corners of the country
Posted by JEFFREY KOFMAN October 27, 2008 | 12:06 PM EDT
He is the Crusading Sheriff.
Despite criticism, 'America's Toughest Sheriff' expects to be re-elected.
Joe Arpaio, who likes to be known as Sheriff Joe, is determined to get rid of every illegal immigrant in Maricopa County, no matter what the cost.
"I'm an equal opportunity law enforcement and incarcerator -- I lock everybody up," he said.
With his ever-present angry growl, the man who has been called "America's Toughest Sheriff" speaks for a good number of frustrated Americans when the issue is illegal immigration. But he has also drawn fire for his aggressive pursuit of illegal immigrants, casting a wide net by raiding local business in search of illegal employees and using traffic violations as excuses to search the vehicles of anyone whom he thinks shouldn't be here.
Using traffic stops and raids around the county, Sheriff's Deputies have sent thousands of illegal immigrants to Maricopa County jails, and it has made Sheriff Joe a local hero to many in the Phoenix area. Which is why he is confident he will win re-election for a fifth term next month. But he has also become a target, for what his critics see as unconstitutional abuses of power.
Posted by JOHN DONVAN October 22, 2008 | 6:36 PM EDT
San Antonio, Texas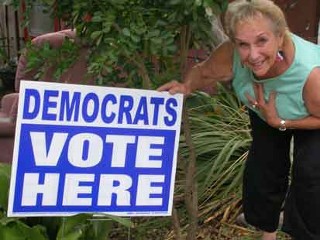 Texan Terralita Maverick is an Obama supporter, but her family is responsible for the word that Sen. John McCain and Gov. Sarah Palin have adopted as part of their campaign.
(Courtesy Terralita Maverick)
Sen. John McCain and Gov. Sarah Palin have laid claim to the term "maverick," a word that was on our minds as "Nightline" headed to the Texas range in a trusty red rental car as part of ABC News' "50 States in 50 Days" series.
We'd heard that the term "maverick" originally had something to do with cows. Actually, not cows -- cattle. There is a difference -- cows are female cattle, as opposed to bulls and steers.
Outside San Antonio we came to the home of one Terralita Maverick, age 82. Terralita lives in a converted trolley car festooned with family history, because the word maverick -- as used today -- comes from her great grandfather, cattle rancher Samuel Augustus Maverick.
Traditionally, cattle was branded to tell who owned it, but something happened with rancher Samuel Maverick's herd.
"My great-grandfather didn't have time to brand his cattle, he gave it to his help, to the cowboys to do, and they did not do it," Terralita said, blaming their negligence on "drunkenness."
And so maverick came to mean unbranded, and from that, a label for standing apart from the crowd. Teams took the name, and Tom Cruise in the movie "Top Gun," and a car and a wine and a weapons system -- the maverick missile.
And of course, two Republican candidates, which Terralita Maverick isn't too happy about.
"I get mad," she said. "First of all, [McCain] cannot be a maverick in upper case or lower case because he's not related to me and he's not independent of his voting record or of the Republican Party."
Watch the story tonight on "Nightline" at 11:35 p.m. ET
Posted by JOHN DONVAN October 21, 2008 | 11:06 AM EDT
El Dorado, Kansas--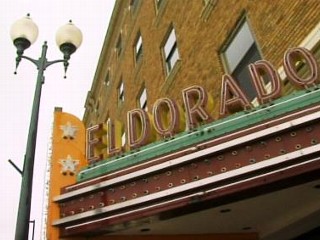 As Election Day approaches in El Dorado, Kansas, it's evident that this always solidly Republican...

(ABC News)
Though Barack Obama came here, he didn't quite conquer. The town that was home for several years to Obama's maternal -- and white -- grandfather enjoyed a brief moment in the limelight earlier in this campaign season, when the Democratic candidate spent part of a day here highlighting his connections with the community.
But with Election Day near at hand and things settled down in El Dorado, it's appears that this always solidly Republican community will go, once again, to the Republican candidate for president. "Nightline" visited the town as part of ABC News' "50 States in 50 Days" series.
Watch the story tonight on "Nightline" at 11:35 p.m. ET
Republican Mike Cooper was unimpressed by Obama and did not attend his rally last winter. "I felt he wasn't the candidate for me and it wasn't worth my time," explained Cooper, who works in a farm equipment dealership. "And honestly I had several customers that I had talked with who lived in the area and three or four of them said anybody with the name Barack Hussein Obama shouldn't even be here."
Posted by KATIE ESCHERICH September 19, 2008 | 9:45 AM EDT
As part of ABC News' "50 Days in 50 States" road trip, "Nightline" spent some time traveling along the Gulf of Maine. For full-time lobstermen working in the region, jobs have been made tougher by the nation's high oil prices. Not only have refueling costs for their boats sky-rocketed, but so has the cost of bait. But is off-shore drilling the answer? Not so fast, say many residents. Drilling, they say, could have profound effects on the Gulf's delicate ecosystem.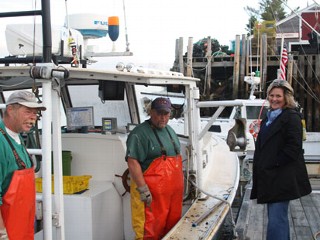 "Nightline" co-anchor Cynthia McFadden learns the lobster trade in Maine.
(Max Culhane/ABCNews)
CLICK HERE to see photos from a day on the water with two lobstermen.
Posted by CYNTHIA MCFADDEN September 22, 2008 | 9:27 AM EDT
Here was my assignment: Go to Maine and see what the people who make their living farming the sea think about all this talk of off-shore drilling.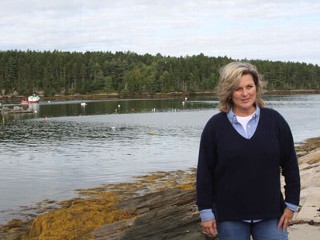 "Nightline" co-anchor Cynthia McFadden on the shores of Sebasco Harbor in Maine.
(Max Culhane/ABC News)
The issue is a particularly intriguing one in a state where so many people are struggling under the staggering increase in fuel costs and where people will be particularly hard hit this winter by the surging price of home heating oil.
Does the possibility of oil beneath that great Gulf of Maine cause the locals to chant "drill, baby, and drill?" I headed north to find out.
It was a treat this week to go home to Maine. The fact that I have now lived outside of the state longer than I ever lived in it makes little difference: Maine was home and always will be.
Posted by LEIGH SIMONS September 19, 2008 | 9:34 AM EDT
As part of ABC News' "50 States in 50 Days" road trip, we at "Nightline" decided to visit states across the country not by plane, train, or bus, but by automobile. We're calling our car the Nightliner -- although the Ford Edge isn't exactly covert.
Since the Nightliner added an extra level of logistics for our producers than the typical story, it was my job to organize the trip and get the car in our first stop in the tour of states -- Maine.
On Sunday, I picked up the Nightliner -- which came complete with racing stripes and a checkered flag graphic -- in a little town outside Portland called Raymond, located in the Maine Lakes Region. My next stop was picking up co-anchor Cynthia McFadden at the airport.
"How will I find you?" she asked over Blackberry.
"Oh -- It'll be obvious," I replied.
Usually when I drive, I'm the curious person looking at the other vehicles driving by. This day was different. I kept forgetting that the car I was driving screamed, "I'm from ABC News and proud of it!" until people started waving, honking, and rubber-necking.