Clinton vs. Obama Watch Issue By Issue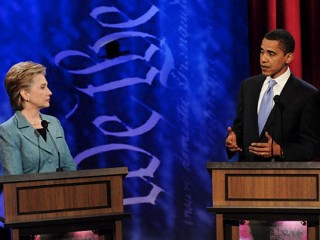 Click on Icon to Pick Topic

More Clinton vs. Obama Watch Issue By Issue stories...

Watch Full Debate Here
Should Dems Join 'Dream Ticket'?
Clinton Explains Bosnia Botch
Obama's Pastor Under Fire
Does Hillary Think Barack Can Win?
Doubting Obama's Patriotism?
Clinton's 'Baggage' an Asset?
Pitch for White House: Watch Debate Here
Clinton, Obama on Affirmative Action
Clinton, Obama On President Bush
Obama, Clinton on 'Bitter' Pa. Voters
Obama, Clinton Final Thoughts
Clinton, Obama Debate Gas Prices
Clinton, Obama on Obama's Electability
The Race for the White House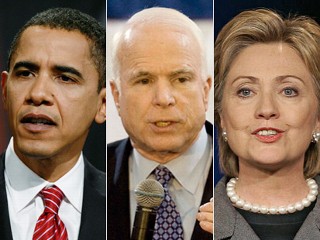 Poll shows Obama ahead as the candidate Dems see as most likely to win.

More The Race for the White House stories...

Obama and Clinton Lead McCain
Superdelegates Want Answers
Obama's Pastor: God Damn America, U.S. to Blame for 9/11
Clinton Red-Faced Over Bosnia Trip
Obama Explains Why Some Small Town Pennsylvanians Are "Bitter"
Obama Turns 'Bitter' Attack on Rivals
Obama Camp Denies Duplicity On Trade
Clinton: Iraq Troop Surge Hasn't Worked
Exclusive: Obama Says Race Ongoing Issue
Powell Praises Obama, Fears Iraq 'Burden'
Dean's Warning: End Race by July 1 or Lose
Carter Will Not Endorse Until The Convention
Elizabeth Edwards Backs Clinton Health Plan
Who Has the Power to End the Dem Race?
ABC/Facebook/WMUR DEBATES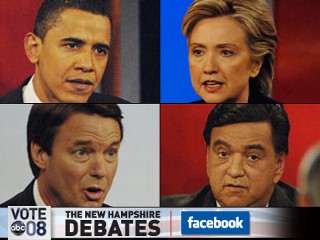 Narrowed Democratic field faces off in debate before N.H. primary.

More ABC/Facebook/WMUR DEBATES stories...

TRANSCRIPT: Democratic Debate
Race to '08: Debate Wrap-up
Watch Hillary's Heated Response
Behind the Scenes: The N.H. Debates
Blogging the N.H. Debates
Dems Worst Debate Mistakes
Raise Your Hand for Change
Obama, Edwards Take on Lobbyists
Do They Really, Really Like Hillary?
Did the Surge Work?
Dem Candidates Clash on 'Change'
Clinton, Obama on Healthcare
What If? Dems Talk Nukes
Should the U.S. Take Out Bin Laden?