Election 2016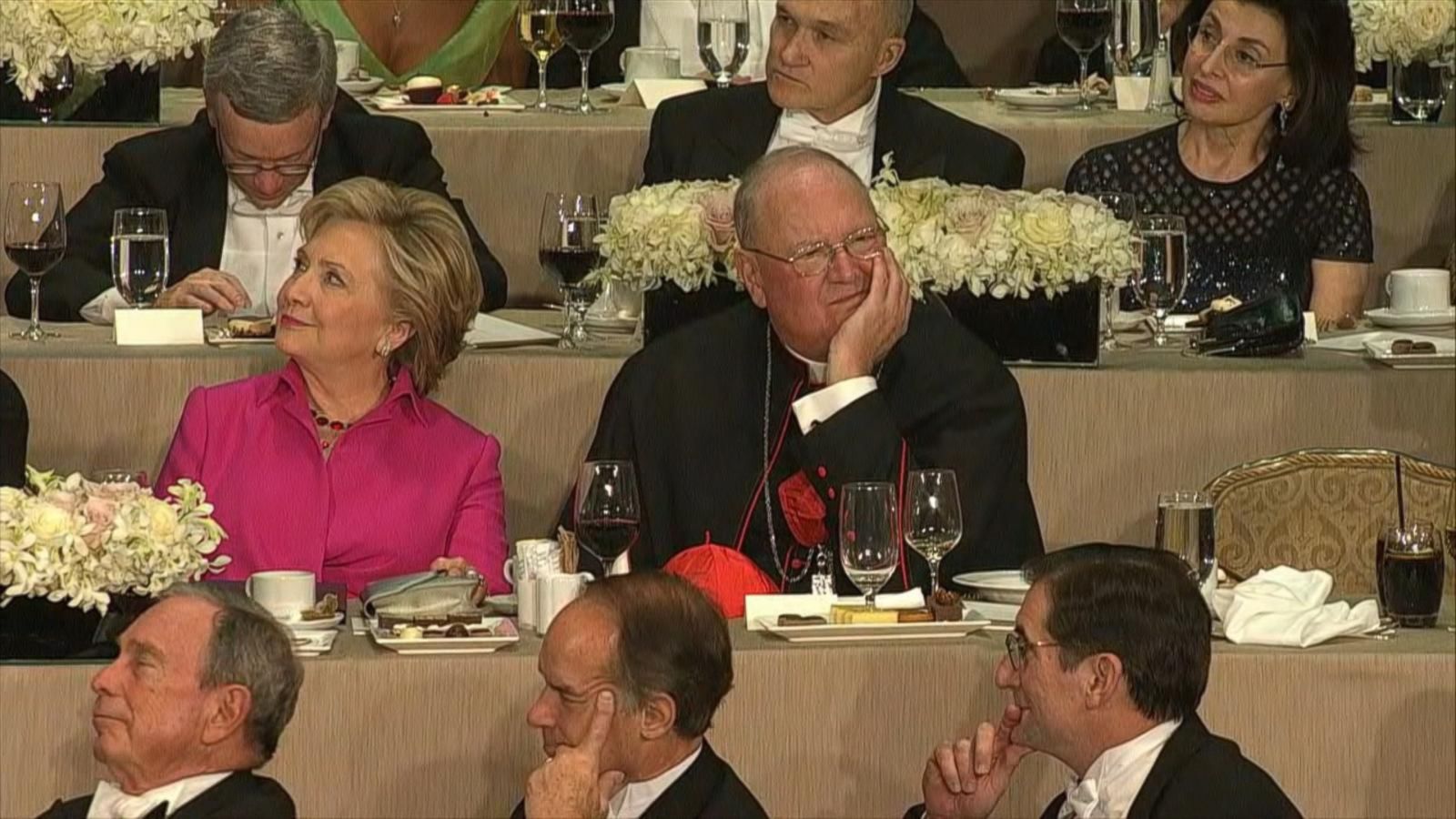 2016 Election Forecast: Predict Which Candidate Will Win the Presidential Election
A candidate needs 270 electoral votes out of 538 to win the presidency. Get started to make your own forecast.
1.
Donald Trump was booed last night at the annual Alfred E. Smith Dinner after delivering a series of jabs at his Democratic opponent Hillary Clinton, including trying to riff on a controversial remark he made at the latest presidential debate about her being a "nasty woman." Clinton also didn't play nice, however her jokes appeared to be more well-received by the crowd, ABC's LIZ KREUTZ and CANDACE SMITH report. Trump, who spoke first, tried at first to keep things light-hearted, but quickly turned to harsh criticism about Clinton, who he described as "corrupt." His remarks drew boos from the crowd, unprecedented for the event in the memories of observers. During Clinton's remarks, the Democratic nominee made some self-deprecating jokes about her stamina and paid speeches, before turning her attention to Trump, where she jabbed him on everything from his temperament to his ties to Russia. http://abcn.ws/2eoHaPk
2.
Here, some of the most memorable zingers from the dinner, courtesy of ABC's DAVID CAPLAN: http://abcn.ws/2eoxJkQ
3.
Dolan Dishes on the Dinner
Timothy Cardinal Dolan, Archbishop of New York, who was seated between Clinton and Trump at last night's dinner, recalled a private conversation between the two candidates on NBC's "Today Show" this morning, ABC's RYAN STRUYK notes. "Mr. Trump turned to Secretary Clinton and said, you know, you are one tough and talented woman. And he said this has been a great, a good experience, this whole campaign, as tough as it's been," he said. Dolan said Clinton said, "Donald, whatever happens, we need to work together afterwards." Dolan said he offered a short prayer with them before walking out. "There were some awkward moments," Dolan said. "Whenever you get any humor, there can be a little awkwardness and a little anticipation -- is this gonna work or has this gone over the line?"
4.
Analysis - ABC's Rick Klein
It's not funny anymore – any of it. The Al Smith dinner may as well have been the fourth debate, or at least a clearinghouse for zingers left on the table by both candidates at the previous three. Those zingers had too much bite, if judging by the groans that met Donald Trump's performance in particular. Hillary Clinton was more self-deprecating, but she clearly didn't want to be that close to her rival, either. Then there's the matter of Trump's closing argument about the election being, in his view, "rigged." He went for a laugh line by saying he would respect the election results "if I win," but this is serious business. The last thing the country wants is a fight over an election that's been a fight all along – and Trump must know that, too. The last two and a half weeks will be difficult enough to endure if there's no way to have fun with what's funny, and treat as serious business what's not.
5.
This Week on 'This Week'
The Powerhouse Roundtable debates the week in politics, with ABC News political analyst Matthew Dowd, Republican strategist and CNBC contributor Sara Fagen, National Review senior editor Jonah Goldberg, Democratic strategist Jamal Simmons, and editor and publisher of The Nation Katrina vanden Heuvel.
6.
ABC's MARYALICE PARKS and MATTHEW CLAIBORNE:
We often hear voters describe their perception that the Clinton world is too tangled, too shady, too confused with donations, gifts and the like. Today, another email from the Wikileaks dump seems to shows a key Clinton insider saying that he thinks it is too. ABC News has not verified the authenticity of the emails. In the email, Doug Band, a long time Clinton adviser, is seen complaining to Clinton campaign chair John Podesta and Cheryl Mills, former State Chief of Staff and Clinton family attorney, about what he sees as the messy and improper relationship between President Bill Clinton and Chelsea Clinton and the Clinton Foundation. "Cvc [Chelsea] uses office space to run a business...I just don't think any of this is right," Band writes.
7.
ABC's INES DE LA CUETARA:
Mike Pence campaigning in Reno, Nevada, said he and Trump would accept the outcome of a "clear election result, but we also reserve the right to contest or file a legal challenge in the case of questionable results." He preceded that by saying voter fraud is real and that evidence of it over the years has been "dramatic." He pointed to his own home state of Indiana as proof that some may be trying to rig the system.
Fact Checking the Debates
In Depth: The Latest ABC News-Washington Post Polls
Best of the 2016 Primary Debates
Powerhouse Politics