Election 2016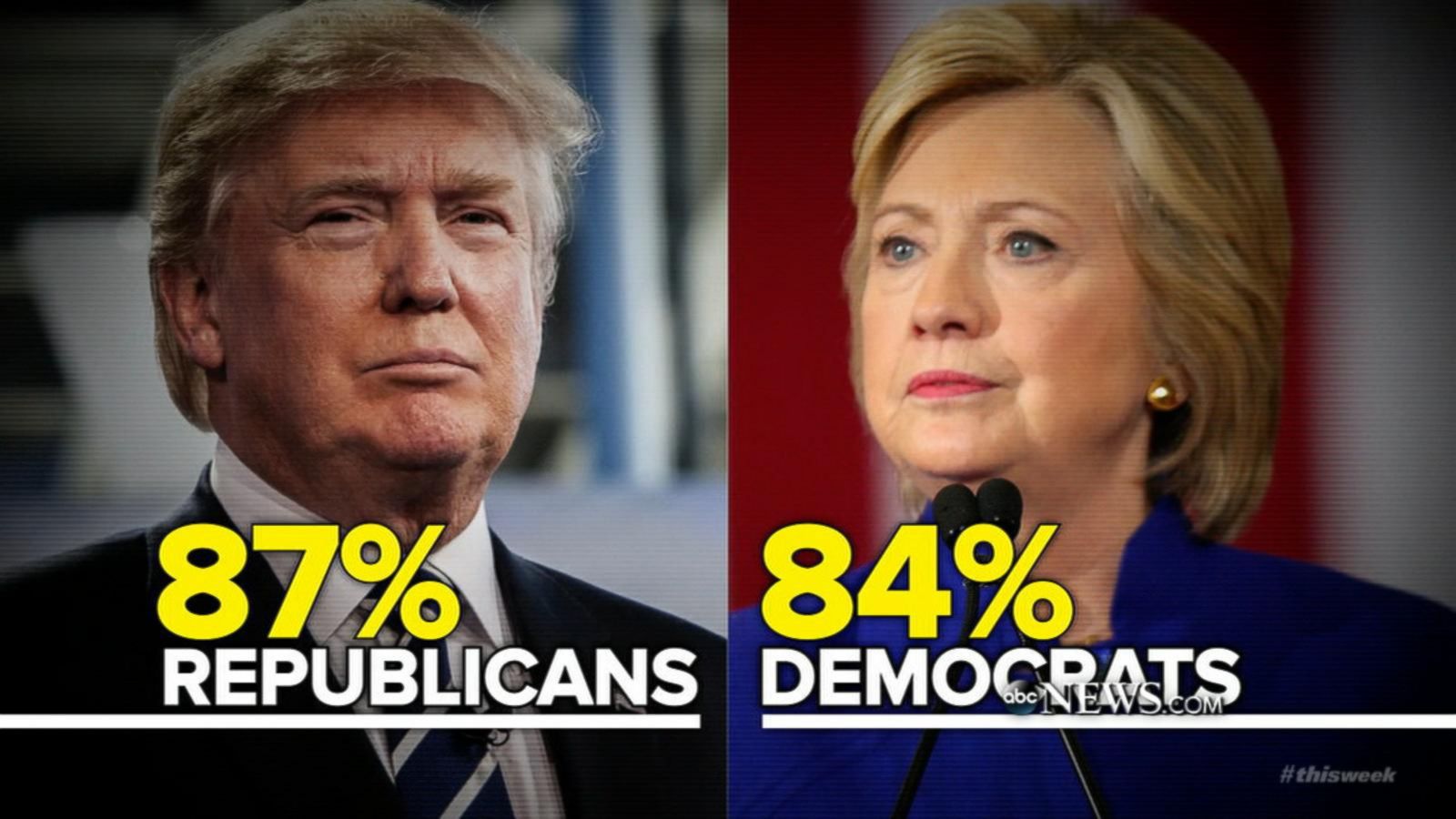 2016 Election Forecast: Predict Which Candidate Will Win the Presidential Election
A candidate needs 270 electoral votes out of 538 to win the presidency. Get started to make your own forecast.
1.
Addressing supporters in suburban Philadelphia last night, Donald Trump laid blame for this week's unrest in Charlotte on Democratic rival Hillary Clinton. "Those peddling the narrative of cops as a racist force in our society -- and this is a narrative that's supported with a nod by my opponent; you see what she's saying and it's not good -- shared directly in the responsibility for the unrest that is afflicting our country and hurting those who have really the very least," Trump told supporters at Sun Center Studios in Chester Township, Pennsylvania. ABC's CANDACE SMITH notes that Trump made the remarks as hundreds of demonstrators in North Carolina's most populous city kicked off a third night of protests following the fatal police shooting Tuesday of Keith Lamont Scott. http://abcn.ws/2d1wntb
2.
Hillary Clinton's presidential campaign is well aware that the outcome of the first presidential debate on Monday isn't just about what the two candidates say on stage, but also about the conversation that takes place around it. On a conference call with supporters Thursday afternoon, a top aide to Clinton directly asked supporters to use social media during and after the debate at Hofstra University in New York to help shape the conversation positively around the Democratic nominee. "Reporters certainly view what's happening online," Clinton's deputy communications director Christina Reynolds said, adding it is part of, "how they judge the debate and then how they call the debate -- who won, who lost." ABC's LIZ KREUTZ has more: http://abcn.ws/2d3SxyJ
3.
The Clinton campaign continues their strategy of attempting to use Trump's words against him. Today, the campaign begins airing a television ad in seven battleground states and on cable, ABC's JOSH HASKELL reports. According to Hillary Clinton's team, the intention of the ad is to show the effect "Trump's hateful rhetoric towards women is having on our daughters." http://abcn.ws/2cqfiIG
4.
Analysis - ABC's Rick Klein
Hillary Clinton is a "talented debater" with "ample experience" and a "significant polish" owing to her intense preparations and even "talent." How do we know that? The Republican National Committee's chief strategist is telling "interested parties" that in a memo. It's that part of the election season where such praise is not only deemed acceptable but is expected; a top aide to George W. Bush once called John Kerry "the best debater since Cicero." Such words are generally harmless. But have they ever been more meaningless? If anyone has proven that debates have changed since Cicero's Rome it's Donald Trump, who has done his part in rendering the format unrecognizable from its former self. What debates are now are massive television events – a format that Trump knows quite well. So even while the Clinton campaign seeks to massage the online reaction to the first debate, and Trump works the moderator refs, it's hard to imagine the pre-debate spin mattering less.
5.
This Week on 'This Week'
One day before Donald Trump and Hillary Clinton meet face-to-face for the first presidential debate, Trump campaign manager Kellyanne Conway comes to "This Week" Sunday. Plus, in an ABC News exclusive, George Stephanopoulos goes one-on-one with British Foreign Secretary Boris Johnson. And the Powerhouse Roundtable debates the week in politics, with Rebuilding America Now PAC strategist Alex Castellanos, ABC News political analyst Matthew Dowd, New York Times presidential campaign correspondent and CNN political analyst Maggie Haberman, Democratic strategist Jamal Simmons, and editor and publisher of The Nation Katrina vanden Heuvel.
6.
What We're Watching -- Anti-Trump Super PAC Launches Pre-Debate Video Featuring Hofstra Students
An anti-Donald Trump super PAC is going on offense ahead of the first presidential debate this Monday at Hofstra University in New York. The group, the Not Who We Are campaign, is using students at the very university where the debate will be held to make a point. A new web ad produced by the group features students unfriendly to Trump's message. "I don't think you can have a racist bigot as president," one student says in the 60-second spot that was filmed on campus. Another chimes in, "He makes me terrified." And a third simply says, "I don't want him on campus." The Not Who We Are campaign plans to run the ad on Twitter and Facebook ahead of and during Monday's debate. WATCH: https://youtu.be/KrKIWu0zrV8
7.
Not Who We Are's campaign manager Josh Hendler said in a statement: "Since the Donald himself is coming to campus, these Hofstra students are standing up and sending a message that bigotry and hatred are not who we as Americans and not who they are as part of the Hofstra community." Hendler's group bills itself as a venue for "community members and leaders across the country" to "organize their friends, neighbors and coworkers to take a stand against" Trump by writing open letters. The site features letters from companies, universities and groups ranging from members of the clergy to scientists to golfers. http://abcn.ws/2cVRiB8
Best of the 2016 Primary Debates
Inside the Republican National Convention
Inside the Democratic National Convention
In Depth: The Latest ABC News-Washington Post Polls