Election 2016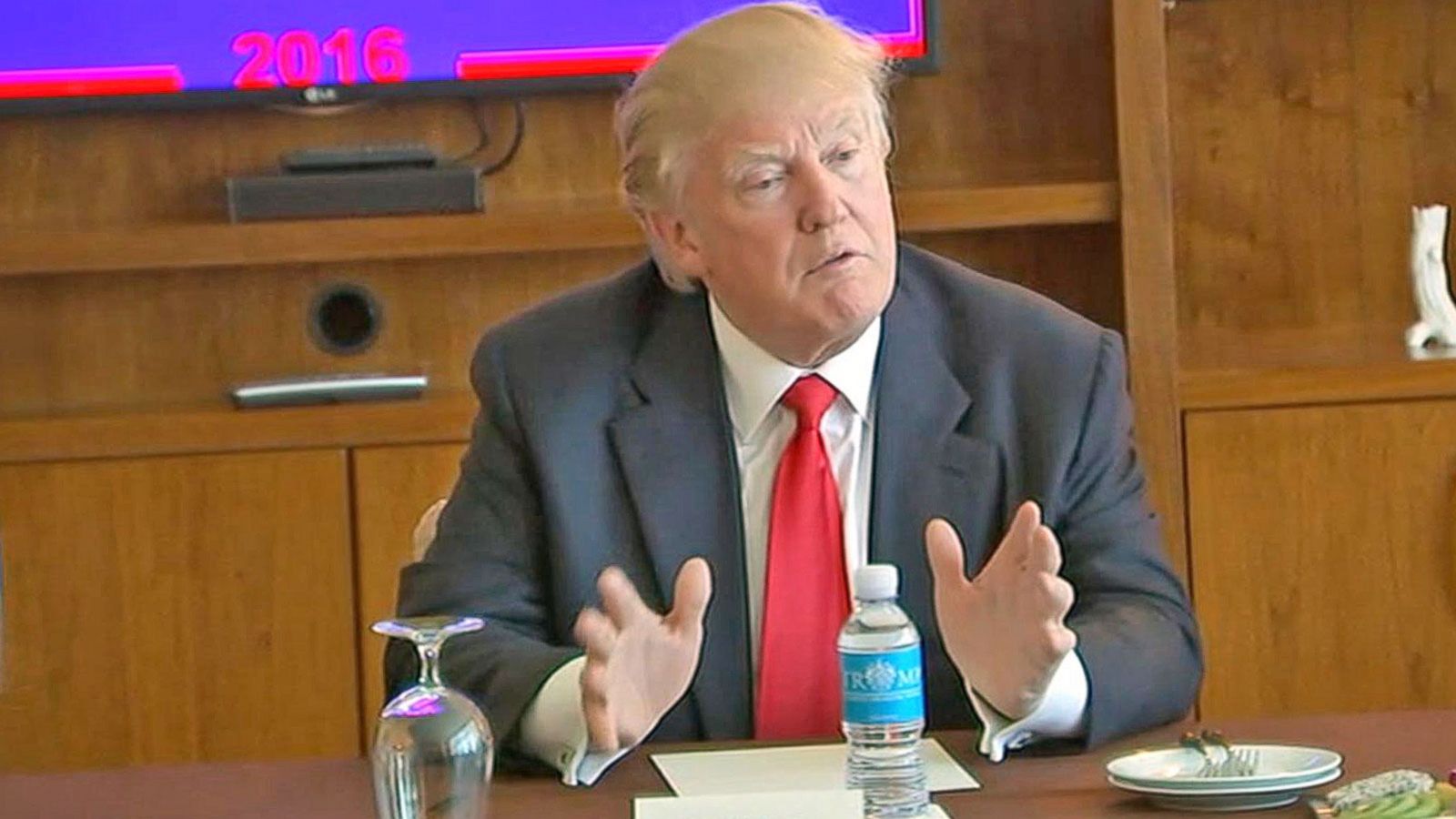 2016 Election Forecast: Predict Which Candidate Will Win the Presidential Election
A candidate needs 270 electoral votes out of 538 to win the presidency. Get started to make your own forecast.
1.
Donald Trump says he has accepted an invitation from Mexican President Enrique Pena Nieto to meet with him Wednesday. "I have accepted the invitation of President Enrique Pena Nieto, of Mexico, and look very much forward to meeting him tomorrow," Trump tweeted Tuesday night. The Republican nominee will be joined on the trip by former New York City Mayor Rudy Giuliani and Senator Jeff Sessions, the campaign said Tuesday. The office of the Mexican president confirmed the meeting, tweeting that Trump had accepted the invitation, and the president looked forward to Wednesday's meeting, ABC's JOHN SANTUCCI and DAVID CAPLAN report. http://abcn.ws/2bAuqpO
2.
What the Clinton Campaign is Saying
From Clinton's Communications Director, Jennifer Palmieri: "From the first days of his campaign, Donald Trump has painted Mexicans as "rapists" and criminals and has promised to deport 16 million people, including children and U.S. citizens. He has said we should force Mexico to pay for his giant border wall. He has said we should ban remittances to families in Mexico if Mexico doesn't pay up. What ultimately matters is what Donald Trump says to voters in Arizona, not Mexico, and whether he remains committed to the splitting up of families and deportation of millions."
3.
Donald Trump is going to be back out on the campaign trail today with his long-awaited speech that is slated to unveil the newest version of his immigration plan, ABC's MEGHAN KENEALLY writes. The speech comes after Trump and his campaign staff differed when describing portions of his policy relating to immigration, indicating that there might be changes from what he has previously mentioned on the trail. The biggest change to Trump's immigration stance seems to center around the previously planned deportation force that would have been dedicated to removing people who now live in the United States but originally arrived illegally. In recent weeks, Trump has appeared to be wavering on what to do with some longstanding residents who have families and jobs and no criminal history. Trump's communications director Jason Miller previewed the speech on Tuesday on Fox News, saying that "nothing's changed with Mr. Trump's stance." http://abcn.ws/2bFvA0m
4.
Analysis -- ABC's RICK KLEIN
Welcome to the most important day of Donald Trump's campaign, at least going back to his convention. Twenty-four hours from now, Trump will (presumably) have a revised and revamped immigration policy. He will also have made a foreign trip to visit the government he's tangled most with publicly. He's seeking to look and act presidential, to signal that he's listening, trying, and evolving. At least in theory, it's a sort of real-time display of the management approach he's looking to bring to the nation's highest office. It all comes at a moment of vulnerability for Hillary Clinton – see those new poll numbers that show trust in her eroding - that she's chosen to spend almost exclusively with donors. If Trump needs a reset race before Labor Day, he's doing what he can to get it. The master of optics and television imagery is getting some potentially valuable takeaways from the last day of August.
5.
Hillary Clinton's unpopularity reached a new high in the latest ABC News/Washington Post poll, putting her on par with Donald Trump among registered voters. The latest findings solidify their positions as the two most unpopular presidential candidates in polling dating back more than 30 years, ABC's GREGORY HOLYK and GARY LANGER report. Among all adults, 56 percent now view Clinton unfavorably, up 6 percentage points in three weeks, compared to 63 percent who say the same about Trump. Among registered voters, the two candidates have near-identical unfavorable ratings: 59 percent for Clinton vs. 60 percent for Trump. http://abcn.ws/2bFW5mj
6.
The FBI has responded to recent concerns about U.S. voting systems' being targeted for cyberattacks as the presidential elections approach, saying it takes the threat "very, very seriously" and is working to "equip the rest of our government with options." FBI Director James Comey addressed the issue while speaking to government and private-industry experts attending the Symantec Government Symposium in Washington, D.C., reports ABC's MIKE LEVINE. "We take very seriously any effort by any actor," he said, "to influence the conduct of affairs in our country, whether that's an election or something else." http://abcn.ws/2byX8aq
7.
The State Department said Tuesday that as many as 30 previously undisclosed emails that may refer to the 2012 Benghazi attack are included in the thousands of deleted documents recovered by the FBI during an investigation into Hillary Clinton's use of a private email server. Government lawyers revealed the number of potential new documents during a hearing regarding lawsuits filed by the conservative legal group Judicial Watch, which is seeking access to records related to Clinton's time at the State Department. ABC's MARGARET CHADBOURN has more: http://abcn.ws/2byUJ2r
Best of the 2016 Primary Debates
Inside the Republican National Convention
Inside the Democratic National Convention
In Depth: The Latest ABC News-Washington Post Polls