Election 2016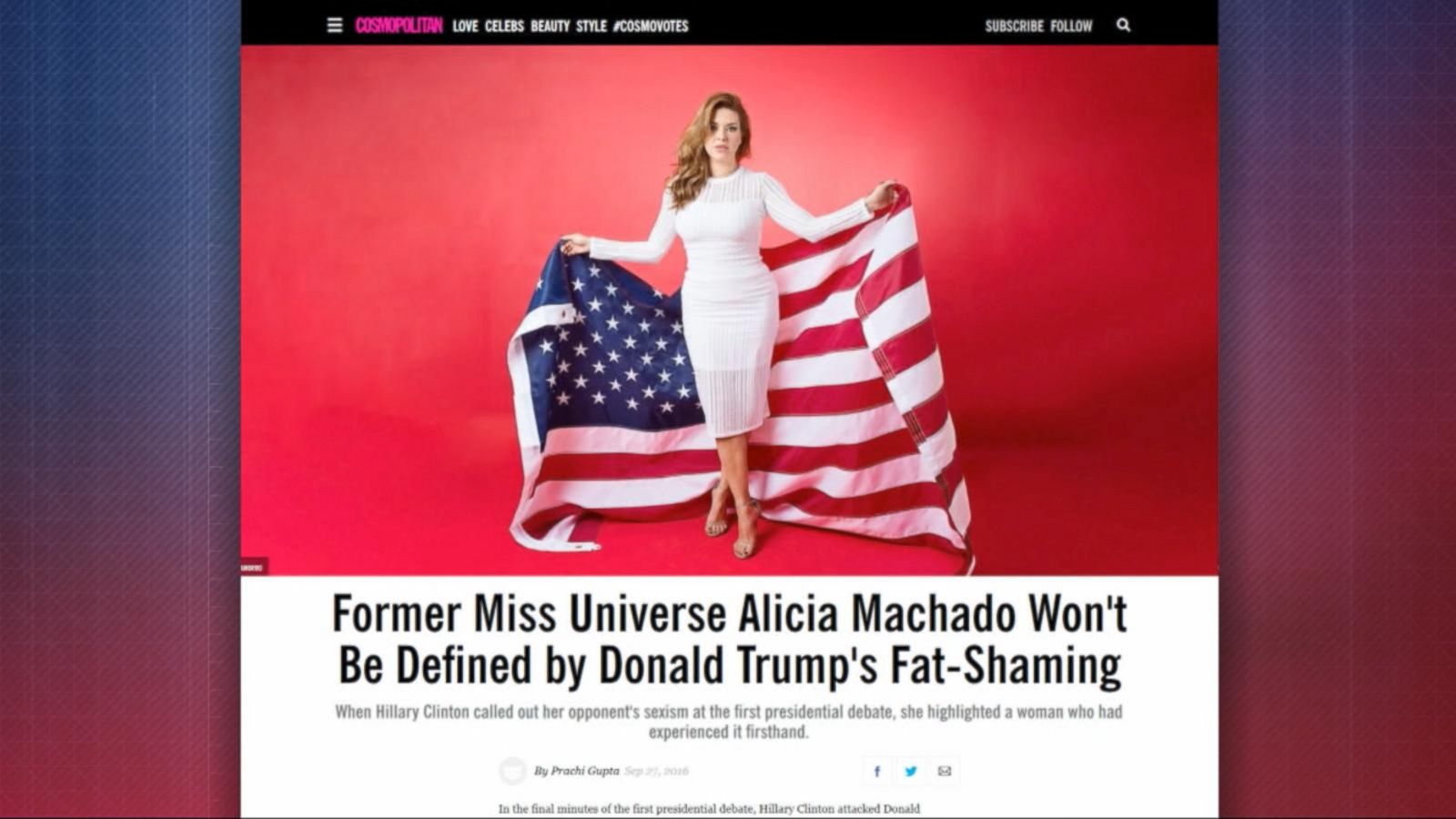 2016 Election Forecast: Predict Which Candidate Will Win the Presidential Election
A candidate needs 270 electoral votes out of 538 to win the presidency. Get started to make your own forecast.
1.
Hillary Clinton and Donald Trump ushered the 2016 presidential campaign into a new phase last night -- and they did it with plenty of barbs. The two candidates faced off in their first general election debate at Hofstra University in Long Island, New York, in front of what was expected to be a historic number of television viewers. Here are 10 moments that mattered at the first general election presidential debate, courtesy of ABC's MEGHAN KENEALLY, SHUSHANNAH WALSHE, VERONICA STRACQUALURSI and RYAN STRUYK: http://abcn.ws/2cYL6aN
2.
The candidates made charges about each others' records while defending their own careers and policy proposals. But were they always telling the truth? How often did Trump and Clinton spin facts to fit their arguments? ABC News fact-checked some of the most noteworthy claims made in the debate: http://abcn.ws/2cGQrno
3.
During a phone interview this morning on "Fox and Friends," the hosts asked Trump if he had any regrets about his performance, notes ABC's CANDACE SMITH. "Do you regret not bringing up the emails as much? You brought it up at one point," host Ainsley Earhardt asked. She followed up by asking why he did not expand his attacks on Clinton's email server or the Clinton Foundation. "I would have liked to have done that," Trump responded. "But the question weren't – I mean, don't forget you are asked a question as to progress or something, and it's hard to get off to Benghazi sometimes the way the questions were framed. You know, you start off open a totally -- the opposite of Benghazi, and so Benghazi can't get brought up, but it was a very interesting evening. I thought it was good." http://abcn.ws/2dwfW9C
5.
Analysis - ABC's Rick Klein
Clinton used the first presidential debate to launch a full frontal attack on Trump, baiting him into fights over his personal finances, taxes, sexism, race relations, business dealings and personal honesty. If Clinton came looking for a fight, she found it. Her aggressive tone drew Trump in. He attacked Clinton right back, showing flashes of anger that channeled public frustration, and also the coarser side of his public persona. It made for some lively exchanges, including several that brought an edge to Trump's tone. "She doesn't have the look," Trump said toward the end of the debate. "She doesn't have the stamina." Trump appeared rattled at times, particularly as the debate wore on. Yet his main attacks on Clinton were rooted in policy grounds, as he sought to give voice to public anger not just at Clinton but at the broader political class. http://abcn.ws/2cGY7pz
6.
Trump pushed back against criticism he received from Clinton during last night's debate regarding his treatment of former Miss Universe Alicia Machado, saying "she gained a massive amount of weight, and it was a real problem." Trump made his remarks on "Fox and Friends" this morning in response to Clinton pointing out that Trump called Machado "Miss Piggy" while berating the Republican nominee's overall treatment of women, reports ABC's MICHAEL EDISON HAYDEN. "She was the winner, and, you know, she gained a massive amount of weight, and it was a real problem," Trump said of Machado. "We had a real problem. Not only that, her attitude, and we had a real problem with her." http://abcn.ws/2dwkxIY
7.
Republican vice presidential candidate Mike Pence praised Trump's performance during last night's debate. "I think Donald Trump had a great night," he said today on "Good Morning America," adding that Trump "took command of the stage." More from ABC's RYAN STRUYK: http://abcn.ws/2cSe9L3
8.
Clinton's running mate, Virginia Sen. Tim Kaine, said Clinton showed her fitness to be commander in chief last night, while Trump, he said, "told some whoppers." "Hillary offered details and Donald didn't. Hillary answered questions and Donald avoided them. Hillary told the truth and Donald told some whoppers," Kaine said today on "Good Morning America." "He just seemed rattled the longer the debate wore on. More from ABC's KATIE KINDELAN: http://abcn.ws/2d6Edn5
9.
When Hillary Clinton attacked Donald Trump for not releasing his tax returns and allegedly paying zero in federal income taxes, the Republican presidential nominee had just four words to say in response. "That makes me smart," Trump said from the debate stage at Hofstra University last night. Trump has said repeatedly he is being audited by the IRS and cannot release his tax statements until the review is concluded. But during the first presidential debate in Hempstead, New York, the real estate mogul vowed to release his tax returns "against my lawyer's wishes" if Clinton releases emails she deleted from a private server she used while she was secretary of state. ABC's MORGAN WINSOR has more. http://abcn.ws/2cGVa8E
10.
ABC's ADAM KELSEY highlights the most memorable lines of the first presidential debate: http://abcn.ws/2dv2rHj
Best of the 2016 Primary Debates
Inside the Republican National Convention
Inside the Democratic National Convention
In Depth: The Latest ABC News-Washington Post Polls