Election 2016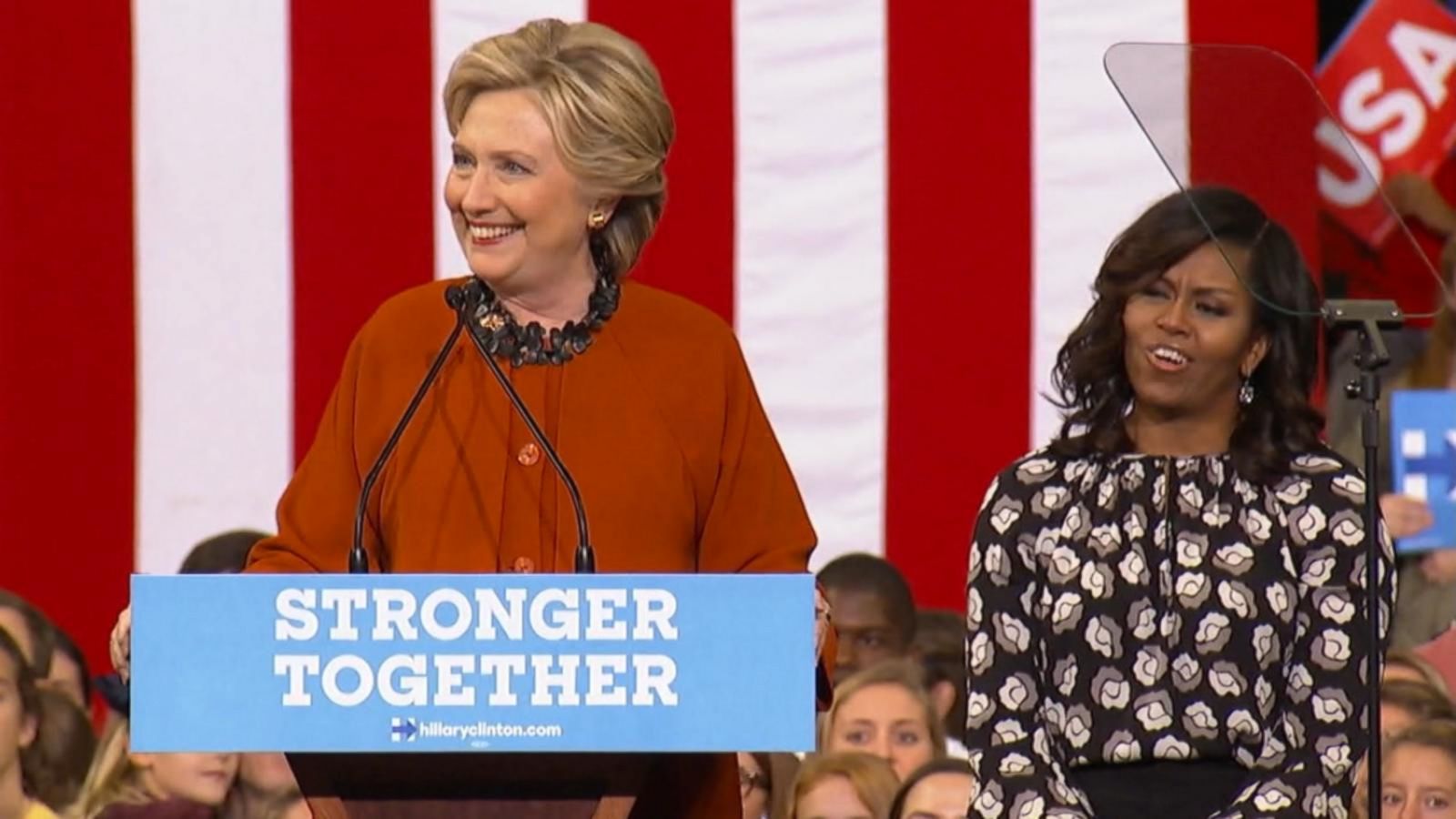 2016 Election Forecast: Predict Which Candidate Will Win the Presidential Election
A candidate needs 270 electoral votes out of 538 to win the presidency. Get started to make your own forecast.
1.
Michelle Obama in her first joint campaign appearance with Hillary Clinton began on a personal note. "I just want to take this moment publicly to thank Hillary," Obama said after giving Clinton a hug on stage at a rally in North Carolina to encourage early voting. "It takes a level of generosity of spirit to do what Hillary has done in her career and her life for our family, for this nation," Obama told the crowd of more than 11,000 at Wake Forest University in Winston-Salem. In her speech today, Obama ripped what she called Trump's "vision that's grounded in hopelessness and despair...This candidate calls on us to turn against each other, to build walls, to be afraid. And then there's Hillary's vision for this country." ABC's ARLETTE SAENZ, JOSH HASKELL and LIZ KREUTZ have more. http://abcn.ws/2dLFJxW
2.
Michelle Obama continued her criticisms of Donald Trump today in her first joint campaign appearance with Hillary Clinton, but the Republican presidential nominee appears to be unfazed by such attacks. "Look, what is she going to say? Is she going to say I'm fantastic?" Trump said in an interview with ABC's GEORGE STEPHANOPOULOS. "Look, she's the first lady. She's got to say what she's got to say. I mean, I understand that. That's the game." http://abcn.ws/2fk0cdE
3.
A 12-page memo written by a former aide to President Bill Clinton illustrates how he and other advisers raised millions of dollars for the Clinton Foundation and the Clintons after they left the White House, according to a new batch of emails released by WikiLeaks. The purported memo from Doug Band details how he and his team locked in lucrative speaking deals for Bill Clinton and how Band leveraged his work at his global consulting firm, Teneo Strategies, to persuade clients to contribute to the Clinton Foundation. Band described his work as running "Bill Clinton Inc." "We also have solicited and obtained, as appropriate, in-kind services for the president and his family - for personal travel, hospitality, vacation and the like," Band allegedly said in the document. ABC News has not determined the authenticity of the emails published by WikiLeaks. ABC's MARYALICE PARKS and RYAN STRUYK have more. http://abcn.ws/2faZvUF
4.
In his second rally of the day, Donald Trump, after being an hour and a half late, had some fun with his audience, joking throughout his remarks. Trump questioned why an election was even being held, saying that Hillary Clinton's policies are "so bad." "In just thinking to myself right now, we should just cancel the election and just give it to Trump right?" Trump said. "Why are we even having it for? What are we having it for? Her policies are so bad, boy do we have a big difference." http://abcn.ws/2eAK6ev
5.
ABC's INES DE LA CUETARA:
Mike Pence's plane was grounded for an hour in Ft Dodge Regional Airport by air traffic control at LaGuardia Airport so Pence and his team killed 20 minutes by tossing a football on the tarmac. WATCH: http://bit.ly/2eKBWhm
6.
ABC's JESSICA HOPPER:
At a rally in a high school gym in Lorain, Ohio, Sen. Tim Kaine used the words of Ohio's governor to blast Trump's rigged election claims. "And Donald Trump is just trashing that notion, how going around just saying that the election will be rigged right. John Kasich said that's a big fat lie. I quote your governor, "That's a big fat lie," Kaine said. Kaine also brought up Trump's use of Chinese Steel and tailored it to his audience. "He's building his hotels, he could buy steel from Ohio or Pennsylvania but he is buying steel and aluminum from China."
7.
Happening Tonight (all times Eastern):
7 PM: Donald Trump campaigns in Geneva, Ohio, his third and final stop for today. Trump was running late to his second event in Toledo that wrapped around 6 p.m., so he may be behind schedule. 7 PM: Independent candidate Gary Johnson holds a rally in Minneapolis, Minnesota.
Fact Checking the Debates
Where Candidates Stand on the Issues
In Depth: The Latest ABC News-Washington Post Polls
Powerhouse Politics