Election 2016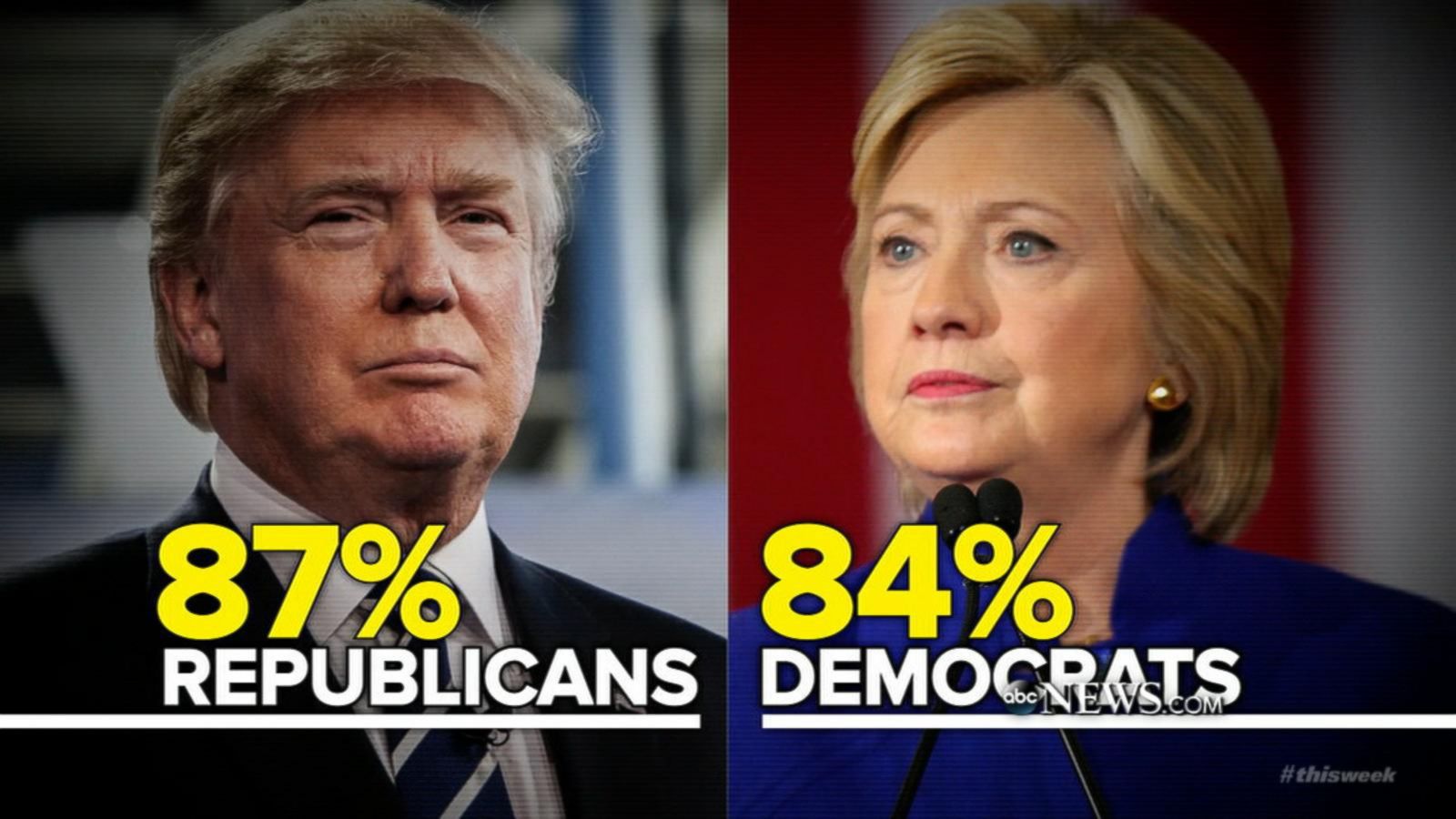 2016 Election Forecast: Predict Which Candidate Will Win the Presidential Election
A candidate needs 270 electoral votes out of 538 to win the presidency. Get started to make your own forecast.
1.
The race between Hillary Clinton and Donald Trump has narrowed to essentially a dead heat nationally, according to the latest ABC News/Washington Post poll, raising the stakes dramatically for the first presidential debate Monday night. The debate is expected to have a huge audience -- 74 percent of Americans say they plan to watch. And while eight in 10 say the debate won't change their minds about who they will support, that leaves more than enough votes up for grabs to shift the balance in an increasingly tight contest. Voters have serious qualms about both candidates, polls show. Trump, in particular, is running competitively despite about six in 10 Americans continuing to see him as unqualified, untrustworthy, temperamentally unsuited and insufficiently knowledgeable of world affairs to serve effectively as president. Yet he's capitalizing on the strength of his core groups of supporters and on Clinton's own weaknesses, including concerns about her health. ABC's GARY LANGER: http://abcn.ws/2ctBNS1
2.
Hillary Clinton's campaign manager Robby Mook said the campaign is concerned about a "double standard" at Monday night's debate where Donald Trump "lies" and still receives a "passing grade." "All that we're asking is that if Donald Trump lies, that it's pointed out," Mook said on ABC's "This Week." "It's unfair to ask that Hillary Clinton both play traffic cop with Trump, make sure that his lies are corrected, and also to present her vision for what she wants to do for the American people." ABC's JOSH HASKELL: http://abcn.ws/2cu7JR6
3.
Donald Trump's campaign manager Kellyanne Conway today called the NBC Nightly News anchor who will preside over Monday night's presidential debate a "respected, brilliant newsman," a sharp change in tone for the campaign, which in recent days has claimed they don't feel Trump will be treated fairly in the debates. "He'll do a good job tomorrow night as a moderator," Conway said of Lester Holt. Trump this past week said Holt will be under tremendous pressure to be tough on the Republican presidential candidate and called him a Democrat when in fact Holt is a registered Republican. ABC's MARGARET CHADBOURN: http://abcn.ws/2djTRik
4.
Analysis - ABC's Rick Klein
The public's expectations are clear: 47 percent of Americans expect Hillary Clinton to win Monday's first presidential debate, compared to only 33 percent for Donald Trump. As for the campaigns' expectations, they're focused on the moderator. Critical to both sides is the role of Lester Holt. Clinton campaign manager Robby Mook said on "This Week" that it's "unfair" to expect Clinton to fact-check Trump. "She shouldn't have to spend the whole debate correcting the record," he said. Mook's counterpart on the Trump campaign, Kellyanne Conway, is working the refs from the opposite direction. "I really don't appreciate campaigns thinking it's the job of the media to go and be the virtual fact-checkers, and that debate moderators should somehow do their bidding," Conway said. The focus on the man in the middle on Monday speaks to how nervous both sides are about the single biggest event of the campaign. But come Tuesday, fact-checks or not, it's going to be the takeaways from Clinton and Trump – the pieces Mook and Conway both know they can only control so much – that's likely to last.
5.
This Morning on 'This Week'
One day before Donald Trump and Hillary Clinton meet face-to-face for the first presidential debate, Trump campaign manager Kellyanne Conway comes to "This Week" Sunday. Plus, in an ABC News exclusive, George Stephanopoulos goes one-on-one with British Foreign Secretary Boris Johnson. And the Powerhouse Roundtable debates the week in politics, with Rebuilding America Now PAC strategist Alex Castellanos, ABC News political analyst Matthew Dowd, New York Times presidential campaign correspondent and CNN political analyst Maggie Haberman, Democratic strategist Jamal Simmons, and editor and publisher of The Nation Katrina vanden Heuvel.
6.
The U.S. and Britain left the "door open" to Russia's intervention in Syria and its support of the regime of President Bashar al-Assad, British Foreign Secretary Boris Johnson said. "If you look back at what happened in the last two or three years, you look back at the sequence of events in Syria, the decisions of my country, of your country, and not to intervene, look, there's no question. We left that door open, and I think we failed, somehow, to have the imagination to think that that was what Putin might do," Johnson said of Russian President Vladimir Putin in an exclusive interview with ABC News' George Stephanopoulos on "This Week." ABC's NICKI ROSSOLL:  http://abcn.ws/2dre41K
7.
President Obama said yesterday that the nation's new African-American history museum in Washington, D.C., tells "an essential part of our American story." "This national museum helps to tell a richer and fuller story of who we are," Obama said at the opening of the National Museum of African American History and Culture. "It helps us better understand the lives, yes, of the president but also the slave, the industrialist but also the porter, the keeper of the status quo but also the activist seeking to overthrow that status quo." The president visibly shed several tears as he told about his rides on Marine One over the National Mall watching the museum get built and thinking that one day he would visit it with his grandchildren during which he'd "hold a little hand" and "tell them the stories that are enshrined here." ABC's ALEXANDER MALLIN: http://abcn.ws/2cLefE5
Best of the 2016 Primary Debates
Inside the Republican National Convention
Inside the Democratic National Convention
In Depth: The Latest ABC News-Washington Post Polls