Election 2016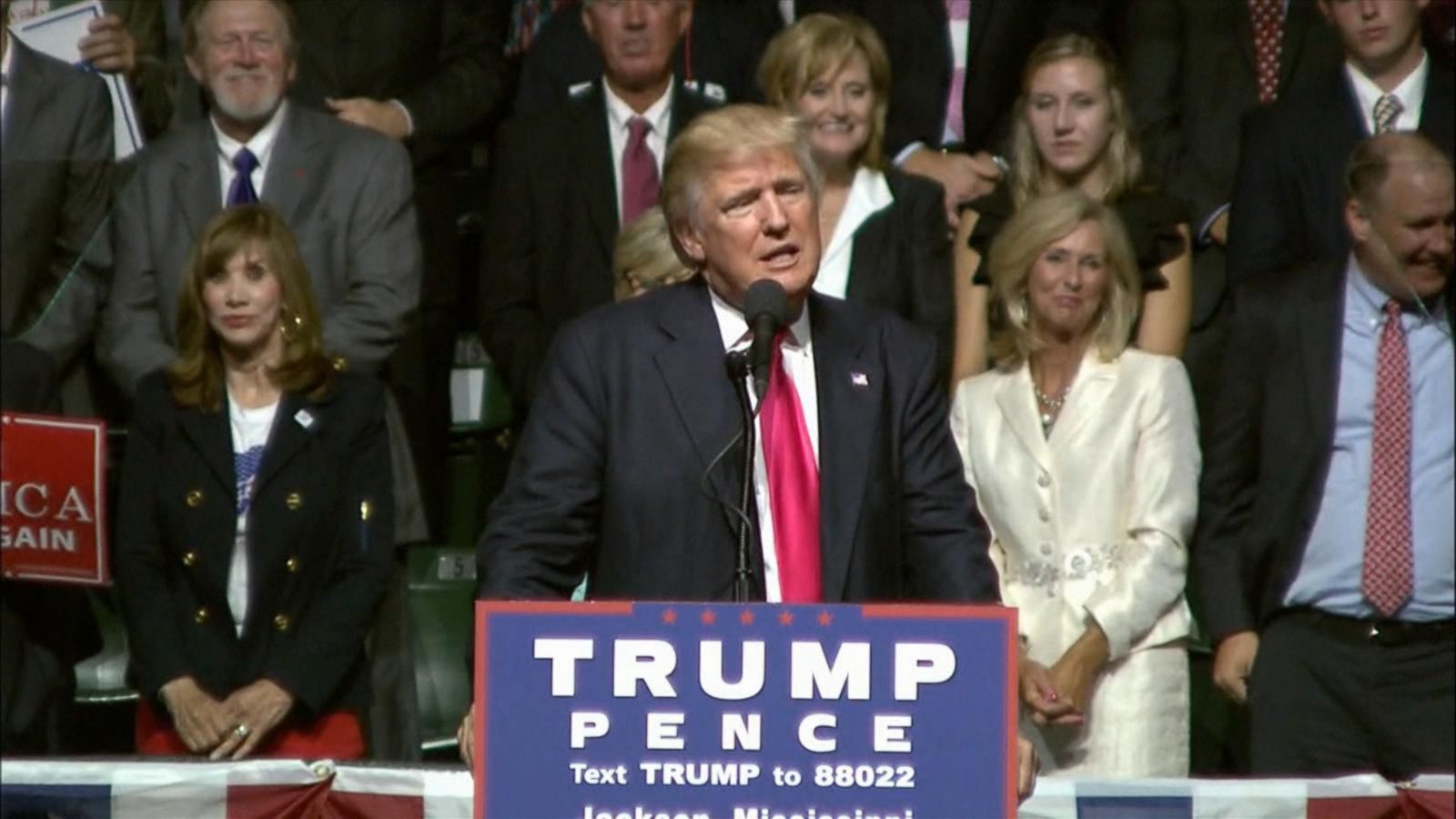 2016 Election Forecast: Predict Which Candidate Will Win the Presidential Election
A candidate needs 270 electoral votes out of 538 to win the presidency. Get started to make your own forecast.
1.
Donald Trump indicated there could be a "softening" of his controversial immigration policies during a Fox News town hall moderated by Sean Hannity that aired last night. When asked by Hannity if there was "any part of the law" he would change to accommodate law-abiding immigrants who have kids in the U.S., Trump replied: "There certainly can be a softening because we're not looking to hurt people," Trump said in his response. "We want people -- we have some great people in this country." Trump emphasized that his immigration policies would "follow the laws of the country." ABC's JULIA JACOBO, INES DE LA CUETARA and CANDACE SMITH have more. http://abcn.ws/2bf1bIP
2.
During the town hall the Republican nominee was asked about recent reports of the Mexican president saying he would meet with the next president of the United States regardless of who it is. "I'd meet with him," Trump said. "Absolutely, I'd meet with him." More from ABC's JOHN SANTUCCI: http://abcn.ws/2bgGDfV
3.
Trump's latest direct appeals to black voters have been seen as a welcome change by some black attendees at Trump's rallies, but many of those leaning toward Hillary Clinton say they see the attempts as disingenuous. "I think it's just a ploy to gain my vote," said Sylvester Ollie, a 47-year-old African-American from Pennsylvania. Some of the talking points that Trump has used — from repeating questionable claims that 58 percent of African-American youths are unemployed to asking voters "What do you have to lose?" by casting their ballot for him rather than Clinton — have rubbed some listeners the wrong way. "It's despicable," said Walter Smith Jr., 68, from North Carolina. ABC's MEGHAN KENEALLY and ADAM KELSEY have more. http://abcn.ws/2bKKLGd
4.
Analysis -- ABC's Rick Klein
When a "pivot" meets a "softening," what becomes of it? And can you truly change a policy that you never had really had in the first place? Donald Trump's immigration muddle continues, with his concession that there's room for "softening" in a policy he's previously described in the hardest of terms. Leaving aside the oddity of a nominee not actually having a final position on immigration, barely two months before the election, it's not clear at all where this leaves Trump and his campaign. The wall isn't going away, one would presume, but will Trump's new position fit Trump's own old definition of "amnesty"? Will he not press to change any of what he now calls the "very, very strong laws" on immigration? (Picture for a moment how this would play on a debate stage with Ted Cruz.) As for his base, whatever that may be, Ann Coulter said Tuesday on MSNBC, "This could be the shortest book tour ever if he's really softening his position on immigration."
5.
While Donald Trump's campaign's ties abroad have come into question in recent weeks, he's not alone. Hillary Clinton's connections between her political life and the global foundation that she and her husband launched are being questioned in light of her presidential bid. Changes to the way the Clinton Foundation operates have started to emerge in recent days and the extent of those changes depends on the fate of the November election. ABC's MEGHAN KENEALLY and MATTHEW CLAIBORNE give a rundown of what is known about the future for the foundation. http://abcn.ws/2bTe1xR
6.
Hillary Clinton's latest attempt to brush aside a nagging email scandal comes after months of various remarks she has made about the use of a personal email server during her tenure as secretary of state. State Department officials Monday confirmed that they had recently received nearly 15,000 emails uncovered by the FBI as part of its investigation into the Clinton email server but not included in the 30,000 emails that Clinton's lawyers had provided to the State Department. ABC's MEGHAN KENEALLY notes some of the most notable comments she has made about the situation since it started. http://abcn.ws/2bfKbDG
7.
A Koch brothers-funded group may be staying out of the presidential race -- but they've started to leverage it in down-ballot races, ABC's RYAN STRUYK reports. A new television advertisement from Freedom Partners, a group partially funded by the Koch brothers, Charles and David Koch, is trying to boost Republican Sen. Rob Portman's reelection bid in Ohio by tying his opponent, Democrat Ted Strickland, to Hillary Clinton. http://abcn.ws/2c4T2JS
Best of the 2016 Primary Debates
Inside the Republican National Convention
Inside the Democratic National Convention
In Depth: The Latest ABC News-Washington Post Polls