Election 2016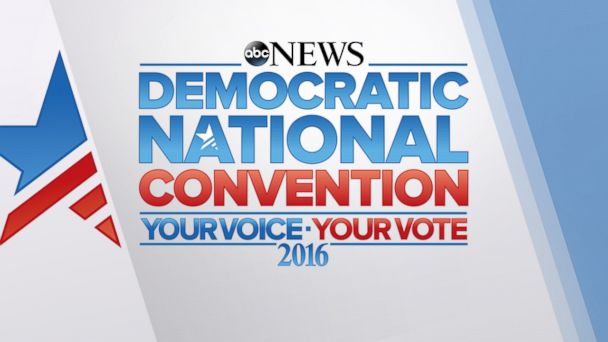 1.
The countdown is on. Today is the final day of the Democratic National Convention, and with some of the biggest political players — President Barack Obama, Vice President Joe Biden, and Sen. Tim Kaine — having already spoken, the focus is now on one person: Democratic presidential nominee Hillary Clinton. Aside from marking the end of the Democrats' convention, today also brings to a close two long weeks of conventions for many politicos, and the formal end of the primary season. Here are five storylines to watch tonight, courtesy of ABC's MEGHAN KENEALLY: http://abcn.ws/2actzZw
2.
President Obama delivered a resounding defense of the state of the country at the Democratic Convention last night and said Hillary Clinton would help defend his legacy in the White House, continuing the work left unfinished during his presidency. The president also offered a stinging rebuke of Clinton's Republican rival Donald Trump, painting him as fear-mongering and unqualified for the job and saying "we don't look to be ruled," ABC's DEVIN DWYER and BENJAMIN SIEGEL note. "A lot's happened over the years. And while this nation has been tested by war and recession and all manner of challenge -- I stand before you again tonight, after almost two terms as your President, to tell you I am even more optimistic about the future of America," he said. http://abcn.ws/2aaDLSZ
3.
In a remarkable series of broadsides leveled at Clinton's opponent, Obama rebuked Trump and the dire picture painted of the country by the GOP presidential nominee. "America is already great. America is already strong. And I promise you, our strength, our greatness, does not depend on Donald Trump," he said, questioning Trump's qualifications. TRANSCRIPT: http://abcn.ws/2aitRjT
4.
The Democratic Party's Obama era morphed into another Clinton one on Wednesday night with a series of roars, a warm embrace, and a brash show of teamwork, with the outgoing and would-be incoming president again looking to capture some hope. The Democrats' past, present and future marked their own pieces of history, with rivalries that have defined a generation fading away in a night of inspiration for the party, ABC's RICK KLEIN writes. Now, to complete the historical sweep, Democrats need to draw on their recent past to move ahead. They came together on the third night of the Democratic National Convention, powered by surrogate star power that built a case for Hillary Clinton, and against Donald Trump. http://abcn.ws/2a19AQW
6.
Democratic vice presidential nominee Tim Kaine said Donald Trump is "a threat to everything" Bernie Sanders and his supporters stand for, ABC's MORGAN WINSOR reports. "They understand who Hillary [Clinton] is and they understand that Donald Trump is a threat to everything they care about," the Virginia senator said in an exclusive interview with ABC News' ROBIN ROBERTS on "Good Morning America" today. "We got to pull it together to win," he added. Kaine, who officially accepted the nomination as Clinton's running mate Wednesday night, acknowledged that the Democratic National Convention began in "turmoil" with Sanders' delegates protesting a Clinton presidency. In a bid to show a unified front, Sanders moved that Clinton be selected as the party's nominee for president on Tuesday night. The motion, followed by some big names in politics throwing their full support behind Clinton, has since helped lift the tone of the convention. http://abcn.ws/2aA9Jc2
7.
Sen. Tim Kaine formally accepted the Democratic nomination as vice president Wednesday, saying that he trusts Hillary Clinton with the life of his son, who is in the military, lacing into Donald Trump. "I never expected to be here," he said. He was officially nominated as the party's nominee after a voice vote on the floor of the convention this afternoon. Clinton announced last Friday that Kaine, a sitting Senator for Virginia, would be her running-mate. Kaine addressed the audience in Spanish briefly when he brought up the year he spent as a volunteer with Jesuits in Honduras, saying that there was an emphasis on "faith, family and work." http://abcn.ws/2ad1oi7
Best of the 2016 Primary Debates
Inside the Republican National Convention
Republican National Convention Speeches
In Depth: The Latest ABC News-Washington Post Polls