Election 2016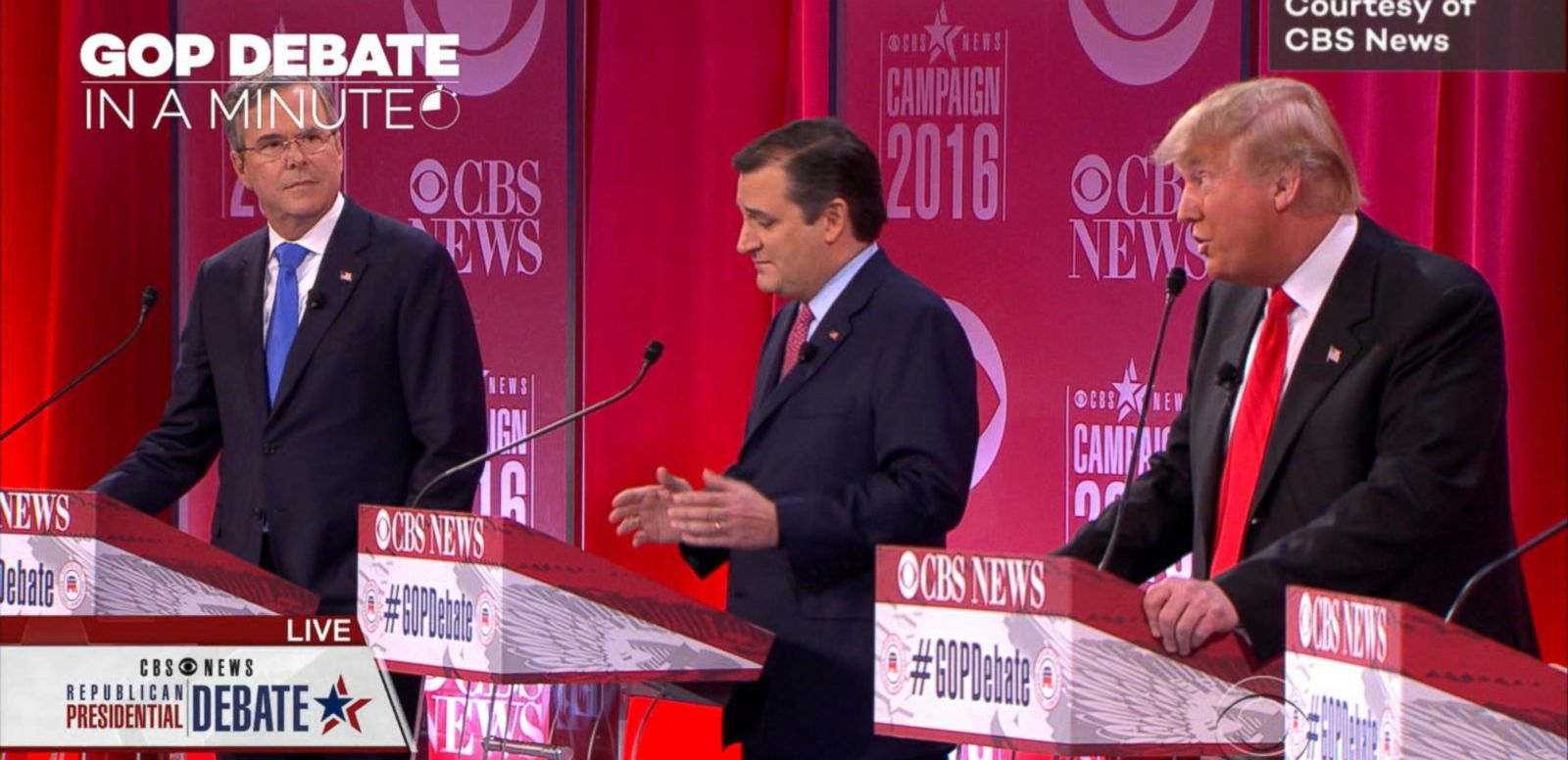 1.
With the Republican presidential field whittled down to just six candidates, the first presidential debate since the New Hampshire primary and the last one before the Palmetto State's Feb. 20 nominating contest turned into a rollicking attack-fest that left virtually no contender unscathed. During one of the debate's feistiest exchanges -- a shout-out between Donald Trump and Ted Cruz -- the moderator, John Dickerson of CBS News, invited the Texas senator to "pick from the buffet" of jabs that had just been leveled. And the debate, held at the Peace Center in Greenville, South Carolina, was exactly that: A smorgasbord of sharp volleys that were as often about policy as they were personal. Here are seven moments that mattered: http://abcn.ws/1QeQ2rm
2.
It's often said that elections have consequences. This election is now of greater consequence -– and Donald Trump seemed not to have gotten that memo Saturday night. The death of Supreme Court Justice Antonin Scalia raised the stakes of a presidential campaign that's now very literally about the future of all three branches of government. On a debate stage just hours after the stunning news broke, the Republican candidates agreed that President Obama shouldn't be allowed to tip the balance of power of the Supreme Court by nominating a new justice in his last 11 months in office. Donald Trump, though, used the ensuing moments to rip into Jeb Bush –- in an exchange the Bush campaign probably couldn't have scripted better. Trump followed up with a later name-calling exchange with Ted Cruz, whom he called the "single biggest liar" on the stage. First, Trump hurled insults at Bush and his supporters, mocking how much money his campaign has spent. He even went after Bush for bringing his mother out on the campaign trail with him –- and then attacked former President George W. Bush in a way that even few Democrats do. http://abcn.ws/1QeHzhI
3.
In the debate hosted by CBS and the Wall Street Journal the GOP hopefuls opened the night honoring the late Supreme Court Justice Antonin Scalia. Here are the best lines of the fiery debate: http://abcn.ws/243bCDg
4.
The death of U.S. Supreme Court Associate Justice Antonin Scalia at the age of 79 today prompted a moment of silence and the very first question at the Republican presidential debate in South Carolina. Donald Trump was asked, if he were president, whether it would be an "abdication" of responsibility not to nominate a replacement Supreme Court justice with nearly a year left in his term -- the exact situation President Obama faces now. "If I were president now, I would certainly want to try and nominate a justice," Trump said. "And I'm sure that, frankly, I'm absolutely sure that President Obama will try and do it." But Trump added that he hoped the GOP-controlled Senate would be able to delay Obama's attempt to replace Scalia. ABC's MICHAEL FALCONE and VERONICA STRACQUALURSI have more. http://abcn.ws/1QeKCg0
6.
Jeb Bush fired back on attacks leveled by rival Marco Rubio that the former Florida governor has little or no foreign policy experience. "To suggest that he has foreign policy experience and I don't is kind of ludicrous," Bush told ABC's GEORGE STEPHANOPOULOS in an interview on "Good Morning America" today. "I'm pretty fluent on foreign policy issues," Bush added. "I look forward to debating Marco on these issues." Rubio said on the campaign trail in South Carolina earlier this week that Bush has "no foreign policy experience." "I thank God every day that George W. Bush was president, but Jeb has no foreign policy experience," he added. Bush's brother, former President George W. Bush, will make his first public appearance on the campaign trail this year in South Carolina on Monday. "He's been supportive for a long while," Jeb Bush said of his big brother. "This was the appropriate place for him to start his campaigning." Bush added, "For my brother to speak on my behalf about the skills I have to lead this country will be quite helpful." http://abcn.ws/1Qboih2
Running Mates: Meet The Candidates' Other Halves
In Depth: The Latest ABC News-Washington Post Polls
In Depth: Race to 2016