Election 2016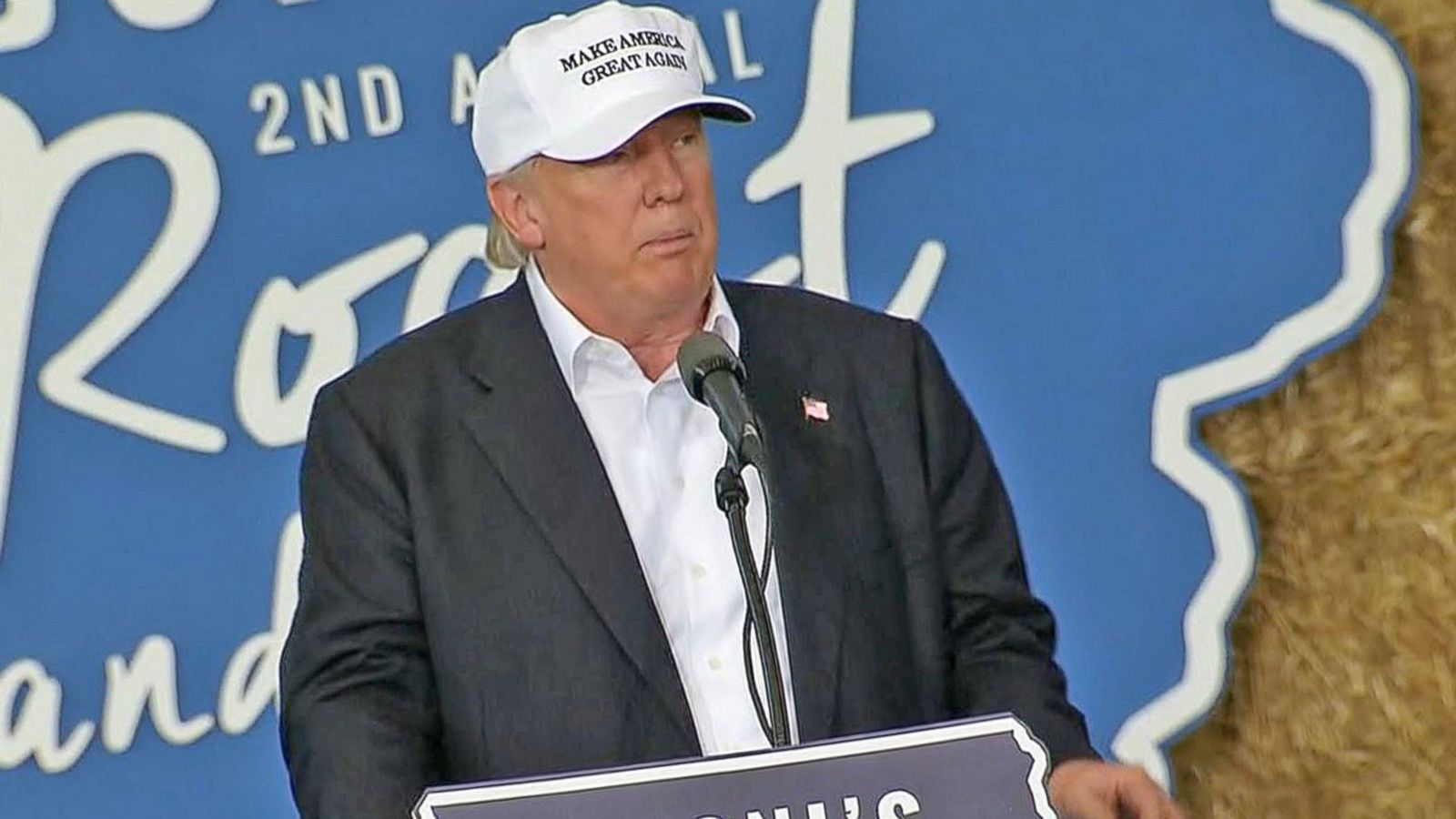 2016 Election Forecast: Predict Which Candidate Will Win the Presidential Election
A candidate needs 270 electoral votes out of 538 to win the presidency. Get started to make your own forecast.
1.
Donald Trump's campaign manager today defended her candidate's outreach to African-American voters, saying he "deserves credit" for doing so, ABC's MICHAEL HAYDEN notes. "This conversation has to be had," Kellyanne Conway said on "Good Morning America," referring to Trump's recent remarks that included his suggestion that black Americans are "living in poverty." "Usually, Republican nominees are not bold enough to go into communities of color and compete for all ears and all votes. Mr. Trump deserves credit," she added. She also criticized Hillary Clinton's relationship with the black community, suggesting that her policies would not help them. "Her policies have left many people behind," she told co-host GEORGE STEPHANOPOULOS. http://abcn.ws/2boEjU1
2.
"Have you seen what this man has been called on a regular basis?" Conway said, discussing the widespread criticism of Trump's remarks earlier this week in Jackson, Mississippi where he said: "Hillary Clinton is a bigot who sees people of color only as votes, not as human beings worthy of a better future." http://abcn.ws/2boEjU1
3.
Clinton Weighs In
Today in an appearance on MSNBC's "Morning Joe," Hillary Clinton was asked by host Joe Scarborough: "Do you think Donald Trump is a personally a bigot or a racist?" Clinton said: "All I can do is point to the evidence of what he has said and what he has done. From the start, he has built his campaign on prejudice and paranoia. It is deeply disturbing that he is taking hate groups that lived in the dark regions of the internet making them mainstream, helping a radical fringe take over the Republican Party. He questioned the citizenship of president Obama. He has a disturbing pattern of courting white supremacists. He has been sued for housing discrimination against communities of color. He attacked a judge for his Mexican heritage. He promised a mass deportation force. What I want to make clear is this, a man with a long history of racial discrimination, who traffics in dark conspiracy theories drawn from the pages of supermarket tabloids and these kind of white supremacist, white nationalist, anti-Semitic groups should never run our government and command our military."
4.
Analysis -- ABC's Rick Klein
It's called a "touchback" policy in immigration parlance, and it serves – for the brief moment, at least – as the operative campaign position of Donald Trump. Deliberately or not, Trump has managed to muddle his messaging on immigration for a full week now, capped by a CNN interview where he said he might actually be "hardening" his stance on immigration, two days after he allowed that it was "softening." "There is no path to legalization unless they leave the country and come back," Trump told Anderson Cooper. Leaving aside the open question of whether this will still be considered amnesty by the Steve King/Ann Coulter/Sarah Palin crowd, this adds a new wrinkle to the crumbled paper that serves as Trump's current policy. It would perhaps be more accurate to say that there is no Trump immigration policy – not until he outlines it in a coherent fashion, either on paper or in a speech. Maybe, or even probably, none of that matters to Trump's core supporters. But this was supposed to be (the latest) week that Trump got back on track. He's dialed back his attacks – but continues to do himself damage simply by talking about his own policies. For those hoping for a new, disciplined Trump, let that sink in.
5.
This Week on 'This Week'
Democratic National Committee chair Donna Brazile weighs in on the state of the 2016 race, Sunday on "This Week." And the Powerhouse Roundtable debates the week in politics, with Purple Strategies chair and Rebuilding America Now PAC strategist Alex Castellanos, President Obama's 2012 deputy campaign manager and Precision Strategies founding partner Stephanie Cutter, ABC News contributor and Republican strategist Ana Navarro, and former Bernie Sanders campaign national press secretary Symone Sanders.
6.
Donald Trump's campaign app may be putting "America First," but experts say it's not necessarily prioritizing users' privacy, ABC's PAUL BLAKE reports. The Trump campaign's smartphone offering seeks to collect and store the contents of users' address books -- potentially vacuuming up large quantities of personal data about individuals who have never used the application and who may be unaware that it's in the hands of the campaign. The app, titled "America First," was quietly launched on Apple's App Store and the Google Play store as a free download last week. In a series of interviews with ABC News, several electronic privacy experts expressed concerns about the scope of the Trump campaign app's data collection techniques, even though all of the methods appeared legal. The experts warned that users may be unwittingly handing over personal data about themselves and their contacts –– potentially exposing all involved to undesired campaign communications, or, at worst, a host of abuses in the event of a malicious data breach. http://abcn.ws/2bCAD4G
7.
Hillary Clinton hit back at Donald Trump and his campaign tactics relating to race the day after he called her "a bigot," saying his real message is, "Make America hate again." "From the start, Donald Trump has built his campaign on prejudice and paranoia," she said at an event in Reno, Nevada, report ABC's MEGHAN KENEALLY and JOSH HASKELL. "Everywhere I go, people tell me how concerned they are by the divisive rhetoric coming from my opponent in this election. I understand that concern because it's like nothing we've heard before," she said in a speech at Truckee Community College. http://abcn.ws/2bKc451
8.
Ahead of a Clinton's speech, the Republican nominee countered the suggestion that his supporters are bigoted. "The news reports are that Hillary Clinton is going to try and accuse this campaign, and all of you...of being racists," Trump said at a campaign rally in Manchester, New Hampshire, "which we're not." ABC's VERONICA STRACQUALURSI and ADAM KELSEY have more: http://abcn.ws/2bjL5gV
Best of the 2016 Primary Debates
Inside the Republican National Convention
Inside the Democratic National Convention
In Depth: The Latest ABC News-Washington Post Polls