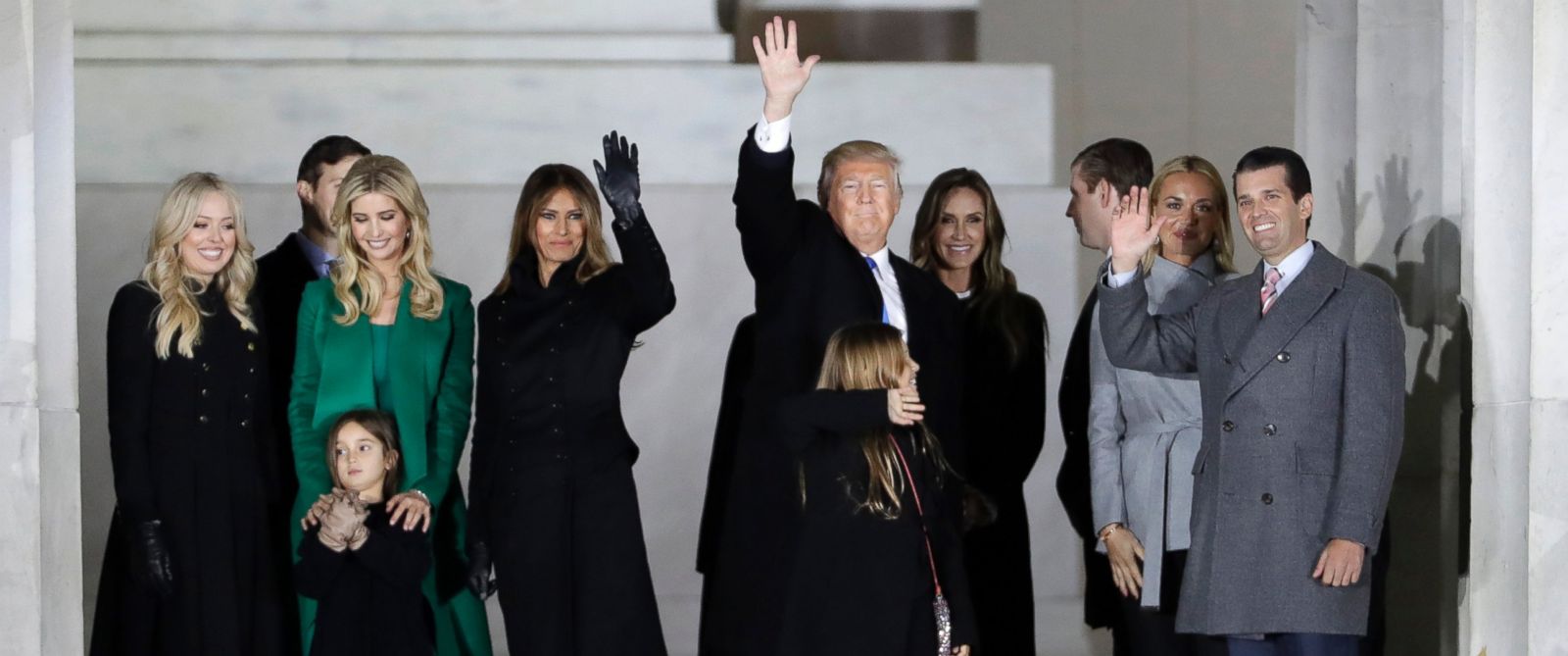 1.
President-elect Donald Trump addressed the crowd at his inaugural concert a day before officially being sworn in on Friday -- calling himself the "messenger" of a movement and portraying himself as the champion of the "forgotten man" and "forgotten woman." "This journey began 18 months ago," he said in the brief remarks, following the country music-heavy concert. "I had something to do with it but you had much more to do with it than I did. I'm the messenger," Trump said at the Lincoln Memorial.
2.
In the days before the inauguration, President-elect Donald Trump's eldest children, Don Jr., Ivanka and Eric Trump, talked candidly in exclusive interviews with ABC News' "20/20" about the transition to the White House and how their lives may change. "I've certainly walked into his [Donald Trump's] office and I said, 'Mr. President-elect,' and he smiles," Eric Trump told "20/20." All three children are taking on different positions. Donald Trump's two eldest sons, Donald Trump Jr., 39, and Eric Trump, 33, will remain in New York, entrusted with running their father's vast business empire.
3.
There will be fewer balls (three, down from Obama's 10), fewer celebrities (no Beyoncé or Jessica Simpson), fewer members of Congress (John Lewis started something) and almost certainly dramatically fewer people on hand to watch (Obama set the record in 2009: 1.8 million). Yet a day marked by traditions and pageantry, with minute details dictated by the Constitution, will come with dramatic stakes for a nation still divided by an ugly presidential campaign and its aftermath. The centerpiece will be an inaugural address that aides say will be brief, but also "beautiful." Here are some of the big themes to watch with the 58th Presidential Inauguration, which will install the 45th President of the United States: http://abcn.ws/2iFYIMW
4.
Vice President–elect Mike Pence said the transition team finished its job "on schedule and under budget," borrowing a line that President-elect Donald Trump has used in discussing his real estate projects. "We will actually return some 20 percent of taxpayer funding back to the U.S. Treasury," Pence said. He thanked supporters and members of the transition team for getting as many people as they could in place for jobs before the inauguration. http://abcn.ws/2k7naHs
5.
As thousands of people descend on Washington D.C. for the inauguration of President-elect Donald Trump, months of security planning, intelligence gathering and coordination are coming to fruition to protect lawmakers and the public. The event, like the pope's visit and the Democratic and Republican national conventions, is designated as a national security event, which unlocks federal resources and allows Secret Service to assume the leadership role for security. http://abcn.ws/2jRecKP
6.
Presidential inaugurations have been steeped in tradition and ceremony since the nation's first president, George Washington, took the oath of the office. But from the parade processions to the swearing-in ceremony, those traditions have changed over time. Here are a few lesser-known facts about the history of presidential inaugurations: http://abcn.ws/2k5unnl
Tracking the Transition
Where Trump Stands on the Issues
Meet Trump's Administration
Powerhouse Politics Podcast