Election 2016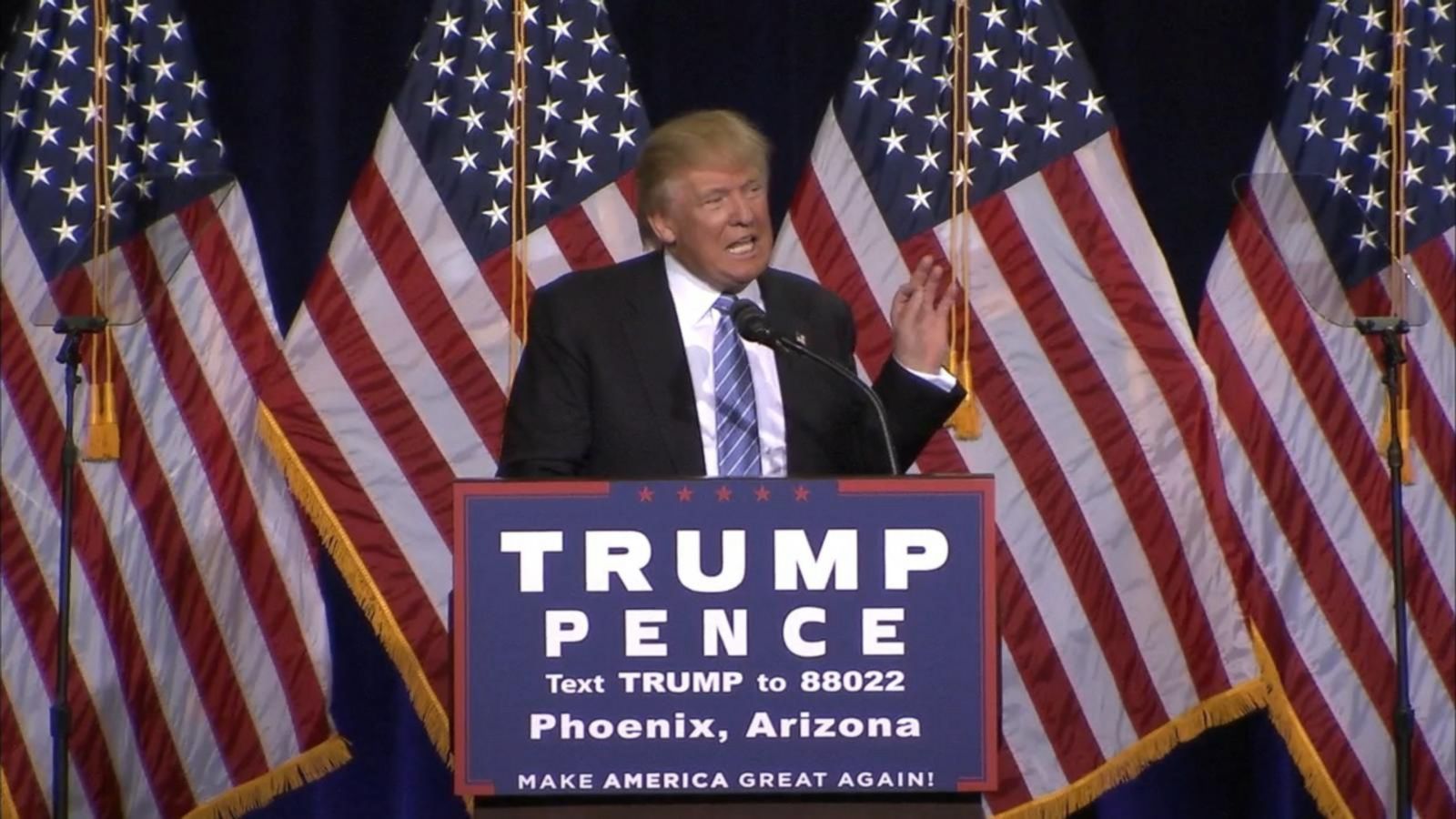 2016 Election Forecast: Predict Which Candidate Will Win the Presidential Election
A candidate needs 270 electoral votes out of 538 to win the presidency. Get started to make your own forecast.
1.
Donald Trump gave his long-awaited immigration speech in Phoenix after touching down in the U.S. following a surprise visit to Mexico. He explained his plan to "break the cycle of amnesty and illegal immigration," including building a wall.
2.
Trump arrived in Mexico City this afternoon and took the podium for a joint press conference alongside Peña Nieto, noting the "tremendous feeling" he has for Mexican-Americans. "I was straightforward in presenting my views about the impacts of current trade and immigration policies on the United States" Trump said, noting later that "We are united by our support of Mexicans." http://abcn.ws/2cfmzzn
3.
Hillary Clinton today used her first public event in nearly a week to bash Donald Trump for "dropping in" on Mexico, saying building relationships takes more than "a photo op." "You don't build a coalition by insulting our friends or acting like a loose cannon. You do it by putting in the slow, hard work of building relationships," the Democratic presidential nominee and former secretary of state said during remarks at the American Legion conference in Cincinnati, referring to her Republican opponent. http://abcn.ws/2bVMBWG
4.
Hillary Clinton's unpopularity reached a new high in the latest ABC News/Washington Post poll, putting her on par with Donald Trump among registered voters. The latest findings solidify their positions as the two most unpopular presidential candidates in polling dating back more than 30 years, ABC's GREGORY HOLYK and GARY LANGER report. Among all adults, 56 percent now view Clinton unfavorably, up 6 percentage points in three weeks, compared to 63 percent who say the same about Trump. Among registered voters, the two candidates have near-identical unfavorable ratings: 59 percent for Clinton vs. 60 percent for Trump. http://abcn.ws/2bFW5mj
5.
The FBI has responded to recent concerns about U.S. voting systems' being targeted for cyberattacks as the presidential elections approach, saying it takes the threat "very, very seriously" and is working to "equip the rest of our government with options." FBI Director James Comey addressed the issue while speaking to government and private-industry experts attending the Symantec Government Symposium in Washington, D.C., reports ABC's MIKE LEVINE. "We take very seriously any effort by any actor," he said, "to influence the conduct of affairs in our country, whether that's an election or something else." http://abcn.ws/2byX8aq
Best of the 2016 Primary Debates
Inside the Republican National Convention
Inside the Democratic National Convention
In Depth: The Latest ABC News-Washington Post Polls