Election 2016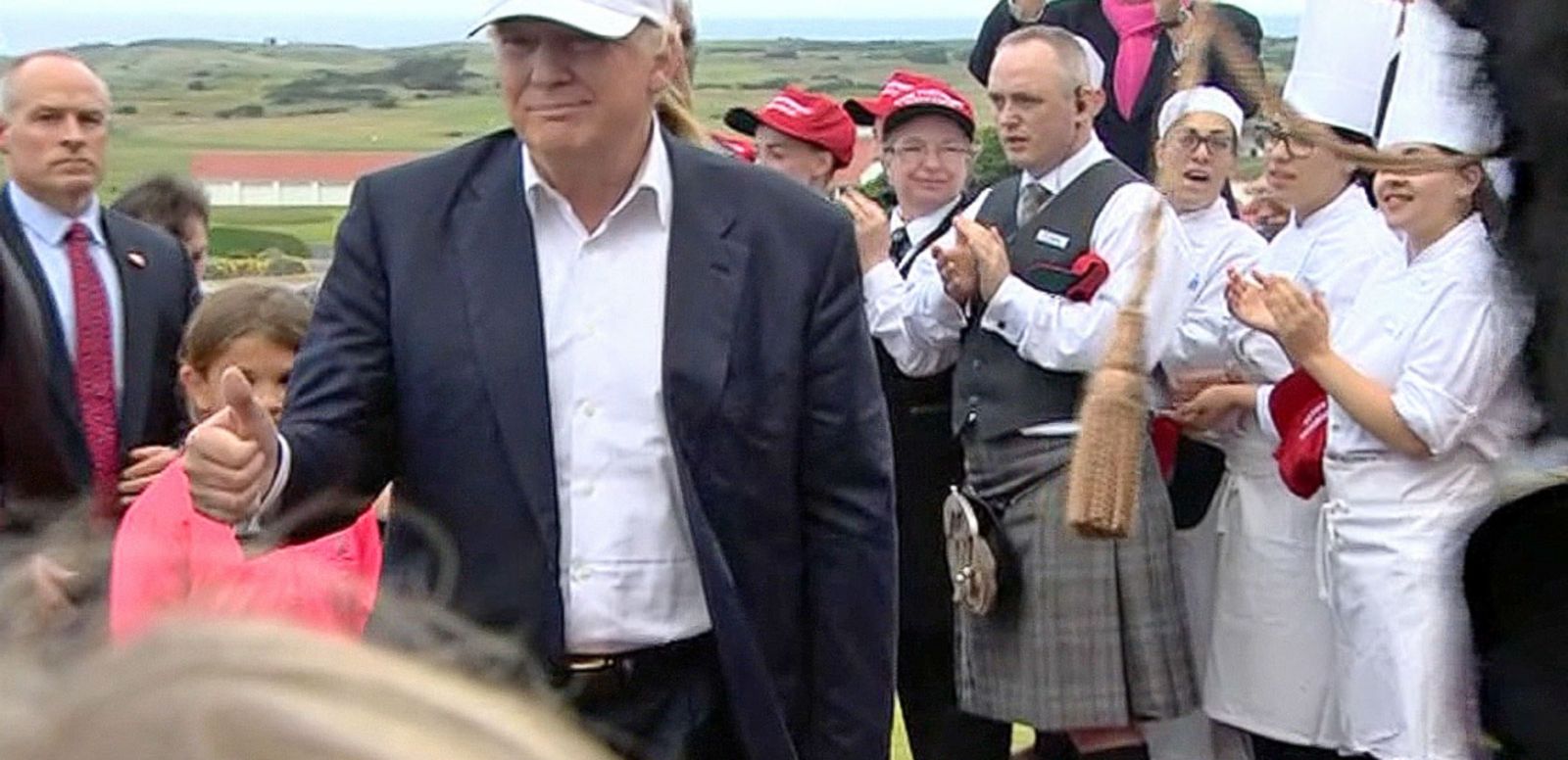 1.
Republican presumptive presidential nominee Donald Trump, in Scotland for a two-day business trip, today called the United Kingdom's vote to leave the European Union "purely historic," after tweeting that supporters "took their country back." Trump compared the U.K. referendum vote, "dubbed Brexit," to America's presidential election. "People really see a big parallel," he noted today at a news conference at his Turnberry golf course, ABC's KATHERINE FAULDERS and VERONICA STRACQUALURSI report. "What I like is that I love to see people take their country back. And that's really what's happening in the United States," Trump said. http://abcn.ws/28VcMhv
2.
Trump's jaunt across the pond is shaping up to be an opportunity for him to tout his own business and real estate endeavors. ABC's PAOLA CHAVEZ and VERONICA STRACQUALURSI have more on everything you need to know about his trip. http://abcn.ws/28RlDxn
3.
Just one day after a decision by the Supreme Court that would halt President Barack Obama's executive action on immigration reform, Hillary Clinton's campaign today debuted its first Spanish-language TV ad -- targeting Donald Trump. The 60-second spot -- titled "Nuestra Historia" (Our History) -- will air nationally on Sunday during Copa America's final match between Chile and Argentina. The soccer match, which will be held in New Jersey, is expected to draw huge viewership totals on Univision. ABC's LIZ KREUTZ has more. http://abcn.ws/293gHEK
4.
Bernie Sanders said in an interview with MSNBC this morning that he will vote for presumptive Democratic presidential nominee Hillary Clinton in November, ABC's RYAN STRUYK and VERONICA STRACQUALURSI report. "Yes. Yeah, I think the issue right here is, I'm going to do everything I can to defeat Donald Trump," Sanders said. "I think Trump in so many ways will be a disaster for this country, if he were to be elected president." Still, Sanders said he is not dropping out of the race. "I haven't heard her say the things I think should be said," he told CBS this morning when asked why he isn't endorsing her. "To my mind, she has not brought forth the proposals that I think the American people need to hear." http://abcn.ws/28VB9cY
5.
This Week on 'This Week
Sunday exclusive, George Stephanopoulos goes one-on-one with Sen. Mitch McConnell. And, the Powerhouse Roundtable debates the week in politics with Purple Strategies chair and founder of NewRepublican.org Alex Castellanos, President Obama's 2012 deputy campaign manager and Precision Strategies founding partner Stephanie Cutter, Georgetown University professor and author of "The Black Presidency" Michael Eric Dyson, and Fox News anchor Greta Van Susteren.
6.
There remain deep rumblings inside the establishment of the Republican Party about Donald Trump. This week's episode of ABC's "Powerhouse Politics" podcast paints a picture in which the RNC may focus its efforts on down-ticket races to hedge the risk of losing the White House in November to Hillary Clinton, leaving a Trump operation with little infrastructure of its own scrambling to catch up, ABC's NOAH FITZGEREL writes. Noting the frustration that has endured in several Republican circles with the party's presumptive nominee, Stuart Stevens, a former adviser to Mitt Romney and an outspoken member of the Never Trump movement, said that there is "still a possibility that the convention could go in a different direction." Stevens noted, "Until Donald Trump has the nomination, one thing we've learned with Donald Trump is that all things are possible." http://abcn.ws/28RxhXj LISTEN: http://abcn.ws/28o6Y51
7.
Donald Trump is promising to say goodbye to all the money he's loaned his campaign. Trump has largely self-funded his presidential bid, to the tune of $45.7 million as of the most recent filings. That money was given to the campaign as zero-interest loans, and the prospect has loomed that Trump could be repaid by the campaign, with money raised elsewhere. That won't happen, his campaign said Thursday, ABC's CHRIS GOOD reports. http://abcn.ws/28Q3tOT
Best of the 2016 Primary Debates
In Depth: The Latest ABC News-Washington Post Polls
The Latest in the Republican Primary
The Latest in the Democratic Primary