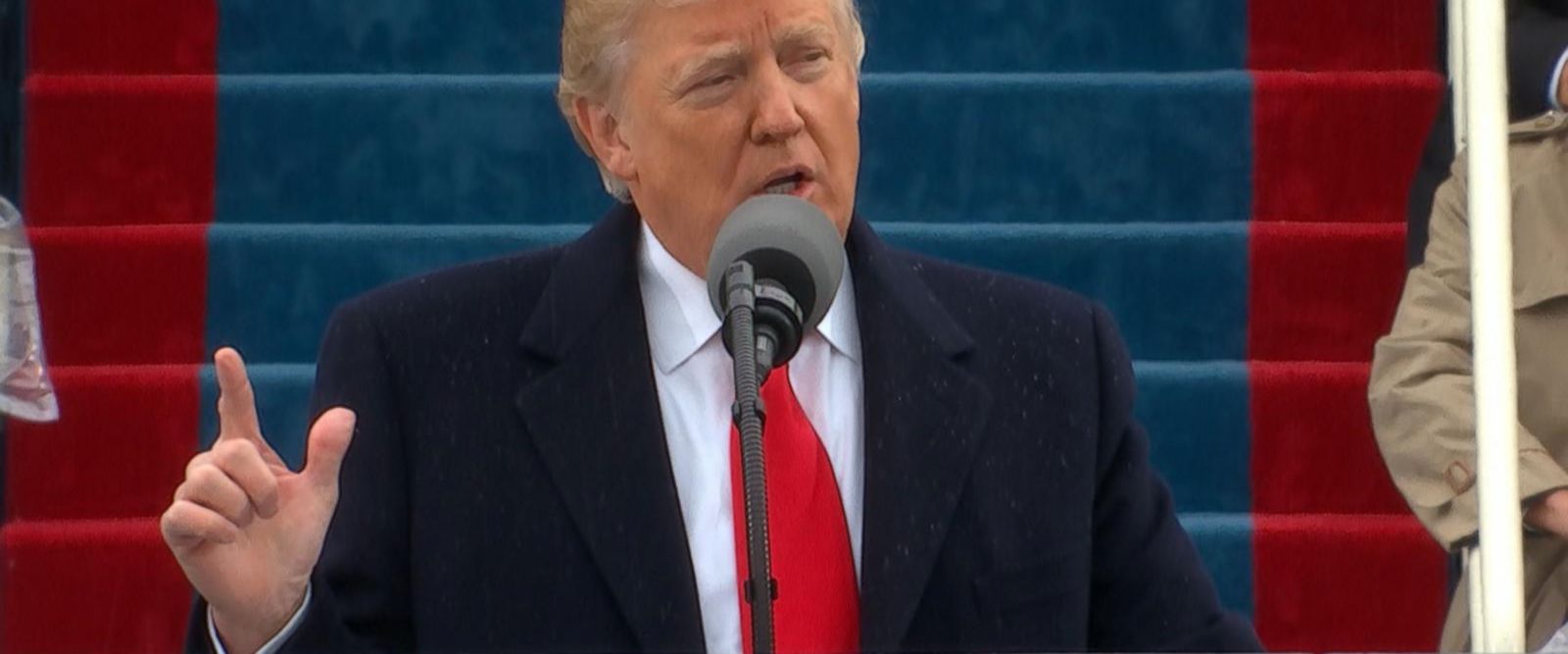 1.
Donald Trump, now officially the 45th president of the United States, promised that he would work tirelessly for every American and vowed to put "America first." "From this day forward, a new vision will govern our land. From this day forward, it's going to be only America first. America first. Every decision on trade, on taxes, on immigration, on foreign affairs, will be made to benefit American workers and American families," Trump said in his roughly 16-minute long inauguration speech, the shortest since President Jimmy Carter's in 1977. The president told Americans that "this moment is your moment it belongs to you. It belongs to everyone gathered here today and everyone watching all across America." http://abcn.ws/2jG6q9a
2.
Minutes after President Donald J. Trump was sworn into office, the Trump Administration detailed its commitment to an "America First" foreign policy and rebuilding the U.S. military. Immediately released on the White House website, following Trump's inaugural address, the "America First Foreign Policy" stated that "peace through strength" will be at the center of Trump's foreign policy approach to achieve that goal. The Trump administration further stated that, in its commitments to a stronger military, it will "pursue the highest level of military readiness." http://abcn.ws/2jIC2vg
3.
There will be fewer balls (three, down from Obama's 10), fewer celebrities (no Beyoncé or Jessica Simpson), fewer members of Congress (John Lewis started something) and almost certainly dramatically fewer people on hand to watch (Obama set the record in 2009: 1.8 million). Yet a day marked by traditions and pageantry, with minute details dictated by the Constitution, will come with dramatic stakes for a nation still divided by an ugly presidential campaign and its aftermath, writes ABC's RICK KLEIN. http://abcn.ws/2iXI8X7
4.
Hillary Clinton, the 2016 Democratic presidential nominee, has arrived at the Capitol for the inauguration of her former election rival, President-elect Donald Trump. It's customary for former presidents and first ladies to attend the inauguration of a new president. Clinton honored that tradition, arriving with her husband, former President Bill Clinton. On Twitter, Clinton wrote she's at the inauguration to "honor our democracy." The 2016 Democratic presidential nominee later attended President Donald Trump's luncheon at the Capitol, where she shook hands with the 45th president. http://abcn.ws/2iT8FBN
5.
Sitting in the President's Room at the U.S. Capitol, with his grandchildren by his side, President Donald Trump had some fun signing the formal nominations for his Cabinet picks. Minority Leader Nancy Pelosi smiled and told the room she got "Tom Price," meaning she received the pen used to sign his nomination. The mention prompted a response from the 45th president and praise for his pick to run the Department of Health and Human Services, Rep. Tom Price (R-GA). "You know he's going to be terrific, and he's going to be approved, but I'll give you a different one," Trump told Pelosi. http://abcn.ws/2iU4bek
6.
Less than 24 hours after Donald Trump takes the oath of office in Washington, D.C., to become the 45th president of the United States, hundreds of thousands of people from across the country will descend upon the nation's capital to participate in the Women's March. The march -- which will begin with a rally featuring speakers and musical acts -- is based on a mission that the rhetoric of the 2016 election cycle "insulted, demonized, and threatened" Americans, leaving communities "hurting and scared." http://abcn.ws/2iRzLJw
7.
Violence flared on some streets of Washington, D.C, today as members of a group dressed head to toe in black smashed the windows of cars and store windows shortly before President Donald Trump took the oath of office. Police said they responded using pepper spray and other control devices. At least 95 people were arrested, the Metropolitan Police Department said this afternoon. http://abcn.ws/2iKs3G2
Inauguration Day
Where Trump Stands on the Issues
Meet Trump's Administration
Powerhouse Politics Podcast