Election 2016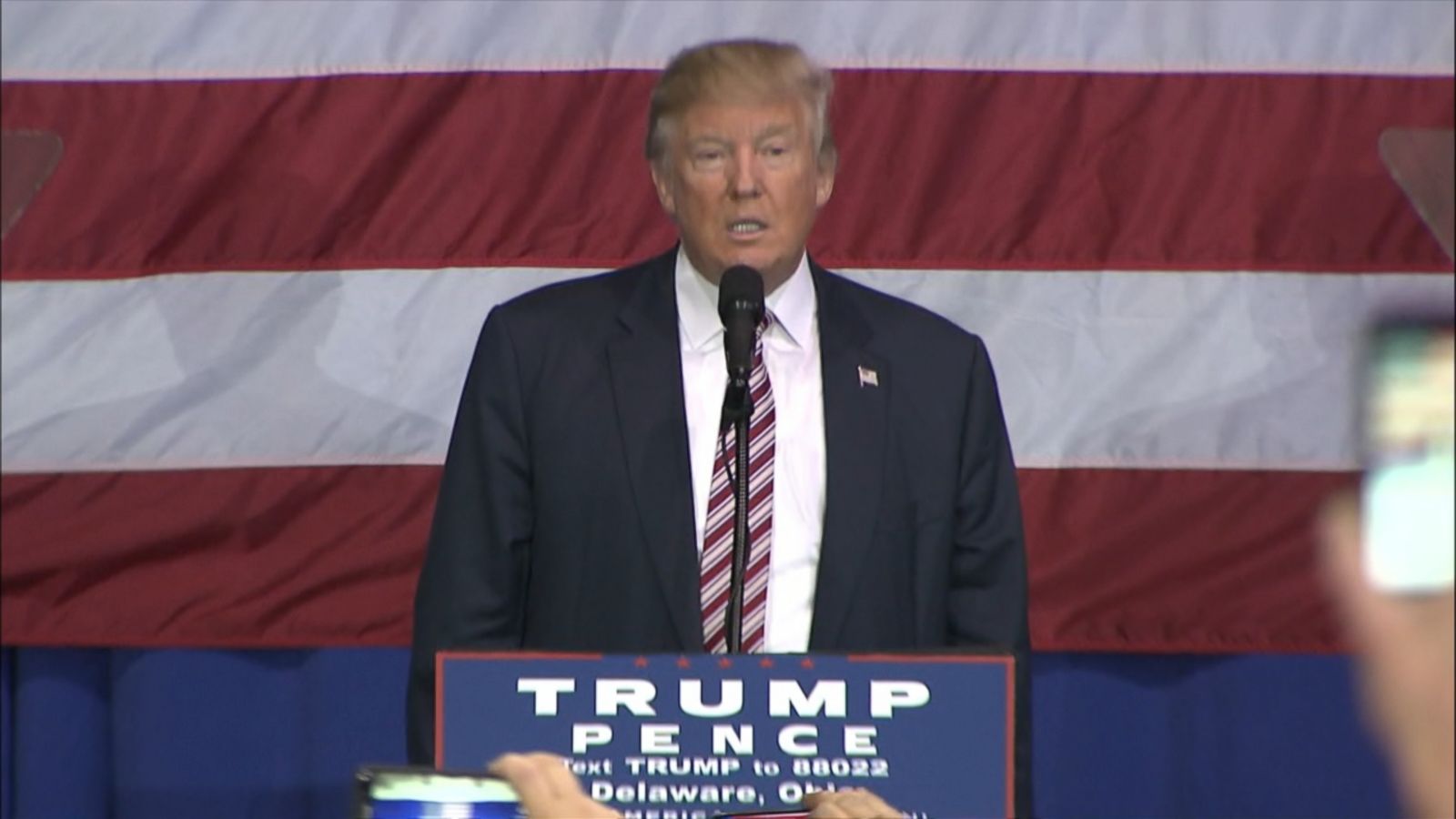 2016 Election Forecast: Predict Which Candidate Will Win the Presidential Election
A candidate needs 270 electoral votes out of 538 to win the presidency. Get started to make your own forecast.
1.
Hillary Clinton and Donald Trump faced off on a debate stage for the last time of this presidential election cycle, and the candidates were clearly primed for the fight. The Republican and Democratic presidential contenders took the stage at the University of Nevada, Las Vegas, for their third and final debate less than three weeks before voters will head to the polls across the country. From abortion rights to the Second Amendment to the battle against the Islamic State, the candidates clashed on matters of policy -- foreign and domestic. They even differed on whether they will accept the results on Nov. 8, with Trump saying he would take a wait-and-see approach and Clinton calling that "horrifying." Now, as election season officially moves into its final stretch, ABC's SHUSHANNAH WALSHE, MEGHAN KENEALLY, VERONICA STRACQUALURSI and RYAN STRUYK wrap up the biggest moments from last night's debate: http://abcn.ws/2drAT42 MOST MEMORABLE LINES courtesy of ABC's ADAM KELSEY: http://abcn.ws/2evy4kw
2.
When Donald Trump was asked if he will accept the outcome of the election, and if he loses, concede to the winner, the real estate mogul refused to say. "I will tell you at the time," said Trump, who has frequently discussed voter fraud and a "rigged" system. "I'll keep you in suspense, okay?" Trump told moderator Chris Wallace, ABC's EMILY SHAPIRO notes. Hillary Clinton responded, "That's horrifying." http://abcn.ws/2eTsrQb
3.
The final presidential debate between Hillary Clinton and Donald Trump in Las Vegas started out as a policy discussion, but quickly erupted into a boxing match between the two candidates over issues from Clinton's emails to tax returns. The showdown came as Trump's campaign has been consumed by allegations of sexual misconduct -- allegations he vehemently denied -- and Clinton is grappling with the fallout from the publication of her campaign chairman's email archives by WikiLeaks. The ABC News Fact Check team takes a closer look at the candidates' claims: http://abcn.ws/2ekcCjI
4.
Analysis - ABC's Rick Klein
The incoming from Hillary Clinton was fierce. And it came in the way of details -- plus deft maneuvers that left Donald Trump largely playing defense at the final presidential debate. Clinton didn't come to the final debate to protect a polling lead, or to seek a soaring message to close out the campaign. She came to make a case against Trump -- a case she backed up with facts, including Trump's own words, and a litany of alleged actions. At one point, she listed some of the various individuals that Trump has insulted -- including, of course, the women who have accused him of sexual misconduct. "Donald thinks belittling women makes him bigger," Clinton said. "It's really up to all of us to demonstrate who we are, and who our country is." Trump issued a blanket denial about those women: "I didn't even apologize to my wife, who's sitting right here, because I didn't do anything." Trump sought to bring the argument back to Clinton. He repeatedly accused her of what he called "criminal" acts -- deleting emails, inciting violence at his own rallies and running a "criminal enterprise" at the Clinton Foundation. Yet, Trump rarely managed to piece together a forceful argument against Clinton amid scattershot on the stage. http://abcn.ws/2e9LA1E
5.
Virginia Sen. Tim Kaine declared that the "starkest moment" of last night's third and final presidential debate in Las Vegas was when Trump refused to commit to accepting the results of his presidential race against Hillary Clinton. "I thought that was probably the starkest moment of the debate because it's so out of character with our democratic traditions," Kaine, Clinton's running mate, said today on "Good Morning America." "It was shocking." More from ABC's KATIE KINDELAN: http://abcn.ws/2eoypWy
6.
Trump's campaign manager Kellyanne Conway defended the Republican presidential candidate's refusal to say during Wednesday night's debate whether he will accept the election results. "He just wants a fair shot," Conway told ABC's "Good Morning America." "You know, if you're Donald Trump, you don't get a fair shot most days." More from ABC's MORGAN WINSOR: http://abcn.ws/2ewQFws
7.
Trump raised eyebrows by saying that he wanted to get the "bad hombres" out of the United States during a discussion about immigration. Moderator Chris Wallace asked Trump and Hillary Clinton to detail their plans to secure the southern U.S. border, saying there is "almost no issue that separates" the two candidates more, ABC's JULIA JACOBO reports. Trump said one of his "first acts" as president would be to "get all of the drug lords" out of the country. "We have some bad hombres here, and we're going to get them out," Trump said. http://abcn.ws/2e9ENow
Fact Checking the Debates
In Depth: The Latest ABC News-Washington Post Polls
Best of the 2016 Primary Debates
Powerhouse Politics