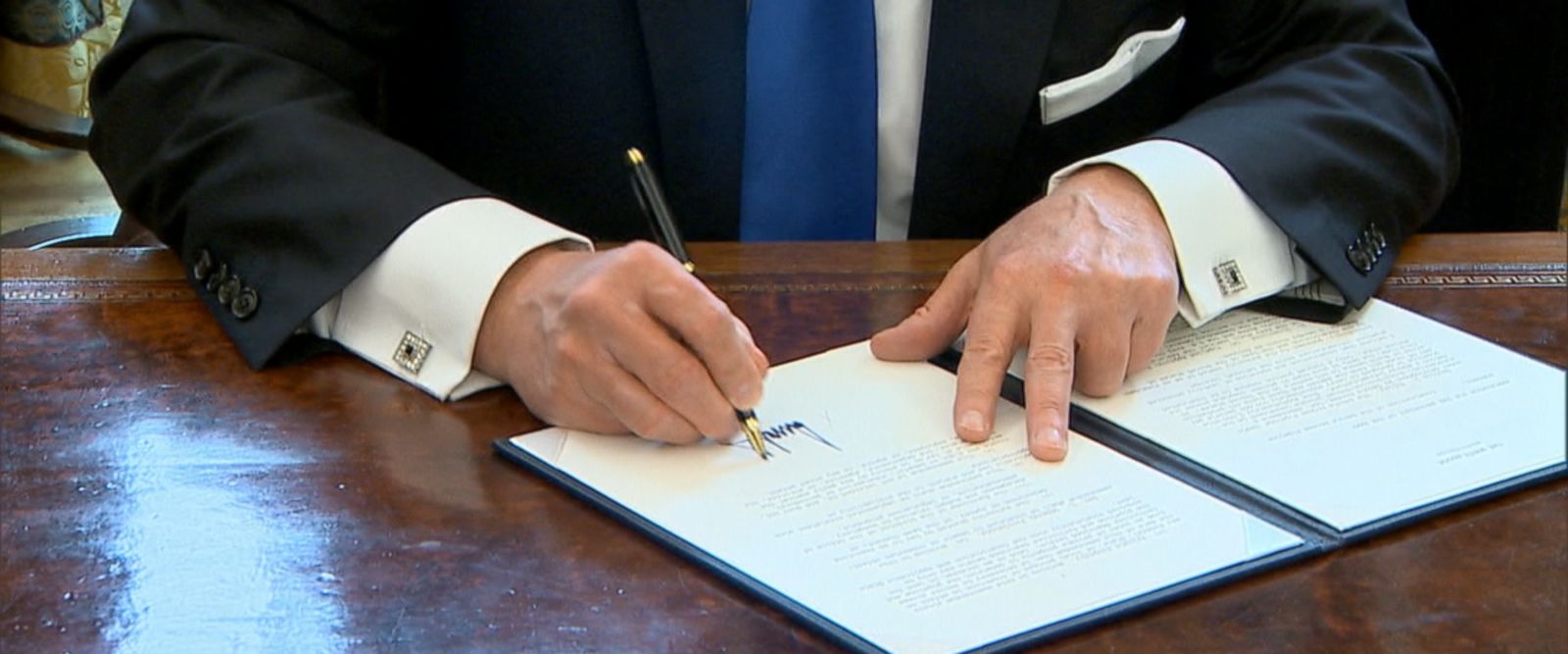 1.
Donald Trump has repeated the unsubstantiated claim that millions of people voted illegally in the 2016 election, a claim that he used after the election to justify his loss of the popular vote, Democratic and Republican sources told ABC News. "Serious" voter fraud and a "rigged" system were themes of Trump's campaign, both in the primaries and general election, assertions that carried past Election Day. Trump, who has made a series of unsubstantiated or false claims, won the Electoral College with 306 votes (2 eventually defected), but lost the popular vote by nearly 3 million ballots, ABC's TOM LIDDY reports. During the meeting with Congressional leadership, Trump said "3 to 5 million illegals" voted, according to two Democratic aides. http://abcn.ws/2kdcQdz
2.
Rep. Tom Price, R-Georgia, President Donald Trump's pick to lead the Department of Health and Human Services and spearhead the administration's healthcare reform, will return to Capitol Hill Tuesday for his official confirmation hearing, reports ABC's BENJAMIN SIEGEL. Democrats sharply questioned the Georgia Republican in a courtesy hearing last week about his plans for Obamacare, entitlement reform and a number of health-related stock trades he executed while working on legislation -- accusing him of being too close to industry interests. Price has defended his actions against questions of impropriety. Price was also asked to clarify Trump's comments about his plans for healthcare reform, after the president told the Washington Post he aims to provide "insurance for everybody." Instead, Price outlined reforms that would provide all Americans access to health insurance, rather than universal coverage -- a staple of Hill GOP plans to replace Obamacare. http://abcn.ws/2jTQFLU
3.
Also Today on Capitol Hill
Four Trump nominees are currently slated to come up for a vote in their respective committees this morning: Jeff Sessions for Attorney General, Ben Carson for Secretary of Housing and Urban Development, Elaine Chao for Secretary of Transportation and Wilbur Ross for Secretary of Commerce.
4.
ABC News has learned that Judge Neil Gorsuch has emerged as the leading contender to fill the Supreme Court vacancy, and his nomination is expected as early as next week, according to sources familiar with the selection process, ABC's JONATHAN KARL and KATHERINE FAULDERS report this morning. Gorsuch, 49, is currently a judge on the 10th Circuit Court of Appeals, to which he was nominated by President George W. Bush in 2006 and confirmed by voice vote. He would be the youngest Supreme Court nominee in about 25 years. Gorsuch clerked for Judge David B. Sentelle on the U.S. Court of Appeals for the D.C. Circuit and then for Supreme Court Justices Byron White and Anthony Kennedy. He attended Harvard Law, and has a Ph.D. from Oxford, where he was a Marshall Scholar. In legal circles, he's considered a gifted writer. Like Scalia, he's also both a textualist and an originalist. http://abcn.ws/2kdkWmz
5.
Today at the White House
President Trump is slated to meet with automobile industry leaders this morning for breakfast. He'll sign another executive order later this morning after a meeting with his Chief of Staff Reince Priebus. This afternoon, President Trump will talk with Indian Prime Minister Narendra Modi, CIA Director Mike Pompeo and U.S. Senate leadership. White House Press Secretary Sean Spicer will give his daily briefing at 1:30 PM.
6.
White House press secretary Sean Spicer said Monday that he believes that his job is to be honest with the public but said "sometimes we can disagree with the facts but our intention is never to lie." On Monday, Spicer defended Saturday's statement when he said "this was the largest audience to ever witness an inauguration - period - both in person and around the globe," citing audiences who watched the inauguration online and through streaming services, even though those audience numbers have not been confirmed, reports ABC's MEGHAN KENEALLY. When asked by ABC News' Jonathan Karl about whether Trump's inauguration had a larger audience than those of President Ronald Reagan's, Spicer said, "I'm pretty sure that Reagan didn't have YouTube, Facebook or the internet." http://abcn.ws/2kkUSoN
7.
Two days after staff at Donald Trump's Washington hotel dropped balloons and popped champagne corks to salute his inauguration, America's first billionaire President was put on notice – he is being sued because of profits that the hotel and other businesses earn from foreign governments. "The founders of our country were so worried about foreign governments paying cash and giving other benefits to an American president, and the distortion that can have on a President's decision making, that they put a prohibition on it in the Constitution," said Norm Eisen, a former White House ethics counselor to President Obama. ABC's BRIAN ROSS, MATTHEW MOSK, RHONDA SCHWARTZ and RANDY KREIDER have more. http://abcn.ws/2kltg2V
Inauguration Day
Where Trump Stands on the Issues
Meet Trump's Administration
Powerhouse Politics Podcast