Election 2016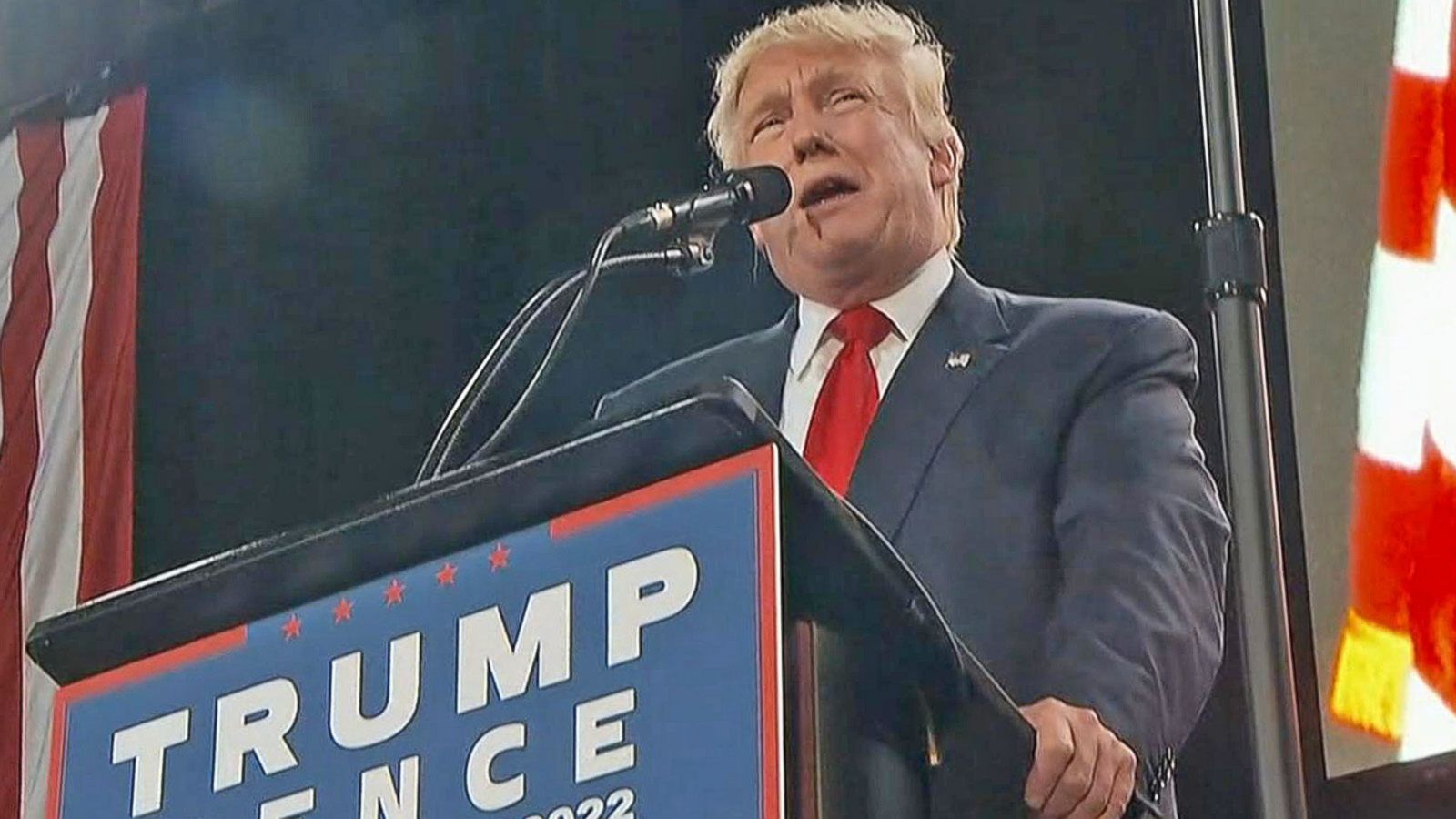 2016 Election Forecast: Predict Which Candidate Will Win the Presidential Election
A candidate needs 270 electoral votes out of 538 to win the presidency. Get started to make your own forecast.
1.
Donald Trump has been hammering home today that he is winning the race for the White House but also conceded that his campaign is "somewhat behind" in the polls. "Folks, we're winning. We're winning. We're winning," he declared in St. Augustine, Florida. But in an interview on WBT radio Monday, Trump said, "I guess I'm somewhat behind in the polls but not by much." ABC's EMILY SHAPIRO has more. http://abcn.ws/2dPsYRd
2.
Sen. Elizabeth Warren fired back at Donald Trump while campaigning with Hillary Clinton in the critical state of New Hampshire today, saying "nasty women vote." "Get this, Donald -- nasty women are tough," Warren quipped. "Nasty women are smart. And nasty women vote. And on Nov. 8, we nasty women are going to march our nasty feet to cast our nasty votes to get you out of our lives forever." ABC's PAOLA CHAVEZ and JOSH HASKELL have more. http://abcn.ws/2eyhnqR
3.
Hillary Clinton appears to have closed what was once a large gap of support among male voters with rival Donald Trump, according to the latest ABC News poll. Male respondents reported support for the former secretary of state at a rate of 44 percent to Trump's 41 percent, a major swing for the group that has routinely backed the New York businessman throughout the campaign. ABC's ADAM KELSEY has more. http://abcn.ws/2e4Nrzl
4.
15 days from Election Day, what does victory look like to Gary Johnson? Having failed to qualify for the general election debates, the Libertarian presidential nominee is realistic about his slim chances of actually capturing the White House. "Regrettably, the attention I did not get in the debates, it's real," Johnson conceded in an interview with ABC News Monday, while adding that "you never give up." But even though he doesn't realistically expect to assume the Oval Office in 2017, Johnson is redefining the terms of victory. One possible victory for Johnson and the Libertarian Party would be to capture at least 5 percent of the popular vote nationally. Why does it matter? It would allow the Libertarian Party to qualify for public funding, which would in turn make it much easier for the party to achieve ballot access going forward. "That's a Herculean accomplishment really to get on the ballot in all 50 states," Johnson said. http://abcn.ws/2dDrJBn
5.
ABC's INES DE LA CUETARA:
Mike Pence on The Rush Limbaugh Show said Clinton going to red states was "tactical," that she was doing it to "demoralize" Republicans. He commented on the polls, saying the media is trying to build "a narrative to support Clinton" and that there is "nothing further from the truth." Pence also said his "role model" is Harry Truman and his campaign in 1948. "You had this glamorous guy named Dewey who the political establishment all loved. The media all loved him," Pence said. "And Truman just wasn't having any of it...And he brought it home in that famous photograph of him holding a newspaper that says "Dewey Defeats Truman. And ya know, Truman went to bed on election night, woke up and he was still president."
6.
ABC's LIZ KREUTZ:
If it seems like every day there's now a new celeb campaigning for Clinton, it's because there basically is. Today's celebrity was Salma Hayek. The actress participated in a press call this afternoon where she explained why she is for Clinton. Hayek said that she believes Trump attacks others for things that are actually flaws in his character. Later, she was asked by a reporter to discuss her own encounter with Trump, which she recently talked about in an radio interview. Hayek told a story about how Trump repeatedly tried to get her to go out with him, despite knowing she had a boyfriend. When she refused, a story in the National Inquirer was released saying that Hayek was too embarrassed to go out with Trump because of her short height. Hayek said that she only told the story because she was asked about it, but that she believes it's insignificant overall. But she said, "Even if I hadn't had a boyfriend, I would never go out with Donald Trump. Not my type."
7.
Ad Roundup with ABC's SHUSHANNAH WALSHE
The Clinton campaign has a new TV ad out today - titled "Barbershop" - aimed at African-American voters. The spot, which will air nationally but with heavier concentration in Florida, Pennsylvania, Ohio and North Carolina, shows African-American voters in barbershops and hair salons talking about why they support Clinton. WATCH: http://bit.ly/2eoVVXA
8.
Happening Tonight (all times Eastern):
7 PM: Donald Trump campaigns in Tampa, Florida. 7 PM: Mike Pence holds a rally in Greensboro, North Carolina. 7:15 PM: Vice President Joe Biden hosts an early vote event in Dayton, Ohio. 11:35 PM: President Obama is a guest on Jimmy Kimmel Live.
Fact Checking the Debates
Where Candidates Stand on the Issues
In Depth: The Latest ABC News-Washington Post Polls
Powerhouse Politics