Election 2016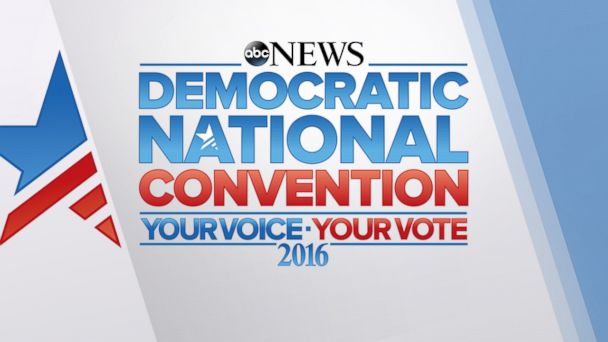 1.
It was an emotional moment on the floor of the Democratic National Convention in Philadelphia tonight when the Democrats Abroad cast their votes for the presidential nomination. Vermont Sen. Bernie Sanders' brother, Larry -- who lives in the United Kingdom -- announced the group's votes. "I want to bring before this convention the names of our parents Eli Sanders and Dorothy Sanders," Larry Sanders said. http://abcn.ws/2ad37ky
3.
Every day, ABC News will be fact-checking speakers at the Democratic National Convention, thanks to ABC's CHRIS GOOD, JOHN KRUZEL and NOAH FITZGEREL. http://abcn.ws/2a7rHWL
4.
"We are stronger together," the campaign slogan says. But the voices of the convention say there's still strong interest in staying apart. A raucous Democratic National Convention opened Monday night under conditions previously found only in paperback political thrillers, ABC's RICK KLEIN writes. The chair of the Democratic Party was almost literally booed away entirely. The city was on a sweltering, soaked and locked-down edge. A massive email hack of the Democratic National Committee was being blamed on the Russians. A night that was intended to showcase Democratic unity instead exposed the opposite. Mere mentions of the names of Hillary Clinton and Tim Kaine drew jeers and worse from delegates early on. http://abcn.ws/2acFIx0
5.
Sen. Bernie Sanders took the stage as the last speaker of the night Monday at the Democratic National Convention, capping a hard-fought primary and urging supporters to vote for Hillary Clinton, despite many being angry over the outcome. "Hillary Clinton must become the next president of the United States," Sanders told the crowd in Philadelphia. His speech came after his supporters booed several of the first speakers of the evening, and he addressed that anger early in his speech, ABC's MEGHAN KENEALLY reports. "I understand that many people here in this convention hall and around the country are disappointed about the final results of the nominating process," Sanders said. "I think it's fair to say that no one is more disappointed than I am." http://abcn.ws/2a9Fp5B
Best of the 2016 Primary Debates
Inside the Republican National Convention
Republican National Convention Speeches
In Depth: The Latest ABC News-Washington Post Polls