Election 2016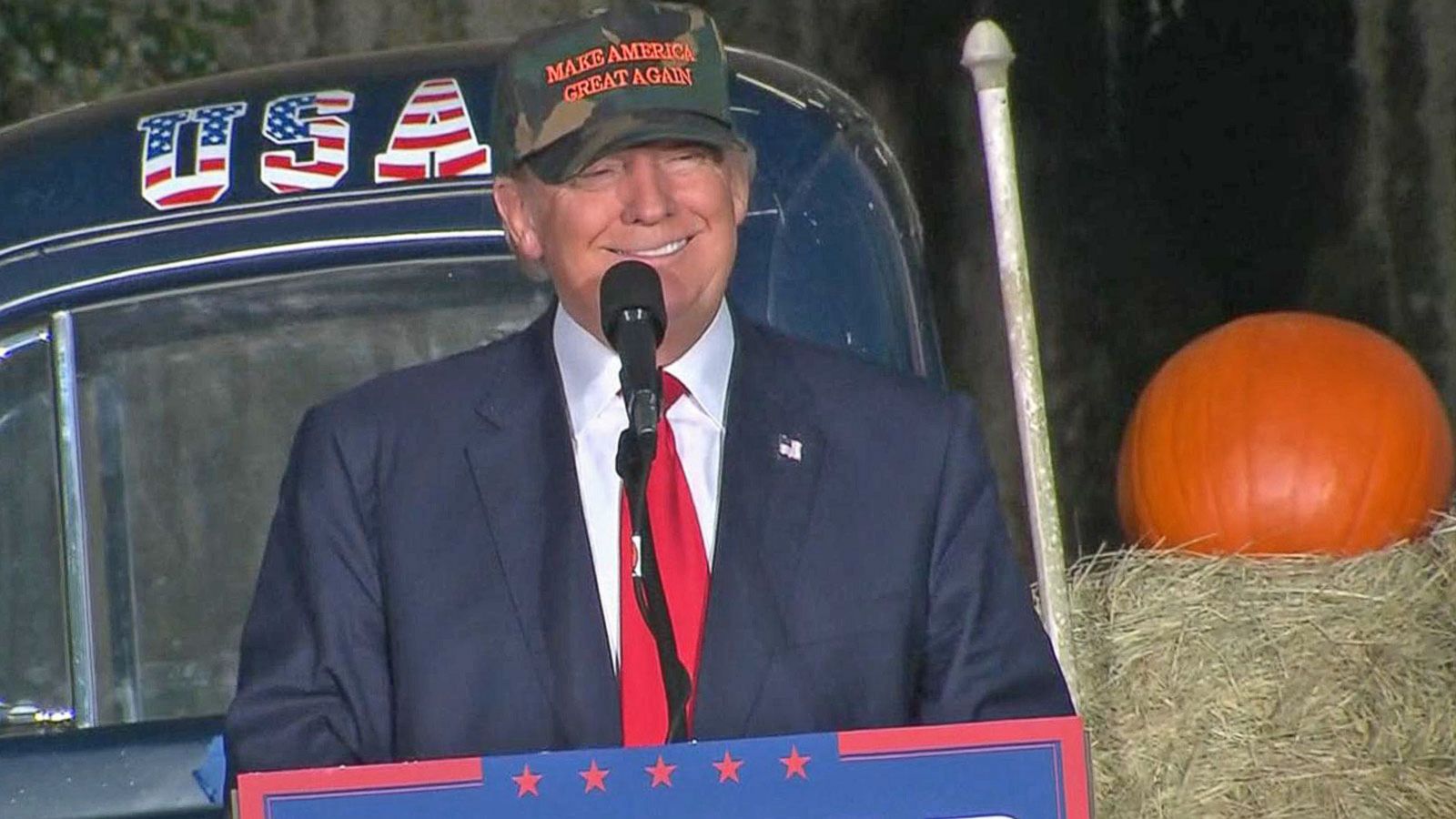 2016 Election Forecast: Predict Which Candidate Will Win the Presidential Election
A candidate needs 270 electoral votes out of 538 to win the presidency. Get started to make your own forecast.
1.
Donald Trump defended his characterization of the presidential election as "rigged" today, noting that his warnings of voter fraud in major cities echoed those of a prior presidential candidate: Barack Obama. "Do you remember what I said, that some of the voting is rigged? OK. Everybody knows. Check out Philadelphia, Chicago, St. Louis," said Trump. "And [Obama] said, 'This is a threat to our system. This is terrible. This is a threat.'" Trump then attempted to imitate the president, lowering his voice and speaking at a slower pace, saying, "I know because I come from Chicago." "This guy is such a phony guy," added Trump. "What a phony. What a phony group." ABC's ADAM KELSEY has more. http://abcn.ws/2eDKS87
2.
Hillary Clinton has been bringing out the proverbial big guns when it comes to her surrogate supporters -- including President Obama, Michelle Obama and Joe Biden. At the same time, Donald Trump appears to be leaning less on the heavy hitters he touted earlier in the campaign, including former rivals Ben Carson and Chris Christie as well as Newt Gingrich. ABC's MEGHAN KENEALLY has more on the candidates' difference in their surrogate game. http://abcn.ws/2ePcR54
3.
The anti-secrecy website WikiLeaks posted on Monday an email exchange that it claims shows top Clinton campaign staffers discussing a "swift boat project" aimed at Trump. "I know you can't look past Bernie and March primaries -- but who is in charge of the Trump swift boat project? Needs to be ready, funded and unleashed when we decide -- not a half assed scramble," one of the campaign's consultants, Joel Johnson, purportedly wrote to Clinton's communications director, Jen Palmieri, in February. "Swift boat" refers to the Swift Boat Veterans for Truth, a group behind a coordinated campaign to discredit then-Sen. John Kerry during his presidential run in 2004. The phrase has become Washington-speak for an attack that is personal, ugly and often untrue. ABC's MARYALICE PARKS has more. http://abcn.ws/2eqRdpE
4.
Colin Powell is with her. The former secretary of state revealed today at the Long Island Association Fall Luncheon that he intends to vote for Hillary Clinton in November, according to Powell's spokesperson. The retired four-star general joins a small number of prominent Republican figures who have either crossed party lines to support Clinton or refuse to support Donald Trump.
5.
After months of traveling the country to raise money for her campaign, Hillary Clinton's high-dollar fundraising effort is finally coming to a close. The Democratic nominee will attend her last fundraiser of the 2016 campaign in Miami tonight, according to a campaign aide. The fundraising circuit has been good to Clinton this cycle. From mansions in Bel Air to lunch at Justin Timberlake's home and a fundraiser at the estate of the late Steve Jobs in Northern California, these often lavish events have helped the former secretary of state raise over $500 million for her campaign. The record haul has allowed Clinton's campaign to invest in down-ballot races across the country. http://abcn.ws/2eDT6Ng
Fact Checking the Debates
Where Candidates Stand on the Issues
In Depth: The Latest ABC News-Washington Post Polls
Powerhouse Politics