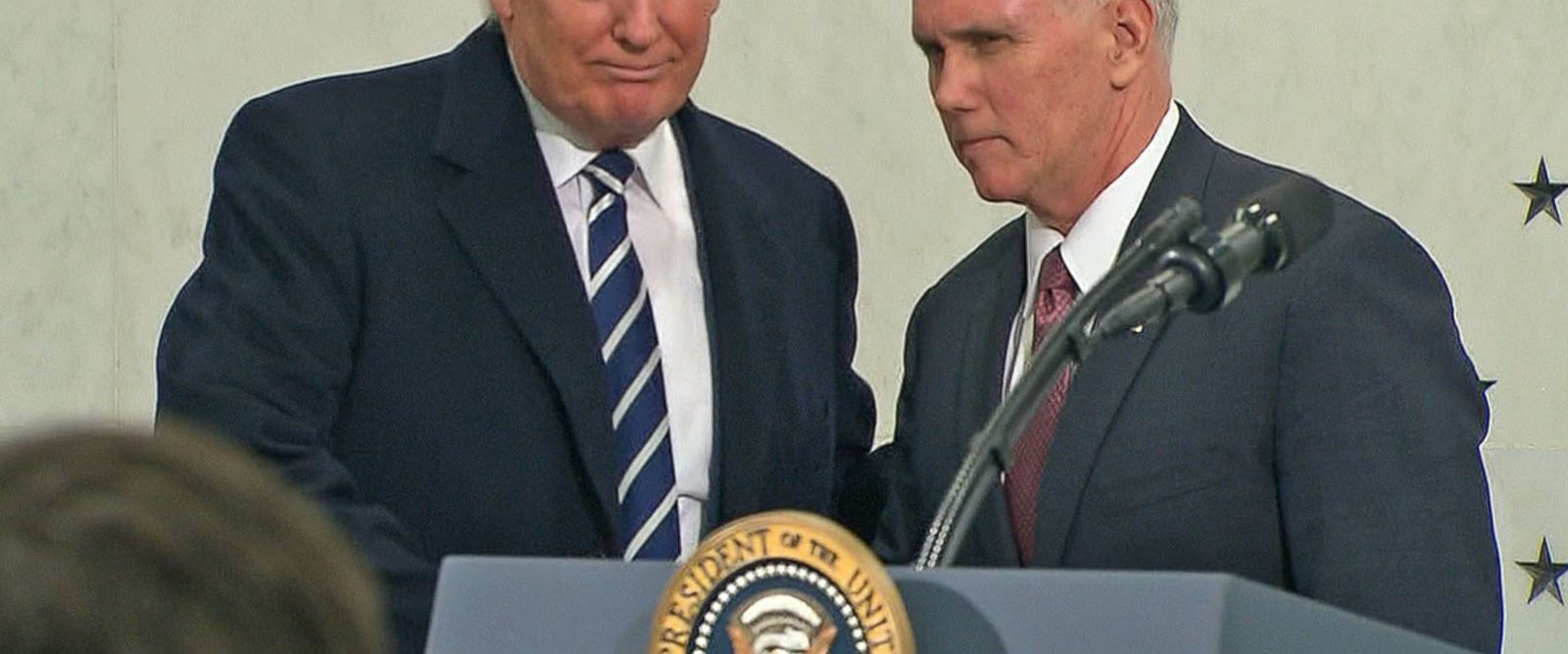 1.
Hewing closely to the fiery rhetoric that defined his campaign, Donald Trump during his inaugural address painted a bleak picture of life for some in the United States, promising to end what he called the "American carnage," turn the Washington establishment on its head, give voice to the "forgotten" and work tirelessly to put "America first." http://abcn.ws/2jG6q9a
2.
Sitting at the Resolute Desk in the Oval Office for the first time, President Donald Trump signed an executive order "minimizing the economic burden" of Obamacare, and signed commissions for Secretary of Defense James Mattis and Secretary for Homeland Security John Kelly. http://abcn.ws/2kbUTzh
3.
During his inaugural address, President Donald Trump made a number of claims about the state of the nation as he takes office. Trump echoed themes from his campaign, painting a bleak picture of some aspects of American life, but also offering his presidency as a way forward for those who he says have been forgotten. ABC News dug into his inaugural address and broke down the facts behind some of Trump's claims. http://abcn.ws/2iVasGv
4.
The Senate confirmed two of President Donald Trump's cabinet nominees Friday just hours after his swearing in, and scheduled a third confirmation vote next Monday. In a 98-1 vote, the Senate confirmed retired Marine Corps Gen. James Mattis as Trump's secretary of Defense, with Sen. Kirsten Gillibrand, D-New York, opposing his nomination and Sen. Jeff Sessions, R-Alabama, Trump's pick for attorney general, not voting. Later Friday evening, the Senate also approved Gen. John Kelly to lead the Department of Homeland Security in a vote of 88-11. http://abcn.ws/2k9M6Km
5.
Violence flared on some streets of Washington, D.C., today amid Donald Trump's inauguration — with people smashing car and store windows, clashing with police and even torching a limo, leading to more than 200 arrests. The capital's interim police chief, Peter Newsham, said in a Periscope video posted on Twitter earlier today that the problems were caused by one group, "and it's a very, very small percentage of the number of folks that came here to peacefully assemble in our city." http://abcn.ws/2iKs3G2
6.
Less than 24 hours after Donald Trump takes the oath of office in Washington, D.C., to become the 45th president of the United States, hundreds of thousands of people from across the country will descend upon the nation's capital to participate in the Women's March. The march -- which will begin with a rally featuring speakers and musical acts -- is based on a mission that the rhetoric of the 2016 election cycle "insulted, demonized, and threatened" Americans, leaving communities "hurting and scared." http://abcn.ws/2iRzLJw
7.
A divided nation on edge greeted a new president on Friday. And President Donald J. Trump delivered a message unlike any the nation had heard from its leader. The nation is broken, he said - drifting, decaying, addled by crimes and drugs — and Trump presented himself as the figure who will "fight for you." "This American carnage stops right here and stops right now," the new president declared. "From this day forward, a new vision will govern our land. From this day forward, it's going to be only America first. America first." http://abcn.ws/2jHQhA3
Inauguration Day
Where Trump Stands on the Issues
Meet Trump's Administration
Powerhouse Politics Podcast