Election 2016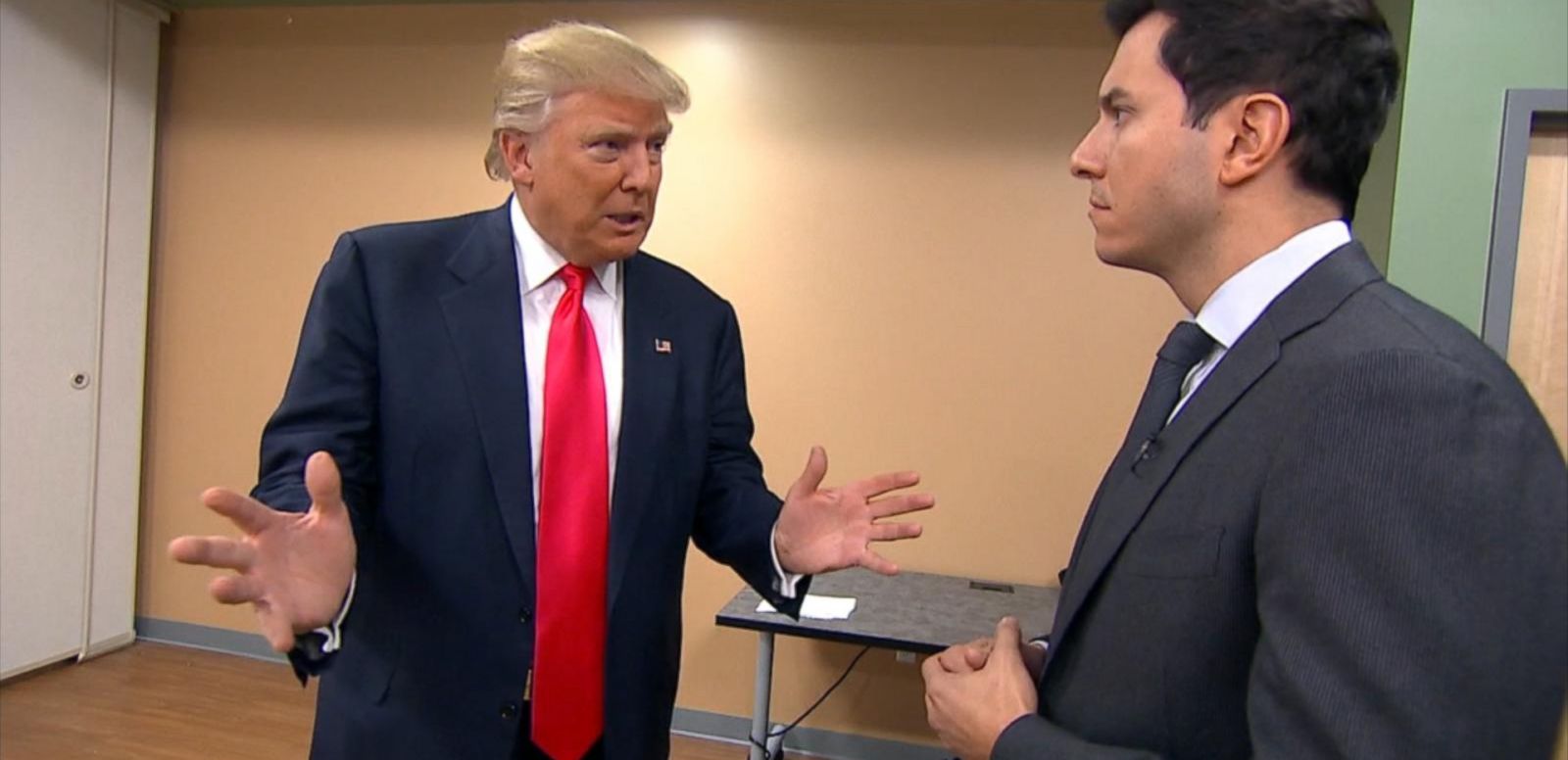 1.
ABC News has unveiled its candidate lineup for tomorrow night's Republican presidential debate in Manchester, New Hampshire. The network has extended invitations to the following candidates: Donald Trump, Sen. Ted Cruz, Sen. Marco Rubio, Dr. Ben Carson, former Gov. Jeb Bush, Gov. Chris Christie and Gov. John Kasich. http://abcn.ws/1PDPTf9
2.
Coverage begins at 8 p.m. ET on ABC. The debate will be moderated by "World News Tonight" anchor David Muir and Chief Global Affairs Correspondent and co-anchor of "This Week with George Stephanopoulos" Martha Raddatz. ABC News will be hosting the debate with the Independent Journal Review, and in partnership with the Republican National Committee. Additional questions will come from WMUR political director Josh McElveen and conservative journalist Mary Katharine Ham. http://abcn.ws/1PDPTf9
3.
After a strong third place showing in the Iowa caucuses, Florida Sen. Marco Rubio is getting a post-Iowa boost in New Hampshire polling. ABC's RYAN STRUYK reports Rubio is now in second place in the Granite State, according to two recent polls from CNN/WMUR/UNH and University of Massachusetts Lowell, conducted after Monday's Iowa caucuses. In a University of Massachusetts-Lowell tracking poll released Thursday, Trump sat on top of the pack with 36 percent support, but Rubio had 15 percent support -- up from 8 percent in the same poll released on Monday. http://abcn.ws/1mgVegt
4.
ANALYSIS -- ABC's RICK KLEIN
If Jeb Bush goes down, he won't go down without his family. Throwback time is in full gear, with former first lady Barbara Bush coming out to a "Beach Boys" song at an event for his son in New Hampshire, and former President George W. Bush appearing in an ad for his brother paid for by his Super PAC. (No "coordination" there, surely.) Beyond the past, though, there's reason to think New Hampshire isn't Jeb's last stand after all. Among the three governors who've gone all-in here, he's the one with the most resources and strongest organization in the states coming up - including South Carolina, where it's likely that his brother is put into service. John Kasich and Chris Christie need to beat each other, functionally, in addition to Jeb Bush; Bush can most likely afford to just keep it close. That, though, doesn't account for the Marco Rubio factor. With polls showing Rubio surging late in the Granite State, pressure will build for the establishment to coalesce. It will be master and apprentice battling it out yet again.
5.
This Week on 'This Week'
Fresh off the ABC News GOP debate, George Stephanopoulos anchors a special edition of "This Week" live from New Hampshire featuring an exclusive interview with Republican presidential candidate Sen. Marco Rubio. And, Democratic presidential candidate Sen. Bernie Sanders comes to "This Week" Sunday. Then, the powerhouse roundtable debates the week in politics with Democratic strategist and ABC News contributor Donna Brazile, ABC News political analyst Matthew Dowd, Weekly Standard editor and ABC News contributor Bill Kristol, and ABC News' Cokie Roberts. See the whole political picture Sunday on "This Week."
6.
Diss of the Day with ABC's MERIDITH MCGRAW -- Something Fishy in Iowa?
The Des Moines Register is fishing for answers in Iowa following Monday's caucuses. In an editorial published yesterday and headlined, "Something Smells in the Democratic Party," the newspaper said "once again the world is laughing at Iowa. That's fine. We can take ribbing over our quirky process. But what we can't stomach is even the whiff of impropriety or error." After an evening of caucus "chaos" with candidates chosen by coin-flips, the Register called for a complete audit of caucus outcomes and now Bernie Sanders' campaign is moving forward with checks on individual precinct results. With only two-tenths of one percent separating the final results of Monday's Democratic caucus, the editorial board warned that such a photo finish would surely trigger a recount in other states. "We need answers to what happened Monday night," the paper said in its scathing editorial. "The future of the first-in-the-nation caucuses demands it."
7.
Just five days before New Hampshire voters will have their say in their state's first-in-the-nation primary, there was another first in the Granite State: Hillary Clinton and Bernie Sanders went toe-to-toe on a debate stage, just the two of them. The intimate setting led to some of the most heated exchanges of the campaign so far, reflecting the fierce battle for the Democratic nomination at a crucial moment: Just a few days after Clinton eked out a narrow victory in the Iowa caucuses and before Sanders appears poised to claim victory in New Hampshire. The candidates, at times, seemed not just to speak but to shout their answers. After a particularly feisty squabble, co-moderator Rachel Maddow acknowledged, "Obviously we've touched a nerve." ABC's RYAN STRUYK, SHUSHANNAH WALSHE, LIZ KREUTZ, ANDREA GONZALES and MICHAEL FALCONE look at seven moments that mattered last night: http://abcn.ws/1PY248q
9.
A feisty exchange at the Democratic debate in New Hampshire happened when Hillary Clinton called out Bernie Sanders for suggesting she's in the pocket of special interests, ABC's RICK KLEIN reports. "I really don't think these kinds of attacks by insinuation are worthy of you and enough is enough," Clinton said. "If you've got something to say, say it directly." "It's time to end the very artful smear that you and your campaign have been carrying out in recent weeks," she continued, drawing some boos from the crowd. "Let's talk about the issues." http://abcn.ws/1Pa9z8U
Running Mates: Meet The Candidates' Other Halves
In Depth: The Latest ABC News-Washington Post Polls
In Depth: Race to 2016