Election 2016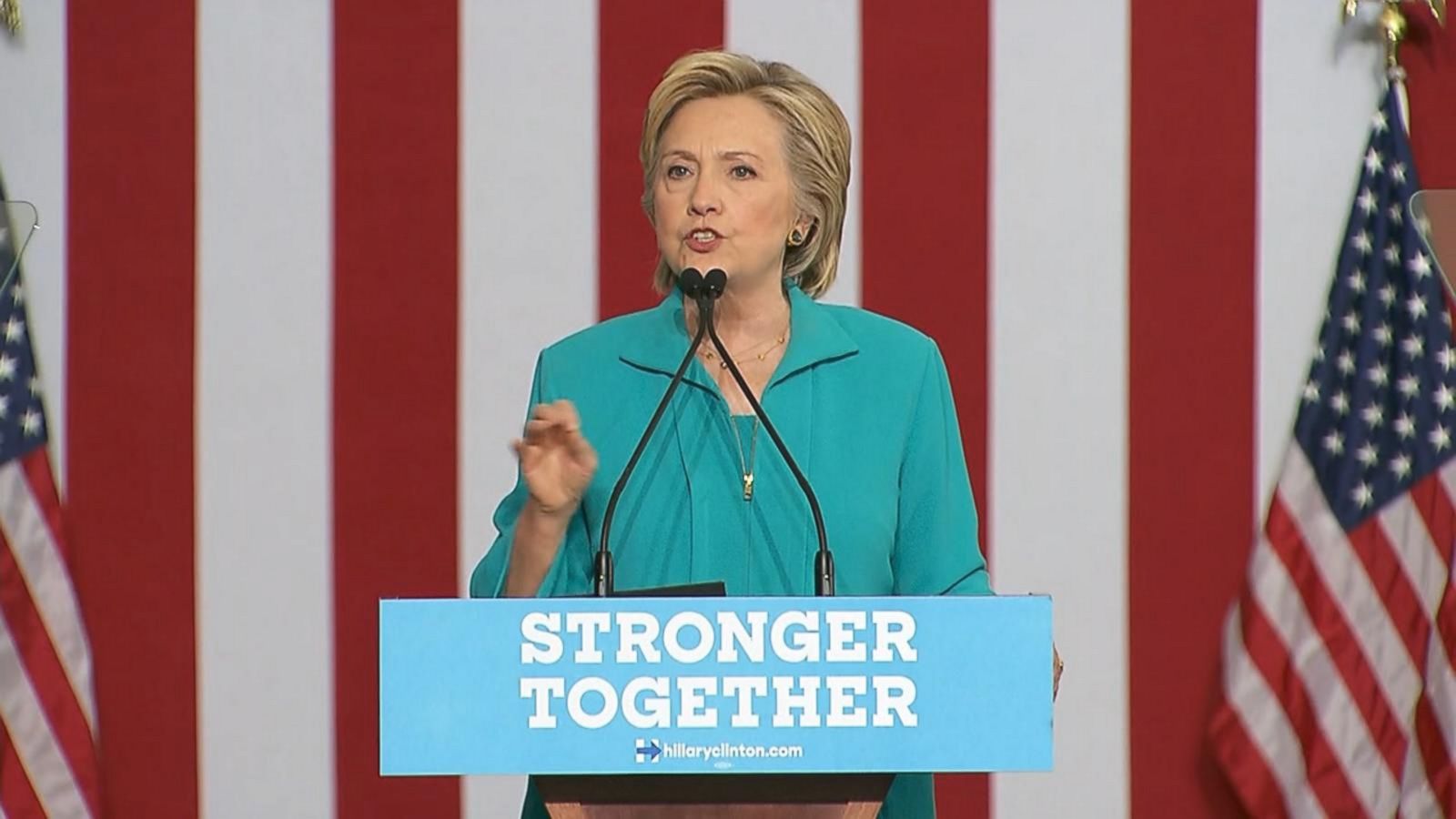 2016 Election Forecast: Predict Which Candidate Will Win the Presidential Election
A candidate needs 270 electoral votes out of 538 to win the presidency. Get started to make your own forecast.
1.
Donald Trump called Hillary Clinton a "bigot" while addressing the crowd at the Mississippi Coliseum in Jackson, Mississippi, last night, ABC's CANDACE SMITH reports. "Hillary Clinton is a bigot who sees people of color only as votes, not as human beings worthy of a better future," Trump said as he appealed to African-American voters. http://abcn.ws/2bPpo6W
2.
Clinton later responded to Trump's remarks in a phone interview with CNN's Anderson Cooper. "Oh, Anderson, it reminds me of that great saying that Maya Angelou had, that when someone shows you who they are, believe them the first time," she said. "And Donald Trump has shown us who he is. And we ought to believe him. He is taking a hate movement mainstream." http://abcn.ws/2bPpo6W
3.
Trump has suggested that he would maybe allow some undocumented immigrants to remain in the country under certain conditions, a shift from previous rhetoric calling for a deportation force. "You have somebody that has been in the country for 20 years," Trump said hypothetically at a Fox News town hall with Sean Hannity taped on Tuesday, the second half of which aired last night. "He has done a great job. Do we throw them out or do we work with them?" The crowd applauded for the latter option. When asked whether he would allow an exception for someone to stay in the U.S. who's proven to be a fair citizen, Trump said, "No citizenship. Let me go a step further -- they'll pay back-taxes, they have to pay taxes, there's no amnesty, as such, there's no amnesty, but we work with them." ABC's ALANA ABRAMSON has more: http://abcn.ws/2bhMfJL
4.
Analysis -- ABC's Rick Klein
Donald Trump took his old immigration proposal into the middle of Fifth Avenue and shot it. It's still not clear how Donald Trump will replace it, but where he's heading is stunning to anyone who watched Trump move to the hardest of hard lines – a giant wall and a deportation force – during the primaries where this was no small issue. The proposal he poll-tested with Sean Hannity's audience is a near-total reversal from the concept of rounding up all undocumented immigrants. He may insist it's "no amnesty, as such," but a path to legalization for a large number people in the US illegally has been derided as just that to defeat previous proposals. (Does anyone doubt how Ted Cruz would have responded to this in the primaries? Or Trump himself, had this proposal come from Jeb Bush or Marco Rubio?) It may be that Trump never thought through the implications of his proposals until now, when the polls have made that task urgent. But this is no small reversal, at no small time in the campaign. The candidate who tells it like it is, is rewriting how he thinks things should be.
5.
Wednesday, Bill Clinton made his first public comments about the would-be Clinton Foundation changes if Hillary Clinton is elected president, ABC's MATTHEW CLAIBORNE notes. His remarks come after a string of attacks from Republican presidential nominee Donald Trump, who has called for the foundation to be shut down. "We're trying to do good things," said Bill Clinton in response to recent criticism. "If there's something wrong with creating jobs and saving lives, I don't know what it is. The people who gave the money knew exactly what they were doing. I have nothing to say about it except I'm really proud." http://abcn.ws/2bGVeEf
6.
Before President Bill Clinton left office, he started planning for his transition out of the White House by doing what many before him did -- starting a public charitable organization with the primary function of building the Clinton Presidential Library. He originally named it the William J. Clinton Foundation. But by the time he left office in 2001, his foundation was starting to grow rapidly, pioneering HIV/AIDS initiatives and attempting to combat global health crises with the help of governments, nonprofit groups and influential people. And in 2005, the Clinton Global Initiative (CGI) was started by former White House aide to Bill Clinton, Doug Band. Now, the various iterations of the Clinton Foundation are coming under scrutiny as part of the 2016 presidential campaign as Hillary Clinton runs for the White House. ABC's MATTHEW CLAIBORNE gives a breakdown of the various branches of the famous family's foundation. http://abcn.ws/2bxi9CT
7.
Bernie Sanders last night helped formally launch a new, much-anticipated organization, dedicated to continuing the legacy of his presidential campaign, writes ABC's MARYALICE PARKS. But even before it gets off the ground, the organization has already been plagued by major internal turmoil, a number of last minute resignations and lingering questions about the size and scope of the donations the group will solicit. The senator addressed fans and volunteers via live-stream at 9 p.m. ET from a local studio in Vermont. The group, dubbed "Our Revolution," will function as a 501(c)(4), according to its website. http://abcn.ws/2bk3Eyy
Best of the 2016 Primary Debates
Inside the Republican National Convention
Inside the Democratic National Convention
In Depth: The Latest ABC News-Washington Post Polls