Election 2016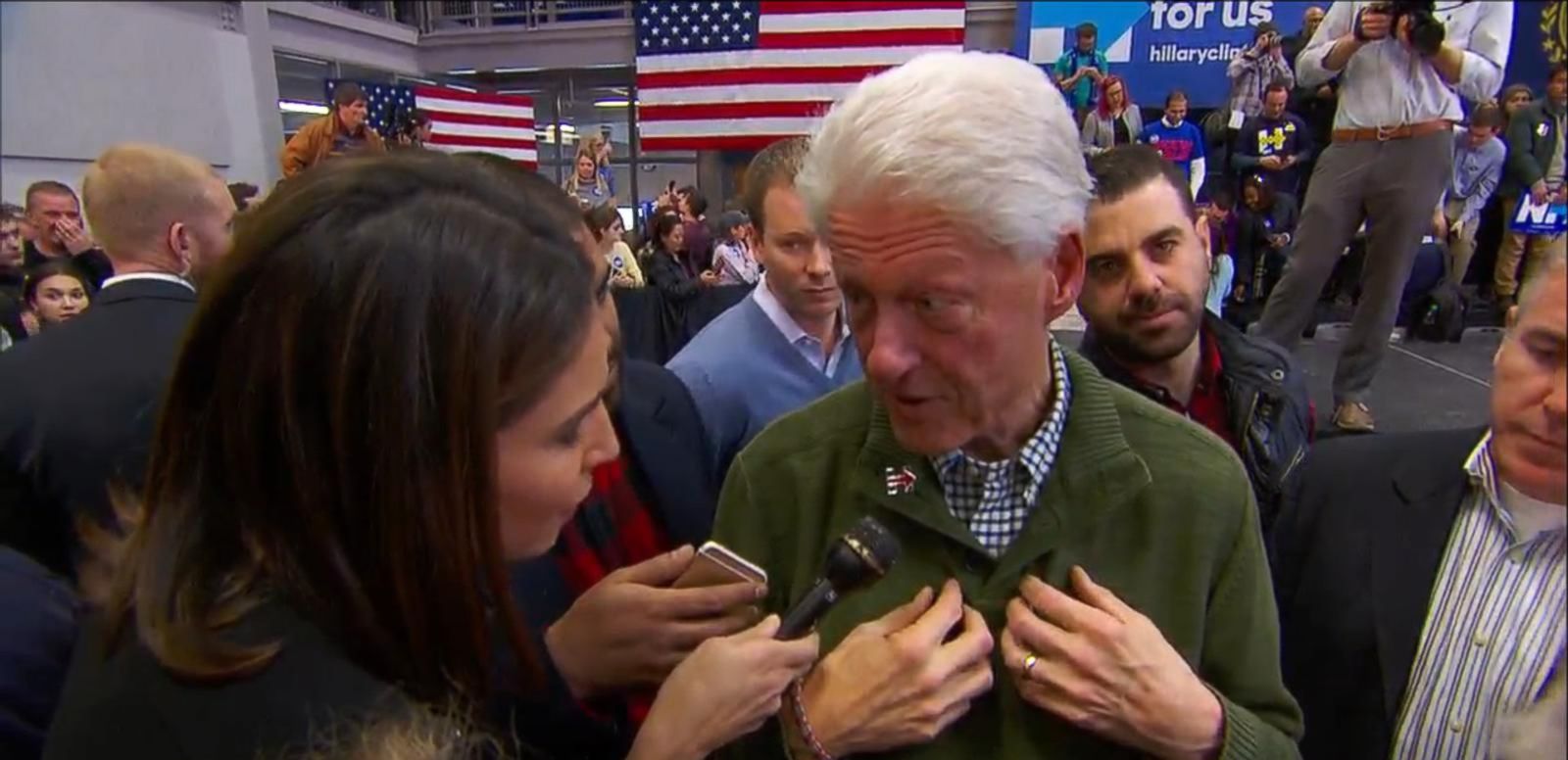 1.
Bill Clinton Comes Out Swinging Against Sanders
With Hillary Clinton trailing behind Vermont Sen. Bernie Sanders in Granite State polls, the Clinton campaign is hoping former president Bill Clinton -- New Hampshire's "Comeback Kid" -- can lend his political star power to help give his wife a last-minute boost, ABC's MERIDITH MCGRAW notes. Yesterday, while Hillary Clinton spoke in Flint, Michigan, Bill Clinton hit the campaign trail and hit her rival, Sanders, and his promises of a political revolution. "For her this is not about grand theories of revolution this is about whether we can improve people's lives," he said. And at an earlier event in Keene, New Hampshire, Clinton told the crowd that his wife, not Sanders, could be the one to unite people. "Imagine a country where instead of demonizing categories of people we wouldn't," Clinton said. "This is the big difference between the way these two candidates see the world."  
2.
A day before voters go to the polls in the first-in-the-nation primary in New Hampshire, Chris Christie said he believes "the race is now wide open" and pointed to Bill Clinton as evidence, ABC's JORDYN PHELPS reports. "No one knows what's going on in this race at all," the New Jersey governor and Republican presidential candidate said on "Good Morning America" today. "We sense real momentum on the ground for us. We're looking to run right through the tape on Tuesday," Christie told ABC's GEORGE STEPHANOPOULOS. Though the polls show Christie languishing in the single-digits in New Hampshire a day before voting, Christie has made the case that his performance in this weekend's debate shook up the field and harked back to Bill Clinton's 1992 comeback in the Granite State. "Everybody told him the night before New Hampshire primary, he was going to be in single-digits and was finished," Christie recalled. "He came in second place and his campaign went on to win the nomination. So, let's remember a little history." http://abcn.ws/1nSzQ2e
3.
By the Numbers
In the latest UMass-Lowell New Hampshire primary tracking poll released this morning, Donald Trump still holds on to his lead in the Granite State at 34 percent; Marco Rubio is in a tie with Ted Cruz at 13 percent; and John Kasich and Jeb Bush are tied at 10 percent each. Forty-four percent of Republicans say they could still change their minds before they head to the polls tomorrow, ABC's LISSETTE RODRIGUEZ notes. On the Democratic side, Bernie Sanders is holding on to his double-digit lead at 56 percent with Hillary Clinton at 40 percent. Of those Democrat voters, 78 percent say they definitely will vote for their candidate and 22 percent say they could change their mind. The poll was conducted Feb. 5 through Feb. 7. 
4.
Analysis -- ABC's RICK KLEIN
Bill Clinton has taken to remarking in recent years that he's not angry at anyone, a nod to the elder-statesman status that fuels his continued popularity, and a wink at some of his past campaign mini-explosions. Now, on the eve of the New Hampshire primary, the attack dog is back. Clinton is hitting Bernie Sanders on politics and policy, even indirectly blaming his campaign for misogynistic and hateful comments that pop up online. (Has he been on the Internet?) For those who remember the infamous "fairy tale" comment from 2008, this Clinton line delivered Friday in Nevada might refresh some memories: "This is not a cartoon. This is real life." One story of the Democratic primary to date has been that the former president has been on his best behavior. A new tone from Clinton would represent a new dynamic for the race, just as things heat up.
5.
After his bludgeoning of rival presidential candidate Marco Rubio in Saturday night's debate, Chris Christie declared on Sunday that the "anointment" of Rubio is over, ABC's JORDYN PHELPS and INES DELACUETARA report. "That anointment is now over," Christie told reporters after a stop at a local pub here. "I think it changes the entire race." Christie repeatedly challenged Rubio at the debate, hosted by ABC News, and the Florida senator's performance was met with more than a few poor reviews. "The anointed one last night didn't look like he was ready for the game," Christie said, making the case that his late strike on Rubio was all part of his strategy. "I told all of you...I would do it in a time and a place of my choosing and I did it in a time and a place of my choosing, and when I did it, I did it well." http://abcn.ws/1RgnwVd
6.
Hillary Clinton blasted the "state's neglect" for the ongoing water crisis in Flint, Michigan, during an emotional visit yesterday to an African-American church in the city, ABC's LIZ KREUTZ reports. "We don't yet know how many children have been affected by lead poisoning, we don't yet know how many challenges they will face," she said from the pulpit of Flint's House of Prayers. "What we do know we know is that even a single child suffering lead poisoning due to the state's neglect is one child too many." Clinton, who took a break from campaigning in New Hampshire to visit Flint, is the first presidential candidate to visit the city. She called for Congress to approve a $600 million amendment to help the city. http://abcn.ws/1nWzmJ8
7.
Republican presidential candidate Donald Trump said the United States needs to authorize "something beyond waterboarding" in order to better fight terror groups, ABC's NICKI ROSSOLL reports. Trump justified the use of waterboarding and other unnamed advanced interrogation techniques because terror groups use greater measures to inflict fear and harm. He added that groups like ISIS go well beyond waterboarding. "I would absolutely authorize something beyond waterboarding and believe me, it will be effective," he said Sunday on ABC's "This Week With George Stephanopoulos." "You have our enemy cutting heads off of Christians and plenty of others, by the hundreds, by the thousands." "Do we win by being more like them?" asked Stephanopoulos. "Yes," replied Trump. "I'm sorry. You have to do it that way." http://abcn.ws/1W2M57m
Running Mates: Meet The Candidates' Other Halves
In Depth: The Latest ABC News-Washington Post Polls
In Depth: Race to 2016