Election 2016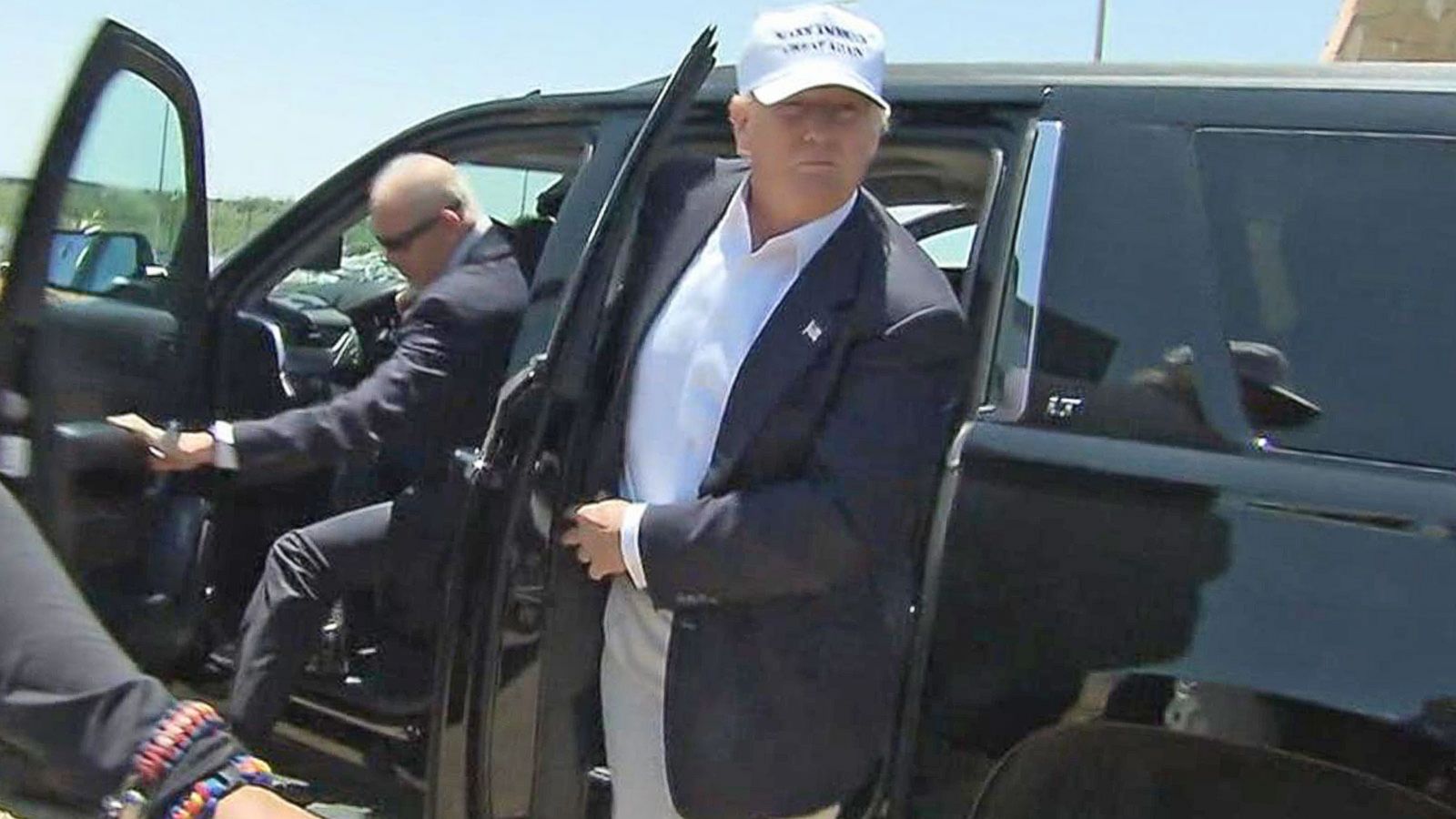 2016 Election Forecast: Predict Which Candidate Will Win the Presidential Election
A candidate needs 270 electoral votes out of 538 to win the presidency. Get started to make your own forecast.
1.
Hillary Clinton took on two controversial topics in a late-night interview on ABC's 'Jimmy Kimmel Live' on Monday, ABC's JOSH HASKELL and LIZ KREUTZ note. First, Kimmel quizzed the Democratic presidential candidate about news that broke earlier in the day of the release of additional emails from the time she served as secretary of state. "The state department said that they have to release 15,000 emails by the deadline is a couple of days before the debate," Kimmel said. "Are you concerned about that?" "No," Clinton responded. "Jimmy my emails are so boring. And I'm embarrassed about that. They're so boring. So we've already released, I don't know, 30,000 plus so what's a few more." http://abcn.ws/2bdtPY5 WHAT THE FBI FOUND: http://abcn.ws/2bcNNl9
2.
When Kimmel asked Clinton about the rumors swirling about her health, she offered up her hand and said "take my pulse." Kimmel agreed as Clinton explained "to make sure I'm alive." That's when Kimmel took her hand and gasped telling the audience "oh my god there's nothing there." Clinton played off Kimmel's words, implying that the stories are baseless. "With every breath I take, I feel like it's a new lease on life," Clinton quipped sarcastically. http://abcn.ws/2bdtPY5
3.
Speaking in front of an enthusiastic crowd at the University of Akron last night, Donald Trump intensified his calls for an investigation into his Democratic rival's emails, saying that a special prosecutor must take over the case, ABC's CANDACE SMITH reports. "After the FBI and Department of Justice whitewashed Hillary Clinton's email crimes, they certainly cannot be trusted to quickly or impartially investigate Hillary Clinton's new crimes," Trump said. "The Justice Department is required to appoint an independent Special Prosecutor because it has proven itself to be really, sadly a political arm of the White House." http://abcn.ws/2brgOxh
4.
Analysis -- ABC's Rick Klein
"We've already released, I don't know, 30,000 plus," Hillary Clinton told Jimmy Kimmel Monday, "so what's a few more?" To answer that question: quite a lot. Clinton's defense of her own behavior in the never-ending story of her own email server has been built on a few pillars that have shown cracks: that the practice was permitted and had precedent, that she never sent or received classified material, that she released all of her work-related emails. Colin Powell and James Comey have weakened the first two defenses. Now Clinton herself is seemingly acknowledging that there are more emails that weren't released. That's actually now already established. The emails disclosed by Judicial Watch include another 20 involving the secretary of state that weren't part of the official State Department release, according to the conservative group. Maybe the rest, as Clinton told Kimmel, are so boring as to be embarrassing. But the real embarrassment could be even more disclosures, all the way through October, of work-related emails that Clinton and her team said did not exist.
5.
Government email traffic and internal call logs made public by conservative groups this week offer more evidence that donors to the Clinton Foundation sought, and at times received, special favors and access to the State Department. "Mrs. Clinton and her staff treated the State Department as an arm of the Clinton Foundation," said Tom Fitton, president of the group Judicial Watch, which released 725 pages of State Department emails between top Clinton aides as part of a lawsuit the group filed seeking government records. The documents are the latest to show how a top official with the Clinton Foundation – longtime aide to President Clinton Doug Band – served as a conduit on behalf of Foundation donors seeking access to the State Department. More from ABC's BRIAN ROSS and MATTHEW MOSK: http://abcn.ws/2bJtKwn
6.
Donald Trump is planning to delay a speech on his immigration proposals in the wake of some reporting and comments that suggested to some possible changes to his policies. Campaign sources confirm to ABC News that the speech, which was slated to happen later this week in Denver, has been postponed and his trip to Colorado has been cancelled. Sources tell ABC News that the speech will be given in a few days. The confirmation of the delay comes several hours after the Republican presidential nominee said he was not flip-flopping on his plans to have a "deportation force," ABC's JOHN SANTUCCI and CANDACE SMITH report. http://abcn.ws/2bcvj7z
7.
Not long after Republican presidential nominee Donald Trump released a statement calling the Bill, Hillary and Chelsea Clinton Foundation "the most corrupt enterprise in political history" and demanding it be shut down, former President Clinton said he will step down from the board should his wife be elected. The former president also announced Monday that he will no longer raise money for the foundation should his wife in the event of a Clinton win in November. A spokesperson for Chelsea Clinton tells ABC News that she will remain on the board regardless of the election results. ABC's MATTHEW CLAIBORNE has more. http://abcn.ws/2bcreQZ
Best of the 2016 Primary Debates
Inside the Republican National Convention
Inside the Democratic National Convention
In Depth: The Latest ABC News-Washington Post Polls