Election 2016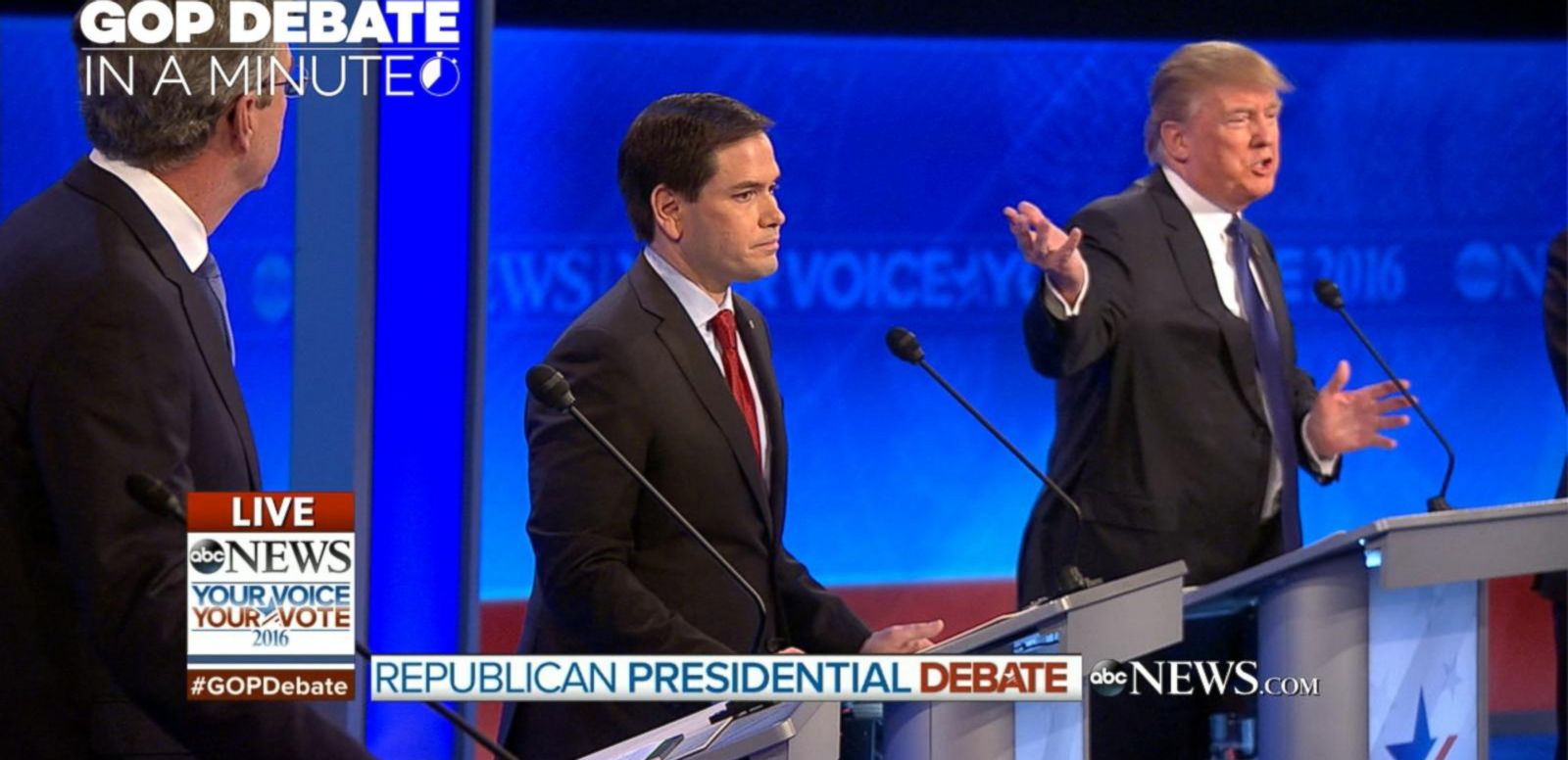 1.
Republican presidential candidates are squaring off in New Hampshire one last time ahead of the primaries, hitting each other on everything ranging from temperament to foreign policy. The debate, hosted by ABC News and the Independent Journal Review, in Manchester, New Hampshire includes seven presidential hopefuls. Check out the best lines of the debate so far: http://abcn.ws/1PHGCmd
2.
The Republican presidential debate got off to a fiery start Saturday night when Gov. Chris Christie went after Sen. Marco Rubio, painting him as a Washington politician who memorizes speeches and can't give straight answers. The exchange started when Christie was asked to comment about Rubio's preparedness to run for president, previously calling the first term senator "the boy in the bubble." http://abcn.ws/1PeNaY3
5.
Ben Carson is here to stay, despite the ups and downs of his campaign. "For many months, the political class, pundits, the media have tried to ignore or bury me," Carson said in his closing statements during Saturday night's Republican debate hosted by ABC News. "They say that politics is too complex and too sleazy. You can't survive. "Well, guess what? I'm still here. And I'm not going any place, either." http://abcn.ws/1nQmjIm
6.
This Week on 'This Week'
Fresh off the ABC News GOP debate, George Stephanopoulos anchors a special edition of "This Week" live from New Hampshire featuring an exclusive interview with Republican presidential candidate Sen. Marco Rubio. And, Democratic presidential candidate Sen. Bernie Sanders comes to "This Week" Sunday. Then, the powerhouse roundtable debates the week in politics with Democratic strategist and ABC News contributor Donna Brazile, ABC News political analyst Matthew Dowd, Weekly Standard editor and ABC News contributor Bill Kristol, and ABC News' Cokie Roberts. See the whole political picture Sunday on "This Week."
7.
Ever wonder how the Republican presidential candidates prepare for a debate? As Donald Trump, Sen. Ted Cruz, Sen. Marco Rubio, Ben Carson, former Gov. Jeb Bush, Gov.Chris Christie and Gov. John Kasich gear up for tonight's GOP debate in Manchester, New Hampshire, the presidential hopefuls revealed some of their pre-debate rituals. Cruz said he plays "Plants vs. Zombies" on his iPhone with his two daughters while Rubio asked Siri for help -- wondering what questions ABC News' David Muir may ask him. Bush said he calls his mother, Barbara Bush, for advice.
Running Mates: Meet The Candidates' Other Halves
In Depth: The Latest ABC News-Washington Post Polls
In Depth: Race to 2016