Election 2016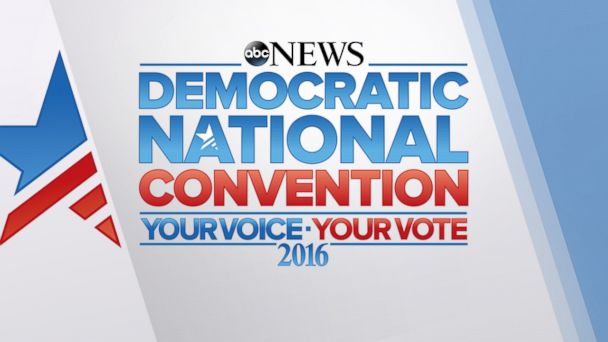 1.
The Democratic National Convention formally nominated Virginia Sen. Tim Kaine as the party's vice presidential candidate by acclamation this afternoon. When Kaine's name was mentioned by the convention chair for the first time, the Virginia delegation cheered, waving their arms and chanting "Kaine! Kaine!" Some mixed boos could also be heard from the floor but not nearly enough to stop the nomination. http://abcn.ws/2aesKy7
2.
The Democratic National Convention is halfway over, and while there was a hefty dose of drama in the first two days, some serious political star power was saved for the final days. The convention heard from two former presidents last night (President Jimmy Carter by video and President Bill Clinton in person) and now tonight, delegates are going to be hearing from current and soon-to-be former President Barack Obama and Vice President Joe Biden. Both men have already publicly spoken about Clinton and supported her campaign, and Obama held a joint campaign appearance with Clinton in North Carolina earlier this month. Here are five storylines to watch out for today, courtesy of ABC's MEGHAN KENEALLY: http://abcn.ws/2aJznu0
4.
Hillary Clinton is trying to start over -- at a lower temperature, but with grander historical sweep, ABC's RICK KLEIN writes. On night two of the Democratic National Convention, the now-official nominee sought a fresh slate. Her campaign did it by tapping into powerful historical forces, with the kind of direct appeals based on her gender that she famously avoided in her first run for the presidency. Clinton sought it by putting her primary feud behind her, finally if not fully, by brokering enough peace with Bernie Sanders to get him to unite the convention. And she accepted a big hand from her husband, in a dual role as former president and candidate's spouse. He delivered a homespun, soft-spoken speech that leaned heavily on less-familiar parts of her biography –- and yes, it stayed focused on her. http://abcn.ws/2avCgT9
5.
Clinton Makes History
Hillary Clinton made history Tuesday night as the first female major party nominee in the country's history -- after her rival, Bernie Sanders, threw his support behind her and nixed the roll call vote. The moment was marked with cheers, tears and anger from some Sanders supporters who were dissatisfied with the primary contest -- including the votes controversially given to hundreds of superdelegates -- and its outcome. More than 1,800 delegates -- short of the 2,382 needed to clinch the nomination -- cast their votes for Sanders. The final delegate tally was 2,838 for Clinton, 1,843 Sanders and 55 abstentions, ABC's MICHAEL EDISON HAYDEN reports. http://abcn.ws/2afhvcu
Best of the 2016 Primary Debates
Inside the Republican National Convention
Republican National Convention Speeches
In Depth: The Latest ABC News-Washington Post Polls