Election 2016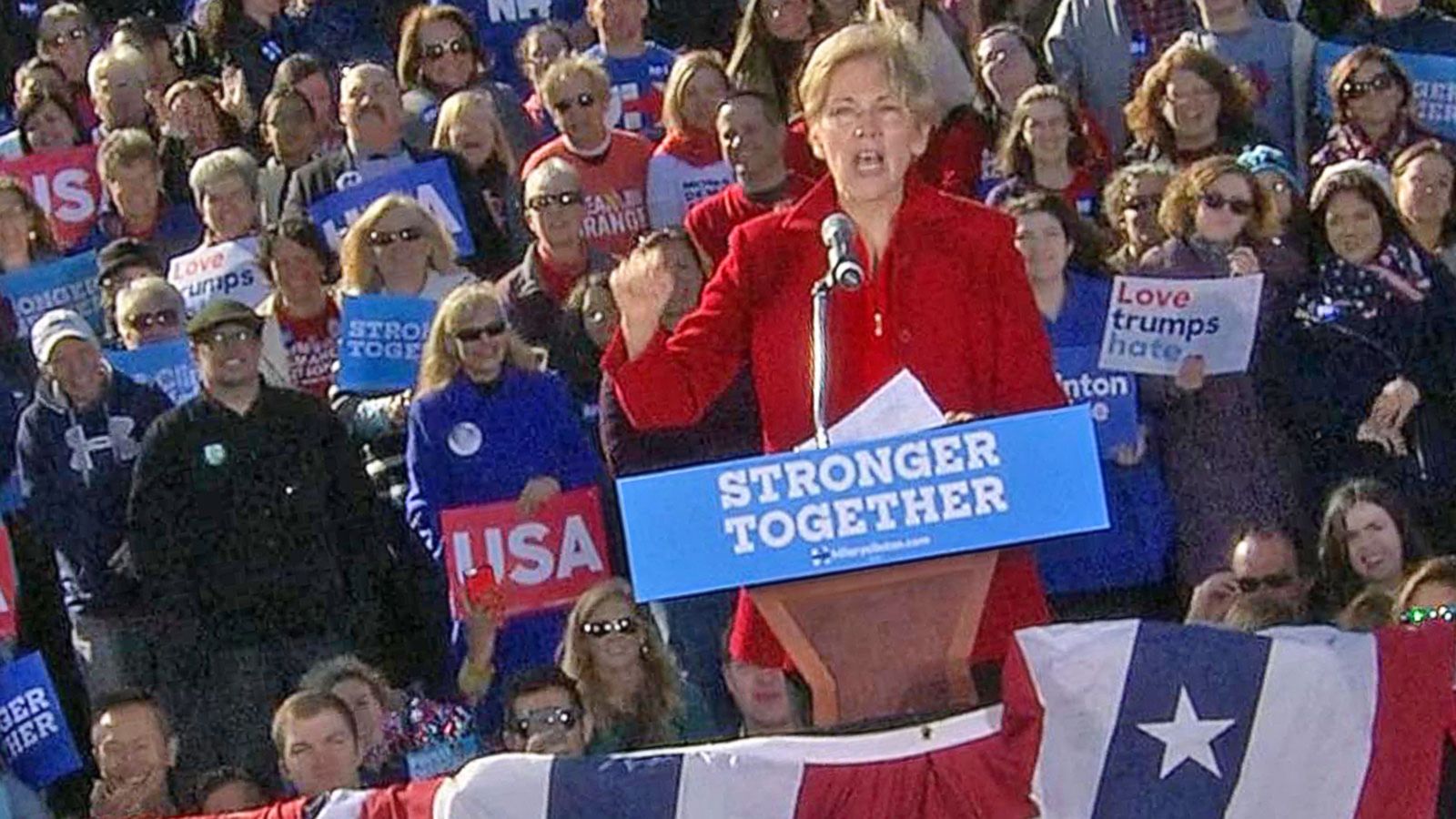 2016 Election Forecast: Predict Which Candidate Will Win the Presidential Election
A candidate needs 270 electoral votes out of 538 to win the presidency. Get started to make your own forecast.
1.
Donald Trump kicked off a speech in Gettysburg, Pennsylvania about his plan for his first 100 days as president by announcing that he will sue every woman who has accused him of sexual assault. "Every woman lied when they came forward to hurt my campaign. Total fabrication," the Republican presidential nominee said over the weekend. "The [alleged] events never happened. Never. All of these liars will be sued after the election is over." Speaking near the historic Gettysburg Battlefield on a brisk day in the Keystone State, Trump also launched attacks on the "dishonest" media, the "rigged" political system and his Democratic rival, Hillary Clinton. Trump then laid out some plans for his first 100 days in office if elected, including pledging to deport millions of what he called "criminal illegal aliens," who are "drug dealers" and "killers," and vowing to cancel federal funding for all "sanctuary cities." ABC's MORGAN WINSOR, KATHERINE FAULDERS and JOHN SANTUCCI have more. http://abcn.ws/2dwzPR4
2.
"I saw where our opponent Donald Trump went to Gettysburg, one of the most extraordinary places in in American history, and basically said if he's president he will spend his time suing women who have made charges against him based on his behavior," Clinton said. More from ABC's JESSICA HOPPER and JOSH HASKELL: http://abcn.ws/2evCcSL
3.
Diminished enthusiasm and a high level of negative support are undermining Donald Trump's candidacy in the closing stretch of the 2016 campaign, the ABC News election tracking poll finds -- while Hillary Clinton has improved on both these measures, ABC's GARY LANGER notes. Fifty-six percent of Clinton's backers in the national survey, a new high, say they're voting mainly to support her rather than to oppose Trump. By contrast, 54 percent of Trump voters are mainly motivated by opposition to Clinton, not support for him. Affirmative support can be a stronger motivator to vote, and Clinton's has gained 9 points from its low just before the party conventions in July. Trump's affirmative support, by contrast, has been essentially flat in the same period. http://abcn.ws/2eJw47g
4.
Analysis - ABC's Rick Klein
You can't force a mandate. But Hillary Clinton is now in the enviable position of having some control over what this election will say to both her supporters and opponents. Should she continue on her current trajectory, she's in line for a major victory, bordering on a blowout by modern standards. ABC News' new tracking poll has Clinton crushing Donald Trump by 20 points among women nationally, and even up slightly among men. A win that broad, perhaps with an Arizona and/or a Georgia tipping blue, would signal a message that carried beyond expected demographic and geographical boundaries. Fifty-six percent of Clinton supporters say they are mainly voting to support her rather than to oppose Trump; Trump's similar number is only 41. If Clinton can convince the country that she is going to win by offering up herself – as opposed to being there solely as an alternative to Trump – it could have implications for governing in the not-so-distant future.
5.
Democratic nominee Hillary Clinton and her running mate Sen. Tim Kaine campaigned together in the battleground state of Pennsylvania this weekend, boasting about their campaign's momentum and giving a glimpse of how the two, if elected, would approach uniting the country after an election year of divisive and heated rhetoric. "I know there are a lot of people right here in Pennsylvania who have a lot of questions. They want to know how do we move forward better?" Clinton said. "They are upset about what they see happening around them. I get that. But anger is not a plan." ABC's JOSH HASKELL and JESSICA HOPPER have more. http://abcn.ws/2eFgVnp
6.
Eric Trump commented on his father's vow to sue every woman who has accused him of sexual misconduct, saying, "He's a fighter...and he believes in calling out right and wrong." "My father's a guy who will fight. He'll fight for this country. And he's always fought for himself and, quite frankly, throughout this whole process he's needed to fight for himself," the son of the Republican presidential nominee said Sunday on "This Week," according to ABC's NICKI ROSSOLL. http://abcn.ws/2ecUWpt
7.
Hillary Clinton's chief strategist and pollster refuted claims that Democrats are responsible for inciting violence at Donald Trump's campaign rallies, saying the blame lays squarely on the rhetoric of the GOP candidate. "Donald Trump, day after day, on the stump, was inciting people," Joel Benenson said Sunday on "This Week." Over the past week, Trump frequently referred to a secretly recorded video recently released by conservative activist James O'Keefe's Project Veritas Action. The highly edited video appears to show a Democratic operative bragging about deploying troublemakers at Trump rallies. Benenson confirmed that two Democratic operatives associated with the video have resigned, ABC's MARGARET CHADBOURN reports. http://abcn.ws/2ed5nJW
Fact Checking the Debates
Where Candidates Stand on the Issues
In Depth: The Latest ABC News-Washington Post Polls
Powerhouse Politics