With those words, the seeds of Republican opposition were planted.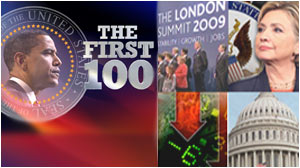 Top GOP Moments of Obama's First 100 Days
No. 5: Gregg's Retreat
It was billed as a huge coup for Obama: Sen. Judd Gregg, a veteran New Hampshire Republican and a fiscally conservative stalwart, was set to join the Cabinet as commerce secretary.
But that plan was shattered 10 days later, when Gregg abruptly announced he no longer wanted the job.

The episode cast a harsh spotlight on the new White House's vetting process for appointments -- and sent a clear signal that opposition, not accommodation, would define the GOP attitude toward Obama in Congress.
As ranking Republican on the Senate Budget Committee, the retiring Sen. Gregg has emerged as a forceful critic of the president's spending proposals -- and one with added credibility, as a Republican who Obama wanted in his Cabinet.
No. 6: The No-Number Budget

The GOP opposition's biggest public-relations flub came on Day 66 of the Obama presidency.
Eager to disprove the "party of no" storyline, House Republican leaders announced a press conference to unveil their own budget proposal.
Responding to Obama's criticism that the Republicans had failed to offer an alternative, House Minority Leader John Boehner, R-Ohio, said, "Well, it's just not true because here it is, Mr. President."
With that, Boehner released an 18-page document entitled, "The Republican Road to Recovery." The only problem: This was an alternative "budget" with no numbers.
The Republicans on the House Budget Committee would release a more complete GOP budget the following week -- but the PR damage was done.
No. 7: Cheney Rises
The
release of CIA interrogation memos
from the Bush administration gave Republicans an opening to knock the Obama White House off-message on national security.

The weightiest response came not from Republicans in Congress, but from former Vice President Dick Cheney, who set the tone for the opposition.
Cheney seemed eager to engage in the public debate. He denounced the release of the memos and asked the CIA to release documents proving that the interrogation program worked.
Cheney's high-profile response gave conservatives something to cheer about. Yet the attention Cheney drew also served as a reminder that there aren't many Republicans in Congress with national stature on pressing issues of national security.
No. 8: Jindal's Long Walk
Obama's first speech to a joint session of Congress gave the Republicans a perfect opportunity to highlight
a rising star
.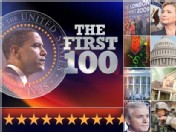 But Louisiana Gov. Bobby Jindal's nationally televised response -- he spoke from Baton Rouge in front of an oddly out-of-place spiral staircase -- was widely panned as a disaster, with devastating comparisons to "Kenneth the Page" of TV's "30 Rock."
Even Jindal's attack on wasteful Washington spending fell flat. The Louisiana governor ridiculed a federal program to monitor volcanic activity. As if on cue, Mt. Redoubt in Alaska erupted just a few weeks later, showing it may not be a bad idea to monitor volcanoes after all.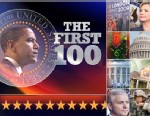 GOP's Top Moments: Stimulus, Steele and Shaping the Future
No. 9: Stimulus Stands
The united GOP opposition to the stimulus bill didn't extend to the nation's statehouses.