We're 100 days out now -- yes, that's it -- and at least the next seven of those will depend on which of these seven storylines matters most:
Will it be . . .
1. Sen. Barack Obama's move toward Sen. John McCain's Iraq position?
2. McCain's move toward Obama's Iraq position?
3. McCain's
leftward
mobility?
4. McCain's rightward mobility?
5. Obama's messaging flexibility?
6. Obama's messaging on inflexibility (a sore hip -- enough to keep him off the court for a stretch)?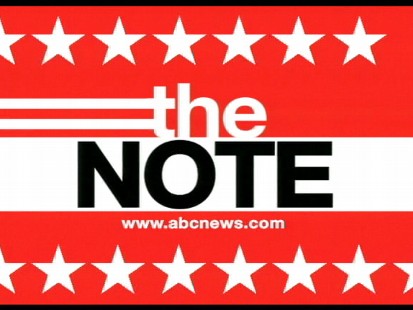 7. Vice-presidential advisability? (Good chance of one pick this week -- but whose might it be?)
Or is it just the inevitable comedown that bears watching? "We had a good week," Obama tells Maureen Dowd. "That always inspires the press to knock me down a peg."
"I wouldn't even be surprised if that in some polls that you saw a little bit of a dip as a consequence we have been out of the country for a week," Obama told reporters on the last leg of his foreign trip, per ABC's Jake Tapper. (Seriously -- after THAT week?)
It's with just a little bit of Obama baggage -- and, spin aside, a little bit of extra Obama confidence (Gallup's daily tracking has his lead at nine points) -- that the campaign returns stateside this week.
If everyone knows this race is going to come down to the economy -- where's it been for us lately?
This is one of those rare openings for either candidate to shape the race: The No. 1 issue has been sorely neglected (no, McCain's adventures with processed cheese don't count), so there's a potential payoff for the first candidate to approach the economy in a way that gets traction.
Who wants it? Obama, D-Ill., spends Monday with economic advisers, to roll out some new steps to address the housing crisis and spiraling gas prices.
And after the week McCain stayed in the heartland to keep the focus on the economy while Obama was abroad, with both candidates now back home, McCain, R-Ariz., is turning up the heat on Obama on . . . foreign policy.
(Need another sign that the campaign is more than slightly more about one candidate than it is the other?)
McCain "suggested yesterday that Sen. Barack Obama had crafted a war strategy designed to further his own political advancement," Juliet Eilperin reports in The Washington Post. "The moves puzzled some GOP strategists, who said McCain would be better off touting a more positive message."
Said one strategist "with close ties" to the campaign: "They're doing it because the candidate, and the campaign, is not happy with where they are and they're lashing out."
"Senator Barack Obama signaled on Sunday that he would return his focus to the economy after a whirlwind foreign tour, but Senator John McCain's eyes remained very much fixed on national security, as he repeatedly attacked his rival," Michael Powell and Susan Saulney write in The New York Times.
Among the attacks . . . this one's the subject of his TV ad: "If I had been told by the Pentagon that I couldn't visit those troops, and I was there and wanted to be there, I guarantee you, there would have been a seismic event," McCain told ABC's George Stephanopoulos on "This Week."
"I'm not prepared to see the sacrifice of so many brave young Americans lost because Senator Obama just views this war as another political issue with which he can change positions," McCain said on CNN.
The backlash for the attacks: "I do not think it was appropriate," said Sen. Chuck Hagel, R-Neb. "I think John is treading on some very thin ground here when he impugns motives and when we start to get into, 'You're less patriotic than me. I'm more patriotic.' "
The new McCain ad tries to force Obama to keep his one small piece of baggage from this trip -- his canceled visit with troops in Germany.
But if you're going to attack Obama for not visiting troops, it helps to avoid footage of Obama visiting troops.
McCain aides will take any opening they can, per ABC's Ron Claiborne: "Even as they seethed [last week], they were watching Obama's every move carefully, looking for a slip of the tongue, for some error by Obama that would provide them an opening to attack the presumptive Democratic presidential nominee."
This brings the fight to a new level: "McCain has until now been loathe to employ the tack many strategists see as essential and which anonymous e-mailers and commenters with no apparent links to his campaign have been practicing since last summer: hitting Obama not on his record or his platform, but on his values and person," Politico's Ben Smith and Jonathan Martin report. "The tone is reminiscent of Hillary Clinton's disdainful mocking of Obama in the primary."
On Monday, Obama refocuses his message on the economy by holding a meeting in Washington with Warren Buffett, former Treasury Secretary Robert Rubin, former Federal Reserve Chairman Paul Volcker, Google Chairman and CEO Eric Schmidt, and some big names from labor: AFL-CIO President John Sweeney and SEIU Secretary-Treasurer Anna Burger.
"Participants in today's meeting will discuss how to restore balance to the economy so that entrepeurship is encouraged and hard work is rewarded," per the Obama campaign. "This was [?] more than just a discussion on how to meet the current challenge, but also how to build an economy for the 21st century in which the broadest number of Americans can share in our prosperity."
"I expect some further fine-tuning of short-term policies based on what's happened over the last several months," Obama tells Bloomberg News' Julianna Goldman (this is not -- repeat, not -- refining.)
"Obama said in his meeting with advisers he expects to 'get their read on where the economy is going,' and fashion some 'additional steps' to address the short-term economic and financial and housing issues," Goldman writes.
(What R's want you to remember about Robert Rubin.)
As for the confidence: "Democratic presidential contender Barack Obama says he has succeeded in expanding the electoral map in his race against John McCain, principally in southern and southwestern states but also in Montana and North Dakota," the AP's David Espo reports.
"It doesn't mean we're going to win all those states but at least we're making it a contest and giving voters something to choose from," Obama tells Espo. "Virginia, North Carolina and Georgia are all states where we are competitive," he said, adding he is going "toe to toe" with his rival in New Mexico, Colorado, and Nevada.
One way it could happen: "At the heart of the Obama campaign's strategy is a national effort to increase registration and turnout among the millions of Democratic-inclined Americans who have not been voting, particularly younger people and African Americans," Alec MacGillis and Jennifer Agiesta write in The Washington Post. "Gaining greater African American support could well put Obama over the top in states where Democrats have come close in the past two elections, and could also help him retain the big swing states of Pennsylvania and Michigan."
Can McCain break his streak of bad luck? "The campaign's big photo op of the week turned out to be a visit to a supermarket in Bethlehem, Pa. -- where McCain was photographed in front of a display of processed cheese," Newsweek's Holly Bailey and Suzanne Smalley write. "As the candidate roamed through the store, his campaign's lanky cameraman knocked over a shelf of Mott's applesauce. The jars skittered across the floor past the senator's feet. When he paused to take questions from reporters, he was briefly drowned out by an announcement on the store's PA system."
(Talk about struggling to be heard . . .)
McCain named the bad guys on the economy, in his interview on "This Week": "I think that Wall Street is the villain in the things that happened in the subprime lending crisis and other areas where investigations and possible prosecution is going on," McCain said.
Here comes some help on one of the few economic issues that has GOPers confident: "Republicans are upping the ante on their bet that energy issues -- especially increased domestic oil production -- will be key to closing Democrats' imposing advantage with voters on the economy," John D. McKinnon, Elizabeth Holmes, and Stephen Power write in The Wall Street Journal.
"This week, President George W. Bush heads to two election battleground states, Ohio and West Virginia, to draw attention to congressional inaction. Senate Republicans are planning a floor fight before August recess to try to win authorization for more production," they write.
"On Monday, Sen. McCain plans to hit the point again in Bakersfield, Calif., in an oil-producing area. He will discuss domestic drilling as a means to reduce reliance on foreign oil, and as a bridge to a future when alternatives such as nuclear power and solar power are more widely available."
Somewhere here is an effective message: McCain "is seeking to build an advantage on a domestic issue: energy. Polls show that most voters agree with McCain's positions in favor of increased drilling for offshore oil and building nuclear power plants," Doyle McManus and Michael Finnegan write for the Los Angeles Times.
Why these next few days matter: "People at home are worried about gas prices, they're worried about mortgage foreclosures -- and for a week they're seeing me traipse around the world?"Obama tells The New York Times' Jeff Zeleny. "It's easy to paint that as somehow being removed from people's day-to-day problems."
Time is tight: "Both campaigns are taking stock of the political playing field. With the Beijing Olympics likely to absorb most attention in the middle of August, the window is narrowing to make much news before the national party conventions," Stephen Dinan writes in the Washington Times.
And, truth be told, it's close: "Even after a brutal week that put his competitor, Barack Obama, in a glowing international spotlight, Republican Sen. John McCain is coming to California today with some things to smile about," Carla Marinucci writes in the San Francisco Chronicle. "Those would be the national polls that confirm that McCain is still -- some say stubbornly -- in the mix against Obama. And while the Illinois senator has a whopping 24-point lead against McCain in the nation's most populous state, Obama still hasn't made the convincing sale to millions of voters in heartland America."
"This is one area where Republicans, who were generally bereft about the day-by-day dispatches of Mr. Obama's international trip -- if not about his candidacy generally -- see an opportunity, if only a glimmer of one," Jeff Zeleny writes in the Sunday New York Times. "While the country's mood may favor Democrats, there has been no detectable flurry of swing voters rushing to Mr. Obama."
"An effective and massively publicized foreign trip failed to push Obama above the 50 percent mark," columnist Robert Novak writes. "Democratic hopes and Republican fears that he would get a major bounce in the polls when he clinched the nomination and then on his campaign trip abroad have not been realized."
Until/unless this takes hold: "Barack Obama's world tour scored big points back home," Michael Saul writes in the New York Daily News. "The presumptive Democratic nominee jumped to a significant 9-point lead over GOP rival John McCain -- his largest lead since the Gallup Poll began tracking the general election horse race in March. Obama tops McCain, 49% to 40%, among registered voters nationwide, Gallup's daily tracking poll conducted from Thursday to Saturday revealed."
The Chicago Tribune's Jill Zuckman goes to where the rubber meets the (potholed) road: "8 Mile Road could symbolize the presidential election in Michigan as voters choose between Barack Obama, an African-American Democrat, and John McCain, a white Republican," Zuckman writes. "This normally reliable state for Democrats may not be so reliable this year as issues of race and class cloud the election and voters say they still know little about the Democratic nominee because of a botched primary that kept him away."
On race: "The question is always one that is shrouded in the voting booth," Gov. Jennifer Granholm, D-Mich., tells Zuckman.
Closely related: "At this year's Unity: Journalists of Color convention, Obama said he finds himself in a 'no-win' situation on the issue of race,"per USA Today's Kathy Kiely. "Miami Herald columnist Leonard Pitts asked why Obama isn't 'challenging the implicit assumption that there's something wrong with being a Muslim.' . . . "My credentials on supporting Muslim Americans are strong," Obama said. "I just don't like the idea of anybody falsely denying my religion."
A flip in need of an explanation: "I support it, yes," McCain said on "This Week," of the ballot initiative that would end race and gender-based affirmative action in his home state.
Per ABC's Teddy Davis and Kevin Kilbane: "McCain has long opposed quotas but his new support for ending affirmative action programs which stop short of quotas puts him at odds not only with Democratic rival Barack Obama but also with the Arizona senator's own views in 1998."
Waiting on the details: "Barack Obama's bid to place a new Social Security tax on very high incomes is either a bold or foolhardy plan, depending on who critiques it," per the AP's Chuck Babington. "But its potential impact is almost impossible to gauge because he is providing few details on basic questions such as what the tax rate might be, what types of income would be taxed and how the taxpayers' benefits would be affected."
As for the trip that was . . . "Obama's eight-day trip to the Middle East war zones and Europe was almost perfect. The Democratic candidate looked and sounded presidential and reassuring, while avoiding missteps," Bloomberg's Al Hunt writes. "The contrasts, often unfairly, with McCain at home were stunning. One looking vigorous in a helicopter over Iraq, the other in a golf cart with former President George H. W. Bush -- 155 years of age between them."
"Memo to John McCain: You're probably kicking yourself right about now for goading Barack Obama into getting out to see the world," Clarence Page writes in his Chicago Tribune column. "That's like throwing ol' Br'er Rabbit into a briar patch. Before you could say 'photo op,' the junior senator from Illinois was turning Obama Nation into what looked like Obama World."
He didn't solve everything, though: "Barack Obama wooed Europe and the Middle East last week with calls for a major transformation of U.S. foreign policy, pledging to withdraw American soldiers from Iraq while building closer trans-Atlantic ties," Jay Solomon writes for The Wall Street Journal. "But the Democratic presidential candidate's 10-day, eight-nation trip also hinted at the potential limits on his campaign to reorient America's overseas strategy, should he be elected in November."
McCain talks gaffes with Newsweek's Suzanne Smalley: "Occasionally there will be a misstatement," he said. "And, by the way, some of those 'gaffes' have not been [misstatements], but they've been portrayed as such. But I'm not complaining. It's fine with me. The American people know me."
Presumptuous? That works both ways, per Mark Leibovich of The New York Times: "In McCain vs. Obama -- the first general election matchup in 56 years that will not include a sitting president or vice president -- two senators with minimal executive experience seem to be falling all over themselves to playact the role of president."
New from the DNC: "100 Days, 100 Ways," charting similarities between McCain and President Bush.
Hungry yet? McCain shares his famous ribs recipe with George Stephanopoulos (including an iron-clad campaign guarantee).
The Sked:
McCain hits California Monday, and does "Larry King Live" Monday evening.
Obama is in Washington Monday to meet with economic advisers -- and just maybe a potential vice-presidential candidate or three.
Bill Clinton starts his Africa trip Monday -- and ABC's Kate Snow travels with him.
The Veepstakes:
An odd down day Monday for Gov. Tim Pawlenty, R-Minn., draws speculation: the new Republic's Noan Scheiber guesses at some possibilities: "1.) There was some random, non-veepstakes-related conflict that forced the change of schedule. 2.) McCain or his vetters intend to meet with Pawlenty tomorrow, possibly somewhere outside Minnesota. 3.) McCain intends to announce his veep pick tomorrow and has asked several short-listers to clear their schedules. 4.) McCain intends to announce Pawlenty as his running mate tomorrow."
More T-Paw buzz: "The rapport between the two men, evident throughout long days on the campaign trail, now is being cited as one of the main reasons that Pawlenty has risen in speculation as McCain's possible running mate," Michael Kranish writes in The Boston Globe. "While much of the recent buzz has surrounded former Massachusetts governor Mitt Romney, his bitter primary fight with McCain and the lack of a personal relationship could hurt Romney's chances. If McCain is looking for a close friend whose loyalty is beyond question, Pawlenty could be his vice presidential pick."
Obama's vice presidential search committee co-chair, Caroline Kennedy, is in Washington Monday for a campaign fundraiser (and just maybe secret veep's meetings). "Coincidentally, that's the day Obama's prospective VP Chief of Staff, Patti Solis Doyle, has told her hires to report for work," ABC's Howard L. Rosenberg reports.
"She is a reluctant media star -- stepping into the spotlight to back a man she says reminds her of her father," ABC's Jan Crawford Greenburg said of Kennedy, on "Good Morning America" Monday. "The Democratic convention is first on the calendar, and with the VP choice imminent, Caroline Kennedy and Barack Obama will be back in Washington today."
On NBC's "Meet the Press," Obama said he's looking for a running mate who shares his vision for the country and someone who can help him govern. "I'm not interested in a vice president who I just send off to go to funerals. I want somebody who's going to be able to roll up their sleeves and really do some work."
On "Fox News Sunday," Sen. Claire McCaskill, D-Mo., and Sen. John Thune, R-S.D., both said they have not been asked by vice presidential vetters to hand over materials.
(Obama will be on the trail with McCaskill Wednesday, in Missouri.)
Also (apparently) not on the short list: Sen. Jack Reed, D-R.I. Asked by the Providence Journal's John E. Mulligan whether he would turn down a spot on the ticket, Reed said: "Yeah . . . but I frankly I don't expect to be offered the position." And this: "I have no intention to seek it . . . or even, if offered it, to accept."
The St. Petersburg Times' Wes Allison looks at the choices ahead for Sen. Joe Lieberman, I-Conn. -- almost certainly penciled in for a speaking slot at the Republican National Convention. "I made two big promises in the general election [in 2006]: that if I was re-elected, I would always try to do what I believe is right and that I would work across party lines to get things done," Lieberman tells Allison. "In supporting John McCain, I think I'm keeping that promise in both regards."
Also in the news:
The housing bill is set to become law (quietly): "The White House on Monday will receive a far-reaching housing bill from Congress for President Bush's signature," per NPR's Brian Naylor. "The Senate approved the measure 72-to-13 on Saturday. The bill would help homeowners on the brink of foreclosure and rescue Fannie Mae and Freddie Mac, which together back nearly half of the nation's mortgages."
Remember the current president? The White House wants you to: "The president's advisers have taken some creative steps to try to keep him in the news," AP's Ben Feller writes. "On Bush's trip to Africa, the anti-poverty activist Bob Geldof got a rare interview on Air Force One. Geldof, a rocker who starred in the movie version of 'Pink Floyd The Wall,' described his experience with Bush as 'gigging on a whole other level' in a magazine piece about Bush's commitment to Africa."
"When Bush got back home, he narrated a slideshow about his trip. The event was unusual enough to draw coverage," Feller continues. "Bush had even done practice run-throughs of his 111-slide presentation in the White House Family Theater, a level of attention normally reserved for major speeches to the nation."
Timely, and still not fully explained: "Sen. Barack Obama held a private session with a group of about two dozen Iranian-American donors shortly before a fundraiser this month in California after one of the participants said the Obama campaign would hold such a forum if local Iranian-Americans were able to raise $250,000," per ABC News.
Waiting for you in Denver: "The host committee is as much as $10 million short in fundraising, and financial difficulties have forced it to cancel two dozen parties for delegates," per the Los Angeles Times' Nicholas Riccardi. "Denver officials are scrambling to deal with the logistical challenges of Barack Obama's acceptance speech being held at an outdoor stadium instead of in the arena where the rest of the convention will take place."
"Even special daisies that the city bred partly to show off for the convention are failing to sprout," Riccardi writes. "Criticism has been so harsh that this month the host committee felt compelled to issue a news release defending its much-mocked catering guidelines, which recommend organic produce and color-coordinated meals and discourage fried food."
Cindy McCain writes on Rwanda in a Wall Street Journal op-ed: "I wasn't sure what to expect all these years later, but I found a country that has found in its deep scars the will to move on and rebuild a civil society. And the renaissance is being led by women," she writes. "Women are at the forefront of the physical, emotional and spiritual healing that is moving Rwandan society forward."
Some McCain scrutiny, of the International Republican Institute: "The parade of lobbyists and fund-raisers at the dinner is emblematic of Mr. McCain's tenure at the institute, one of a pair of nonprofit groups -- taxpayer-financed and each allied with one of the two major political parties -- that were created during the Reagan era to promote democracy in closed societies," Mike McIntire writes in The New York Times.
"Over the years, Mr. McCain has nurtured a reputation for bucking the Republican establishment and criticizing the influence of special interests in politics. But an examination of his leadership of the Republican institute -- one of the least-chronicled aspects of his political life -- reveals an organization in many ways at odds with the political outsider image that has become a touchstone of the McCain campaign for president."
Smart move (financially)? "In the month of June, McCain's political committees and the Republican National Committee's joint fundraising account raised nearly $7 million from Texas donors. Twenty percent of it -- . . . more than $1.3 million -- came on the day of McCain's announcement [that he favors offshore drilling], June 16, or the day immediately following it," David Donnelly writes at Huffington Post.
A secret to Obama's success: "Since securing his status as the presumptive Democratic presidential nominee, Sen. Barack Obama (Ill.) has slowly but systematically started poaching top staff from the House and Senate to build his campaign apparatus," Roll Call's Erin P. Billings reports.
The Kicker:
"I'm sure Sen. Obama appreciates Sen. Craig's support." -- Dean Ferguson, spokesman for Senate candidate Larry LaRocco, D-Idaho, and buttons were mistakenly produced putting Obama's picture next to one of Sen. Larry Craig, R-Idaho, instead of the other Larry.
"Have we confirmed that it was my prayer note?" -- Barack Obama, to Robert Gibbs, playing it carefully after an Israeli newspaper published what it said was his prayer tucked into the Western Wall. (Said Gibbs: "We have not and we will not.")
"I'm married and have two boys. . . . My wife wants to make sure I mention that more often." -- Former Romney spokesman Kevin Madden, on his new career among the talking heads.
Bookmark The Note at http://abcnews.go.com/Politics/TheNote/story?id=3105288&page=1
Interns for the ABC News Political Unit:
The ABC News Political Unit is now seeking three full-time fall interns in Washington, D.C.
The internship begins Monday, Aug. 4, or Monday, August 11, and runs through Friday, Dec. 12.
Not only do Political Unit interns attend political events and collaborate on stories for the politics page of ABCNews.com, including The Note, they also help us by conducting research, maintaining contact lists, and monitoring conference calls convened for reporters by the presidential campaigns.
In order to apply, you MUST be either a graduate student or an undergraduate student who has completed his or her first year of college.
The internship is NOT open to recent graduates.
You also must be able to work eight hours per day, starting early, Monday through Friday.
Interns will be paid $8.50/hour.
If you write well, don't mind getting up early, and have some familiarity with web publishing, send a cover letter and resume to teddy.davis@abc.com as soon as possible, with the subject line: "INTERN" in all caps.
Please indicate in your cover letter the dates of your availability.