Sen. Barack Obama, D-Ill., has no campaign events on his schedule Tuesday -- which gets minds wondering and tongues wagging about Veepstakes.
Early in the day, Obama holds a series of private meetings and has a fundraising lunch in Washington.
Keep an eye on. . . whether Obama has any side meetings with Hill types that would signal any movement on the vice presidential front. VP search committee co-chair Caroline Kennedy is in Washington, and Obama spent time late Monday afternoon at co-chair Eric Holder's law offices, Covington and Burling. Obama did not answer a question from the press pooler on his way into the building on Pennsylvania Avenue.
ABC News' Jan Crawford Greenburg and Howard Rosenberg report that Patti Solis Doyle, chief of staff to Obama's prospective VP nominee, has told her staff to report for work today.
Are you willing to pay for the chance to try and get the inside scoop on Obama's Veepstakes process? Greenburg and Rosenberg also report that Kennedy will hold a fundraiser in Georgetown tonight, but you will need a $1,000 check to get in the door and a $2,300 check to get to the exclusive reception with Kennedy.
Late Tuesday, Obama heads to Capitol Hill, where he will meet with the House Democratic Conference in its weekly closed-door strategy meeting, his first as the presumptive Democratic nominee.
The meeting with the House Democrats comes one week after Obama campaign manager David Plouffe stopped by the Democratic caucus meeting to brief members on campaign strategy. The Hill visits follow news reports that some members of Congress have grumbled at what they see as a lack of coordination between the Obama campaign and them on message and policy. How many will say that to Obama in person?
Sen. John McCain, R-Ariz., keeps up his focus on the economy and energy issues with a town hall meeting in Sparks, Nev.
McCain can point to some good news on gas prices. ABC News' Dan Arnall reports that the national average price for a gallon of regular unleaded gas is now $3.96 -- the first week since June 2 that has seen a national average below the $4 mark. The Energy Department reports today that gas prices have fallen by 11 cents in the past week, per Arnall. But don't get too excited just yet -- the price is still 38 percent higher than it was one year ago.
File this under "Not going away any time soon". . . Expect the McCain campaign and their Republican supporters to continue to push Obama's cancelled troop visit in Germany last week. Republicans see a benefit in keeping this story in the news. "Most Americans will agree Obama should have met the troops before meeting the press. This whole episode -- including his campaign's evolving excuses for skipping the visit -- is an example of Obama's poor judgment," said one Republican official.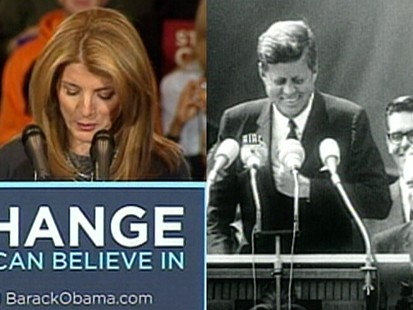 And in health news. . . At his quarterly dermatologic checkup today, McCain had a small spot removed from his right temple out of what appears to be an abundance of caution by his doctors, ABC News' Bret Hovell reports.
"I want to urge all Americans to wear sunscreen, particularly this summer, to stay out of the sun as much as possible ... and if you have any slight discoloration, please go to your dermatologist or your doctor and get it checked up on," McCain said to reporters in Bakersfield, Calif., a few hours after his procedure.
Hovell reports that McCain said the procedure was routine and the spot would be biopsied, "just to make sure everything is fine."
McCain is a four-time survivor of melanoma, the deadliest form of skin cancer, and he regularly stresses the importance of protection from the sun.
Obama paid a visit Sunday night to the University of Chicago Medical Center to have his sore hip checked out. Senior strategist Robert Gibbs confirms that Obama was prescribed an anti-inflammatory for what has been diagnosed as a strained hip muscle, ABC News' Sunlen Miller reports.
Miller notes that the presumptive Democratic nominee got in a 40-minute workout this morning in Chicago before flying to Washington, and he carried two shoulder bags up and down the stairs of the plane and walked without a limp.
ABC News' Jake Tapper reports that Obama first hurt his hip about three or four weeks ago, playing basketball one weekend at a gym in Chicago with his personal assistant, Reggie Love, a former Duke Blue Devil varsity football and basketball player, and a few of Love's much younger, much fitter friends.
From Tapper: "The injury caused occasional soreness, but Obama -- who exercises about six times a week -- assumed it would get better. But the pain acted up when he was overseas, causing him some discomfort."
MoveOn Ad: Hope is Contagious
ABC News' James Gerber reports: The liberal political action group MoveOn.org has released a new television ad aimed at increasing youth turnout and mobilizing young voters around Obama's presidential campaign. 
The pro-Obama spot, titled "It Could Happen To You," was named the funniest video in the organization's recent "Obama in 30 Seconds" ad contest, and will air for a week starting Wednesday, July 30, on MTV and Comedy Central.
The ad, produced by former "Boy Meets World" star Rider Strong, is styled like a public health spot.  "I never thought it could happen to me," begins a young man.  "This could happen to anybody," relates another.  What, exactly, have these young adults contracted? "Hope."
MoveOn will spend $150,000 to run the ad on the two cable stations. The ad is, in part, a response to the airing of an anti-Obama ad by conservative group Let Freedom Ring on MTV last week.  Titled "Both Ways Barack," the attack ad accused Obama of what it calls a history of taking opposing positions on the same issue.  It was the first political ad to air on MTV in the station's 27-year history, running for three days on MTV, as well as on VH1, MSNBC, CNN and Fox News.
Bush Hits Battleground State
President Bush makes a stop in battleground Ohio on Tuesday, with remarks on energy and the economy and a private fundraising event on his schedule. This is just the second campaign-related visit the president has made to Ohio since McCain wrapped up the Republican nomination in March, per ABC News' Jennifer Duck.
On the campaign front. . .
JOHN MCCAIN
-- 10:15 a.m. ET: Attends town hall meeting with voters, Sparks, Nev.
-- 3:45 p.m. ET: Attends private fundraising event, Incline Village, Nev.
-- 9:00 p.m. ET: Attends private fundraising event, Englewood, Colo.
BARACK OBAMA -- Attends private meetings, Washington, D.C.
-- Attends fundraising lunch, Washington, D.C.
-- 5:30 p.m. ET: Meets with House Democratic Conference, Capitol Hill (closed press)
At the White House. . .
PRESIDENT BUSH
-- 10:40 a.m. ET: Signs the Tom Lantos Block Burmese JADE Act of 2008, Washington
-- 10:55 a.m. ET: Signs Caroline Pryce Walker Conquer Childhood Cancer Act of 2008, Washington
-- 3:20 p.m. ET: Tours Lincoln Electric Co., Cleveland
-- 3:40 p.m. ET: Speaks on energy and the economy at the Lincoln Electric Co.
-- 5:40 p.m. ET: Attends a private fundraising event, Gates Mills, Ohio
POLITICAL NEWS STORIES ON ABCNEWS.COM
ABC News' Teddy Davis and Kevin Kilbane: McCain Reverses Himself on Affirmative Action LINK
ABC News' James Gerber: MoveOn Ad Uses Humor on MTV, Comedy Central LINK
ABC News' Jake Tapper: Yeshiva Student Who Dug Obama's Prayer Note from Western Wall Feels Guilty, Atones LINK
ABC News' Theresa Cook: Audit: Gonzales-Era DOJ Played Politics LINK
Obama to NYT: 'A Week of Great Press' but 'We Don't BUY Our Own Hype' LINK
ABC News' Sunlen Miller and Jake Tapper: Obama Sees the Hip Doc LINK
ABC News' Bret Hovell: McCain Warns of Sun Dangers After Dermatological Checkup LINK
ABC News' Jake Tapper: New McCain Ad Bashes Obama for Not Visiting Troops Using Footage of Obama Visiting Troops LINK
ABC News' Mary Bruce: McCain Backs Away From 'Timetable' Remark LINK
ABC News' Sunlen Miller: Obama Plays Down Significance of Foreign Trip LINK
ABC News' Jake Tapper: Ousted Wisconsin Democratic Delegate Speaks LINK
ABC News' Ben Newman: McCain Defends Call to Exclude Russia From G-8 LINK
ABC News' Mary Bruce: McCain: 'Wall Street Is the Villain' LINK
ABC News' Jake Tapper: Republican Hagel Blasts McCain Attacks on Obama LINK
ABC News' Mary Bruce: McCain Clarifies Position on Gay Adoption LINK
ABC News' Jake Tapper: Two Former Bush Advisers Now Advising Obama, Will Appear at Economic Meeting Today LINK
ABC News' Mary Bruce: McCain Clarifies Position on Gay Adoption LINK
ABC News' Tahman Bradley: McCaskill Says She's Not Being Vetted for VP LINK
ABC News' Jake Tapper: Barack Obama's Branch-y Family Tree LINK
POLITICAL VIDEO ON ABCNEWS.COM
McCain: 'Obama Is Dr. No' of Alternative Energy
Sen. McCain stresses the importance of developing alternative sources of energy. LINK
General Petreaus' Calculated Risks
U.S. Commander in Iraq talks about the surge with ABC's Terry McCarthy. LINK
McCain Warns of Risks of Sun Damage
Sen. McCain has mole-like skin removed and gets thumbs up from dermatologist. LINK
Obama on Economy: 'Irresponsible' Choices to Blame
Obama: "We can't have a thriving Wall St. if we don't have a thriving Main St." LINK
The Senate's Dr. No
Sen. Tom Coburn's one man fight against waste. LINK
U.S. Stepping Up Counterterrorism Efforts
Experts say high profile events could be terrorist targets. LINK
Barack Obama's Reviews From Abroad
British media scrutinizes Democratic presidential candidate. LINK
Will Caroline Kennedy Choose the VP?
The influential Kennedy is advising Obama in his search for a running mate. LINK
Housing Rescue Bill Passes Senate
The fate of the bill now lies in the hands of President Bush. LINK
Obama's Back
The Democratic presidential candidate returns to the campaign trail. LINK
100 Days and Counting
Political analyst Mark Halperin assesses where the presidential race stands. LINK
Making Progress in Iraq
Nowhere in the country have changes been more dramatic than in Sadr City. LINK
McCain Counting Down
100 days before the election, McCain discusses the economy, gay adoption and an Iraq timetable. LINK
Swing State Strategy
George Will, Cokie Roberts, Sam Donaldson and Matthew Dowd. LINK
McCain-Will '08
Backstage with George Will, Cokie Roberts, Sam Donaldson and Matthew Dowd. LINK
Ribs, McCain Style
Republican presidential candidate John McCain shares his favorite rib recipe. LINK
McCain Criticizes Obama
Obama defends himself for canceling a visit to wounded troops. LINK