Bruce Springsteen, Jay-Z, LeBron James, Russell Simmons…the Obama campaign is bringing in some heavy hitters to Pennsylvania, Michigan and Ohio this weekend to register new voters ahead of the states' Monday deadlines.
Monday is the last day to register to vote in those battleground states plus 13 other states including Indiana, Florida, and Virginia.
In Ohio, new voters can register and vote on the same day through Monday's registration deadline. The Obama campaign is hoping the Springsteen concert, on the campus of "The" Ohio State University will draw in large numbers of students who may be first time voters. OSU has an enrollment of 52,000 at the Columbus campus.
Michigan and Pennsylvania do not have early voting, so the Jay-Z and Springsteen shows in Detroit and Philadelphia on Saturday are aimed at voter registration.
Springsteen endorsed Obama back in April but his shows are open to the public, so Republicans can take advantage of the voter registration locations and also cast early ballots. (Though they will have to stop by a Campaign for Change office to pick up tickets.)
"For the first time ever, you can enjoy something sponsored by Democrats that doesn't result in you and your family paying higher taxes," reads an email from the RNC to supporters in Ohio encouraging them to hear the Boss and vote early for the McCain/Palin ticket.
Crashing the party? Nah, just attending a good show and doing their civic duty, Republican officials said. "Like the Boss, John McCain's fans are made up of voters of all political parties. We wouldn't want our supporters throughout Ohio to miss the opportunity to hear a living legend and vote early for an American hero," said McCain-Palin spokesman Paul Lindsay.
Turnout could be the key on Election Day in battleground states like Ohio, Virginia, and Pennsylvania. There are nearly 3 million new registered voters in Ohio than 2004 and Democrats currently outnumber Republicans by about a million voters, based on past voting in primaries and general elections. Virginia has seen an increase of about 375,000 since 2004 – and about 300,000 of those voters registered after January 1, 2008. Pennsylvania has seen an increase of about 350,000 registered Democrats while Republicans registrations dropped by over 250,000.
Among other states that the Obama campaign is hoping to flip from red to blue: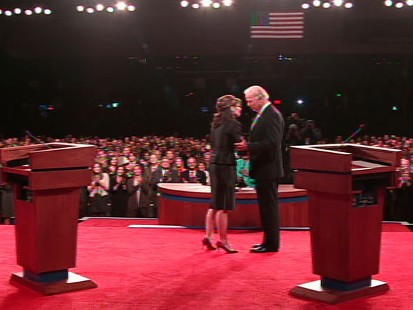 o Iowa and Nevada now have more registered Democrats than Republicans o In Nevada and New Mexico, new Democratic registrations are greater than the Bush-Cheney margin in 2004.
The Democrats point to these numbers and their improved ground game as strong indicators of success on Nov. 4. Not so fast, say Republican officials, who note that it's one thing to register – quite another to have these new voters actually show up on Election Day. Republicans also point out that their turnout strategy is geared toward the final weekend and some of these voter registration figures, while impressive for the Democrats, could be because of the long, competitive battle for the Democratic nomination between Obama and Hillary Clinton.
Weekend activity on the campaign trail. . .
Interesting weekend on trail. . . The Obama-Biden ticket splits up and visits battleground state Virginia on Saturday and Sunday, making a push for that state's 13 Electoral College votes.
McCain is down all weekend in Arizona in advance of Tuesday's presidential debate, the second of three debates between him and Obama. His running mate, Sarah Palin, holds a rally in Carson, CA.
On the campaign front. . .
Saturday Oct. 4
JOHN McCAIN
-- No Public Events.
SARAH PALIN
-- 5:00 pm ET: Holds Rally in Carson, CA. (According to Fox)
BARACK OBAMA
-- 12:30 pm ET: Holds Rally in Newport News, VA.
JOE BIDEN
-- 7:30 pm ET: Addresses Human Rights Campaign in Washington, DC.
At the White House. . .
PRESIDENT BUSH
-- 10:05 am ET: Delivers his (taped) weekly radio address.
Sunday Oct. 5
JOHN McCAIN
-- No Public Events.
BARACK OBAMA
-- 2:00 pm ET: Holds Rally in Asheville, NC.
JOE BIDEN
-- 12:30 pm ET: Holds Community gathering in Roanoke, VA.
-- 5:00 pm ET: Holds Community gathering in Henrico, VA.
POLITICAL NEWS STORIES ON ABCNEWS.COM
ABC News' Jake Tapper and Z. Byron Wolf: House Passes Economic Recovery Bill LINK
ABC News' Teddy Davis, Rigel Anderson, and Arnab Datta: Palin: Obama Not Qualified to Be Commander-in-Chief LINK
ABC News: FACT CHECK: The Truth Hurt During Debate LINK
ABC News' George Stephanopoulos: Stephanopoulos: Biden Strategy Edges Palin Style LINK
ABC News' David Wright, Alyssa Litoff, and Bret Hovell: McCain Says We've 'Stopped the Bleeding' on Bailout Bill, Praises Palin's Performance LINK
ABC News' John Berman, Sunlen Miller, and Ursula Fahy: Obama calls Biden, "A Scranton Boy Done Good." LINK
ABC News' Ariane de Vogue: Election Looms as Supreme Court Starts Term LINK
ABC News' Geoff Martz, Lynn Redmond, Teri Whitcraft and Christina Caron: Michelle Obama's Independent Streak, and Her Romance With Barack LINK
ABC News' Geoff Martz, Lynn Redmond, Teri Whitcraft and Christina Caron: Cindy McCain: Daredevil With a Big Heart LINK
ABC News' John Berman, Sunlen Miller, Ursua Fahy and David Chalian: Obama's Anniversary Gift to Michelle LINK
ABC News' Matt Jaffe: Biden Bids Farewell to Son's Guard Unit as They Deploy for Iraq LINK
ABC News' Jake Tapper: Do Over! Palin Answers Katie Couric's Questions…to Fox News' Carl Cameron (She Reads The Economist, She Says) LINK
ABC News' Jake Tapper: McCain-Backing Jackie Mason Takes on Obama-Supporting Sarah Silverman LINK
ABC News' Jake Tapper: Palin -- Pans and Plaudits LINK
ABC News' Steve Osunsami: Voting in Valdosta: 'Difficult Not to Register' LINK
POLITICAL VIDEO ON ABCNEWS.COM
'The Note' Rewinds the Week's Best Moments
ABC News' Senior Political Reporter Rick Klein on the weekly political roundup. LINK
Bush Lauds Passage of Rescue Bill
Bush praises Congress for its "spirit of cooperation" and "hard work." LINK
Pelosi on Bailout: 'We're Looking Forward'
Pelosi says steps will be taken to prevent need for another bailout bill. LINK
GOP Leader Chokes Up Over Bill
Boehner: "We're in the midst of a recession, it's going to be a rough ride." LINK
Biden Sends Son Off to Iraq
Sen. Biden salutes the service of the National Guard, including son Beau Biden. LINK
Obama Proud of 'Scranton Boy' Joe Biden
Sen. Obama heaps praise on running mate Joe Biden for his debate performance. LINK
Voters React to Debate
Virginia voters respond to the vice presidential debate. LINK
The Bottom Line on the VP Debate
George Stephanopoulos analyzes the impact of the vice presidential debate. LINK
Jake Tapper's VP Debate Fact Check
A closer look at claims the vice presidential candidates made during the debate. LINK
Kimmel Clicks on the Obama Channel
Jimmy offers a sneak peek at a TV channel dedicated to the Illinois senator. LINK
The VP Debate Report Card
George Stephanopoulos evaluates Joe Biden and Sarah Palin. LINK