Barack Obama says his Christian faith will help him reach white evangelicals who traditionally vote Republican, but some religious leaders are resisting the call.
"I think he's deliberately distorting the traditional understanding of the Bible to fit his own world view, his own confused ideology," James Dobson, leader of the Christian group Focus on the Family, said Tuesday in his daily radio show.
Dobson spent much of his show picking apart a 2006 speech from Obama, D-Ill., on why liberals and conservatives need to be more tolerant about faith.
"I can't simply point to the teachings of my church, or evoke God's will. I have to explain why abortion violates some principle that is accessible to people of all faiths, including those with no faith at all," Obama said in that speech.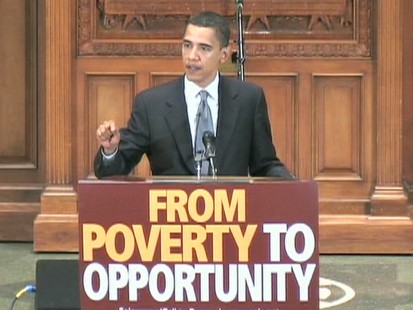 Dobson called that a "fruitcake interpretation of the Constitution," but Obama, in exclusive comments to ABC News on Tuesday, insisted Dobson is misrepresenting his words.
"I have no idea what he's referring to. Anybody who's read that speech will tell you that I extol the need for people with religious faith to express their views in the public square, and I don't interpret the Bible in the ways he's referring to," Obama said.
"Either he didn't read the speech or he's just trying to score political points, and either way, I don't think it's a particularly useful way to talk about these issues," Obama told ABC News.
Reaching Out, Drawing Fire
Obama is not polling any better with white evangelical Protestants now than Sen. John Kerry, D-Mass., did in 2004.
In a recent ABC News/Washington Post poll, Sen. John McCain, R-Ariz., led in the group 68-22 percent; in 2004 election exit polls, President George W. Bush won that group 78-21 over Kerry.
Despite those numbers, Obama has said he is trying to reach out.
"Even if they may not end up supporting my candidacy, I want to make sure people know I'm listening to them and I'm a person of faith," Obama said in an interview.
The Obama camp, from the beginning of his campaign, has reached out to people of faith, with an emphasis on younger evangelicals, holding hundreds of town hall meetings and house parties, and having Obama often talk about his faith on the stump.
It is, the Obama camp insists, the most outreach to the white evangelical community that a presumptive Democratic nominee has engaged in since then-Georgia Gov. Jimmy Carter in 1976.
"Obama is making a very concerted effort to try and win over evangelicals that Democrats haven't (won) in a long time," said Stephen Waldman of Beliefnet.com.
And McCain has always had an uneasy relationship with evangelical leaders.
Stephen Mansfield, the evangelical author of the 2004 bestseller "The Faith of George W. Bush" -- who is now writing "The Faith of Barack Obama "-- says this Democrat has an opening.
"He's savvy with the evangelicals, he understands the language," Mansfield said.
And liberal Christian leaders, such as Jim Wallis, insist the movement itself is changing.
"Poverty is now on the agenda for evangelicals -- the environment, climate change is on the agenda," Wallis said.
One other blessing from this outreach -- it allows Obama to combat rumors by openly proclaiming his Christian faith -- a persistent problem in the campaign.
A Question of Faith
Obama's dust-up with Dobson is not the first time Obama has been embroiled in a faith-related controversy.
The Rev. Jeremiah Wright, Obama's pastor for the last 20 years at the Trinity United Church of Christ on Chicago's South Side, roiled critics -- and the Obama camp -- when he publicly defended his sermons about 9/11, and the origin of the AIDS epidemic, among other controversial statements.
"You cannot do terrorism on other people and not expect it to come back on you," Wright said on Monday. "Those are Biblical principles, not Jeremiah Wright 'bombastic' principles."
Obama came out forcefully, insisting he was "disappointed" by Wright, and rejecting his one-time pastor's assertion that the controversy was an attack on the black church.
"The person I saw yesterday was not the person I met 20 years ago," Obama said.
In late May, Obama resigned from Trinity United, explaining in a press conference, "When I go to church, it's not for spectacle, it's to pray and to find a stronger sense of faith; it's not to posture politically, it's not to, you know, it's not to hear things that violate my core beliefs."
Muslim Outreach
Obama also faces a delicate balance in reaching out to Muslim voters.
"The community feels betrayed," Safiya Ghori, the government relations director in the Washington office of the Muslim Public Affairs Council, told the New York Times Thursday.
The Obama campaign is clearly sensitive to the false rumor that he's a Muslim, but its sensitivity could turn into insensitivity.
Obama has yet to visit a mosque, and last week, he apologized to two Muslim women wearing hijabs, who were asked not to appear in the background behind Obama at a Michigan rally.
"I'm not sure a lot of Muslim voters are upset," Obama told ABC News when asked if he plans to visit a mosque. "I think we have done more outreach in the Muslim communities, as well as the Jewish communities, as well as the Christian communities, as many other campaigns have done, and we're going to continue to do so."
ABC News' Peyton Craighill, Natalie Gewargis, Gary Langer, Avery Miller, and Ed O'Keefe contributed to this report.