Medal of Honor Recipient's Moving Tribute
Pitts managed to independently maintain his position until backup support arrived. But despite his leading in the battle, Pitts insists that the actions of his fellow squad mates were of equal importance to his in pulling the team through the battle.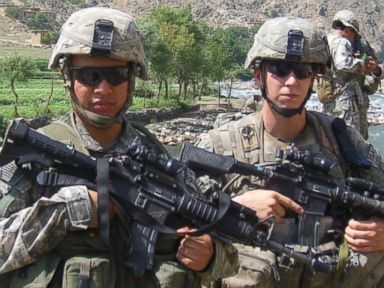 "I think it was 'our' actions that maintained that position," Pitts said. "[Sgt. Brian] Hissong, at 1st squad, he was the one shooting over the tops of the sandbags. That helped. All the guys fighting as hard as they did, guys like Cpl. Jonathan Ayers, who took a round to the helmet and kept shooting his machine gun -- eventually, he was killed doing that. Everybody contributed; it wasn't just me."
And as he prepared to receive the nation's highest award for military valor from President Obama, Pitts said it will be on behalf of his entire squad -- and especially those who paid the ultimate sacrifice.
"There were 48 of us and approximately 200 enemies that basically had everything they should've had to be victorious," Pitts said. "They had us outnumbered, the high ground, [the] element of surprise ... and we fought and held our ground."
Members of his platoon, as well as his wife and 1-year-old son, will join Pitts at Monday's White House ceremony.
ABC News' Luis Martinez, Michael Conte, and Gary Westphalen contributed to the video.
Medal of Honor Recipient Ty Carter on Getting President Obama's Call