After last night's close of the Republican National Convention -- marking the end of a compressed two-week political period filled with celebratory speeches and soaring rhetoric -- the candidates were back on the trail today talking about the bread-and-butter issues that will carry this election. And with just over eight weeks to go until election day, Sen. Barack Obama, D-Ill., is focused on the economy and the swing voters who are suffering.
New job figures released today by the Bureau of Labor Statistics show that the unemployment rate rose to 6.1 percent and that 84,000 jobs were lost in the month of August. These disappointing job loss numbers gave Obama another opportunity to attack Sen. John McCain, R-Ariz., on the issue he will focus on most in the next 60 days: the economy.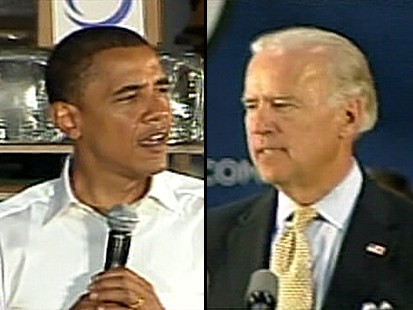 "Unfortunately, we just got a jobs report today that showed we had lost another 80,000 jobs. We've now lost 605,000 jobs since the beginning of this year," Obama said at his economic town hall in Duryea, Pa. "John McCain the other day said that he thought the economy was fundamentally sound. The fundamentals of the economy were sound. Now, what's more fundamental than having a job?"
In traditional battleground states, such as Wisconsin, Minnesota, Ohio and Florida -- and new ones, like Colorado, Indiana, and Virginia -- Obama will focus on the simple message that McCain represents a continuation of George Bush's economic policies that have hurt the middle class.
"Since George Bush has been in office, the average family income has gone down $2,000, so people don't have as much money," Obama said. "You would think that George Bush and his potential Republican successor, John McCain, would be spending a lot of time worrying about the economy and all these jobs that are being lost on their watch."
White House spokeswoman Dana Perino said today that, despite reports, the U.S. economy is "quite resilient" and the administration see signs of economic growth.
It's the Economy Stupid
Obama not only compared McCain's economic policies to those of Bush, but also criticized him for not focusing on the issue more during the Republican National Convention.
"Everybody here knows at least somebody in your family or your neighborhood that's been laid off," Obama told the crowd in Duryea. "Plants shut down, they lost their health care, they lost their pension. But if you watched the Republican National Convention over the last three days, you wouldn't know that we had the highest unemployment rate in five years, because they didn't say a thing about what is going on with the middle class."
Obama's running mate, Sen. Joe Biden, D-Del., was even stronger, saying that the Republicans ignored the economy completely at the convention.
"The silence of the Republican Party was deafening. It was deafening on jobs, on health care, on firemen, on all of the things that matter to people in neighborhoods I grew up in -- deafening, deafening!" Biden said to voters at a Langhorne, Pa., middle school.
The stop marked the son-of-Scranton's third trip to Pennsylvania in a week. Biden has placed a special emphasis on courting voters of his home state since the end of the Democratic National Convention.
Targeting Undecided Voters
Obama and Biden are not only courting Pennsylvania voters, but they are targeting undecided working-class voters, many of whom live in the suburbs and are women. According to Obama campaign strategist David Axelrod, many of these undecided voters are weary with Washington.
"I think they're skeptical about politics, generally, and they want to know that you're going to take them in a direction that is real and meaningful," Axelrod told ABC News.
Some in the party worry that courting undecided female voters may be a greater challenge in the wake of McCain's selection of Alaska Gov. Sarah Palin as his running mate.
But an ABC News poll, conducted Thursday, found that, despite some estimates, Palin does not draw disproportionate support from women. Half of Americans have a favorable first impression of Palin, 37 percent unfavorable, with little difference between the sexes, the poll found.
Axelrod said that undecided voters will make their decisions based on the issues, not based on "geography" or "biology," but Democratic strategist Tad Devine said Obama shouldn't take any chances.
"Obama needs to communicate the fact that, just because John McCain picked a woman for his ticket, doesn't mean that John McCain supports policies that will help women," Devine said.
Obama has the resources at his disposal to communicate this message. Obama had $65.8 million cash on hand as of his last federal election committee filing, and the Obama campaign needs to raise as much as $135 million more to be spent on TV ads, both positive and negative, among other things.
The campaign has also invested in a huge field operation, including a voter registration program for first-time voters -- young people, African Americans and Latinos.
ABC News' Andy Fies, Avery Miller, Matt Jaffe, Gary Langer and Julia Hoppock contributed to this report.