You might disagree with the Baseball Writers' Association of America when we vote for our annual awards, but you have to give us this: At least most of us own up to our ballots. You know who to rip on Twitter when we vote for Miguel Cabrera over Mike Trout for MVP.
Can't say that about Academy Award voters. You didn't have that option when the Oscar went to "The Artist" instead of "Moneyball."
Which movie should win Best Picture on Sunday? Here's my annual run-analysis of the nominees:
"Philomena": This was my favorite movie of the year. Steve Coogan plays an ex-reporter who helps Judi Dench track down the son who was taken away from her shortly after his birth at a convent many decades earlier. That sounds depressing; but as I mentioned when the movie came out, this is a buddy road trip, comedy, drama and mystery all rolled into one.
Splendid as always, Dench received a Best Actress nomination for her performance. This is her seventh Oscar nomination, and all of them have been since she turned 63 years old. Who else has had latter-life success like that? Other than Jamie Moyer, of course.
Dench is 79 now, and she has lost much of her sight due to macular degeneration. Yet she continues to act superbly. She is like Derek Jeter, a true professional still performing gracefully despite advancing age and frequent injury. Except Dench has better range.
"Her": Director Spike Jonze tells an engaging story set in the not-too-distant future when people begin having deep and substantial relationships with the voices on their smartphones. (Apparently, Manti Te'o was ahead of his time.)
When I think of cellphones, I occasionally recall spring training in 1992 when my counterpart covering the Twins for the opposition newspaper started carrying a mobile phone with him at all times. He was ridiculed and criticized for it; but within just a few years, cellphones were as ubiquitous with baseball writers as mustard stains on their shirts.
Now, of course, beat writers spend much of their time on their smartphones tweeting the starting lineups and what the manager just said in the daily dugout press conference. So much time is devoted to instantly reporting these trivial items that beat writers rarely are able to get into the visitors clubhouse for opposing views and color. I think this hurts rather than helps coverage. But I also recognize that it is a virtual requirement on a beat that has become a stressful, draining 24/7 occupation.
So it isn't much of a stretch to imagine a man having a relationship with his cellphone, given the way we are all tethered to them. And cellphones certainly have come a long way since Brian Harper and Cal Ripken Jr. were using these models:
"The Wolf of Wall Street": This is an entertaining movie, though it goes on much longer than necessary ... much like a Red Sox postseason game. Based on a true story, it stars Leonardo DiCaprio as a New York character who lives a wild, high life of rampant drug abuse, sex and shady-to-illegal financial dealings before he is finally charged and convicted of felonious crimes.
No, his character is not based on Lenny Dykstra.
"Nebraska": Bruce Dern plays an emotionally distant, difficult, aging and confused father who travels from Montana to Nebraska with his son, Will Forte, to pick up his alleged $1 million winnings in a mega-lottery. Dern wonderfully described his character to "Fresh Air" host Terry Gross on NPR as someone looking out at a baseball field with only about two-thirds of the lights on.
Spoiler alert: Just as Forte tries to tell him throughout the movie, there is no payout waiting for Dern in Nebraska. This is because they travel to Lincoln, Neb., rather than to Omaha for the College World Series.
"American Hustle": Based on the Abscam affair, this is a fun caper that takes us back to 1970s fashion and style in all its awful glory. The cast includes Christian Bale, Bradley Cooper, Amy Adams, Jennifer Lawrence, Louis C.K. and Robert De Niro, but the movie's true stars are Bradley Cooper's hair and Christian Bale's terrible toupee. Indeed, the opening minutes of the movie are devoted to Bale -- who gained 40-plus pounds for the role -- getting his toupee adjusted just right.
Considering director David O. Russell's obsession with 1970s hair styles, though, I think he missed out by not including a scene in which Cooper tries to bribe Pete Rose, Oscar Gamble, Bake McBride, Mark Fidrych and Joe Pepitone.
"Dallas Buyers Club": No, this movie is not about Rangers GM Jon Daniels paying $107 million for Yu Darvish, signing Shin-Soo Choo for $130 million, and trading for the remaining $146 million on Prince Fielder's contract. Instead, it is about a Texas dirtball with HIV in the 1980s who circumvents the law to sell drugs that might actually help other sufferers fight the deadly disease.
Matthew McConaughey and Jered Leto deserve to win the Oscars for Best Actor and Best Supporting Actor, not just for their stellar performances but also for losing a reported 47 and 30 pounds, respectively, from their already lean frames. Based on appearances, I would say that Fielder will follow Christian Bales' "American Hustle" diet rather McConaughey and Leto's "Dallas Buyers Club" diet.
"12 Years a Slave": This is an exceptionally well-made movie, and actor Chiwetel Ejiofor is superb, though its brutal depiction of slavery is difficult to watch at times. Interestingly, it is the second consecutive year a movie about slavery has been nominated ("Django Unchained" got a nod last year). Rather than a third consecutive year of such painful images, I hope next year brings us a different version titled, "12 Years a Slave to the Reserve Clause" or perhaps "Curt Flood Unchained."
After two cups of coffee with the Reds, Flood played 12 years with the Cardinals, batting .300 six times, making the All-Star team three times, winning seven Gold Gloves and helping St. Louis to the World Series three times. Then the Cardinals traded him to the Phillies in 1970. Admittedly, this was much better than being traded to Michael Fassbender's plantation in "12 Years a Slave," but even so, Flood sat out the 1970 season rather than accept the deal.
Flood took his case against the reserve clause all the way to the Supreme Court. He lost, but his challenge is considered a major part in the players earning their freedom from being bound to a team for their entire careers.
Hollywood, are you listening?
"Gravity": I generally avoid paying extra to see a movie in 3-D because: 1) I am a cheapskate; and 2) the 3-D effects rarely seem worth the extra price. I do, however, wish I had forked over the extra money to see "Gravity" in 3-D because I think this is one of the few movies that would have been worth it. What with all the magnificent special effects and production values that went into this movie, watching it in plain old 2-D was a little like sitting in the outfield bleachers to watch Clayton Kershaw pitch. It's still worth the price of admission; but to fully appreciate the man's true artistry, it's better to pay what it takes to sit behind home plate.
"Captain Phillips": Tom Hanks stars as the captain of a container ship that is hijacked by Somali pirates. These Somali pirates are a bit like last year's Pittsburgh Pirates. Against the odds, they pull off the hijacking of the ship, just as Andrew McCutchen's crew reached the postseason for the first time in 20 years. But like Pittsburgh in the division series, they lack the necessary skills to bring home the ransom.
Meanwhile, when it comes to mariners, Tom Hanks proves to be a far better and shrewder skipper than Seattle has had manning its ship in recent seasons. Good luck to new manager Lloyd McClendon -- he'll need it.
My prediction: The Best Picture award will go to "12 Years a Slave," though I would vote for "Philomena." It's not only a more enjoyable movie, but it has a higher WAR.
CSI: Box Score
Each week, I provide a fragment from an old box score and challenge you to determine the game it is from and why it's significant. I give this one a difficulty rating of 8.0. Answer below:
Baseball Card of the Week
It was 20 years ago this spring that Michael Jordan (1994 Upper Deck, No. 19) gave baseball a try. He wasn't good enough, but you have to admire a guy who would leave a sport in which he was the greatest player and then see whether he could play another sport he also loved.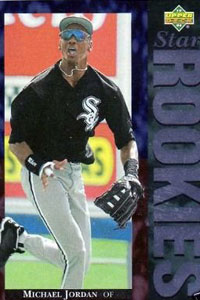 Yeah, Well, That's Like, Just Your Opinion, Man
He's Gotta Help More Than Carlos Marmol Ever Did: Four years ago at the 2010 Winter Olympics in Vancouver, Steven Holcomb drove the U.S. to its first gold medal in the four-man bobsled since 1948, a span of 62 years. Last week at the 2014 Winter Olympics in Sochi, Holcomb drove the U.S. to its first medal of any kind in the two-man bobsled since 1952, another 62-year span. "This is my second 62-year drought, which is awesome," Holcomb said. "If anyone else has a 62-year drought, just let me know and I'll try to help you." When I asked him whether he could help the Cubs end their 106-year world championship drought, Holcomb said he was a center fielder and a pitcher when he was growing up. "Sixty-two and 62, that's 124 years," he said. "So just let me know. You want to put in a good word for me, by all means, do. I would love to go."
CSI: Box Score Answer
Other than the names of the players, the big clue here is the line score showing Oakland blowing an 11-0 lead before coming back to win in the bottom of the ninth. That should have indicated that this game was from the early 2000s. The other clue is the home run hit by [Scott] Hatteberg. Put all those together -- along with the movie theme of this week's column -- and you should have guessed this was when Oakland won its 20th consecutive game in 2002, a game that was prominently featured in the movie, "Moneyball."