Pruitt did it all in 1994. He led the Chippewas to a conference title, earned first-team AP All-American honors and set a single-season school rushing record. He's one of the most decorated players in school history.
Honorable mention: Dan Lefevour 2007
---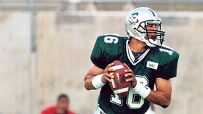 Eastern Michigan: Charlie Batch, QB, 1997
3,280 yards passing; accounted for 24 TDs
Batch's name is still listed 115 times in the official Eastern Michigan media guide after he rewrote the program's records. He finished his final season seventh nationally in completions and eighth in passing yards.
Honorable mention: Anthony Sherrell 2003
---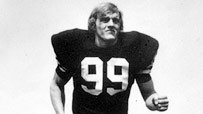 Kent State: Jack Lambert, LB, 1972
223 tackles; Tangerine Bowl MVP
Lambert solidified Kent State's first MAC championship in 1972 with a school-record 29 tackles against Toledo, sending the Golden Flashes to the Tangerine Bowl. Lambert was named the MAC Defensive Player of the Year.
Honorable mention: Dri Archer 2012
---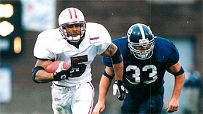 Massachusetts: Marcel Shipp, RB, 1998
2,542 yards; 18 touchdowns
Aside from Shipp's video game-esque numbers, he also came up huge in clutch situations. He rushed at least 36 times in UMass' last three playoff games and led the Minutemen to a Division I-AA national championship.
Honorable mention: Liam Coen 2006
---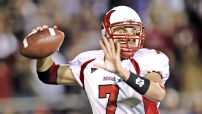 Miami (Ohio): Ben Roethlisberger, QB, 2003
4,486 yards; 37 TDs passing; three rushing TDs
After leading the league in virtually every passing category, Roethlisberger was named the MAC Offensive Player of the Year. He also led the RedHawks to 13 wins, including the MAC championship game and the GMAC Bowl.
Honorable mention: Marc Smith 1970
---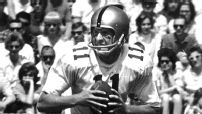 Northern Illinois: George Bork, QB, 1963
3,077 yards; 32 TD
Bork helped spark aerial attacks in the sport by setting 16 national passing records. The 6-foot-1, 160-pound senior led NIU to an undefeated season and was the first player in college history to throw for 3,000 yards.
Honorable mention: Jordan Lynch 2013
---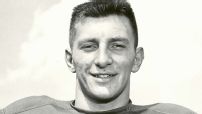 Ohio: Dick Grecni, C, 1960
AP Little All-America first team
An All-American in 1960, Grecni starred both ways for a team that outscored opponents 269-34 and posted five shutouts. The Bobcats went undefeated and won the MAC and the national Small College Championship.
Honorable mention: Tyler Tettleton 2011
---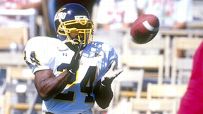 Toledo: Wasean Tait, RB, 1995
2,090 yards; 24 touchdowns
Dubbed "Little Barry" for his Sanders-esque moves, Tait had the most prolific season for a MAC running back at the time. He sparked Toledo's undefeated season and scored the deciding touchdown in a Las Vegas Bowl win.
Honorable mention: Dan Williams 1992
---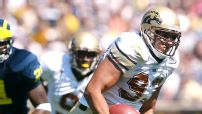 Western Michigan: Jason Babin, DE, 2003
115 tackles, 15 sacks, 33 tackles for loss
Babin registered 100 tackles and won the conference defensive player of the year award a second time. No other WMU player sniffs his record 33 tackles for loss in 2003. Babin owns the No. 2 spot on that list too.
Honorable mention: Greg Jennings 2005
---
MOUNTAIN WEST
---