Honorable mention: Dave Casinelli 1963, Harry Schuh 1963, Isaac Bruce 1993
---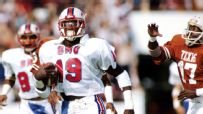 SMU: Eric Dickerson, RB, 1982
1,617 rushing yards, 17 rushing TDs
The pride of the "Pony Express" put up school-record numbers while splitting carries with Craig James en route to an 11-0-1 season, a share of the national title and a third-place finish for the Heisman Trophy.
Honorable mention: Doak Walker 1948, Chuck Hixson 1968, Emmanuel Sanders 2009
---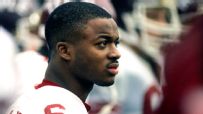 Temple: Paul Palmer, RB, 1986
1,866 rushing yards, 15 rushing TDs; 657 KO return yards
Palmer led the nation in rushing yards and all-purpose yards, had eight 100-yard rushing games and set a school record for rushing TDs (15) that stood for 25 years. He placed second in the Heisman Trophy voting.
Honorable mention: Brian Broomell 1979, Gerald Lucear 1979, Bernard Pierce 2011
---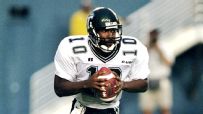 Tulane: Shaun King, QB, 1998
3,508 passing yards, 67.2 comp. percentage; 49 total TDs
Tulane hadn't gone undefeated in 69 years when King led the Green Wave to a 12-0 mark. He broke the single-season passing efficiency record (183.3) and was named Conference USA Offensive Player of the Year.
Honorable mention: Marc Zeno 1987, Matt Forte 2007, Cairo Santos 2012
---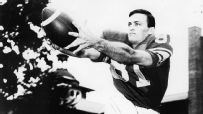 Tulsa: Howard Twilley, WR, 1965
134 catches totaling 1,779 yards, 16 receiving TDs
Twilley became the first receiver in college football history to break the 100-reception mark in a season. Twilley finished second in the Heisman Trophy voting in addition to winning lineman of the year honors from UPI.
Honorable mention: Glenn Dobbs 1942, Jerry Rhome 1964, Paul Smith 2007
---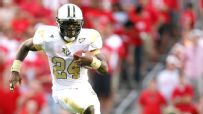 UCF: Kevin Smith, RB, 2007
2,567 rushing yards, 29 rushing TDs
On the first play of the 2007 opener, Smith went 80 yards for a TD. He never slowed down, finishing with the second-most rushing yards in a season by an FBS player and setting an NCAA record for most carries in a season.
Honorable mention: Daunte Culpepper 1998, Joe Burnett 2008, Blake Bortles 2013
---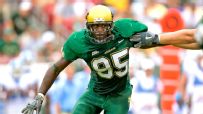 USF: George Selvie, DE, 2007
14.5 sacks, 31.5 TFL, 3 forced fumbles
Just a sophomore, Selvie led the nation with 31.5 tackles for loss (one shy of the FBS record) and 14.5 sacks. He also forced three fumbles and blocked a kick while leading the Bulls to their best season ever.
Honorable mention: Marquel Blackwell 2001, Andre Hall 2005, Matt Grothe 2007
---
ACC
---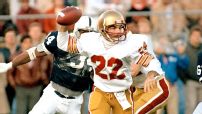 Boston College: Doug Flutie, QB, 1984
4,013 yards of total offense; accounted for 33 TDs
The Heisman Trophy winner orchestrated what would become the defining moment in school history with his last-second, 48-yard Hail Mary pass to beat Miami 47-45. He was the first player to surpass 10,000 career yards.
Honorable mention: Mike Holovak 1942, Luke Kuechly 2011, Andre Williams 2013
---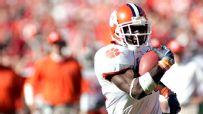 Clemson: C.J. Spiller, RB, 2009
1,715 yards of total offense; accounted for 16 TDs