When the offer arrived, Strong was resolute: He wouldn't leave without meeting with Jurich. When news of Strong's decision leaked, Jurich flew home from vacation in Steamboat Springs, Colorado, on a Saturday night. He went straight to Strong's home.
"That was the toughest decision I've ever had to make," Strong said. "You know there are going to be opportunities for you, but you look at where you are, and sometimes it's hard to leave because you get in a comfort zone.
"You felt like this was one of those things where you had to make the move."
---
The first wave: Head coaches find their homes
Once Strong said yes to Texas, he immediately held the fates and livelihoods of more than 20 coaches in his hands.
He had 10 days to assemble a coaching staff, which came together in a flurry: Strong brought with him four Louisville coaches, including both coordinators and the strength coach. He left behind six others. He cut loose eight of the Longhorns' nine assistants, keeping only longtime tight ends coach Bruce Chambers. And he persuaded five coaches he respects to come on board: Oklahoma State's Joe Wickline, Alabama's Chris Rumph, USC's Tommie Robinson, Memphis' Chris Vaughn and Mississippi State's Les Koenning.
The head coach, who will be paid $5 million, assembled a staff that will collectively make more than $3.8 million this season. Last year, only three programs -- LSU, Alabama and Clemson -- paid more for their assistants, according to USA Today's salary database.
By Jan. 15, everybody was on board and the waves were already spreading across the country.
"It's like a big ol' puzzle," Strong said. "You keep trying to find the right piece and make sure that piece is put in the proper place. I wanted to make sure I have all the right pieces."
Meanwhile, Jurich's choice to succeed Strong at Louisville created just as big a splash.
Louisville's coaching search was quick and easy. Bobby Petrino, the disgraced ex-Arkansas coach who convinced Western Kentucky to give him a second chance, was ready to come home after an 8-4 debut season. The man who coached Louisville from 2003-06 was given the job for a second time four days after Strong departed.
Petrino kept the coaching waves roiling, swiping defensive coordinator Todd Grantham from Georgia with an offer of just under $1 million per year and convincing Alabama secondary coach Greg Brown to come on board too. But the very first phone call he made was to Garrick McGee, his former offensive coordinator and one of his closest allies.
"Every time I've had the opportunity to hire him, I have," Petrino told "The Paul Finebaum Show" in January.
Then the struggling head coach of Alabama-Birmingham, McGee had gone 5-19 the previous two seasons. So when the offer came, with Petrino vowing they would chase a national title together, he couldn't pass it up. And if giving up a head coaching job in Conference USA to become a coordinator doesn't sound like a vertical move, well, McGee's demotion came with a $100,000 raise -- to $650,000 a year.
Including salaries and buyouts, Texas and Louisville will pay their coaching staffs a combined total of more than $21.5 million in compensation this year.
That's not even the staggering number: The choices Strong and Petrino made for their staffs would ultimately affect the job status of 82 more coaches.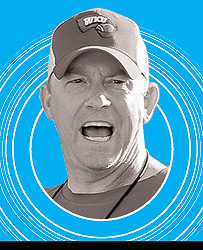 The coach-in-waiting