Strong says he still keeps up with former Louisville assistants Ron Dugans (now at South Florida), Sherrone Moore (Central Michigan) and Tommy Restivo (South Carolina State) even after he left them behind.
In the coaching world's constant game of moving up or down, in which staffs are assembled and disassembled as quickly as possible, a good coach can become an unemployed one quickly. Who's looking out for them?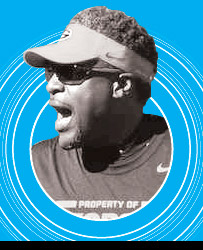 The laid-off coach
TRACY ROCKER
Move No. 49: Tennessee Titans DL coach to Georgia DL coach
In January 2011, Rocker reached what he considered the pinnacle: He won a national title at his alma mater as Auburn's defensive line coach.
Three years later Rocker was starting over, having been cut loose from the Tennessee Titans during their coaching change this offseason. He was just another unemployed coach who'd made the pilgrimage to the Senior Bowl in Mobile, Alabama, in search of a job.
An early-morning phone call mercifully messed up those plans.
Georgia had been hit by a second aftershock of Brown's decision. Three days after Grantham got his payday from Louisville, defensive line coach Chris Wilson departed for USC to replace Bo Davis, the ex-Texas coach who previously bolted Los Angeles after one week to replace Chris Rumph at Alabama.
A week later, and after interviews with two NFL teams, Rocker's phone finally rang. New Georgia defensive coordinator Jeremy Pruitt asked if he had any interest in getting on a plane and coming for an interview.
No need for a plane, Rocker said. Instead, he packed up his rental car and drove the 400 miles from Mobile to Athens, taking notes and preparing questions as he raced up I-85. Halfway through the six-hour drive, he passed Auburn.
After a long night of talking with Pruitt, followed by breakfast with Mark Richt and half a day more with the head coach, Rocker was ready to accept the job. But first, he needed permission.
Good thing Kumar Rocker, his 14-year-old son, said OK.
"He makes the final call," Rocker said. "He's actually made the call on a lot of my jobs. We have a family powwow, and I sit down with him and say, 'What do you think?'"
The younger Rocker has been all over the SEC, forging friendships at Arkansas, Mississippi and Auburn. For wife Lalitha, relocating has become so commonplace that she keeps a book full of moving info.
"About three weeks ago, my wife told me I've moved eight times," Rocker said. "I had no clue."
This one is different. At Auburn, Rocker was a two-time All-American and College Football Hall of Fame inductee. But the Atlanta native always wanted to come home.
For now, though, home is elusive. Rocker has spent the past month crisscrossing the South on recruiting trips. Lalitha and Kumar are still in Nashville and hope to relocate later this summer. On free weekends, Rocker makes the 300-mile drive to reunite the family for a day or two.
He's glad he tried the NFL but recognizes he might be better off at Georgia. He was an independent contractor for the Titans, an always replaceable cog in the machine. He missed recruiting and mentoring college athletes.
"A lot of times, people say you go for the money," he said. "I go for people. This is a hard job. You better have good people around you."
Rocker meets guys year after year who say they want to coach. He tries not to laugh.