"As a player, I just think he doesn't know [how to act]. That's what I think. He really doesn't know. He must think that he's still playing somewhere else. He has a lot of passion, no doubt about that -- great ability, great talent. I think with time he'll learn that you've got to act with a little bit more calm."
-- Cardinals RF Carlos Beltran
"It's Puig, man. He's been doing it all year. I mean, I know it's one of those things where a rookie probably shouldn't be doing that kind of stuff. But they love it around here. So I guess it's OK."
-- Dodgers OF Carl Crawford
---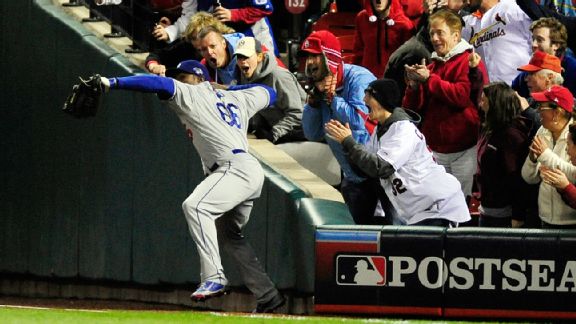 Jeff Curry/Getty Images
Three defensive miscues by Puig -- a pair of wayward throws and a fielding bobble -- result in two errors in Game 6 of the NLCS, a 9-0 season-ending loss to the Cardinals.
"Yasiel gets excited. He's going to try to make plays all the time, and that's the way he is. But we've got to do a better job, I think, of helping him to mature and understand what we want done and the way to do it."
-- Mattingly to MLB.com
"The one thing that stood out was that every run, every at-bat, every play in the field needs to be very important. You have to make sure you do your best to be good."
-- Puig to MLB.com
---
Puig finishes second in NL Rookie of the Year voting behind Marlins phenom Jose Fernandez.
---

Puig is arrested on a reckless-driving charge after Florida Highway Patrol officers allegedly clock him going 110 mph in a 70 mph zone. (The Florida state attorney's office later drops the reckless-driving charge due to a lack of sufficient evidence, but the speeding ticket still stands.)
"We have spoken to Yasiel and made it clear that we, as an organization, are very disappointed in his recent behavior. This is a very serious issue to us and we will continue to educate him and strive to further develop his growth off the field and as a member of this community."
-- Dodgers statement
---
After picking up his second speeding ticket in eight months, Puig decides to stop driving.
---
A frustrated Mattingly calls a team meeting to clear the air following Puig's miscues in the Dodgers' season-opening series in Australia.
"I asked them to please keep helping me. Specifically with baserunning and hitting my cutoff man. I want them to help me with everything they can."
-- Puig
"I think it says a lot about Yasiel and his character that he wanted to have a meeting. He wanted to get out in front of this and he wanted to have himself held accountable to his teammates ... and it's up to us to help him in that maturity process."
-- Dodgers catcher A.J. Ellis to the Los Angeles Daily News
---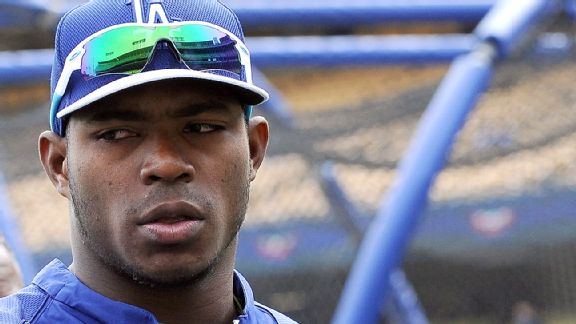 Mark Sullivan/WireImage
Puig is scratched from the lineup for the Dodgers' home opener after showing up late for BP.