To mark the 40th anniversary this year of Apollo 11, Google's engineers partnered with NASA to add a new layer to their popular -- and free -- mapping program, Google Earth.
They inserted a detailed map of the lunar surface, as imaged by U.S. satellites. It becomes especially rich in material at the six sites where U.S. astronauts landed between 1969 and 1972, and where various robotic probes touched down in advance of Apollo.
To use it, one has to download the newest version of Google Earth, found HERE. It is separate from (and more detailed than) the lunar maps already found on the Google Web site; those have been there for about four years.
"I believe that this educational tool is a critical step into the future, a way to both develop the dreams of young people globally, and inspire new audacious goals," wrote Anousheh Ansari, the sponsor of the Ansari X Prize, and the first woman to travel in orbit as a space "tourist," on Google's blog.
"Finally, outer space doesn't seem so far away anymore."
Heart-Shaped Lakes and 10-Foot Snakes
Arizona's Oprah Maze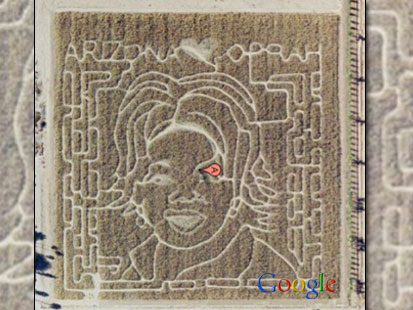 She's one of the biggest stars on the planet, so it only makes sense that she has a special place in Google Earth, too. Arizona's Schnepf Farms carves a maze with the outline of a famous person into its 10-acre cornfield each year around Halloween. Larry King, Jay Leno and Steve Nash are among the celebrities who have been recognized in this way. In 2004, Oprah Winfrey was the farm's celebrity of choice.
Heart-Shaped Lake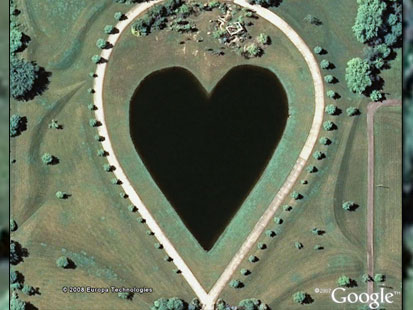 Google's Frank Taylor and Google Sightseeing's James Turnbull said there's a lot of love on Google Earth. They've compiled whole collections of heart-shaped things seen from space, as well as a handful of visible marriage proposals. This heart-shaped lake in Ohio is just one of several like it found by members of the Google Earth community.
Man Walking His Snake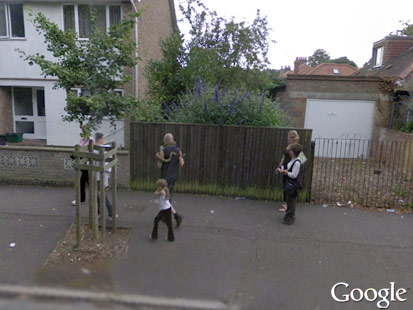 Leon Kidd, 25, was photographed carrying his 10-foot boa Nibblez along a road in Norwich last summer, the U.K.'s Telegraph reported Wednesday. Norwich is one of 25 U.K. cities included in Google Street View, which lets users see cities and neighborhoods virtually from their computers.
Kidd, who owns five snakes, told the Telegraph that walking his boa is regular activity.
"I take her out nearly every day in summer in Earlham Park," he said. "A lot of people are surprised, others are curious and ask if they can touch her. She loves being taken out, especially going in the grass."
"I didn't even notice I was being photographed by the Google car," he said. "Then about three weeks ago my cousin phoned me and said I was in the newspaper."
Firefox Crop Circles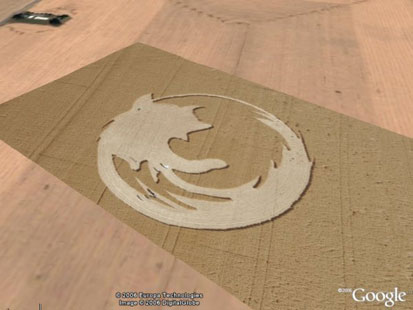 In a bid to generate some PR buzz for the Web browser in 2006, some Firefox fans made a gigantic Firefox logo in a crop field. According to the Google Earth blog, the project involved significant planning, building of the crop stompers, GPS devices and a helicopter (to capture the aerial photo). This crop circle is one of a large collection of crop circles visible through Google Earth.
Jesus in the Sand Dunes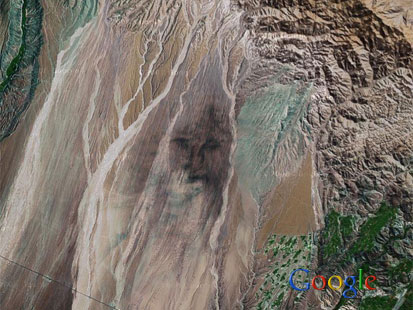 In 2005, the Google Earth blogs were chattering about reports of the face of Jesus in Peruvian sand dunes. Some say they don't see the resemblance to Jesus Christ, but others still wonder about the origins of the hazy image.
Googling for Gold