The improvements will be more noticeable, though, when using specific apps, especially games. Playing Infinity Blade 3 on the Air is a stunning experience, even for someone like me who doesn't have the slightest appreciation for gaming design and play. I'm disappointed, though, that Apple didn't add any of the camera performance features to the iPad as it did with the iPhone 5s. The Air doesn't have Burst Mode or Slow Mode.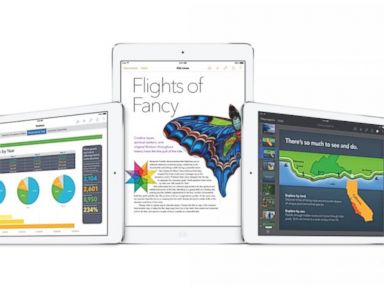 Even with that boost, you can still leave your charger home for a long weekend. On my video rundown test, which loops an HD video at about 65 percent brightness while connected to WiFi, the tablet lasted 9 hours and 48 minutes. Expect to get much more juice over intermittent use.
There's no doubt that Apple's hardware prowess shines through in every breath of the Air, but the rest of the experience is what you'd expect from an iPad. While
iOS 7 added a host of needed features
, the upgrade for the tablet experience seems less pronounced than on the iPhone. While other tablets now have some advanced features, like Windows 8.1's ability to run apps side by side or Android's multiple user account support, iOS feels in some ways rather stagnant. (I'm still wondering why Apple didn't add its TouchID fingerprint sensor and allow users to sign in to different accounts with the tap of a finger.)
On the iPad, iOS feels stagnant
That said, when it comes to choosing a tablet based on software, the iPad is still at the top of the list. That's not because of any core improvements to the software, but rather the breadth and strong quality of iPad apps populating the App Store. Whether it is basic news reading apps, like Flipboard or Feedly, or more graphically rich apps like Barefoot Atlas or Vjay, or games like Sky Gamblers, you simply won't find that type of quality and selection from Google or Microsoft.
To top off the app offerings, the Air now comes with
Apple's iLife and iWork apps for free.
You've got to download them still from the store, but they're all worth making space for. The new iPhoto and iMovie apps in particular add a host of strong photo and video editing tools and does so without adding any major complications or needing any sort of tutorial to get going.
Bottom Line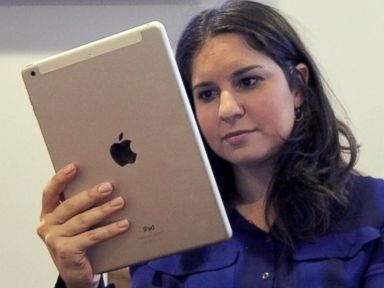 The iPad Air is very much an iPad. Yes, it is much easier to hold and much nicer to look at, but those who were hoping for a complete overhaul to the iPad experience won't find it with the Air. The software experience remains virtually the same, the screen, while still great, doesn't work any better outdoors, it doesn't have the TouchID fingerprint sensor of the iPhone 5s nor does it have that much-hoped-for keyboard cover.
But that isn't going to matter this holiday season. Apple's overhauled the hardware, there's a strong app selection, you can hold the Air with one hand while lying on the couch, and iLife and iWork are included to help you start creating content with your tablet. All those factors place the slim and svelte Air ahead of the other tablets on the battlefield. While most who have an iPad 3 or 4 won't find the Air to be a necessary upgrade, those who are first-time tablet buyers or replacing an earlier tablet shouldn't think twice about putting the Air at the top of their list.
It's going to be an iPad Christmas
And if people don't want to pay $499 or more for the full size Air, the $399 Retina Mini will make an equally good gift. And I assume most won't complain about the $299 iPad Mini without the high-resolution display.
Indeed, it's going to be an iPad Christmas.