Police in at least three states are becoming alarmed that a sophisticated ring of thieves is pulling off spectacular large-scale heists from warehouses and somehow are quickly getting the goods out of the country.
The primary target of the thieves is copper, massive amounts of copper, at a time when the price of the metal is rising.
"It's the new gold rush," said Lt. James Perry of the Carrollton, Ga., Police Department which is investigating one of the heists.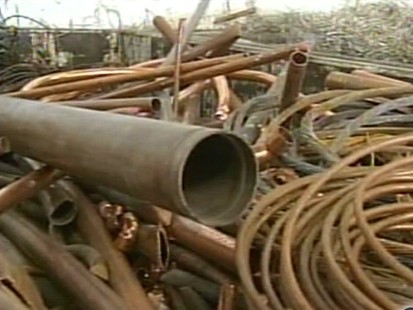 But the gang is also believed to have swiped a warehouse full of high end electronics, and authorities told ABC News they feel certain the group is behind even more crimes, as they have just recently begun connecting all the dots.
"Oh yeah, I'm sure they've done more," Sgt. Bill Shaw of the Largo Police Department, which is also probing a huge copper theft, told ABC News.
The robberies, seemingly pulled straight from Hollywood, span from Texas to Florida, according to police, and the known haul so far totals close to $2 million.
"They appear to be a highly sophisticated ring," Shaw said.
Shaw in fact made an ABC News reporter calling him for an interview about the gang prove his identity, fearing the reporter was in fact a member of the crime ring trying to gather intelligence on the investigation.
The gang's activities caught the attention of federal investigators as a result of ABC News' questions and the FBI has joined the hunt.
"I think you guys rattled their chains," Perry said, referring to the feds.
John Horn at the U.S. Attorney General's Office in Atlanta, said their office as well as the FBI are now looking into the Carrollton case.
"We are evaluating this theft and working with the Carrollton Police Department as well as the FBI to look at the case," Horn said in a written statement to ABC News.
One of the Copper Heists Was Worth $500,000
What makes the thefts so remarkable is the amount of copper stolen at any one time. The Carrollton heist involved 132,000 pounds of copper rods valued at $500,000.
"Look at one of these coils of copper rod," said Gary Leftwich, a spokesman for Southwire Corp., where the theft occurred.
"It is 4 ½ feet tall by 6 feet in diameter and one truck load has 18 of these things. I can't figure out how you disguise it as scrap. Even if you cut it up, it would take you forever. That leads me to think these guys had a place for it to go before they ever took it."
Brian Jacobs, a spokesman for the industry's national Coalition Against Copper Theft, suspects Southwire's copper is now in India or China.
The trail left behind by the thieves begins in a Miami.
"We have one load of high end electronics stolen in Miami. That was the first one as far as we can tell," Perry said. "We've been able to tie thefts together because of copper, but these suspects are probably stealing other stuff also."
Southwire was hit on April 29 and the operation was a template for how the group works.
According to Perry, Southwire brokered the shipping of the materials to Associated Trucking, which posted the job onto a trucking Website. Perry said Associated Trucking was contacted by a group of men claiming to be from LaRolle Trucking, a legitimate company based out of Miami.
"A person said I have three trucks. I can handle those loads for you and they sent in counterfeit documents posing as a legitimate company," Perry said.
Two men, one going by the name of Raul Camacho who Perry said supplied a fake Texas driver's license, made three trips into Southwire on April 29, each time loading 49,000 pounds of copper rods into three semi-trucks.
"The next day, when it didn't show up in Indiana the truck broker tried to reach the guy. They did have phone conversations for a limited time with him after realizing it was missing, but eventually they cut off communication," Perry said.
Perry said Camacho "stalled" until the phone he was using was eventually turned off and $500,000 worth of copper simply vanished.
"We have never, in my 10 years working here, never seen anything of this magnitude. No one's ever seen anything like this," Leftwich said.
Copper Theft Ring Has Hit at Least Three States
Leftwich said to pull off stealing $500,000 worth of copper on three trips would take inside knowledge, as well nerves of…well, steel.
"It really took some nerve to come in and drive off with three trucks of copper," he said.
According to Leftwich, each time they brought a truck into the warehouse, they had to pass guards and present paperwork on three different occasions to get the copper loaded and off the property.
The man calling himself Raul Camacho did leave behind a copy of a Texas driver's license with his picture, but authorities say all the other information has been determined to belong to a woman from Texas, and Perry said police believe Raul Camacho is not the man's real name.
Perry said police contacted the real LaRolle Trucking company in Miami, which claimed they had no one working for them under the name of Raul Camacho and had no knowledge of any shipment from Southwire Corporation.
"At this point we have no idea where the copper went, but we suspect it left the United States. The possibilities are that it was driven into Mexico or left through a ship in Miami, but we're still following leads," Perry said.
Carrollton police began putting the word out to law enforcement agencies across the country to be on the lookout for their suspects and the copper, and over the last three months found out that a man operating under the name Raul Camacho, using LaRolle Trucking documents, allegedly pulled off similar heists in Texas, Florida and elsewhere in Georgia.
In McKinney, Texas the group allegedly ripped off Encore Wire on March 23, making off with close to $200,000 worth of copper, according to Encore representatives.
Macon Iron Works in Macon, Ga., appears to have been targeted twice by the group. According to the Macon Police Department, on May 6 the group swiped 44,000 pounds of copper destined for Indiana.
On June 13, the most recent known theft, police believe the same group operated under the name RBC Express Truck #1 and picked up another large shipment of copper destined for Indiana that once again never made it to the destination. Authorities are still trying to piece together exactly how much was taken in that theft, but believe it was well over $100,000.
Camacho appears to have allegedly used a slightly different scam in Largo, Fla., on March 19. This time authorities there say they intercepted a shipment order from Caf Tech Services before the actual trucking company that was supposed to transport a mix of copper and other metals showed up to transport the material.
Price of Copper Nearing $4 a Pound
Copper theft in general has been plaguing towns and cities across the county in recent years, but mostly on a smaller scale, with thieves ripping off copper from objects ranging from manhole covers, radiators, and even live electrical wires.
According to Jacobs of the Coalition Against Copper Theft, as the price of copper rises so does the theft. The height was in 2008, when copper was priced at $4 a pound and he fears the country is nearing that level again.
With copper at $3.50 a pound and rising, "It's really starting to pick up again," Jacobs said.
The price is expected to be back around $4 a pound in the next few months, making copper an inviting target for thieves.
The Carrollton Police Department is offering a $25,000 reward for information into the Southwire theft, but Perry fears the copper theft ring activities are far from over.
"This was not the first time and not the last time," Perry said.