Carol Rosen and her family hadn't planned to go on vacation this week, but on the Internet she found a four-night Caribbean cruise for $550 -- for all three of them, meals included.
"I couldn't pass it up," Rosen said. "Actually, it's a crazy time of the year for all of us to leave, but the price was too good to say no."
The cruise lines try to leave port with every cabin full. With little demand for travel in a weak economy, they've had to keep lowering prices to avoid sailing on empty.
"We've really taken the prices down," said Terry Thornton, senior vice president of marketing for Carnival Cruise. "When people are booking now, they are really benefiting from those lower prices."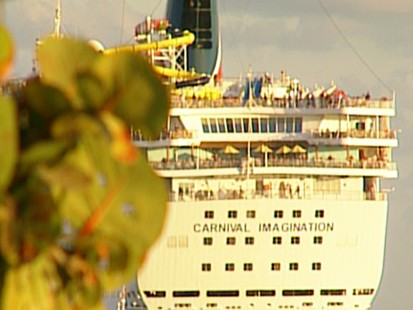 With the country in a recession, Americans aren't traveling like they used to, leaving hotels with empty rooms, cruise ships with vacant cabins, even airlines with unsold seats.
"They need vacation more than ever right now," said Thornton. "This is really a difficult time, stressful time, but what I think they are definitely looking for is value."
Deals and steals abound: A night at the Excalibur hotel in Las Vegas only costs $36.47.
Skiers can find unheard of Christmas offers at Breckenridge Ski Resort in Colorado for $113 a night, including lift tickets, which normally run around $75 per day.
And certain rooms at the elegant Casa Monica Hotel in St. Augustine, Fla., are going for only $18.88. The offer is limited to teachers in the area, and they've already sold out.
Some hotels are getting creative with inducements. The 3,400-room Atlantis Resort in the Bahamas is offering free tickets to a Jonas Brothers concert if you book a room for this weekend. They, too, are sold out.
"You know, all of us would like to have a crystal ball and look into it [and] say we know what's going to happen in the next six to 12 months -- but I have to tell you, it's the most unpredictable time for all of us," said Lauren Snyder, executive vice president of Atlantis Resorts/Kerzner International. "We've never experienced anything like this before."
Cheap Flights for Holiday Travel
Airlines are also in bargain mode, offering some of the best flight prices. Travelers can now fly coast to coast for as little as $220, and fly to Europe for $600 round trip.
"If you want a good price on an airline ticket, you have to be flexible. You have to fly on the cheapest days: Those are Tuesday and Wednesday and Saturday," said Rick Seaney, CEO of FareCompare.com. "If you absolutely have to go on a Monday or Friday or Sunday, then fly on that first flight out. Get up at 4 a.m., fly right after lunch or right after dinner, or even, in the worst case, take a red eye."
Oneita Jefries-Cary from Virginia Beach, Va., and her sister took a four-night cruise for $329 each last year. This week, they took the same cruise for only $139 each.
"That's an excellent value," she said. "That's why we decided to come on this cruise. Excellent."