A second man has been indicted for murder and other charges over a shooting in Las Vegas last month that left a mother of four dead.
Interested in
?
Add as an interest to stay up to date on the latest news, video, and analysis from ABC News.
Derrick Andrews is being charged with conspiracy to commit murder, murder with use of a deadly weapon, attempted murder with a deadly weapon and discharge of a firearm from or within a structure or vehicle, according to an indictment handed down today.
Andrews, 26, of Las Vegas, was taken into custody without incident today at a northwest Las Vegas home, police said. He had no attorney of record listed on the indictment, which identified him as Derek Andrews -- a misspelling of his first name, according to the Clark County District Attorney's Office.
Andrews is being housed at the Clark County Detention Center, police said. There was no answer at a phone number associated with a Derrick Andrews in Las Vegas.
The first suspect in the case, Erich Nowsch Jr., 19, was arrested in February and faces the same charges, according to today's superseding indictment.
At the time of Nowsch's arrest, police said they were looking for a second suspect, possibly the driver of a car from which Nowsch allegedly fired shots. In a news release this evening, police said Andrews was the "outstanding driver."
However, the superseding indictment itself alleges Nowsch and Andrews were together when the killing was planned and carried out, making them both complicit. It doesn't specify who allegedly drove the car or fired the shots that killed 44-year-old Tammy Meyers on Feb. 12.
Prosecutors may seek the death penalty in the case, the AP reported.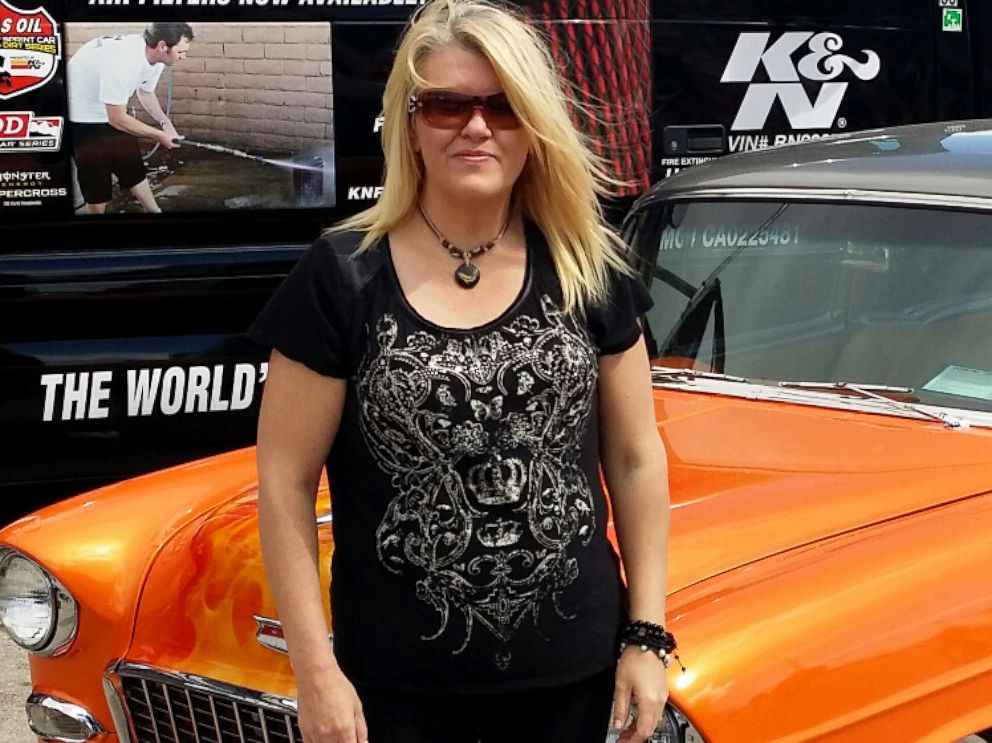 Meyers was shot in her driveway after she went looking for the other car involved in a "road rage" incident that occurred after she gave her daughter a late-night driving lesson, according to police. During that confrontation, a man got out of the driver's seat of the other car and said, "I'm gonna come back for you and your daughter," Meyers' teenage daughter told police, according to a police warrant.
After Meyers and her daughter arrived home, Meyers' son, Brandon, 22, told his mother to come into their house and call the police, but Meyers insisted on looking for the other car, according to a police timeline of events.
The mother and son searched the neighborhood, police have said, and someone apparently followed them home and shot at the Meyers car at two locations, including Meyers' driveway.
Nowsch's lawyer, Conrad Claus, told ABC News in an exclusive interview in February that his client may have been the target, not Meyers, and that no road rage occurred.
"The facts seem to point to self-defense in this situation," Claus said. "It seems to explain the facts we have in front of us more sensibly than any other explanation."
Calls to Claus' office phone number were not answered today.
Samuel Schwartz, attorney for the Meyers family, said this in a statement:
"It looks as if the Las Vegas Metropolitan Police Department has the driver. It is important to remember that there has been a good deal of speculation and publication of pure rumors about what motivated this killing. According to grand jury transcripts, Erich Nowsch admitted to a friend that he thought he was shooting a gang member. He told his friend he thought he had hit one of the people who were "after him." Instead, he had killed a mother of four children, a wife, and her name has been tarnished by this kind of irresponsible speculation. Tammy Meyers and the Meyers family are the victims here."