Efrain, one of the migrants trying on carpet shoes, said he was planning to cross the border the following day. It would be his sixth attempt. So far, he said he had spent 7,000 pesos, or $560, to make it this far, with $160 of that spent in Altar alone. He said it will cost him $4,000 to cross the border. Efrain takes the risks, he said, in hopes of finding a job.
"In the past, I've worked in landscaping, yard maintenance, in restaurants as a dishwasher, that sort of thing," he said in Spanish.
The next and final stop for border crossers in Altar is the most risky -- meeting with a coyote. One coyote who asked to not be identified said he charges $3,500 to take someone to Phoenix and claimed he had a 50 percent success rate.
"My job is get him from the crossing point in Mexico to the U.S. side," he said in Spanish. "Guide them to the other side and once they get to a certain point, we send cars to pick them up and take them to Phoenix."
But even he said he believes coyotes are bad people.
"It's rare that a coyote only dedicates himself to the smuggling of migrants," he said. "Now some of the coyotes in Altar use Central American migrants as drug mules."
But over in Nogales, Mexico, about 60 miles south of Tucson, was a very different scene. There, Father Sean, a Jesuit priest, and his group called the Kino Border Initiative serve two free meals a day to people passing through. He said his group served 58,640 meals last year.
"Our mission is to be a humanizing presence on the U.S.-Mexican border," he said in Spanish. "Address the urgent humanitarian needs that people have."
Father Sean said his group also counsels border crossers on the dangers of the desert. When asked if his group was just making the illegal journey easier, Father Sean said he didn't see border crossers as criminals.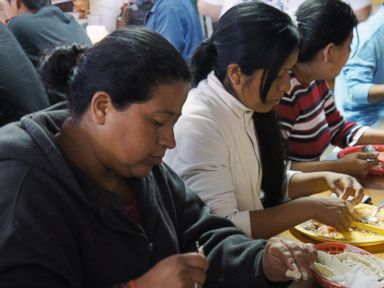 "People are in very difficult situations, make very difficult choices," he said. "I don't believe they are criminals. These are people either fleeing violence or looking for a better life for themselves of their families."
One border crosser named Rofino, who had already traveled from Honduras to Nogales, planned to cross the U.S. border into Texas the following day. He said he was a chef who couldn't find work in Honduras so he was heading north to help his family. So far, he said he had been on the road for 20 days and was broke. He said his life savings of $500 was extorted from him at drug cartel checkpoints. Nevertheless, armed with a backpack, a jacket and a Bible, Rofino said he was not afraid to cross the border.
"I'm with God, man," he said in Spanish.
But for some, the harsh desert and the U.S. border patrol have stopped their dreams. Irena Diaz said her last two attempts to cross resulted in her husband getting arrested and detained for six months in the U.S. She said she wants to make the trip to give her two children a better life.
"It's important to be in the United States for my children," Diaz said in Spanish. "They'll go to school and learn English, that way they won't have as difficult a life as we've had. They'll have a better job and won't suffer as much."