Teeth-chattering cold weather is edging east today as much of the Midwest remains in a deep subzero freeze for a third day.
Readings this morning could hover near 40 below zero as far east as Maine today. And in the Midwest, Iowans were warned that temperatures could drop as far as 27 below zero, matching a Jan. 15 record set in 1972.
In Michigan, the community of Pellston, in the northern Lower Peninsula, and Big Rapids, in the central Lower Peninsula, hit minus 21 degrees today.
The air temperature was 29 degrees below zero in Glenwood, Minn., this morning, with the wind chill making it a staggering 54 degrees below zero.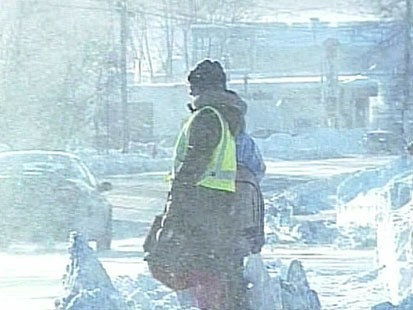 It was 20 degrees below zero at the Minneapolis-St. Paul International Airport, but the wind chill made it feel like 37 below zero. In southwest Ohio, Butler County reopened its former jail as an emergency shelter, with room for about 40 people to have a blanket, meal and shower, said Lt. Nick Fischer of the sheriff's office. Fischer said the county will make room for more if needed.
Around Ohio, blowing snow grounded at least two medical helicopters called to transport accident victims. At the site of a wreck on Interstate 75 near Bowling Green, an ambulance had to drive two people to hospitals in Toledo.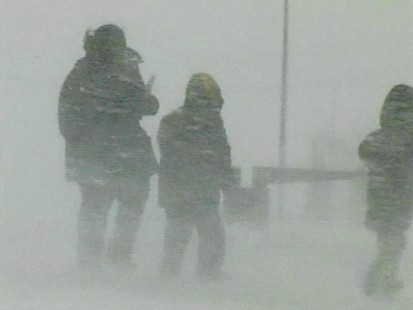 The mercury hovering around zero Wednesday didn't faze truck driver Gary Jacobs, 49, of Barre, Vt., who was bundled in five layers — T-shirt, a long-sleeved shirt, sweat shirt, hooded sweat shirt and coat, in addition to snow pants, boots and a knit cap.
"People in Arizona say 'It's a dry heat.' This is a fresh cold," Jacobs said.
In New York, where light snow fell overnight, temperatures early this morning ranged from 7 above in Buffalo to 21 below in Massena in northern New York. Lows of 18 below to 26 below are forecast for the Adirondacks Thursday night and Friday.
In New York City, temperatures will go into single digits Friday morning.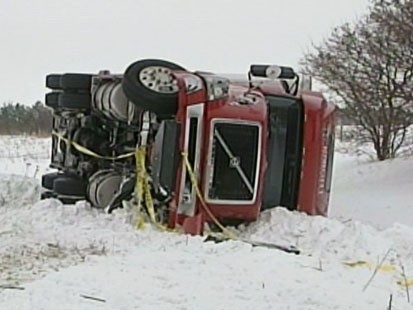 On Tuesday, at 51-year-old man in northern Wisconsin died of exposure after wandering from his home, according to authorities. His son told police the man was prone to sleepwalking.
After following footprints in the snow, detectives found the man about 190 yards from his Hayward home.
In Chicago, the cold snap was made crueler by another blast of snow, tying up trains, planes and automobiles. A commuter train derailed. At O'Hare International Airport, more than 200 flights were canceled, leaving passengers scrambling. Snow hurt visibility, snarling traffic
The cold air lumbered south from Canada and has reached as far as Kansas and Missouri, where residents have felt the effects of single-digit temperatures.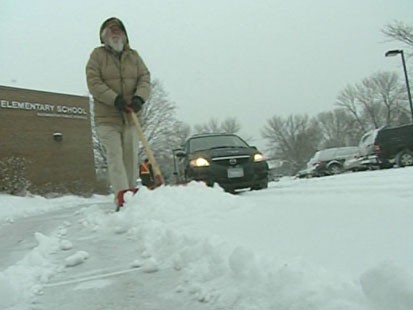 In the Midwest, temperatures actually rose in International Falls, Minn., today -- up to a less-than-toasty 31 degrees below zero from its record-breaking minus 40 degrees Tuesday. Subzero temperatures are expected to remain in International Falls until Friday.
Dangerous as venturing out in such cold can be, Don Mandolin of Fargo, N.D, braved themius 28 degree temperatures to do his job as a refueler. He told "Good Morning America" he's seen worse, but not by much.
"Coldest it's ever been at work? I think it was 31 below. When it's that cold, your eyes start tearing and the facial hair freezes instantly. So you're an icicle," he told "Good Morning America." "Working here is an adventure."
For others in North Dakota, it has not been a dry cold either.
More than 60 inches of snow have fallen so far on Bismark, causing businesses to close but keeping snowplow drivers busy.
"It's hard on the home life, but we're keeping the roads open," 20-year snowplower Mike Stebbins told the AP.
For Midwestern farmers, bitter cold threatens their livestock and livelihoods. John Danielson smashed through ice on his water troughs so that his cattle could drink.
"I had the [troughs] open this morning and they froze over. There was an inch of ice on them already," he said. "We're very concerned with the wind and the snow. It's tough on the animals."
In New York state, Coast Guard ships broke ice along the Hudson River today to keep the path clear for vital shipments, including heating oil, that travel between Albany and New York City.
Freezing Temps Hit the Nation
The cold has also snapped water main lines in Wisconsin, causing headaches for utility workers.
"We're working basically 24 hours a day with broken mains," Milwaukee Public Works employee Dave Goldapp told the AP.
For some, like Jeff Plant of Colonie, N.Y., the extreme weather suits him just fine.
"I'm a cold weather fan," he told the AP as he sat in a coffee shop in Albany, N.Y. "I like to see some cold weather in the winter." He said later he planned to go for a walk "to get some sun."
Lamar Woodley, linebacker for the Pittsburg Steelers, does more than walk in the freezing temperatures.
"It's tough to work in these types of conditions -- snow, might be a little rain, wind coming off the river," Woodley told "Good Morning America."
Then he smiled. "We love this kind of weather. It's football weather here."
The Associated Press contributed to this report.