Since the Gold Rush, people have flooded into California with dreams of a better life: riches, fame and glory. But, these days, with foreclosure signs dotting driveways and "Going out of Business" signs everywhere, life in California is far from golden.
"There's no jobs; there are just no jobs here," said Tracy Osborne, whose husband Kevin has joined the ranks of California's unemployed. "He's been out of work now for 11 months. And there's just nothing."
In the area of Southern California called "Inland Empire," the Osbornes are not alone.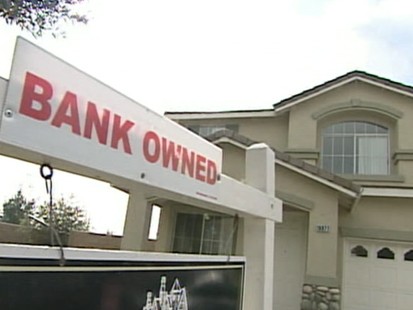 At Promises Lutheran Church in Murieta, Calif., donations were once collected to benefit a local food bank. Now, they are left for any member in need.
"It's been really tough," said Rhianna Stackhouse, a church member and mother of 2-year-old Sienna. "We've been living with my parents. It's hard. I love my parents to death but we need our own space."
Nearly everyone in their church community has been touched in some way by the economic downturn.
"We don't know what our situation is," said church member Lecia Cecconi-Roberts, who works as a band director at a middle school in Temecula. "It could change tomorrow. It could change two weeks from now. This year, we're being hit a lot harder and my job is probably safe for the time being."
The scale of the recession seems especially large in California. The state's $1.8 trillion economy -- the largest in the country and eighth largest in the world -- was hit hard by the crash in the housing market.
In December, California had the fourth highest jobless rate of states in the United States, at 9.3 percent, according to the U.S. Bureau of Labor Statistics. Now, with almost 2 million Californians out of work, totaling more than 10 percent, those who came believing the state was the land of ultimate opportunity are packing up and leaving.
"For every person who imagines California where life is better, there is someone who's now leaving," said American historian Bill Deverell of the University of Southern California. "And they're leaving because California disappointed them."
Calling Mosquito Control
With home after home foreclosed on neighborhood streets, backyard swimming pools with green, infested water have become a sign of the times.
"At one time people were enjoying their pools and now it's really bad and it's sad," said Norma Silva, a technician for West Valley Vector Mosquito Control.
Silva is part of a team of exterminators and fumigators who spend their days monitoring and treating the abandoned pools to try and prevent mosquitoes from breeding in these once thriving neighborhoods.
In the good times, California spent money so fast that Washington, D.C.'s spending seemed prudent. Real estate tax revenues and sales tax revenues were plentiful. But with the collapse of the housing market, so did California's economy, drying up tax revenues and the job market.
At a job fair last weekend at Dodger Stadium, 4,500 people showed up for 500 openings as part-time ushers, food workers and security personnel.
"I wore my Dodgers jersey today and my tie," said Craig Theroff, who used to work in the bio-tech industry and now hopes to be chosen as an usher. "Hopefully, I will be the next acquisition for the Dodgers."
At the San Bernardino Employment and Training Center, many people are attempting to learn new skills -- desperate for any job that will take them.
"Their concerns are survival like all of us: 'I need to keep my home, I can't live on unemployment,'" said Teresa Keller, who has been an analyst at the San Bernardino Employment and Training Center for 16 years. "You hear the anger, a lot of anger. They feel betrayed. They feel let down."
At the Airline Express Café in San Bernardino, customers, who have been unable to find a new job in their field are discouraged.
"I never thought that I was going to be laid off," one customer said. "I thought I was going to retire from that job. And I thought maybe California will give me another opportunity. It's gong to be six months this month and I've tried everything."
Not All Gloom and Doom
Customer Tom Thompson said, "I've been in business 38 years. I've been through some tough times. This is the worst I've ever had to experience."
But it's not all doom and gloom here. Even a few blocks from Airline Express Café, there are signs of life: new construction on a new wing of the San Bernardino airport that may bring jobs and new opportunity.
"I'll never give up with this state," Thompson said. "I've seen it over the years deteriorate, but I'm a fighter. I'm going to stick it out. There's nothing else I can do."