It's secondary only to finding the man of her dreams. Industry insiders call it the "Oh, mommy" moment: when a bride-to-be finds and falls in love with "The One" — her dream wedding gown.
Sometimes, however, a bride's dream gown is at odds with the gown her loved ones envision for her. Herein lay the crux of another "Primetime" hidden camera experiment.
The objective: to find out whether honesty is the best policy when a bride-to-be has found "The One," even when it's completely wrong for her. Should friends and family be supportive and hold their tongues, or should they tell the truth if they think the gown is terrible?
Watch the story on "Primetime" tonight at 10 p.m. ET.
For this experiment, ABC News asked real brides-to-be to invite their family, bridesmaids and friends to the upscale Manhattan bridal emporium Kleinfeld to bear witness to a fitting of their supposed dream gown.
ABC then paired each bride with outrageous bridal garments, some of which were actually for sale, that were sure to elicit strong reactions from their loved ones.
ABC also invited Carley Roney, editor-in-chief of the wedding Web site TheKnot.com, to watch the experiment from our control room and provide insight into some of the scenarios as they played out.
When the brides stepped out of the dressing room and stood in front of their guests, hidden cameras were there to catch every jaw-drop and every eye-pop.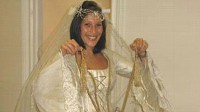 Dutiful Friends and Bridesmaids
Andrea Sinkin, a 28-year old trend consultant, wanted to put her friends and bridesmaids to the test. On the day of her fitting, Andrea stepped out of the dressing room donning a gown that looked like every Goth girl's vision for prom circa 1984: a scarlet red heap of lace, chiffon and tulle.
"What is this for?" asked maid of honor, Katie Frey.
"It's my wedding dress, Katie," Sinkin responded unflinchingly, as the women laughed and gawked at her.
To get their most honest reactions, each bride had to look and sound convincingly set on the gown she was showcasing. For Andrea, that meant capitalizing on her reputation for being fashion-forward and reassuring her guests that they need not fret because the dress would be dyed fuchsia.
"The next big thing is going to be color, like, I swear to God, I already see it coming," she declared. "The whole thing's handmade. I mean, you can't duplicate this."
As part of the experiment, Kleinfeld headpiece sales manager Marisa DiLeo was on hand to further legitimize each bride's choice of gown by offering accessories to polish off her look.
"I think pink [fuchsia] is a great color for a blonde … it'll be your power color," DiLeo said. "Let's go get some head-pieces. We'll be right back, ladies."
Twice, Marisa escorted Andrea out of the fitting area under the guise of choosing matching headpieces when, in fact, they headed to our control room to listen to what the women were saying while Andrea was gone.
"Is she joking?" asked bewildered bridesmaid Lisa Graham.
"Even if she's not, she's not getting that dress," Katie responded.
As the scenario played out, the women teetered on just how serious Andrea was about the fuchsia dress. Ultimately, however, Andrea was overruled by her dutiful friends and bridesmaids.
"I don't approve," Katie said. "I'm sorry."
"I won't let you," said bridesmaid Maria Cacucciolo. "It's… it's a nightmare … I'm gonna be honest with you. It's all wrong. Absolutely not!"