Almond's Monkfish Cioppino
Ingredients:
Four 5-oz. filets of monkish
2 tablespoons olive oil
Salt and pepper to taste
2 cups crushed canned tomatoes
2 teaspoons chopped garlic
2 teaspoons sliced shallots
1/4 cup diced piquillo peppers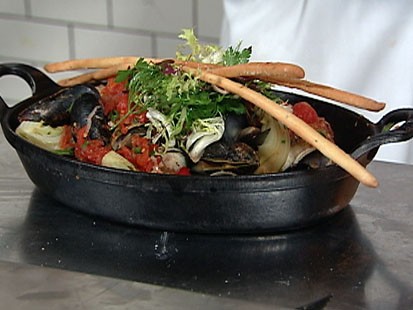 1 teaspoon minced jalapeno
4 basil leaves (torn)
1 tablespoon chopped parsley
1 bay leaf
1 oz. White wine
Bread sticks
12 mussels
4 shrimp (peeled and deveined)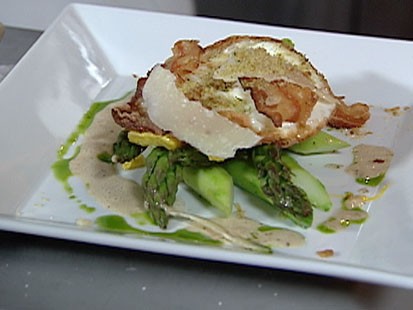 8 clams
1/2 # cleaned squid (cleaned and cut into big pieces)
Method:
1. Preheat your oven to 500 degrees.
2. Put a large ceramic casserole in your oven until it is extremely hot.
3. Take it out of the oven and put it on your stovetop. (Season the fish with salt and pepper. Put the olive oil in the casserole.)
4. Carefully add the monkfish and quickly put the casserole back in the oven.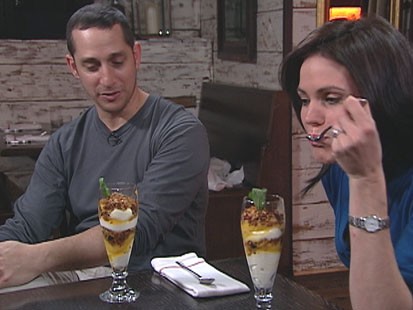 5. After five minutes take the casserole out of the oven, turn the fish over.
6. Now add all the ingredients except for the parsley, basil and breadsticks.
7. Quickly return the casserole to the oven for another 3 or 4 minutes, until the shellfish open up.
8. Take the casserole out of the oven, toss in the parsley and basil.
9. Garnish with the breadsticks Put the whole casserole on a trivet and serve family style.
Serves 4.