The indie rock fest known as Lollapalooza kicks off today in Chicago's Grant Park. If you are not one of the lucky few to make the trek out to the windy city, why not throw your own indie rock fest right in the comfort of your kitchen?
Kara Zuaro, author of "I Like Food, Food Tastes Good," brought GMA Now inside the tour-bus kitchen of two indie rock powers.
Click on the video to the left of this text to watch Zuaro make Death Cab for Cutie's Veggie Sausage and Peanut Butter Sandwich and Ben Kweller's Chocolate Balls.
Here are Death Cab for Cutie and Ben Kweller's recipes from "I Like Food, Food Tastes Good."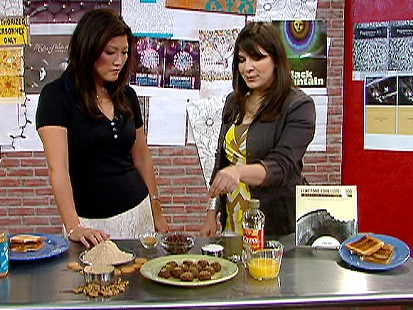 Death Cab for Cutie
Chris Walla's Veggie Sausage and Peanut Butter Sandwich
The peanut butter sandwich is probably the most frequent meal made in the vans of touring bands. It only has two ingredients and neither requires refrigeration. When Death Cab for Cutie upgraded from a crowded van to a tour bus with a kitchenette, they raised the bar on their peanut butter sandwich. Sitting on the boardwalk at New York's Coney Island, the band raves about their creation.
"One of the staples of my diet is veggie sausages, either links or patties—whichever kind is around—fried up on peanut butter toast," guitarist Chris Walla says. "It sounds dreadful. But it's really not."
"Yeah, it's super good," singer Ben Gibbard adds. "Shouldn't be tasty, but it is."
Even Jason McGerr, the drummer, who has been silent all day, chimes in, "One time we got the curry version of the sausages, and the melted peanut butter became more like a peanut sauce. It was like a delicious Thai sandwich."
When bassist Nick Hammer nods with approval, it's unanimous. You've got to eat it to believe it: This protein-packed sandwich really hits the spot.
Ingredients:
Bread
Oil
Veggie sausage
Peanut butter
Directions:
1. Put the bread in the toaster.
2. While it's toasting, heat a little bit of oil in the frying pan.
3. Cut up some veggie sausage and throw it in the pan. Move the sausage around with a spatula until the bread is done toasting.
4. Spread peanut butter on the warm bread and put the sausage between the slices.
Makes 1 sandwich
Ben Kweller
Liz and Ben Kweller's Chocolate Balls
The first time I met Ben Kweller, he was opening for Lemonheads' lead man Evan Dando at an Eastern Long Island club called the Stephen Talkhouse, where it feels like you're watching a show in somebody's living room. With a harmonica strapped to his head like a night-brace and an acoustic guitar that seemed to be twice his size, BK ran from corner to corner of the empty stage as he played, looking sort of like a hyperactive child—he was barely 20 at the time. At first we giggled, but then we cheered. If I wrote songs as catchy as his, I think I'd be running all over the place too. BK plays much bigger rooms nowadays, and he's got a band to keep him company and block his stagelong sprints. This recipe is a joint effort from BK and his lovely wife, Liz.
Ingredients:
1 cup finely ground walnuts or pecans
2½ cups crushed vanilla wafers
One 6-ounce bag chocolate chips
½ cup granulated sugar
3 tablespoons corn syrup
½ cup orange juice
Directions:
1. Use food processor to grind nuts and wafers.
2. Melt chocolate chips over low heat.
3. Stir in sugar and corn syrup until sugar dissolves.
4. Add orange juice.
5. Remove from head and stir in wafers and nuts until dough is formed.
6. Chill dough in refrigerator.
7. Roll dough into balls 1" in diameter.
8. Roll balls around in granulated sugar.
9. Place balls in a tin to store. Chocolate balls taste best after they've been in the fridge for 2 or 3 days.
Makes 2 to 3 dozen balls.
From I LIKE FOOD, FOOD TASTES GOOD by Kara Zuaro. Copyright (c) 2007 Kara Zuaro. Published by Hyperion. All Rights Reserved. Available wherever books are sold.