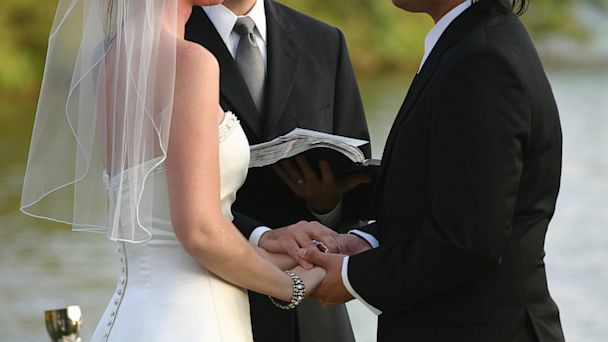 Men's Wearhouse CEO Doug Ewert blamed the company's disappointing earnings on couples' wariness of getting married in the year 2013 because of triskaidekaphobia, or the fear of the number 13.
During a conference call with investors on Thursday to discuss second-quarter earnings, Ewert said "numerical anomalies" affected wedding sales this year.
"Historically, we've seen numeric anomalies in the calendar effect when brides choose their wedding date, and we believe that the number 13 in 2013 is causing a small, but meaningful number of brides to avoid getting married this year," Ewert said.
The company's earnings fell to $42.9 million from $59.4 million in the same period a year ago.
However, the CEO since June 2011 added, "It's reassuring to see a significant increase in advance reservation for 2014 wedding though," the CEO added.
Read More: Wedding Couples Wary of Friday the 13th Swayed by Vendor Discounts
Is Ewert crying wolf or are Men's Wearhouse customers delaying their weddings due to superstitions over a number?
Richard Jaffe, analyst with Stifel Nicolaus, said Ewert likely has more insight about his customers than others.
In the same way many couples rushed or waited to get married on July 7, 2007, for three lucky sevens, some couples are wary of "unlucky" numbers.
Read More: Paraskevidekatriaphobics is Fear of Friday the 13th
"There is a level of concern or value added to these numeric references," Jaffe said. "And while hard to understand, these patterns do exist in customers' minds."
Denise Favorule, executive vice president of national enterprise for wedding magazine The Knot, said, "We've seen some chat among the brides on our community boards about the unluckiness of the number 13, which may be related to why we are also seeing growth in the number of registered events for 2014 to date compared to 2013, a trend we are hoping will continue."
In its conference call, Men's Wearhouse's management mostly discussed its acquisition of JA Holding, the parent company of clothing brand Joseph Abboud, announced in July, and other aspects of the industry. Ewert was radio silent on any mention of founder George Zimmer, who was fired as executive chairman in June, the start of Men's Wearhouse's second quarter.
Read More: Men's Wearhouse Founder Said He Was "Inappropriately Silenced"
The company's financial report did mention "$2.9 million in costs related primarily to the JA Holding, Inc. acquisition and separation costs associated with a former executive."