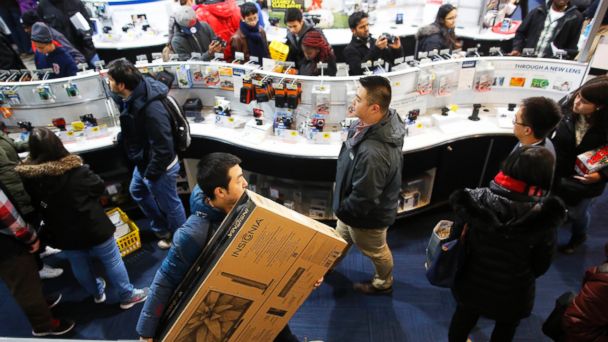 It wasn't all tinsel and glitter for some retailers over the crucial holiday season. Here are four chains that shoppers passed on by, and one that isn't telling but probably had trouble:
1. Best Buy. Sales at stores and on the Web fell 0.9 percent in the nine weeks ended Jan. 4, the Minneapolis-based chain said today, touching off a 28 percent rout in its shares. The electronics retailer had hoped to combat "showrooming," or visiting the stores and then buying elsewhere on the Web, but the strategy just led to lower sales and profit.
2. Sears. The venerable retailer had its worst season in years as sales fell 9.2 percent during the nine-week period that ended Jan. 4. At Kmart stores, sales were down 5.7 percent over the same period. "The results that we posted are not nearly what we want them to be," Edward S. Lampert, CEO of Sears, said in a company blog. "They also overshadow all of the work that's being done by our associates, our vendors and the other businesses we work with, along with everyone who is developing better ways for us to serve our members."
3. Lululemon said it had fourth-quarter quarterly earnings between 71 cents and 73 cents per share on revenue in a range of $513 million to $518 million. That's down from its prior guidance for earnings of 78 cents to 80 cents per share on revenue of $535 million to $540 million. Sales were down at its stores for the holiday season. The yoga clothing company has suffered from a series of missteps. It pulled a line of its popular yoga pants from shelves after customers complained they were too sheer, and then the Canadian company's founder, Chip Wilson, suggested that larger women's bodies were to blame.
4. American Eagle. The youth-oriented clothing stores lost its mojo this season, with December sales off 7 percent from a year ago. Revenue for the nine weeks ended Jan. 4 dropped 2 percent to $882 million, compared with $904 million for the nine weeks ended Dec. 29, 2012. Results at stores open at least a year dropped 7 percent. "Following a solid Thanksgiving weekend, traffic and sales through Christmas week were on the low end of our expectations and the retail environment was highly promotional, pressuring margins," CEO Robert Hanson said in a statement.
5. JC Penney Co. The retail giant has yet to reveal its sales for the holiday season, and that's a reason for worry, analysts say. J.C. Penney Co. Inc. said Wednesday it will close 33 stores and cut 2,000 jobs in an effort to return to profit. The department store chain has been a train wreck in the past few years amid a failed strategy to offer everyday low prices. Analysts expect the chain to have a loss of 70 cents a share for the holiday quarter.