Feb 27, 2014 8:12am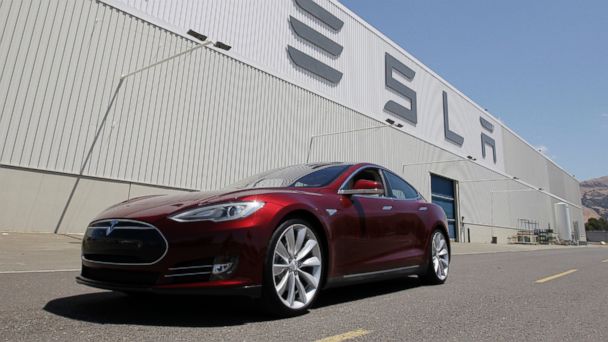 Tesla Motors has notably ambitious plans for growth as it builds on the sizzling success of the luxury Model S electric car and moves into the mass market for zero-emission vehicles. The cutting-edge automaker says it's considering sites in Nevada, Arizona, New Mexico and Texas for a battery factory that would employ about 6,500 people.
Tesla expects to start construction this year and complete its "gigafactory" in 2017. The proposed plant would cost up to $5 billion.
Tesla says it will invest $2 billion in the 10-million-square-foot factory. Its partners will invest the rest. The company didn't identify those partners Wednesday, but its battery supplier, Japan's Panasonic, is expected to be among the investors. The new factory will provide enough batteries to supply 500,000 vehicles by 2020.
RELATED: Consumer Reports Names Tesla Model S Its Top Pick
Tesla sells just one model, the Model S sedan, which starts around $70,000. But it plans to begin making a crossover, the Model X, later this year, and wants to bring a lower-cost, mass-market vehicle to market in 2017. Tesla said the factory would help lower its battery costs by about 30 percent.
The firm also announced that it plans to raise $1.6 billion in a debt offering. The proceeds would help finance the new factory and the lower-cost vehicle.
After a prolonged rally, Tesla stock is now trading close to $260. One year ago its per-share price was just $35.
The U.S. government's auto safety watchdog says it will investigate whether General Motors acted quickly enough to recall 1.6 million older-model small cars. If wrongdoing is found, GM could be hit by a multimillion-dollar fine.
Under federal rules, automakers are required to notify the National Highway Traffic Safety Administration within five business days after knowing it has a safety defect in its vehicles. This week GM doubled the number of cars in the recall for faulty ignition switches. The problem has been linked to crashes that caused 13 deaths.
There are fresh signs this morning that the U.S. home-building market could be picking up. Better-than-expected construction numbers helped lift U.S. stocks slightly Wednesday. Bank lending for land development and construction is reported to be increasing. That's a sign the supply crunch for new homes could ease in coming months, according to The Wall Street Journal.
Investors might be disappointed by Baidu's quarterly earnings report. The owner of China's most popular search engine says profits fell 0.4 percent, compared to the year before. But consider this: Sales soared more than 50 percent. The surge in revenues shows impressive growth in the world's biggest Internet market as hundreds of millions of consumers shift to smartphones and other wireless devices.
Richard Davies Business Correspondent ABC News Radio abcnews.com Twitter: daviesnow 212-456-5100