The Fonz's Motorcycle From Happy Days Up For Auction
Fans of the popular show Happy Days can now own an iconic piece of the series' memorabilia. The 1949 Triumph Trophy TR5 motorcycle used by Henry Winkler's character "The Fonz" is being auctioned off in Los Angeles on Nov. 12. The famous bike has been sitting in a motorcycle shop, unridden since the shows 1984 finale, having been purchased by an owner who was unaware of the cycle's celebratory history.
Arthur "Fonzie" Fonzarelli was a breakout character on Happy Days ran from 1974-1984 and spawned four spinoffs. Fonzie, played by actor Henry Winkler was easily identified by his ever present motorcycle, greased back hair, and leather jacket, which now sits in the Smithsonian Institution. Presented as the epitome of cool, Fonzie had numerous traits that made him the envy of his peers, such as the ability to start the jukebox by hitting it with his fist and attract women just by snapping.
His motorcycle is expected to sell for over $90,000.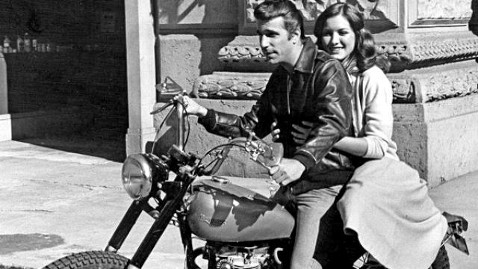 blog comments powered by