Dec 31, 2012 6:00am
New Year's Eve is upon us and a bunch of good movies are in theaters. Why not use that as an excuse to whip up some great drinks?
ABCNews.com asked Sother Teague, the bartender at New York's cocktail bar Amor y Amargo, to come up with recipes that fit with the season and potential Oscar nominees currently playing on the big screen. Like the movies they're inspired by, these cocktails tell a story. They have one thing in common — Campari, the bitter, citrus-y liquor that Teague often uses in place of fresh juices during the winter.
But, most importantly, they're delicious and easy to make at home. For each drink, shake ingredients with ice in a cocktail shaker. Pour over ice or serve neat.
Witty Girls inspired by "Les Miserables" 
Dry with a bite, this is the perfect cocktail to kick off the night. Teague's take: "A story from France, this tipple is duty bound to include cognac. 'A Force for good in the world but with a dark past…'" 
¾ ounces Campari
1 ½ ounces Louis Royer "Force 53″ VSOP Cognac
¾ ounces Atsby Amberthorn Vermouth
2 dashes Regan's Orange Bitters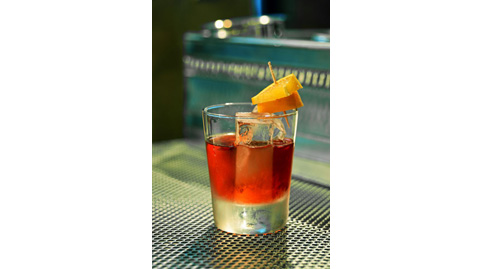 Happy in Its Own Way inspired by "Anna Karenina"
Like Negronis? Try this. It's similar to the popular Campari and gin cocktail, but more aromatic. Teague's take: "Russia to Europe and back again, all while battling the current social norms — this drink has all that, plus the unconventional addition of vermouth from the New World to boot." 
¾ ounces Campari
1 ½ ounces Stolichnaya Vodka
¾ ounces Atsby Armadillo Cake Vermouth
2 dashes Bitter Truth Chocolate Bitters
1 dash Regan's Orange Bitters
Rum Triangle inspired by "Django Unchained"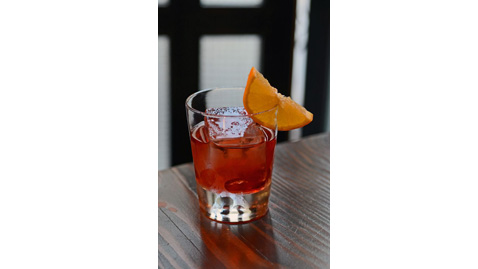 Spicy, saucy, and potentially controversial, just like Tarantino's flick. Teague's take: The rum triangle of trade was how many slaves landed in America. This is a simple twist on a Negroni with added spice notes from the Atsby Vermouth and the Tiki bitters, flavored with ginger, nutmeg and mace.
¾ ounces Campari
2 ounces Santa Teresa "1796″ Rum
¾ ounces Atsby Amberthorn Vermouth
2 dashes Bittermens Tiki Bitters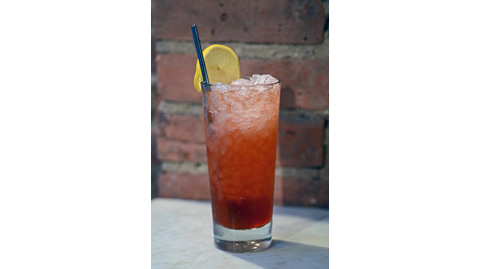 Saw-buck inspired by "Lincoln"
Fizzy, refreshing and beer like, this will please tipplers who don't usually indulge in cocktails. Teague's take: "This drink is lighter on the palette and lighter in alcohol than most of the others. It turns out that Abe didn't drink. Maybe this would fool him? I chose scotch as I always imagine men of power and statesmen sipping it during important deliberations."
½ ounce Campari
1 ½ ounces Suntory Whisky
1 teaspoon CKJ pure Ginseng Tea Powder
1 ounce Atsby Amberthorn Vermouth
1 bar-spoon honey syrup (equal parts honey and water dissolved together)
2 dashes Peychaud's Bitters
The Wrong Man inspired by "Hitchcock"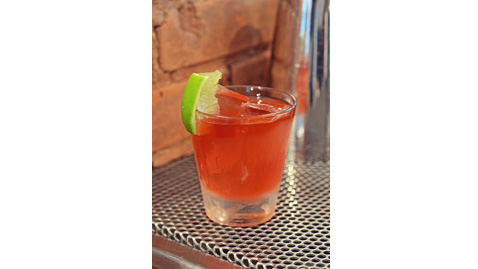 Exotic, aromatic, and kind of crazy. Teague's take: "Hitchcock, born in London, was a man of mystery. This take on the Negroni adds a bit of mystery with the addition of the G-Shot instead of traditional bitters. It's got flavors that are herbaceous and even savory (think black tea and Worcestershire sauce)."
¾ ounces Campari
2 ounces London Dry Gin
¾ ounces Cocchi Americano
½ ounce G-Shot Herbal Korean Red Ginseng