Jun 5, 2013 5:21pm
With nine studio albums and a stint on the Billboard charts, experimental rock group Cloud Cult has had plenty of opportunities to  make it big.  While dedicated to  growing its fan base, the band's primary concern has always been to work in an eco-friendly way.  The band turned down record contract offers and opted to maintain ethical control over business practices.
All of Cloud Cults' albums are self-released on Earthology Records – a label it founded in 2000 "out of necessity" to produce music in a manner consistent with their values. Craig Minowa and wife Connie used their nonprofit organization, Earthology Institute, to develop new manufacturing models. Located on an organic farm, Earthology Records' headquarters was partially built using reclaimed wood and recycled plastic, and runs on geothermal energy.
Cloud Cult's green practices include:
Packaging CDs in 100 percent  postconsumer poster board with recycled CD tray
Printing with vegetable-based inks
CO2 mitigation through tree planting
Tour van equip with solar panels and biodiesel fuel
The interest in going green has swelled over the past decade, with new nonprofits focusing on green music production and minimizing carbon footprints.  Craig describes the changing culture: "There's a really good functioning eco-organism within the music industry that is completely powered by itself, which is beautiful."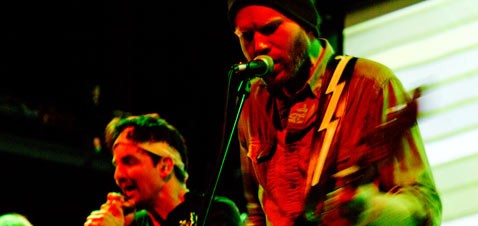 Cloud Cult's honest, DIY approach to its music resonates with fans.  Following the death of his young son in 2002, Craig Minowa found solace and healing through songwriting.  The band's third album, "They Live on the Sun," is an intimate expression of the Minowa family's tragedy.  Searching for understanding in loss is an ongoing theme of Cloud Cult's songs, with many fans also turning to the energy of the music for transcendental healing.
Shawn Neary, Cloud Cult bassist and trombone player, says of the fans, "It's amazing to be part of something so many people love so deeply.  It's really revelatory and humbling to hear [fans' experiences], to be a part of that."
Cloud Cult's latest album, "Love," was released in March 2013.  The band's previous album, "Light Chasers" (2010), was the first of its albums to reach the Billboard charts.  When asked if trying to follow up "Light Chasers'" acclaim added any pressure, Craig brushed off the mainstream measure of success.   
"I think charting is a very synthetic way of measuring music. …" With the "Love" album, "there was definitely a thought process of not worrying about charting or how the music critics were going to respond to it.  It was more important to have the messaging be right and the fans be impacted by it in the right kind of medicinal way."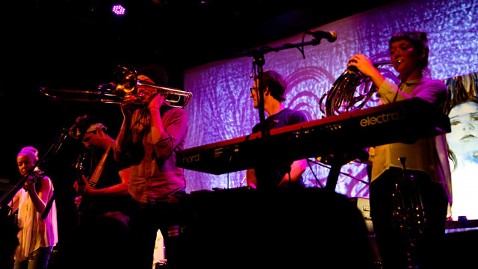 Cloud Cult devotees know that the bands live performances are a complete multi-media experience, adding more than just sonic dimension to the music.  In addition to a full stage of horn players, string instruments, keys, Cloud Cult's shows also include two painters, Connie Minowa and Scott West.  Connie and Scott work on large spinning canvases for the duration of the concert, with the completed paintings being auctioned off to the audience at the end of the night.
Scott West describes how the paintings can enhance the overall stage performance: "I think a lot of times the audience can really relate to the painting 'cause they see the process happening so they tie that back with the emotion of the songwriting and the stories that are going on. … It gets really personal for them. … There's a lot of parallels between writing a song and doing a painting.  There's … rhythm and composition, and there is key signature, hue and saturation. … So it's kind of like the audience can see a song being written, and it would kind of seem like visual instruments."
Cloud Cult toured throughout this spring, and has upcoming festival appearances scheduled for the summer.