Dance and Celebrate Richard Simmons' 65th Birthday
Today is fitness personality Richard Simmons' 65th birthday. The always colorful Simmons, known for his outrageously fabulous aerobic outfits, has helped so many along the way in his quest to slim down America. In fact, it was his own ability to lose more than 100 pounds that has inspired people to get moving. Happy Birthday Richard!
SEDUCTIVE!
Richard might be turning 65, but he still knows how to let loose and hit the dance floor.
"STAYIN' ALIVE"
Richard always loves to blend in some classic tunes when it comes to moving and staying in shape. The Bee Gees are no exception.
KISSES - XOXO
It's no secret Simmons loves his fans and those he's helped shed some major pounds, and he makes sure to let them all know it.
STRIKE A POSE
Madonna has nothing on the "Sweatin' to the Oldies" spokesman. Who says you can't look good while staying in shape? Not Richard.
DANCE PARTNER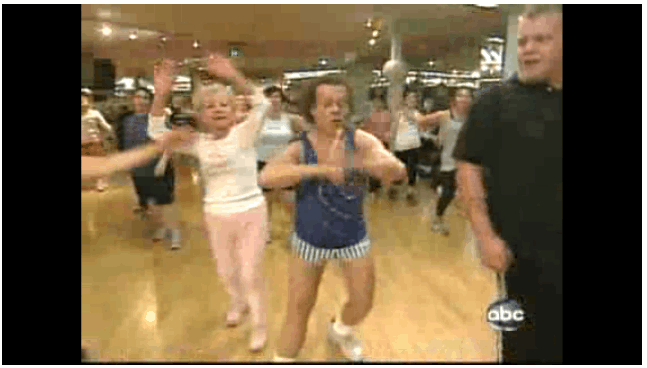 (Photo Credit: ABC)
In no way is Richard one to steal the spotlight. In this little visual treat, a young lady behind Simmons steals the show and the viewers' hearts.
blog comments powered by