Sep 23, 2011 2:50pm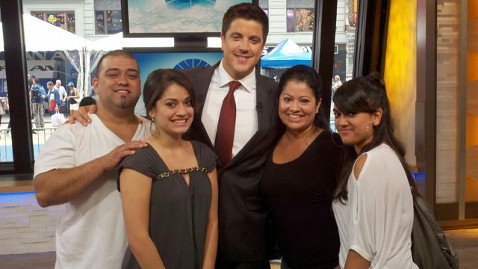 When Robert Martell got a phone call from what he thought was just another solicitor, he tried to get off the phone as quickly as possible. But it wasn't just another sales call. Martell's wife Denise had won "Good Morning America's" The Lion King 3-D Sweepstakes.
"I was just shocked," said Denise. "I stood there with my mouth open." This morning GMA welcomed the Martells and their two teenage daughters, Alexis and Sabrina, to Times Square. It's not only the family's first trip to New York, it's also their first time flying.
"I was like, 'people really win that stuff?'" Martell said, standing next to Sam Champion's weather wall on the "GMA" set.
Arriving yesterday evening from Los Angeles on Delta Air Lines, the Martell's got a VIP tour of the "GMA" studios and watched the show being produced live. Tonight, they'll get a chance to see Disney's "Lion King 3D" on a New York City movie screen. Tomorrow, the family will get a private shopping spree at the Disney Store Times Square and later see the Disney's "The Lion King" on Broadway.
And there was one added, unplanned bonus: this weekend is Denise and Robert's 17th wedding anniversary.
Denise, a child care provider from Sacramento, Calif., said she first started watching "GMA" when Diane Sawyer and Charlie Gibson anchored. The Martells were randomly selected to win the sweepstakes from more than 10,000 entries. The prize package they received was worth $4,700. As an added bonus, they'll also be taking home "The Lion King" on Blu-ray ™ & DVD Combo Pack.
You could be a winner too! Enter to win a trip to the premiere of DreamWorks Pictures' "Real Steel" or enter to win a family vacation to Disney's new Hawaiian resort, Aulani.