Instant Index: Props From 'Breaking Bad' Up for Auction, Zipline Wedding
From the unconventional and awe-inspiring to the hilarious and heartwarming, here's a look at some of the most interesting photos, videos and stories that have our newsroom talking today. What's capturing your attention, filling your inbox and cluttering your Facebook/Twitter feed? Tweet us the stories you're talking about using #InstantIndex or email us at ABC.WorldNews@abc.com and they could appear on World News.
Props From 'Breaking Bad' Series Up For Auction
Some say it's the most anticipated TV series finale since the "Sopranos," the final episode of AMC's "Breaking Bad" is something everyone will be talking about tomorrow. The Emmy-winning crime drama about Walter White, a high school chemistry teacher turned meth dealer, will conclude tonight after a five-season run. Props from the show went up for auction on Sunday and fans are bidding away. Such props include Hector "Tio" Salamanca's wheelchair, with a starting bid of $5,000, and the pink teddy bear that fell from an exploding plane and landed in Walt's swimming pool, which begins at $1,500.
Royal Baby News - Prince William and Kate Will Christen Prince George
Britain is now busily preparing for the newest royal's christening, which is planned for Oct. 23. Prince William and Kate will hold the private ceremony in the same chapel where family and friends paid respects to the late Princess Diana. Price George will have six godparents. For the first time, a royal coin will be produced for the christening. The coins will be available in gold and silver. There will also be a family portrait and the queen is expected to pose for a picture with all three potential future monarchs.
Zipline Wedding Entrance
Talk about a way to make an entrance. Instead of walking down the aisle, Ben Youngkin and Lauren Bushar flew in on a zipline. The couple, he in his tux and she in her wedding gown, were cheered on by their guests as they zipped down the line. They came up with the idea while looking at a North Carolina resort that had the zipline included.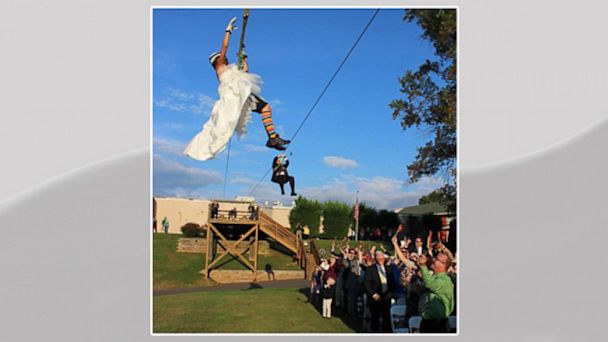 blog comments powered by