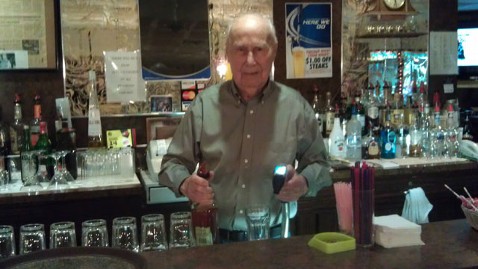 The man who might be America's oldest bartender loves to mix rich and frothy ice cream drinks from another era: Brandy Alexanders, Golden Cadillacs and grasshoppers.
At age 100, Ray Nauroth still remembers the names of his regulars and knows their favorite cocktails. He works three nights a week at the Gold Slipper, an old-fashioned supper club in Dunlap Iowa, tucked away in the southwest corner of the state.
Nearly 700 customers gathered Friday to toast Nauroth's centennial birthday as he worked the crowd, shaking hands like a politician. His boss, Nick Behrendt, offered a week-long $19.11 special to celebrate the year of Ray's birth. For that price, customers got two 8-ounce sirloin steaks and a trip to the Slipper's bountiful salad bar.
Nauroth said he loves his job "because it gets me out of the house."
Behrendt, who owns the Gold Slipper, says his bartending veteran is a model employee who arrives 15 minutes before every shift begins. "He does it all. He runs the bar, makes ice cream drinks, answers the phone, works the credit card machine," Behrendt said. "He's just amazing at his age for what he can do."
Nauroth grew up on an Iowa farm with no running water, leaving high school to help his parents tend the crops. After serving overseas in World War II, he went to work for the state of Iowa.
On the side, he owned and operated a 24-hour diner for 17 years. In 1965, he started tending bar at the Gold Slipper and never left. Once an avid golfer, with three holes in one under his belt, he played regularly until tearing his rotator cuff last year. 
Nauroth is such a fixture at the Gold Slipper that customers often ask to have their pictures taken with him. Behrendt finds it striking that, "Ray probably remembers the name of everybody who's come in here the last 10 years."
Outside of an occasional beer, he rarely drinks anything stronger than cranberry juice. Asked for his take on the upcoming Iowa caucuses, Nauroth reminded this reporter that good bartenders should never discuss politics.
As for retirement, "that's something I don't think about," he said. "I'll just make up my mind one day."