ABC's Martha Raddatz to Speak With General John Allen in an Exclusive Television Interview from Afghanistan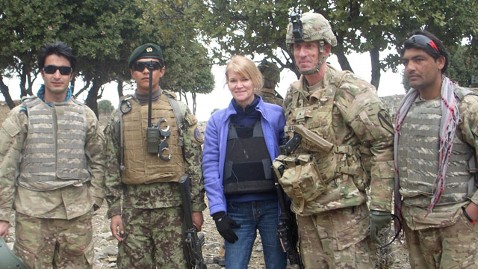 Raddatz with Brigadier General Gary Volesky (ABC News)
Raddatz is the First Reporter to Travel with General Allen on a Battlefield Circulation of Afghanistan  - Only Reporter to Travel with Top U.S. Commanders Since Controversial Koran Burning Incident
ABC News Senior Foreign Affairs Correspondent  Martha Raddatz will report from Afghanistan as concerns are raised about the security of U.S. soldiers there. Raddatz is the first journalist to travel with the top U.S. commander in Afghanistan,  General John Allen,  and other top generals since the killing of a half-a-dozen American soldiers following the inadvertent burning of the Korans on a U.S. military base. Raddatz is also the first reporter to travel with General Allen on a battlefield circulation. Martha's exclusive television interview with General Allen will air Monday, March 5 on "World News with Diane Sawyer."
In addition, Raddatz and ABC's  Carlos Boettcher will travel with Brigadier General Gary Volesky along the volatile Afghanistan-Pakistan border.
Raddatz and Boettcher will file reports for all ABC News broadcasts and platforms including "World News with Diane Sawyer," "Good Morning America," "Nightline," ABCNews.com, Yahoo!, ABC News Radio and ABC NewsOne.
Raddatz has been covering the war since it began and has made over two dozen trips to the region. Throughout the past decade she has also reported extensively from Iraq, Pakistan, and Yemen.
blog comments powered by