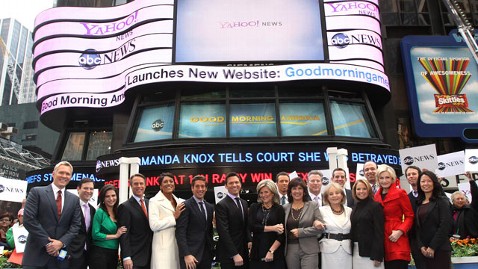 ABC News Digital Traffic Up More Than 170 Percent, Video Streams Up 173 Percent  Since Announcing Alliance with Yahoo! News
The Yahoo! - ABC News Network Beats CNN by 51%, AOL/Huffington Post by 56%, MSNBC by 58%, CBS News by 138% and The New York Times by 191% in February
Traffic to GoodMorningAmerica.com Exceeds Traffic to Today.com
Today the online news industry has a new leader. ABC News and Yahoo! News reached a total audience of over 89 million people in the first month since they combined traffic as the Yahoo! - ABC News Network. Five months ago ABC News and Yahoo! announced a strategic alliance to change the delivery of news and information across the digital landscape.  In February 2012 more people got their news online from the Yahoo!-ABC News Network than any other website.   The Yahoo! - ABC News network outperformed CNN by 51%, AOL/Huffington Post by 56%, MSNBC by 58%, CBS News by 138% and The New York Times by 191%.  Traffic to ABC News Digital content has increased more than 170% and video streams increased 173% since the alliance was announced in October.
"In the past five months the strategic alliance of ABC News and Yahoo! has exceeded our expectations. "As we chart a course to be number one in news and information, we're just getting started delivering on the promise of this powerful partnership," said Ben Sherwood, president, ABC News. "It is motivating to see the demand for our video series grow virtually overnight, especially when the biggest advertisers in the country are thirsting for new strategic opportunities in online video."
GoodMorningAmerica.com on Yahoo! Far Outpacing Traffic to Today.com
In just four months GoodMorningAmerica.com on Yahoo! has quickly distinguished itself as a destination news site with growing popularity.  Twice as many people visit Goodmorningamerica.com compared to Today.com.  The 24/7 companion site for "Good Morning America" has tripled its monthly traffic and grown 25% each month since launch.
Original Digital Video Series - An Immediate Ratings Success
Since October a slate of original video series have brought one-of-a-kind programming featuring ABC News' unrivaled lineup of trusted anchors and reporters to Yahoo!'s unmatched online audience.  In just five months original digital series "Around the World with Christiane Amanpour," "This Could be Big" with Bill Weir and the "Newsmakers" interview series have grown 107%.  The "Newsmakers" series has included George Stephanopoulos and Jake Tapper interviews with President Obama, Barbara Walters' exclusive interview with Syrian President Assad and a breakthrough day of live interviews with all of the leading Republican candidates for president.  In December ABC News and Yahoo! News launched a political news series, "Power Players," featuring ABC News' and Yahoo!'s award-winning political team.
Traffic to ABC News Content Up More Than 170% Since Alliance Announced
February 2012 marked ABC News Digital's most trafficked month in its history with over 421 million page views to ABC News content across various platforms including ABCNews.com, OTUSNews.com, GoodMorningAmerica.com on Yahoo! and ABC News articles on Yahoo! News.  Digital videos were streamed 100 million times in February and increased 173 % since ABC News became Yahoo!'s premier news provider.
Yahoo! and ABC News have co-produced coverage for major events since October including the ABC News - Yahoo! News presidential debates in Iowa and New Hampshire.  On Super Tuesday, ABC News' Political Director Amy Walter and Yahoo! News' Washington Bureau Chief David Chalian anchored four hours of up-to-the minute coverage as voting results were reported featuring Diane Sawyer, George Stephanopoulos, Jonathan Karl and Yahoo! News' Chris Moody and Holly Bailey.