The Season of Steeplechase horse racing kicked off on May 6th, 2012, at the Annual Winterthur Point-to-Point.
Elke Weesjes editor-in-chief of the United Academics Journal of Social Sciences, took a trip to Wilmington Delaware to write about this event which in so many ways reflect the area's aristocratic English heritage. As a historian who was born and raised in the Netherlands, these famous races where English upper class traditions are so wonderfully mixed with the American contemporary lifestyle, sparked her curiosity. In this picture story she shares her observations.
The next Steeple Chase to watch is at Willowdale in Kennett Square Pennsylvania on Mother's Day. A perfect spring outing for any mother who loves dogs, horses, picnics and pretty dresses.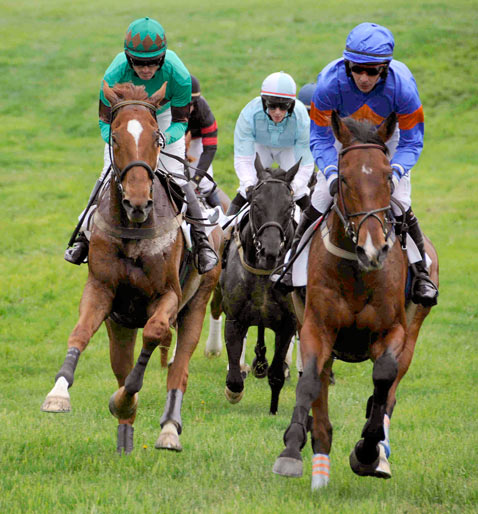 It is all about fast horses and fancy hats at the Winterthur Steeplechase. Since 1978, these annual horse races are being held at the Henry Francis du Pont country estate. This beautiful terrain covers nearly 1000 acres and is characterized by rolling meadows and woodlands.  (Tiffany Hagler-Geard/ABC News)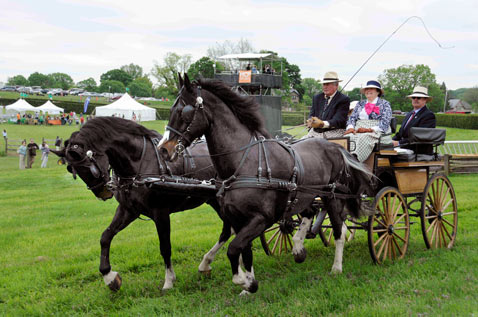 The daylong event which, besides the Steeplechase, includes several other traditional features such as wine tasting, carriage parades and pony rides, is one of those rare occasions where the 1 per cent and the 99 per cent mingle effortlessly. (Tiffany Hagler-Geard/ABC News)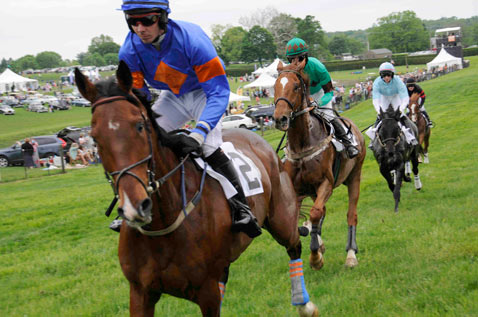 The first ever steeplechase was held over 250 years ago in County Cork, Ireland. In 1752, two neighbors challenged each other to race cross country between the church in Buttevant and the one in Doneraile. (Tiffany Hagler-Geard/ABC News)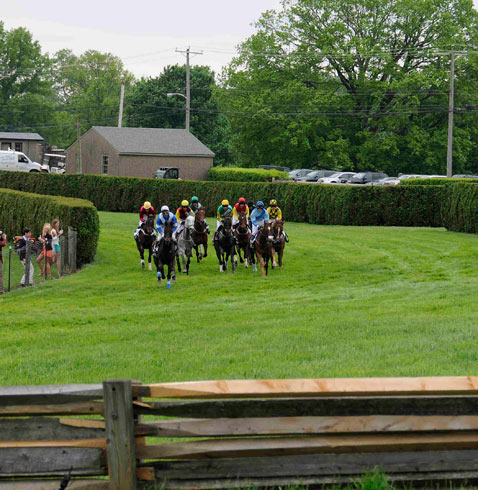 Back in 1752, during this four and a half mile race, the riders and their horses had to jump over stonewalls, ditches and hedges whilst keeping an eye on their finishing point; the steeple of the church, hence the name 'Steeplechase'.  Thomas Hitchcock (1860-1941) is regarded the American father of this sport. He did not only train horses imported from England at his ranch in Aiken South Carolina, he also built a steeplechase training center on his property.  (Tiffany Hagler-Geard/ABC News)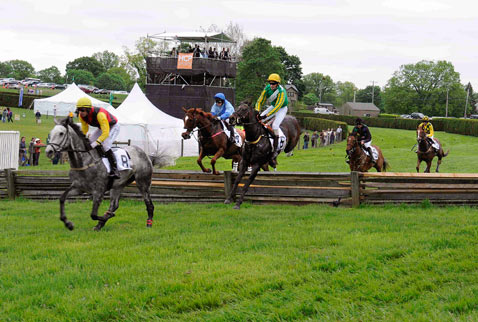 (Speeding Grind #8, is seen here winning the race ).  It wasn't until the late 19th century before steeplechasing became popular in the United States. (Tiffany Hagler-Geard/ABC News)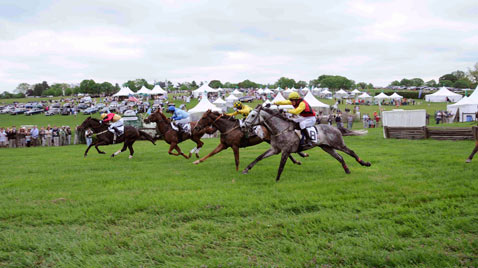 The fact that Steeplechase is so popular in the Atlantic region - especially Maryland, Virginia and Pennsylvania, reflects its aristocratic English heritage and affinity with fox hunting.  The first official races were held in 1922 at Great Meadow in Virginia. This race is still one of the largest and most popular sporting events in the greater Washington area and attracts over 45,000 spectators each year. (Tiffany Hagler-Geard/ABC News)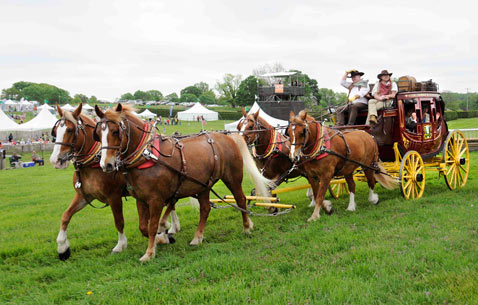 One of the main Sponsors of the event is Wells Fargo, seen here in their vintage Wells Fargo Carriage, during the, 'Parade of Carriages'. (Tiffany Hagler-Geard/ABC News)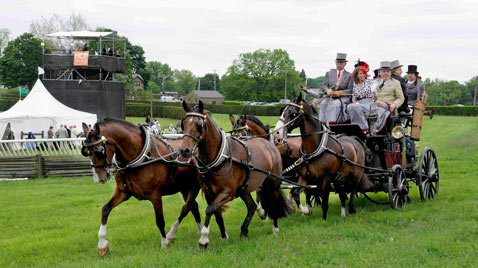 Horse racing events like Winterthur point-to-point have always been associated with royalty and the upper classes. The Parade of Antique Carriages, in particular, emphasizes these posh roots. (Tiffany Hagler-Geard/ABC News)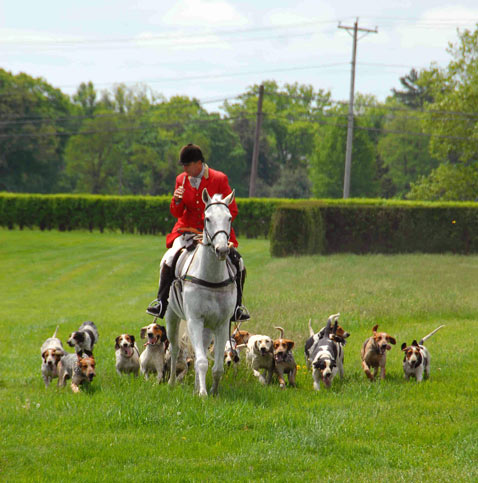 Visitors at Winterthur were also treated to a 'Parade of River Hills Foxhounds'.   Foxhunting, another upper-class past time,  has been the topic of heated debates in these past few years. In its country of origin, the United Kingdom, foxhunting was banned in November 2004. In the United States, where the sport is still legal, foxhunting is called foxchasing, as the purpose is not to kill the animal but to enjoy the excitement of the chase. (Tiffany Hagler-Geard/ABC News)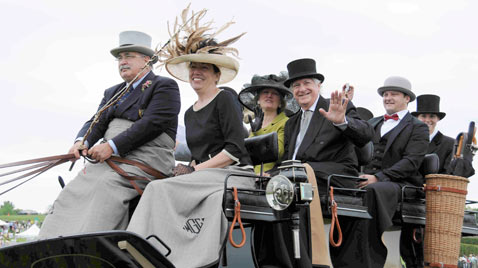 Ladies and gents alike come out arrayed in the most incredible outfits - most of which are designed for visual appeal rather than practicality. The historical connection with Britain is being emphasized by the attire: plenty of bowler hats and ascot ties. The latter was named after the Royal Ascot Horse Races, which makes wearing one at Winterthur even more appropriate. (Tiffany Hagler-Geard/ABC News)
Besides the 'grown up' races, there are equally exciting pony races. These kind of races are often organized with the aim of encouraging more young people to consider a career as a professional jockey. (Tiffany Hagler-Geard/ABC News)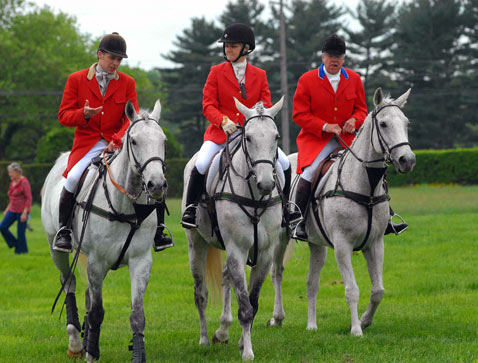 Horse racing is dramatic and dangerous. This year at Winterthur several jockeys were thrown from their horses. Outriders are the people in red coats who are responsible for catching injured horses and for handling any other emergencies which may come up during a race. For this reason outriders are also called "a jockey's best friend". (Tiffany Hagler-Geard/ABC News)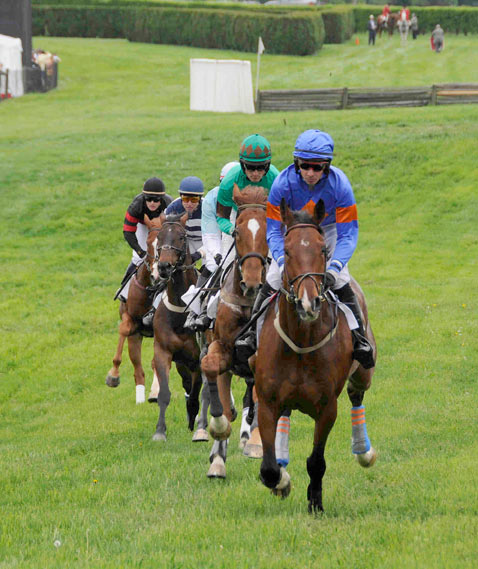 Some people say that modern racing, exists primarily because it is a major venue for legalized gambling. In the early 20th century the sport was almost eliminated when the anti-gambling sentiment led almost all states to ban bookmaking (i.e taking bets & calculating odds). The racing industry turned around when parimutuel betting was introduced in 1908. (Tiffany Hagler-Geard/ABC News)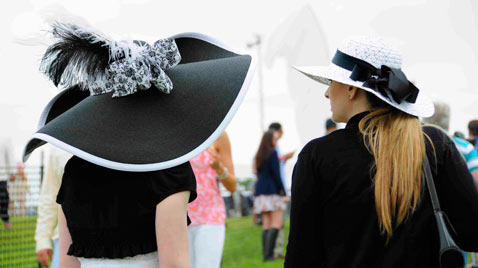 At the races, people seem strangely out of place. Women wearing revealing dresses, large hats and heels that sink into the grass are accompanied by sunburned men in colorful Ralph Lauren pants, matching polo shirts and suede loafers. (Tiffany Hagler-Geard/ABC News)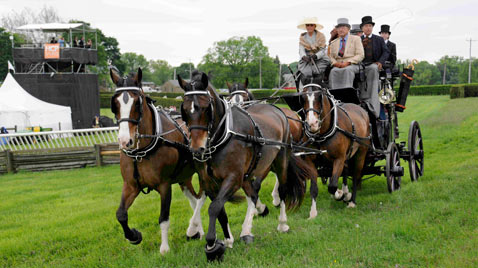 Things have changed over time and today horseracing is a sport that is enjoyed by all layers of society. Whereas some privileged people in designer outfits only sip champagne and eat caviar, others, whilst wearing their 'Sunday best', drink a beer and snack on slices of cold pizza. (Tiffany Hagler-Geard/ABC News)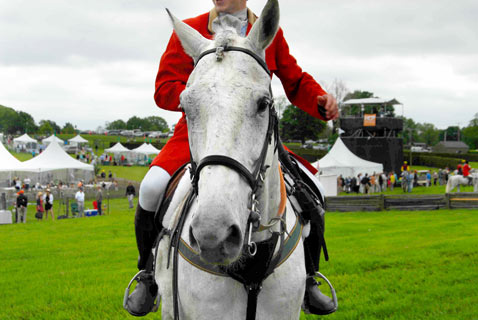 Although visitors' demographics have changed over the years, the event's nature has stayed the same. Winterthur point-to-point is still the place to see and to be seen for the high society, yet it is also the place where the 99 per cent can pretend, just for one day, to be part of this swanky world . (Tiffany Hagler-Geard/ABC News)
More Point-2-Point events take place throughout the summer and into the Fall in the Pennsylvania Delaware County Area.
Willowdale hosts its Annual Mothers Day Steeple Chase Races Sunday, May 13th, in Kennett Square Pa.
The Laurels at Landhope Carriage Driving Championship is Sept. 9-11, 2012 and hosted by the Brandywine Museum in Chadds Ford, Pa.
Written By: Elke Weesjes, Editor-in-Chief, United Academics Journal of Social Sciences
Photos by Tiffany Hagler-Geard/ABC News