Fireworks displays will abound across the nation with the upcoming July 4 th celebrations. If you plan to bring along your camera, here are some tips to take some of the guesswork out of shooting these fiery shows.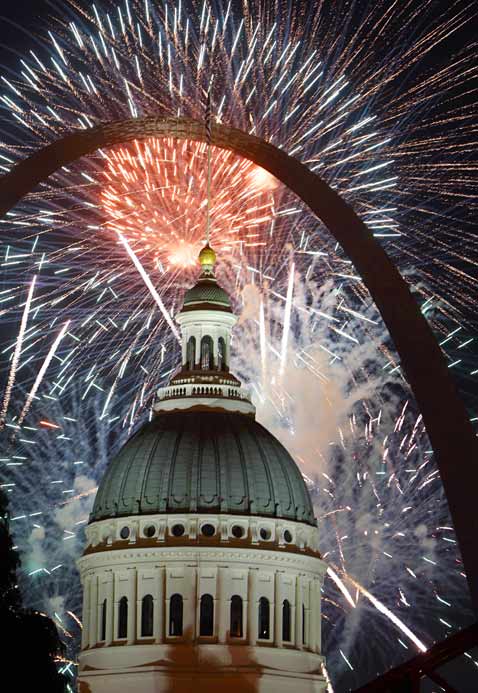 Fireworks light up the night sky behind the Gateway Arch and the Old Courthouse July 4, 2011, in St. Louis. (Jeff Roberson/AP Photo)
A little planning can go a long way. Arrive early and stake out a good position. It would also be a good idea to stand upwind so the smoke doesn't obscure your photos.
If there are any local landmarks or interesting structures to add another dimension to your photos, use them.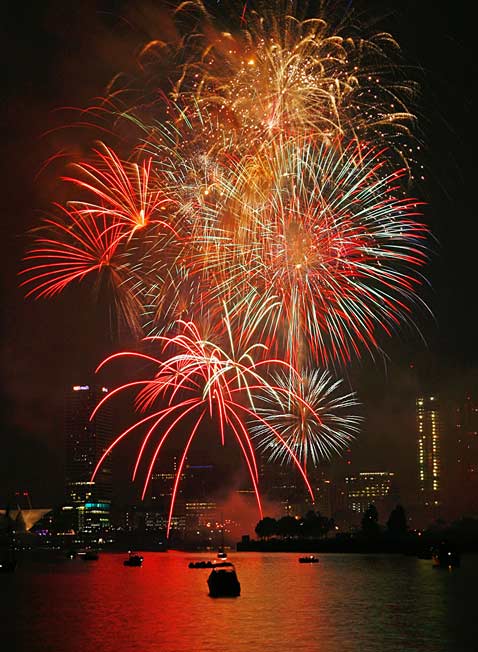 Fireworks explode over boats in the Lake Michigan inner harbor overlooking Milwaukee, July 3, 2006. (Darren Hauck/Getty Images)
If you're using a DSLR you'll have the most options for capturing this nighttime display. Set your camera to full manual mode and if you have a built in flash, remember to turn it off. Turn off the autofocus. You'll be far enough from the display so set your focus to infinity to ensure sharp images.
A tripod or monopod to mount your camera on is a must unless you have another method to keep your camera steady. Bring some extra memory cards just in case so the finale isn't a fizzle because you ran out of storage. A small flashlight can be indispensable.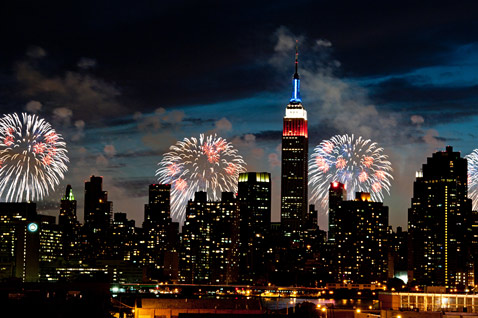 The Empire State Building, illuminated with red, white and blue lights, is seen from across the East River, backlit by fireworks exploding over the Hudson River, July 4, 2011 in New York. (Kathy Kmonicek/AP Photo)
Choose a low ISO to prevent " graininess." A good starting point would be ISO 50 or 100 with a small aperture opening of around f 5.6. You can experiment with varying ranges of ISO and f - stops and see how they look on your display.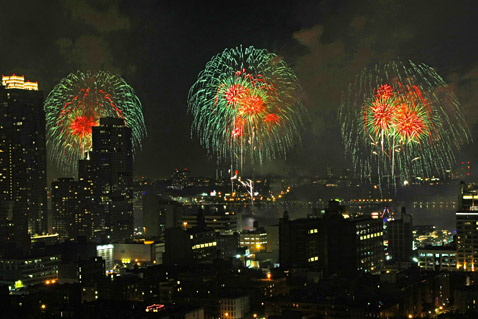 Fireworks light up the Hudson River, July 4, 2009, in New York. (© Lawrence Lai)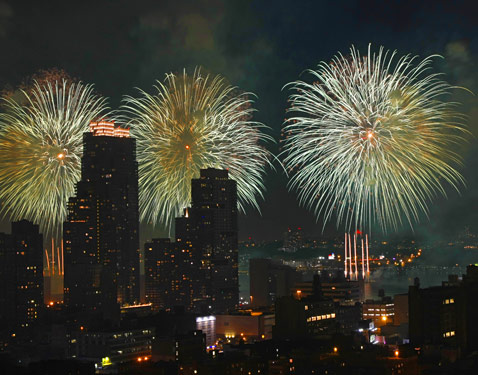 (© Lawrence Lai)
Set your camera to B or Bulb mode to manually open and close the shutter, and use a remote trigger to fire your camera without shaking it. Most modern DSLRs use an electronic "cable release" so you don't have to touch the camera itself. Use long exposures so you can capture a trail of light and then the burst. Depending on how the display looks, try exposure times from a couple of seconds to 30 or more.
If your images are too dark, open up your aperture. Too light? Close it down (remember, the larger the number the smaller the aperture). You can try reversing that by keeping your aperture the same while varying your shutter speed. Experiment! Be aware that if there's a strong enough ambient light-source in the area you'll likely have to adjust accordingly.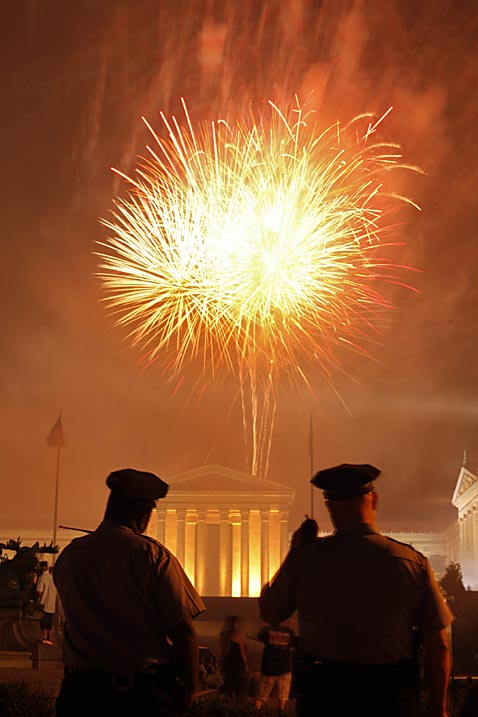 Police officers view fireworks explode over the Philadelphia Museum of Art during an Independence Day celebration, July 4, 2011, in Philadelphia. (Matt Rourke/AP Photo)
If you're using a lens with some form of image stabilization built in, turn it off. Image stabilization is great when shooting hand-held but it can also be fooled into adding unwanted movement, especially with long exposures even on a tripod.
None of these are fixed rules, just a starting point. Play around; that's the advantage of a DSLR. You can see how your shots look in real time.
To capture multiple bursts, here's a good trick. Keep your shutter open for one series of bursts and when it starts to fade cover your lens instead of closing the shutter. When the next series fires off, uncover your lens. Use a piece of cardboard, your hand, lens cap or whatever else works - just be sure to hold it in front of your lens without touching it.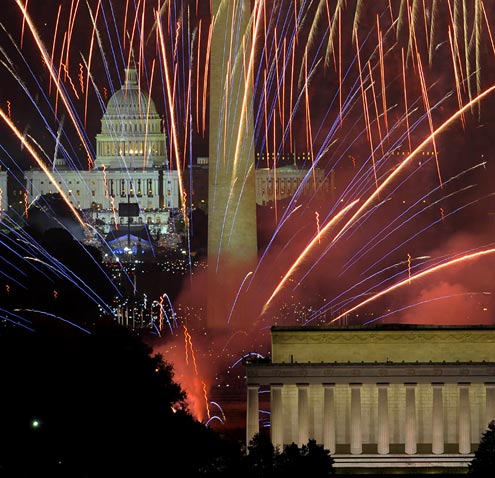 A view of 4th of July fireworks on the Washington Mall as seen from in Arlington, Va. (Tracy A. Woodward/The Washington Post via Getty Images)
If you have a point-and-shoot that doesn't allow for as much control of the camera, there are still options you can choose to get a great shot. If your camera allows for some of the tips above, use them.
Some cameras have a "fireworks" or "night" mode for long exposure shots. The level to which you control these modes depends on the camera.
If you don't have a tripod, you can rest the camera on something immobile, like the roof of a car, to keep your camera steady. There are also mini tripods like the Joby Gorillapod, which are handy.
If all you'll have with you is your smartphone, all is not lost. The quality of the optics and pixel level will vary from phone to phone but here are some tips that can maximize the chances of a good photo.
Clear your phone of all things you don't need either by deleting files or transferring them to your computer. Image files take up a lot of memory and you don't want to run out before the finale.
Practice, practice, practice. Take some sample photos ahead of time to get your technique down. There is a "shutter lag" between when you press to take the photo and when the phone actually takes it. Steady your arm if you can by leaning against a wall or on a railing.
The popular photo-sharing app Instagram is available for the iPhone and Android phones so have some fun with post processing your images for something unique.