Throughout the year, we are inundated with images of wars from all over the world taken by the media, freelance journalists and passerby. A striking selection of images from military photographers released by the Defense Department as the "Year in 2012? collection shows how the US Military views itself.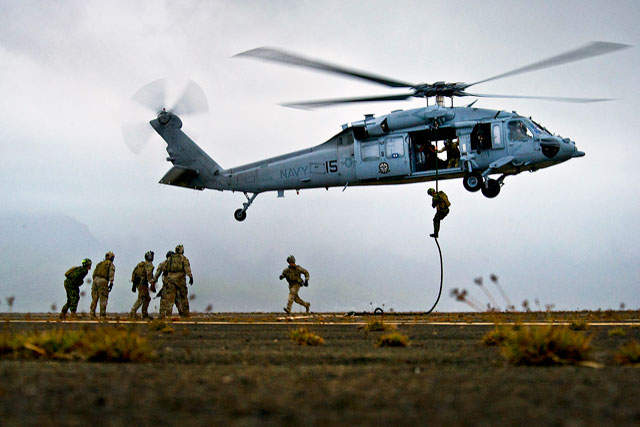 Explosive Ordnance Disposal sailors from the United States, Australia, and Canada fast rope out of a U.S. Navy MH-60S Nighthawk helicopter at Marine Corps Base in Kanea'ohe Bay, Hawaii on July 16, 2012, during Rim of the Pacific Exercise 2012. (TSgt. Michael R. Holzworth/US Air Force)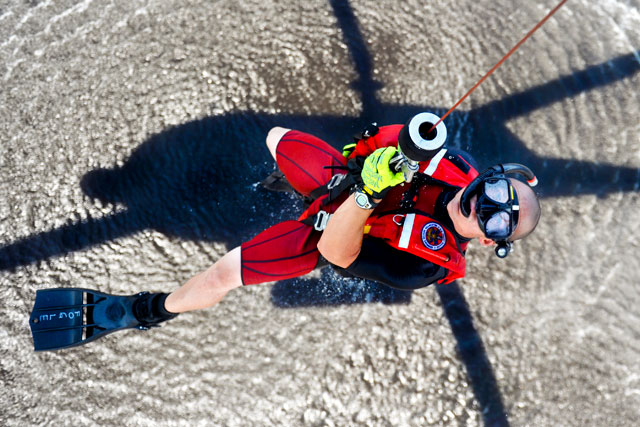 Petty Officer 1st Class Bret Fogle, a rescue swimmer from Coast Guard Air Station Elizabeth City, N.C, gets hoisted into an MH-60 Jayhawk helicopter from the air station on Aug. 3, 2012 as the crews conducted hoist training with cadets from the Coast Guard Academy in New London, Conn., as part of their week-long summer visit to the air station. (Petty Officer 1st Class Brandyn Hill/Coast Guard)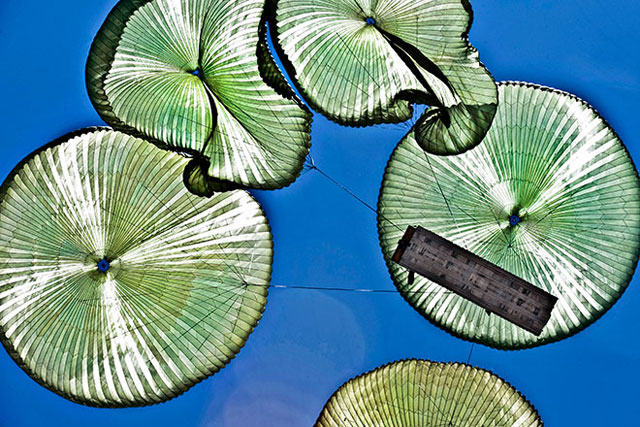 Air Force equipment descends from the sky following an air drop during Mobility Forces Exercise 12A over the Nevada Test and Training Range in Tonopah, Nev., May 23, 2012. Airman 1st Class Daniel Hughes/U.S. Air Force.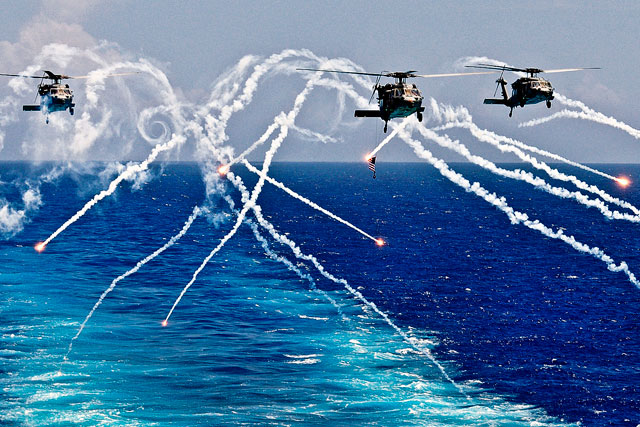 MH-60S Seahawk helicopters assigned to the Golden Falcons of Helicopter Sea Combat Squadron 12 fire flares alongside the Nimitz-class aircraft carrier USS Abraham Lincoln on Aug. 2, 2013. (MCSN Zachary A. Anderson/U.S. Navy)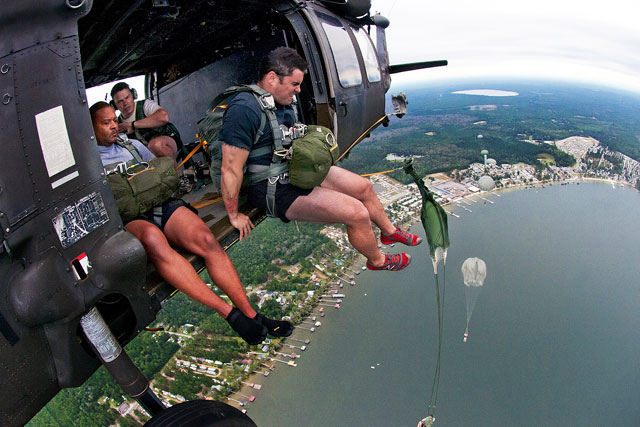 A paratrooper with the 95th Civil Affairs Brigade exits a UH60 Black Hawk helicopter on Sept. 19, 2012, above White Lake near Elizabethtown, N.C. He and fellow paratroopers are practicing water jumps. (Sgt. Michael J. MacLeod/U.S. Army )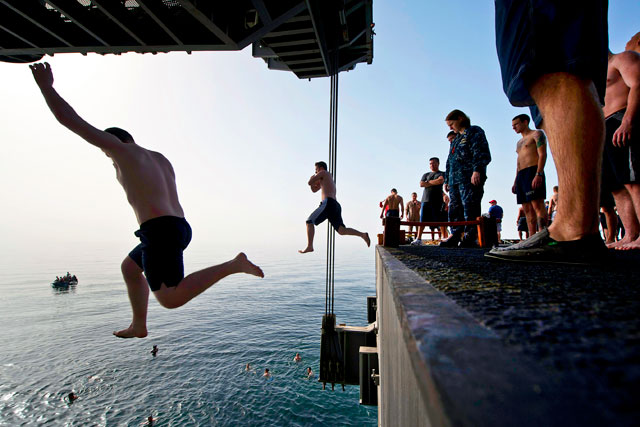 Sailors jump off aircraft elevator No. 4 into the Arabian sea during a swim call aboard the Nimitz-class aircraft carrier USS Carl Vinson on March 23, 2012. (MC2 James R. Evans/U.S. Navy)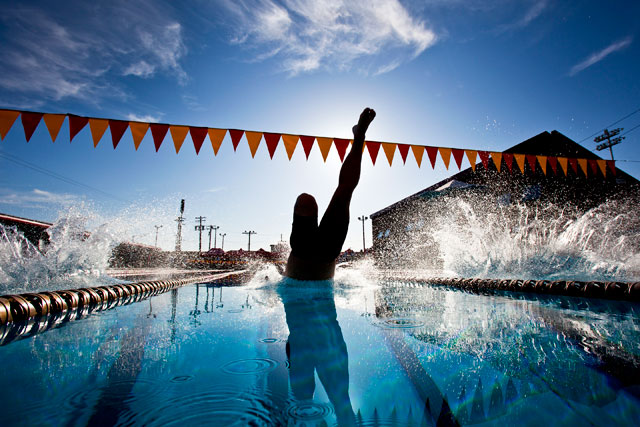 Cpl. Marcus Chischilly, a Wounded Warrior with the West Team, dives in the pool at the start of the 50-meter race during the 2012 Marine Corps Trials, hosted by the Wounded Warrior Regiment, at Marine Corps Base Camp Pendleton, Calif. on Feb. 21, 2012. (Sgt. Mark Fayloga/U.S. Marines)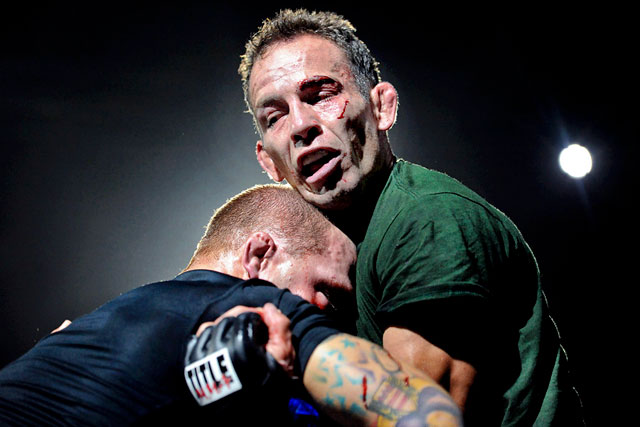 Staff Sgt. Glenn Garrison of Fort Carson, right, and Staff Sgt. Shane Lees grapple during a close match in the 2012 U.S. Army Combatives Tournament at Fort Hood, Texas July 28, 2012. Garrison won the match to become the lightweight champion. (EJ Hersom/Department of Defense)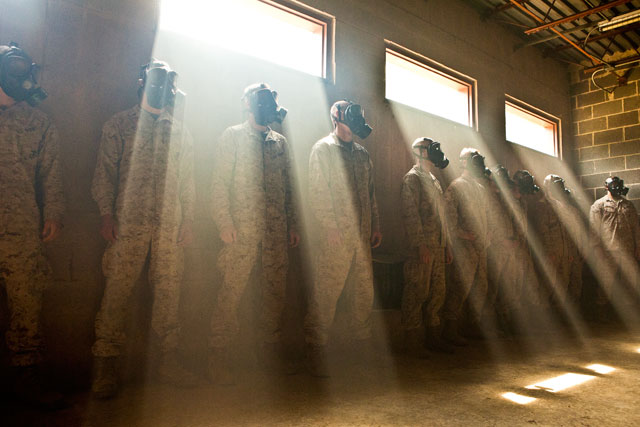 Company B Marines with Marine Barracks Washington, stand against the wall inside the gas chamber during a training exercise at Marine Corps Base Quantico, Va. on Aug. 21, 2012. (Cpl. Dengrier Baez/Department of Defense)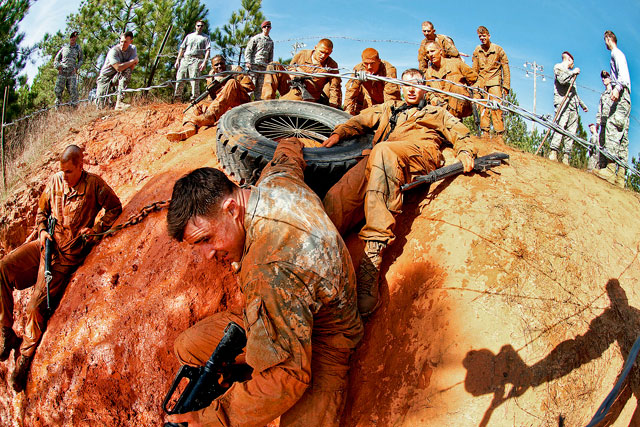 Officers with the 82nd Airborne Divisions, 1st Brigade Combat Team complete a team obstacle course on Feb. 3, 2012, at Fort Bragg, N.C., during a Prop Blast, a traditional rite-of-passage for officers new to the division. During this phase of the event, teams must move the tire and a simulated casualty down a muddy slope, across a muddy slough, and up the other side. (Sgt. Michael J. MacLeod/U.S. Army)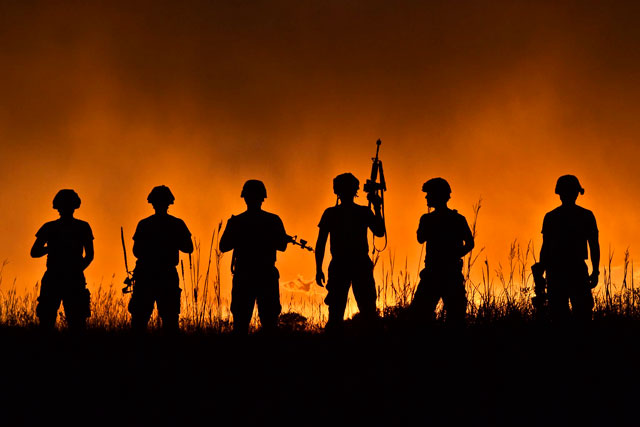 Soldiers assigned to Troop B, 2nd Squadron, 106th Cavalry Regiment, Illinois National Guard finish a hard day in the field during training on Camp Ripley, Minn. on July 22, 2012. (Pfc. Allison Lampe/U.S. Army)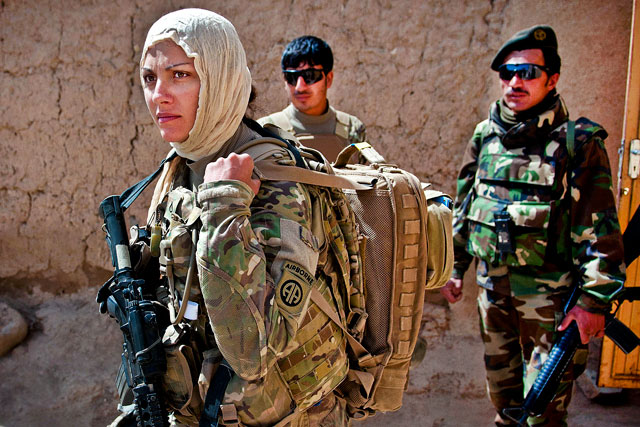 Pfc. Kristina Batty, a medic with the 82nd Airborne Division?s 1st Brigade Combat Team, dons a headscarf to meet with female Afghan villagers May 5, 2012, Ghazni Province, Afghanistan. (Sgt. Michael J. MacLeod/U.S. Army)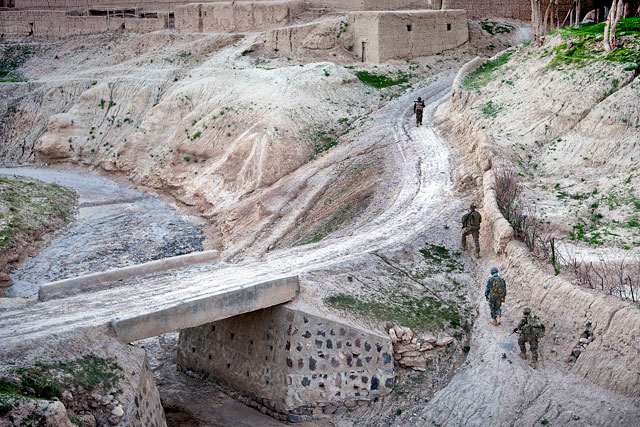 Paratroopers with the 82nd Airborne Division?s 1st Brigade Combat Team move along a riverbed during a patrol May 8, 2012, Ghazni Province, Afghanistan. The paratroopers are based at Forward Operating Base Arian near the village of Askarkot on Highway 1. (Sgt. Michael J. MacLeod/U.S. Army)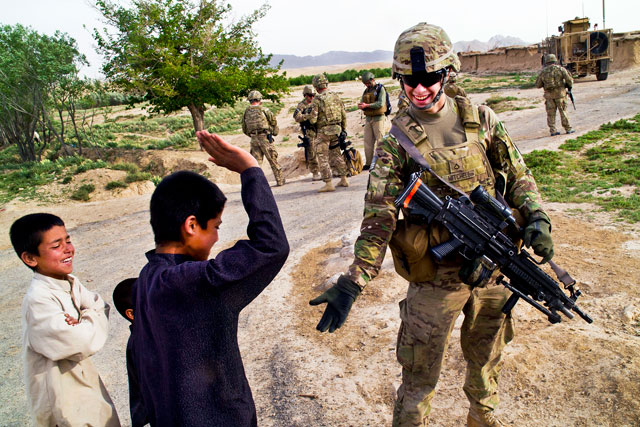 U.S. Army Pvt. Richard Mitchell, Provincial Reconstruction Team Zabul, visits with children of a village in northern Qalat on May 16, 2012. The children of the village received humanitarian aid from the PRT during the U.S. and Romanian's visit to assess security and irrigation in the village. (Senior Airman Joshua Turner/U.S. Air Force)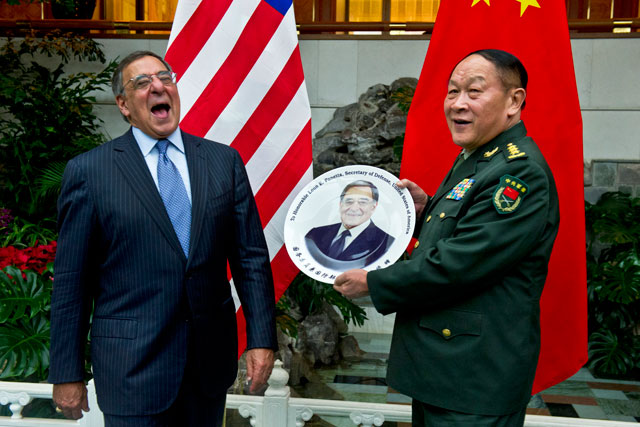 Secretary of Defense Leon E. Panetta is presented with a plate commemorating his visit to China from General Liang Guang Lie Chinese Minister of National Defense, after an official dinner in Beijing, China on Sept. 18, 2012. (Erin A. Kirk-Cuomo/Department of Defense)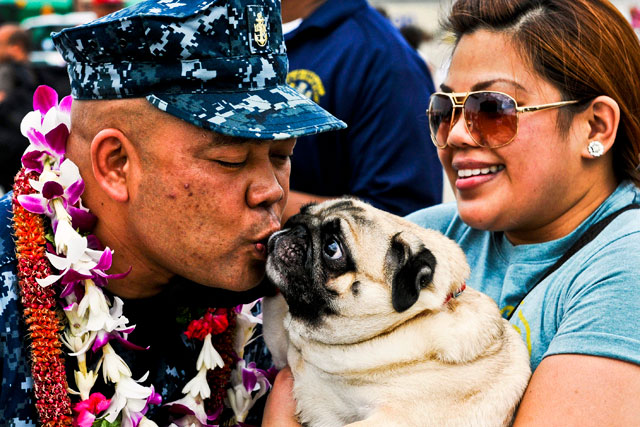 Chief Personnel Specialist Kevin Sun, assigned to the Military Sealift Command hospital ship USNS Mercy reunites with his dog and other loved ones in Pearl Harbor on Sept. 2, 2012 after completing Pacific Partnership 2012. (MC3 Michael Feddersen/U.S. Navy)
All images from the Department of Defense. For more images from their "Year in Photos 2013? collection, visit their website: www.defense.gov/home/features/2012/1212_yip/