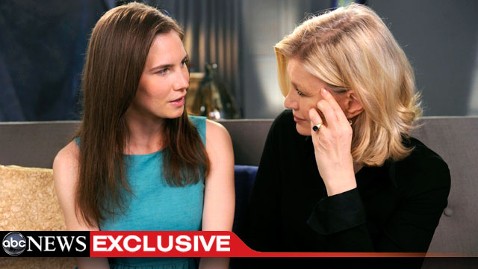 8.5 Million Viewers Tune-In to Hear Knox Tell Her Story for the First Time
The ABC News Program Delivers 12-Week Highs for ABC in the Timeslot in Key Demos
"Murder. Mystery. Amanda Knox Speaks - A Diane Sawyer Exclusive" averaged 8.5 million Total Viewers and a 2.4 rating/6 share among Adults 25-54 and 1.7 rating/5 share among Adults 18-49 for its one-hour broadcast on Tuesday, April 30 at 10:00 p.m., ET, according to Nielsen Media Research's Fast Affiliate Ratings.
Diane Sawyer's exclusive interview with Amanda Knox was the most-watched TV show in Tuesday's 10 p.m. hour, outdrawing CBS' Golden Boy by 9% and NBC's The Voice-led time period premiere of Grimm by 42%. In addition, the ABC News program beat out CBS' Golden Boy by strong margins in Adults 25-54 (+26%) and Adults 18-49 (+31%).
Building on its "Dancing" lead-in, "Murder Mystery: Amanda Knox Speaks - A Diane Sawyer Exclusive" delivered 12-week highs for ABC in the hour with Adults 25-54 and Adults 18-49 - since 2/5/13.
Throughout the hour-long primetime special, viewers engaged in a dialogue about the facts of the case and their impressions making Diane Sawyer's interview the most social broadcast on network television during its time period. #AmandaKnoxABC became a trending topic on Twitter in the United States on Tuesday night.
Amanda Knox, the college junior who became the center of a murder trial that riveted the attention of millions around the world, had never told her story. After the dramatic Italian trial, conviction, and court appeal that finally acquitted and freed her she spoke to ABC News anchor Diane Sawyer in her first television interview.
JUST ANNOUNCED: In Another ABC News Exclusive - Diane Sawyer to Speak with Malala Yousafzai, Young Girl Shot by the Taliban, in Her First Television Interview