Aug 2, 2013 9:25am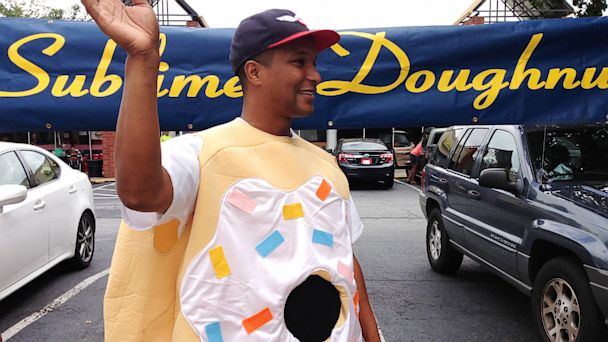 @angelcanales
ATLANTA –Growing up here, Kamal Grant always knew baking was his destiny.
"I've always wanted to be a baker and open up my own doughnut shop," he says. Grant's interest in baking doughnuts started when he noticed how happy people would get when they ate one. Grant saw an opportunity after graduating from high school to fulfill his dream by joining the United States Navy in 1998.
Grant's venture into baking started as a Baker 3rd Class Petty Officer on board the now decommissioned USS John Young (DD-973), a Spruance-class Destroyer. "When we deployed on the Pacific Ocean, I baked at night when we were overseas, so that kind of was my foray into baking and I saw how much people love doughnuts."
After the Navy, Grant's desire to own his doughnut shop led him to The Culinary Institute of America. "When I got out of the Navy, I went to the Culinary Institute of America, you know the world's premiere culinary college, and then we learned all the chopping, pastries, high-end desserts and I was just like, I really like this doughnut thing, I think someone needs to class up this thing," he says.
He landed a job as a production supervisor for a bakery but that wasn't enough for Grant. "It was great being a production supervisor but then I had this itching to go back to doughnuts and then I saw this little doughnut shop for lease and wrote out a solid business plan that I thought would be great and voilà," he says.
Grant's dream became a reality with the opening of Sublime Doughnuts in Atlanta's West Midtown neighborhood with the slogan "Eat One That's Worth It." Word spread quickly and Grant was able to see his product and dream flourish.
"When I first opened up this shop I made the doughnuts and you know you have people coming in, we weren't doing that well, but as soon as I saw one repeat customer, then I was like this is a success," he says. Sublime is such a success that has been featured in media outlets in the Atlanta area and nationally.  In 2012, Sublime was named "America's Best Bakery" by Bake Magazine, saying that Grant "creates one of the most innovative doughnuts menus ever."
Sublime has over 30 flavors and all doughnuts are made fresh daily. Grant begins to make these treats at 2 a.m. The crowd favorites are the Fresh Strawberries N' Cream, Reese's Peanut Butter Cup, Frosted Croissant, Maple Bacon Cheddar, Salted Caramel & Reduced Balsamic Vinegar, and  Chocolate Wild Berry Fritter. "The goal of the shop is to make it look like a doughnut wonderland. Like you stepped into a valley somewhere… it feels like a park of doughnuts. We want to make it a happy place," he says.
Kamal Grant's message for veterans:
"If you're passionate about something, write a solid business plan and then go out there and do it. Because first you have to write a business plan to see how passionate you are, once you see that you can see the whole business. Then once you do that, decide if that's something you want to do without getting paid. Because if you won't, don't do it."
Second Tour is an ABC News digital series profiling the lives of military veterans who are doing unique things in the civilian world, including vets who took on an entrepreneurial venture to create a business, grassroots organization or a second career. For more stories visit http://abcnews.go.com/US/Second_Tour/.