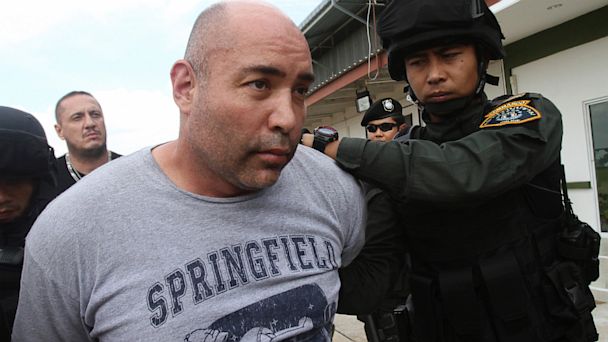 By AARON KATERSKY and MARK CRUDELE
In a plot seemingly ripped from Hollywood, a former Army soldier and alleged contract killer nicknamed "Rambo" stands accused of recruiting four other former soldiers from the U.S. and Europe to murder a Drug Enforcement Administration (DEA) agent and the agent's informant. Prosecutors in New York said the planned double murder was part of what the defendants thought was a larger scheme to import large volumes of cocaine into the U.S.
"The bone-chilling allegations in today's indictment read like they were ripped from the pages of a Tom Clancy novel," said US Attorney Preet Bharara. "The charges tell a tale of an international band of mercenary marksmen who enlisted their elite military training to serve as hired guns for evil ends."
The alleged murder-for-hire conspiracy was a ruse, arranged by undercover DEA agents to stop men described as "hardened global criminals."
"Their intent was to commit the most serious and ruthless crime that can be directed against any law enforcement officer," said DEA Administrator Michele Leonhart.
According to an indictment unsealed in federal court in New York the men were to be paid nearly a million dollars for the job and Joseph "Rambo" Hunter, who achieved the rank of Sgt 1st Class in the U.S. Army, was supposed to get an extra $100,000 for his role as the alleged leader.
Hunter was taken into custody in Thailand Thursday wearing a t-shirt reading "Springfield Unatheltic Dept" and depicting "The Simpson's" character Homer Simpson sleeping on a couch. Hunter was turned over to the custody of the DEA at Bangkok's Don Meaung Airport, put on a plane to the U.S. and expected in a New York court Saturday.
Two alleged members of the plot, Timothy Vamvakias of southern California and Dennis Gogel of Germany, have already been arraigned in New York. Two other alleged co-conspirators, German man Michael Filter and Polish citizen Slawomir Soborski, are being held overseas, prosecutors said.
The men are charged in five separate counts with conspiracy to import cocaine into the United States, conspiracy to murder a law enforcement agent and a person assisting a law enforcement agent, conspiracy to kill a person to prevent communications to law enforcement agents, conspiracy to possess a firearm in furtherance of a crime of violence and conspiracy to distribute cocaine on board an aircraft.