Pictures of the Year International is a competition that began in 1944 at the University of Missouri School of Journalism in Columbia, Mo. Each year since, the best examples of photography from around the world are submitted for judging by a select panel of editors, scholars and fellow photographers.
The original intent was to "to pay tribute to those press photographers and newspapers which, despite tremendous war-time difficulties, are doing a splendid job; to provide an opportunity for photographers of the nation to meet in open competition; and to compile and preserve…a collection of the best in current, home-front press pictures," according to the university.
The collection of results that is posted at the end of February is one of the finest examples of photojournalism in the world. Some of the pictures that win the contest have not graced the front pages of papers and website home pages, but others are well known. Below is a sample of the 2014 winners. For the complete list of winners, please visit www.poyi.com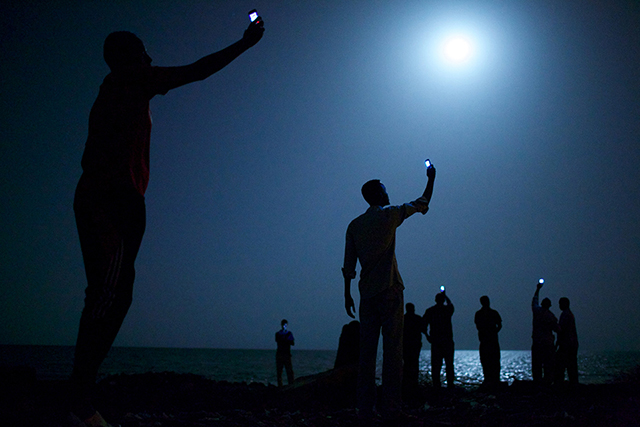 Feature, First Place: Impoverished African migrants crowd the night shore of Djibouti, trying to capture inexpensive cellphone signals from neighboring Somalia, a tenuous link to relatives abroad. For more than 60,000 years our species has been relying on such intimate social connections to spread across the Earth. (John Stanmeyer)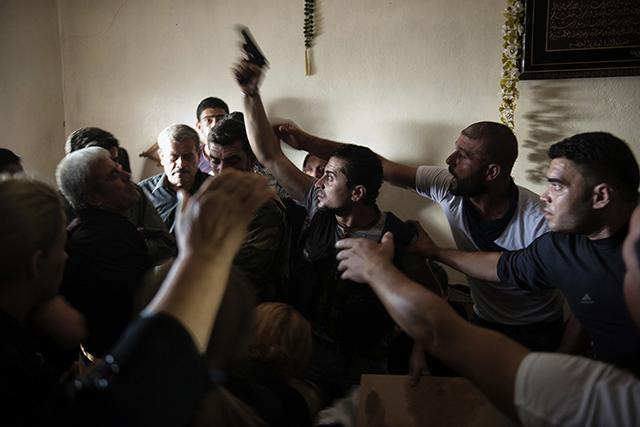 Feature, Second Place: Bassel Barhoum, center, yells angrily after looking inside his brother's casket at his funeral in the village of Daqaqa in Latakia Province, Syria. Abu Layth died while fighting as an officer in the Syrian Army. (Andrea Bruce)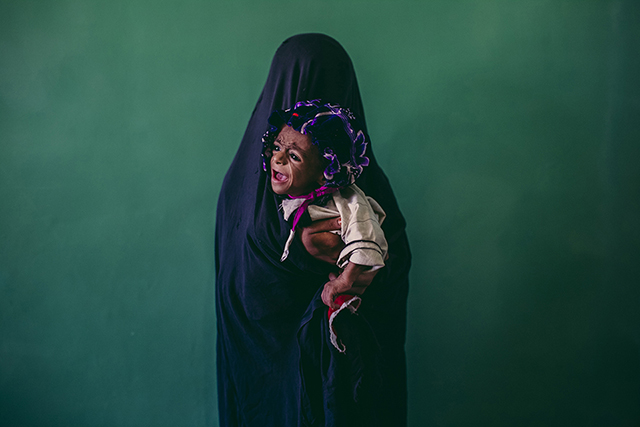 Third Place, Feature: Eight-month-old Samiullah, suffering from marasmus, another sign of advanced malnutrition in which the child's face looks like that of a wrinkled old man because skin hangs so loosely, is held by his mother, Islam Bib,i as they receive treatment on a plastic mattress in an administrative office because of overcrowding in the Inpatient Therapeutic Feeding Centre (ITFC) wards, at the Bost Hospital, a Medecins Sans Frontiers (MSF) assisted hospital, Sept. 23, 2013, in Lashkar Gah, in Helmand Province, Afghanistan. (Daniel Berehulak)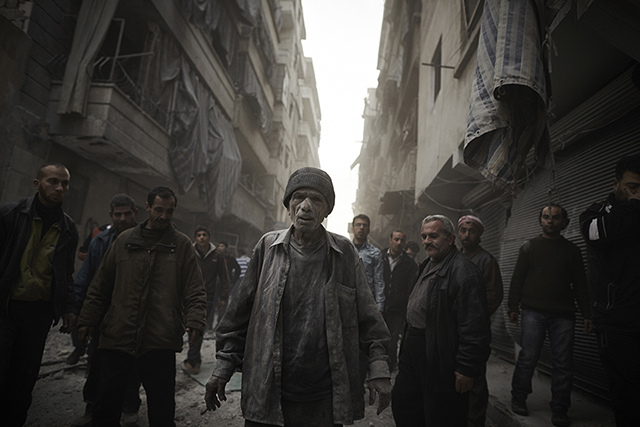 General News, Second Place: After surviving the collapse of his home, a civilian walks away from the scene of a regime airstrike that leveled a large part of one of Aleppo's residential neighborhoods. (Sebastiano Tomada)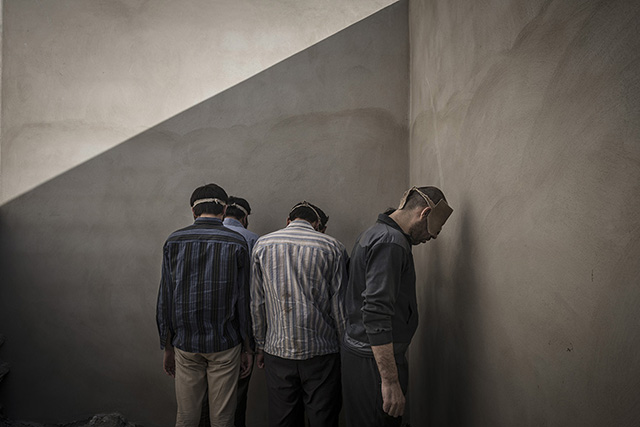 General News, Third Place: Prisoners who were opposition fighters and caught by Syrian security and accused of making car bombs and explosives seen in Damascus prison, Aug. 18, 2013. (Sergey Ponomarev).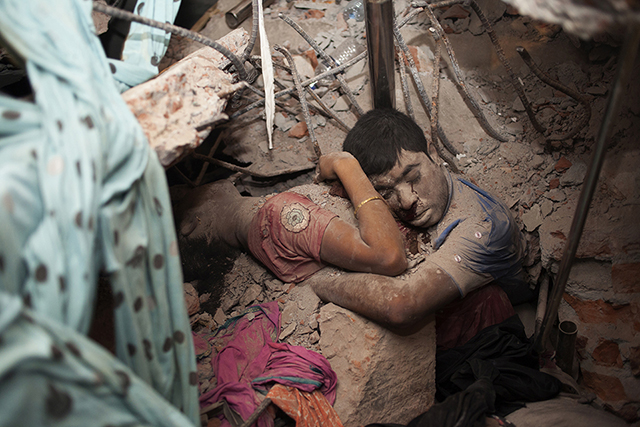 Spot News, First Place: Two victims amid the rubble of a garment factory building collapse in Savar, near Dhaka, Bangladesh. More than 1,000 workers died in the building collapse April 24, 2013. (Taslima Akhter)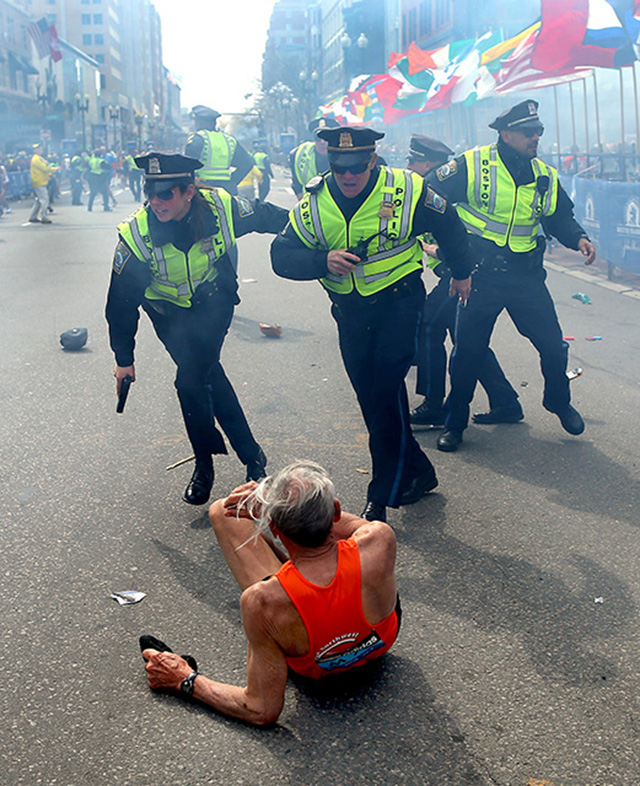 Spot News, Third Place: Boston Police officers Rachel McGuire, Kevin McGill and Javier Pagan react to a second terrorist bomb exploding at the Boston Marathon. They had started to run after the first bomb exploded next to them near the finish line of the Boston Marathon, which knocked down runner Bill Effrig. (John Tlumacki/The Boston Globe)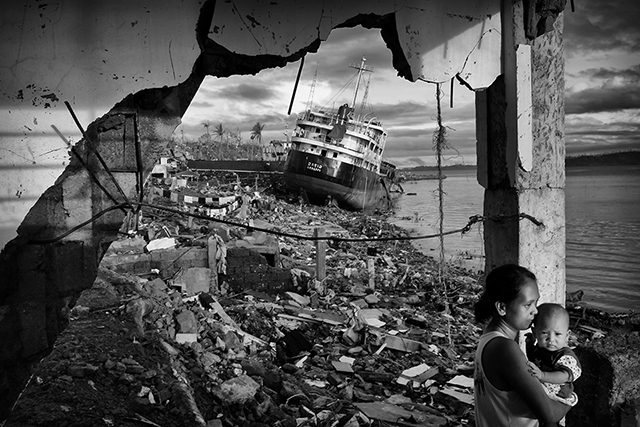 Disaster Coverage, Second Place: A ship is seen after it was thrown on to land as a woman holds her young child in an area of Tacloban, Philippines, that was devastated by Typhoon Haiyan in this picture taken Nov. 30, 2013. Typhoon Haiyan, know to locals as Yolanda, was one of the strongest recorded storms to make landfall after it hit Nov. 8, 2013, leaving more than 6,000 dead and millions of others homeless. (Kevin Frayer)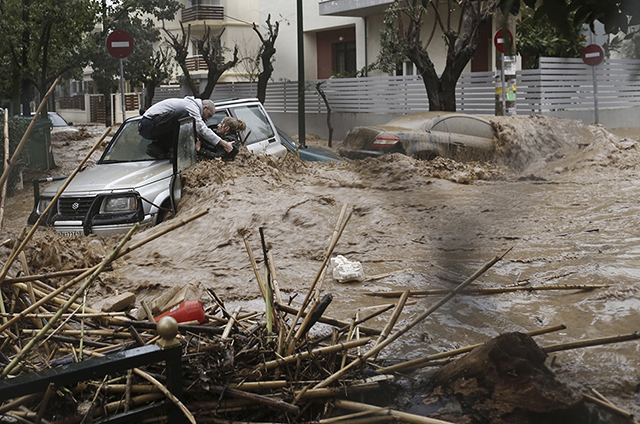 Disaster Coverage, Third Place: A woman stuck in her car is rescued from flood waters by a resident standing on top of her car during heavy rain in Chalandri suburb, north of Athens. (Yannis Kolesidis)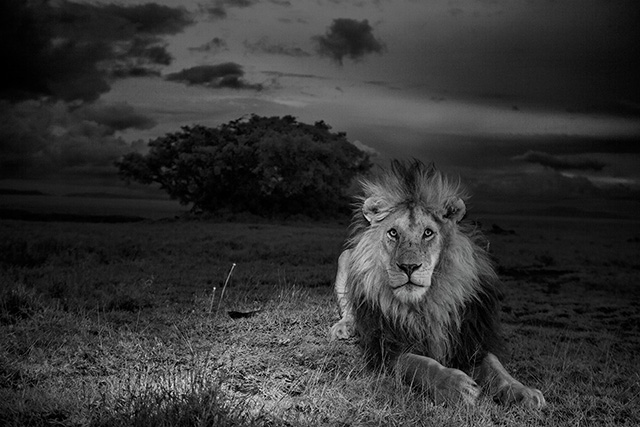 Science, First Place: For our two-year lion project, we centered our work around the females of the Vumbi pride, raising cubs in the difficult feast and famine of the Serengeti plains. We also focused on this black-maned male, one of two resident coalition males. The researchers called him C-Boy. Image made with invisible infrared light. (Michael Nichols/National Geographic)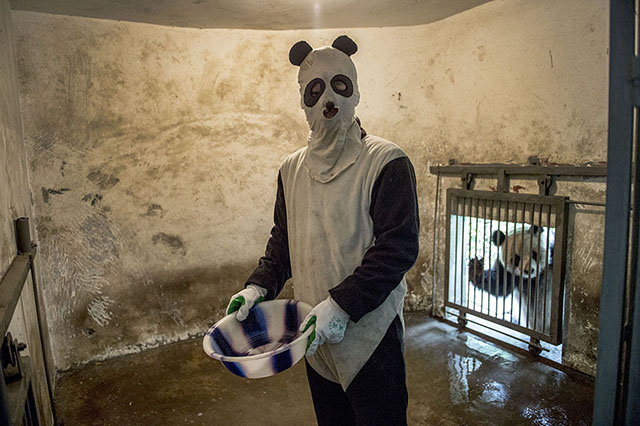 Science, Third Place: Panda costumes are worn by caretakers inside the Wolong Nature Reserve managed by the China Conservation and Research Center for the Giant Panda. Babies are born in a quiet moss and as they grow they are moved to progressively bigger, more complex enclosures, eventually learning to climb and forage for themselves. From birth, a panda slated for release will never see a human, its training administered equally by its mother and its unseen keepers in panda costumes. (Ami Vitale)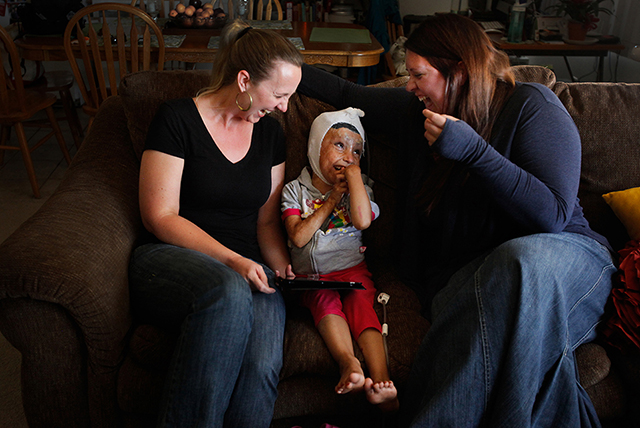 Photographer of the Year, Newspapers: When Arefa, center, met doctors shortly after her arrival to Los Angeles, they told the sisters, Jami and Staci, who were acting as her caretakers during her stay in United States, that her head wound was severely infected. The surgery Arefa came for would have to wait. The infection and her malnutrition made it too risky to operate. The sisters needed to help her get her strength back and Arefa soon settled into a routine. During the day, she spent hours at playgrounds, climbing ladders and barreling down slides, smiling. But she grew tense whenever she saw TV images of helicopters and war. (Barbara Davidson/Los Angeles Times)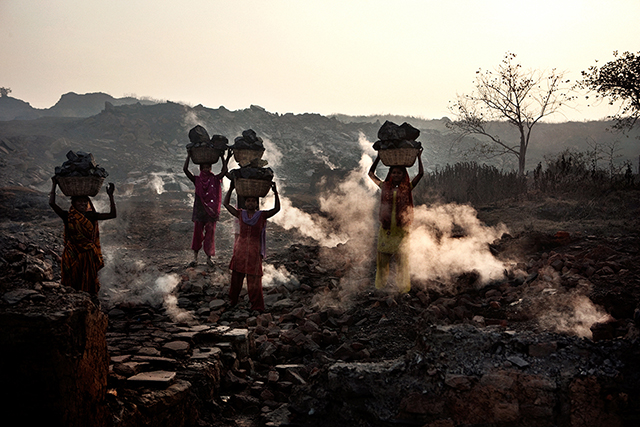 Environmental Vision Award: Some women stealing coal in the Dhanbad area of India, close to the coal mine. It is dangerous because police patrol all the area and often they make a lot of arrests. (Erik Messori)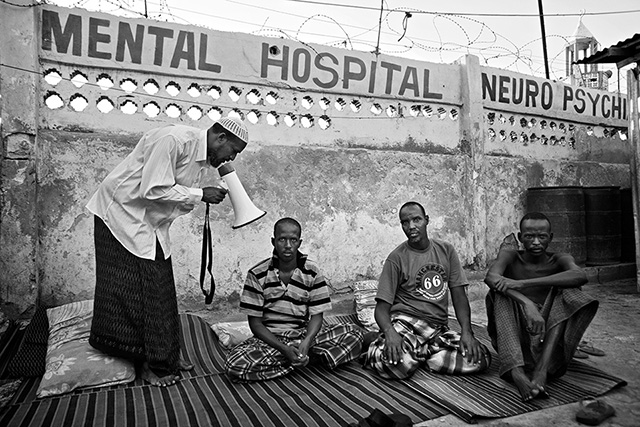 World Understanding Award: Many Somalis will take their mentally ill relatives to traditional, or Khoranic, healers for treatment. Mogadishu, Somalia. May 2011. (Robin Hammond/Panos)
All images are courtesy of Pictures of the Year International. For more featured photography curated by ABC News' photo editors, and at Picture This, the ABC News photography blog.